Howdy folks, and welcome back to Houston Historic Retail! Today, we're discussing a fringe bit of retail—stand-alone amusement attractions. While researching Houston's Amusement Centers, I have discussed Funplex, Fame City, and others in passing on Facebook and in HHR comments. While I have never directly addressed the topic on the blog, I am interested in amusement parks. Living in Houston my entire life, they're something I almost completely associate with being an out-of-town-only experience, with the manufactured death of our beloved Astroworld for a still empty field. It can sometimes be easy to get the feeling that Houston as a city has it out for the amusement industry at some points. This isn't entirely untrue, and a supporting point is that according to the Houston city code, Bungee Jumping has been completely outlawed in our fair city since 1992. This might seem like an odd outlier law passed as part of some broader reform, but this was in response to a local business' attempt at bringing Bungee to the Bayou City. Let's first start with a brief history of the sport itself. Bungee Jumping is a relatively new sport, with the first recorded jump occurring in 1979. Early on, jumps were undertaken from bridges or construction cranes, with jumpers sometimes being arrested for trespassing and many "extreme sports junkies" dying in the process. It also found a home on TV early on, with many tuning in to watch a daring stunt they would never take part in. With this new exposure, bungee jumping began gaining legitimacy, and people wanted a safe way to try it. Early Bungee Jumping companies would work with construction companies to rent cranes and hoist their customers up to a temporary platform to jump from. While safer than the rouge jumpers that had started the sport, it was still dangerous. Multiple amusement companies came forward with their concepts of how to make bungee jumping safer, and Air Boingo was at the forefront.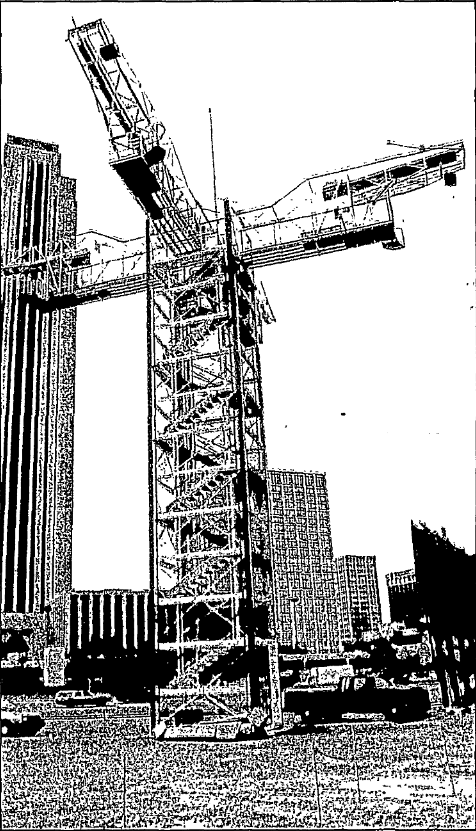 The Air Boingo concept was relatively simple. Rather than using a temporary structure, the company would build "T" shaped towers, with stairs in the center of the tower, leading to two arms at the top. The jumpers would climb the tower. Walk onto one of the arms, attach themselves to the bungee, and jump off! To aid in safety, both arms of the tower had giant inflatable airbags beneath them. The tower would also only be around 70 feet tall while still a big jump; this shortened height encouraged many apprehensive jumpers to take the plunge. Receiving a relatively warm reception, Air Boingo set out to find customers to purchase their towers and operate them as franchises. It seems that early on, Air Boingo sought out a partnership with Malibu Grand Prix, a name known to most Houstonians. Many MGP locations received the towers, including Dallas. From the permits filed, it seems that there was a serious plan to add Houston's first Air Boingo Tower to the West Loop MGP location. However, it all seems to have fallen apart right before construction. While down a bit losing such a prime spot, the unnamed group of investors who owned Air Boingo was able to find an equally important location, an empty parcel on the West Loop right across from The Galleria. Possibly to make up for the lost revenue of operating independently when moving to the Galleria area, the Air Boingo tower was updated to include four arms rather than the standard two.
A first-time jumper tries out the former Houston Air Boingo Tower.
In 1992, construction began on the tower, and given that it was essentially just a giant piece of rigging, it was completed fairly quickly. During construction, residents of the adjacent Afton Oaks neighborhood began citing problems with the tower. They were worried that it would cause increased traffic to back up along the already overloaded West Loop as drivers rubbernecked, watching people jump off the tower. Despite the neighboring protests, nothing in the City of Houston said that Air Boingo's tower was illegal or could not operate. The owners also desperately wanted to find a solution that would benefit everyone. They weren't looking to give themselves a bad name but had invested loads of money and felt that if the neighborhood wanted them out, they would leave for a cash buyout. While this seemed fair on paper, Afton Oaks was having none of it, and continued complaints even gave rise to one of the most serious attempts at passing zoning laws here in Houston. After weeks of back and forth, though, the city decided it did not want zoning. With test jumps underway and Air Boingo doubling down on not wanting to move, the Houston City Council would make a last-minute move to outlaw bungee jumping completely, fining any operator who dared to violate the code up to $500 daily. By the end of 1992, with the law set to go into effect next year, the owners of Houston's Air Boingo sold the land and removed their tower, seeking a new home on South Padre Island. Taking the corner spot at a brand new adventure park, the Air Boingo Tower would operate here for about ten years, this time downsizing to two arms. Eventually, one arm would be removed and replaced with a traditional crane arm and jumping car. The other would be moved much lower, creating a "junior" bungee jumping experience. The original owners, or descendants of them, held onto the tower until 2017 when the attraction was finally closed and removed. Despite the ban on bungee jumping, Houston's first bungee tower made it 25 years, granted hundreds of miles away. As of 2023, there is still a complete ban on bungee jumping within the Houston City limits. I want to give a special shoutout to HAIF user Highway6, who inspired this article, starting a thread way back in 2006 that first keyed me into the existence of this tower, and just a few weeks ago, replied to his own 17-year-old thread with the photos he had asked for all those years ago.