Company History
Albertsons was founded in Boise, Idaho. The original store was opened in 1939 by Joe Albertson. The location was a huge success, and the huge profits that the store took in allowed them to open new locations. The company continued to grow to reach 100 locations in 1964. In 1969 Albertsons started a partnership with Skaggs Drug stores creating the first combination Grocery-Drug stores, now a regular fixture.
Around 2002 Albertsons started to divest unprofitable divisions and different regional chains due to lacking market share. This would include the Houston Division. In 2014 Albertsons was approached by Safeway regarding a merger, and after FTC approval, including closing and selling specific locations from both chains, the merger was completed in 2015. The new company is divided into 14 different divisions. This now means that certain locations purchased by Randall's are once again owned by Albertsons.
---
Operations in Houston | 1995-2002
Albertsons entered the Houston, Texas market in 1995.1 The chain expanded into the Houston market by opening about 10 locations in 1995. They were able to get a feel for the market and opened a few stores in the coming years. The real expansion occurred in 2000 with around 15 stores opening and even more being opened in 2001.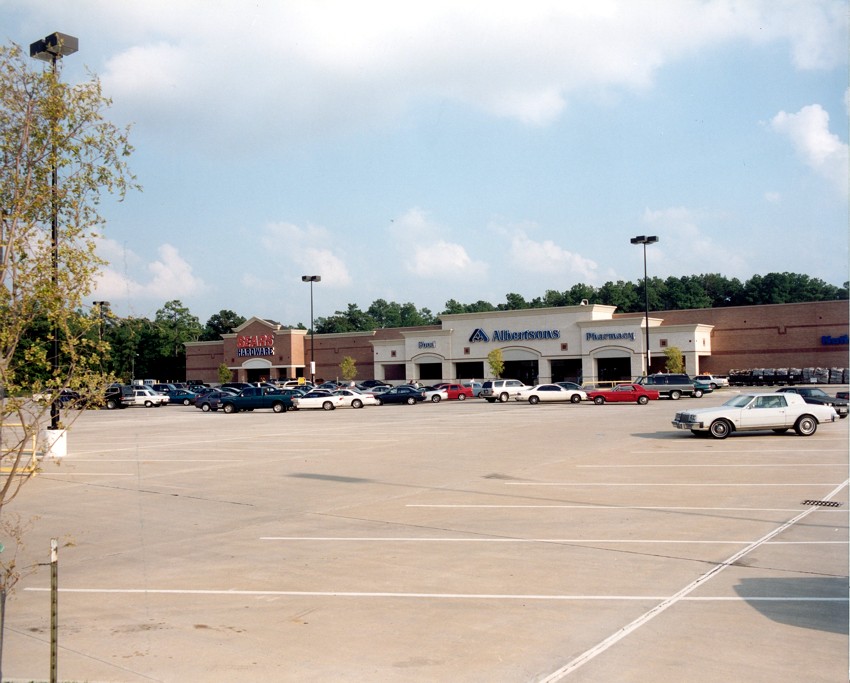 In March 2002, Albertsons made an announcement that they had decided to pull out of underperforming markets. Contrary to Albertsons current and planned growth, this included the Houston area. At the time of the announcement, the company had 43 stores open with multiple parcels of land that they were planning to develop. Albertsons managed to claim 8.7% of the Houston grocery market. For comparison, at the time, Kroger claimed 26 percent, Randall's claimed 17 percent, HEB claimed 13 percent, and Fiesta claimed 10 percent. The chain had previously closed six stores in Houston under the guise of restructuring the chain. At the time of their announcement, ten stores were closed immediately, with the remaining 33 vowing to stay open until buyers could be found. At the time of pull-out, Kroger agreed to buy 16 stores directly from Albertsons along with two parcels of land they were planning to build on. The list of stores can be found here.
Since Albertson's exit from the Houston market was so unexpected many new stores and concepts were being developed right up until the point of exit. Because of this, many of the Kroger-acquired stores have very unusual features. The features include Gas Stations with full Convenience Stores. Also, some stores were fitted with Garden Centers. Most Gas Stations and convenience stores continue to operate under Kroger. However, the Garden Centers were not long-lived. Due to the reluctance of getting Kroger to operate a full-blown Garden Center, an alternative use for the space was established. They decided to use the area as a Dollar Store. You can read more about the concept here.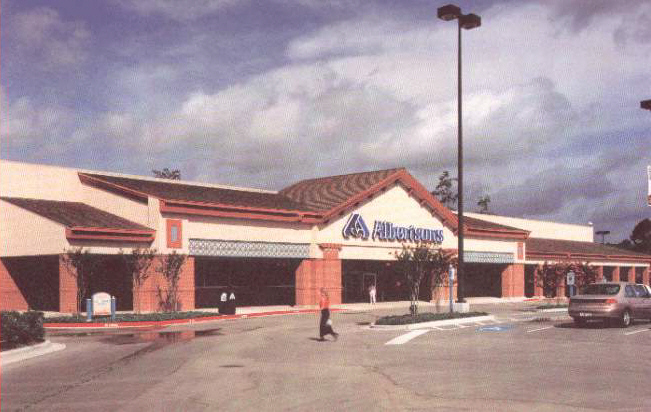 When moving into an Albertsons that was already operating, Kroger did little to change the aesthetics. Going so far as to leave all original signage that did not say "Albertsons," anything that did have to be replaced was even given a special font to match the already hung signs. You can see one example of the special Kroger logo here. HEB purchased two Locations during their early 2000s expansion into the Houston area. They both replaced Pantry Foods locations and were converted after being closed by Albertsons. One located on Spencer Highway would later be converted again to another HEB brand, Mi Tienda.
Photo Gallery
| Store No | Address | Notes |
| --- | --- | --- |
| #2701 | 301 S College Ave College Station, TX 77840 | Skaggs-Albertsons: 1971-1976 Skaggs-Super Center:1977-1980 Skagggs-Alpha Beta: 1980-1985 Jewel-Osco 1985-1992 Albertsons: 1992-1998 Relocated #2758 (More Info on all B/CS and other stores on Carbon-izer.com) |
| #2702 | 2205 Longmire Dr, College Station, TX 77845 | Albertsons: 1991-2008 Vacant: 2008-2016 Altitude Trampoline Park: 2017-2020 Vacant: 2020-Present (Footprint reduced after closing, due to Wal-Mart expansion) |
| #2703 | 12555 Briar Forest Dr. Houston, TX 77077 | Albertsons: 1995-2002 Kroger: 2002-Present, Fuel Center still operating |
| #2704 | 7430 Spencer Hwy. Pasadena, TX 77505 | Albertsons: 1995-2002 Vacant: 2002-2015 Self Storage: 2015-Present, Sat Completely untouched after closing pole signage still in place, A Express ready to lease |
| #2705 | 7530 Westheimer Rd. Houston, TX 77063 | Albertsons: 1995-2002 Subdivided, Linens N Things: 20002-2008 DSW: 2008-Present REI: 2002-Present |
| #2706 | 4425 FM 1960 W. Houston, TX 77068 | Albertsons: 1995-2002 Subdivided, 24 Hour Fitness: 2006-2020 |
| #2707 | 15875 FM 529 Houston, TX 77095 | Albertsons: 1995-2002 Food Town: 2002-Present |
| #2708 | 10535 Jones Rd Houston, TX 77065 | Albertsons: 1995-2001 Relocated to #2790 |
| #2721 | 604 Hwy. 332 Lake Jackson, TX 77566 | Albertsons: 1984-2002 Randalls: 2002-2013 Vacant: 2013-Present |
| #2722 | 3955 Phelan Blvd, Beaumont, TX 77707 | Albertsons: 1978-2004 Market Basket: 2005-Present Grocery Palace Decor untouched, Albertsons Express still open as MB Express |
| #2723 | 220 S. Loop 336 W. Conroe, TX Conroe, TX 77304 | Albertsons: 1989-2002 Kroger: 2002-Present |
| #2724 | 3442 Palmer Hwy, Texas City, TX 77590 | Albertsons: 1994-2000 Subdivided |
| #2725 | 111 N Timberland Dr, Lufkin, TX 75901 | Albertsons: 1985-2002 Vacant: 2002-2009 HEB: 2010-Present |
| #2726 | 525 S. Fry Rd. Katy, TX 77450 | Albertsons: 1996-2002 Randalls: 2002-Present |
| #2727 | 3517 N Main St. Baytown, TX | Albertsons: 1996-2002 Food Town: 2002-Present |
| #2728 | 14625 Beechnut St. Houston, TX | Albertsons: 1995-2002 Vacant: 2002-2005 World Food Imports: 2005-Present |
| #2729 | 10010 Cypresswood Dr. Houston, TX | Albertsons: 1997-2002 Kroger: 2002-Present |
| #2730 | 19750 N. Fwy. Spring, TX | Albertsons: 1995-2002 Vacant: 2002-2012 Conn's: 2012-Present Sears Outlet: 2013-Present |
| #2731 | 4811 Hwy. 6 Missouri City, TX | Albertsons: 1996-2001 Vacant: 2001-2004 Velocity Sports Performance: 2004-2010 Star Cinema Grill: 2011-Present |
| #2732 | 16811 El Camino Real Houston, TX | Albertsons: 1996-2002 HEB: 2002-2021 Vacant: 2022-Present Location moved to larger site near I-45 |
| #2733 | 7506 FM 1960 Atascocita, TX | Albertsons: 1996-2002 Vacant: 2002-2008 Autzone/Bike Barn: 2008-Present |
| #2734 | 3830 W. Davis Street Conroe, TX | Albertsons: 1996-2002 Kroger: 2002-Present, Had Fuel Center |
| #2735 | 2250 Buckthorne Pl. Spring, TX | Albertsons: 1996-2002 Randalls: 2002-Present |
| #2736 | 151 N. Friendswood Dr. Friendswood, TX | Albertsons: 1996-2002 Kroger: 2002-Present |
| #2740 | 8333 Twin City Hwy Port Arthur, TX 77642 | Albertsons: 1996-2002 HEB: 2002-Present, Expanded around 2011 |
| #2741 | 10251 Kempwood Dr. Houston, TX | Albertsons: 1998-2002 HEB: 2002-Present, Fuel Center still open, but C-store demo'd oddly this gas station has soda machines and sells ice. |
| #2742 | 1630 Spencer Hwy. South Houston, TX | Albertsons: 1999-2002 HEB: 2002-2011 Mi Tienda: 2011-Present |
| #2743 | 20851 FM 1485 New Caney, TX | Albertsons: 1997-2002 Food Fair: 2002-2015 Food Town: 2015-Present |
| #2744 | 250 S. FM 270 League City, TX | Albertsons: 1997-2002 Kroger: 2002-Present |
| #2745 | 7121 Broadway St. Pearland, TX | Albertsons: 2000-2002 Food Town: 2002-Present |
| #2751 | 1890 FM 359 Richmond, TX | Albertsons: 2000-2002 Randalls: 2002-Present |
| #2752 | 4303 Kingwood Dr. Humble, TX | Albertsons: 2001-2002 Vacant: 2002-2003 HEB: 2003-Present |
| #2753 | 9725 Fondren Rd. Houston, TX | Albertsons: 1997-2002 Vacant: 2002-2006 Food Town: 2006-Present |
| #2754 | 8000 Research Forest Dr. The Woodlands, TX | Albertsons: 2000-2002 Kroger: 2002-Present |
| #2755 | 9525 S. Kirkwood Rd. Houston, TX | Albertsons: 1998-2002 Kroger: 2002-2005 Food Town: 2005-Present |
| #2757 | 2770 N. Sam Houston Pkwy. W. Houston, TX | Albertsons: 1998-2002 Food Town: 2002-Present |
| #2758 | 615 University Dr E, College Station, TX 77840 | Randalls: 1991-1997 Albertsons: 1997-2011 Vacant: 2011-Present Purchased and not reopened by HEB, vacant since. |
| #2759 | 1838 East Sam Houston Pkwy S, Pasadena, TX 77503 | Randalls: 1993-1997 Albertsons: 1997-2000 Currently Pasadena ISD Campus |
| #2760 | 1500 W. Grand Pkwy. S. Katy, TX | Albertsons: 1999-2002 Kroger: 2002-Present |
| #2761 | 11701 E. Sam Houston Pkwy. Houston, TX | Albertsons: 1998-2002 Kroger: 2002-Present |
| #2762 | 18322 Clay Rd. Houston, TX | Albertsons: 1999-2002 Randalls: 2002-Present |
| #2763 | 4740 Spring Cypress Rd. Spring, TX | Albertsons: 1999-2002 Vacant: 2002-2012 DPS Mega Center: 2012-Present |
| #2766 | 9125 W. Sam Houston Pkwy. N. Houston, TX | Albertsons: 1999-2002 Kroger: 2002-Present |
| #2768 | 5620 W. Tidwell Rd. Houston, TX | Albertsons: 1999-2002 Kroger: 2003-2011 YES Prep 2012-Present |
| #2769 | 12603 Louetta Rd. Houston, TX | Albertsons: 1999-2002 Vacant: 2002-2005 Enchanted Cypress Ballroom: 2005-Present |
| #2773 | 1770 E. T.C. Jester Blvd. Houston, TX | Albertsons: 2000-2002 Vacant: 2002-2004 Heights Self Storage: 2004-Present |
| #2776 | SH 249 @ FM 2920 Tomball, TX | Planned Store, Property purchased but never built. Kroger |
| #2777 | 3135 FM 528 Rd, Friendswood, TX 77546 | Albertsons: 2000-2002 Kroger: 2002-Present |
| #2778 | 5807 East Sam Houston Pkwy N Houston, TX | Albertsons: 2001-2002 Subdivided Big Lots/99 Cents Only Store |
| #2780 | 7747 Kirby Dr. Houston, TX | Albertsons: 2001-2002 Kroger: 2002-Present |
| #2781 | Grand Parkway @ US 59 Sugar Land, TX | Planned Store, Property Purchased, Plan Developed never built, Larger HEB built on site including early fuel center |
| #2787 | SH 249 @ Antoine Houston, TX | Planned Store, Property Purchased but never built. Sold to Kroger, Bank of America in Fuel Pad |
| #2788 | 11565 Hwy. 6 Sugar Land, TX | Albertsons: 2001-2002 Kroger: 2003-Present |
| #2789 | Westpark @ Dairy Ashford Houston, TX | Planned Store, property purchased but never built. At the corner where Walgreens was eventually built, Was also previously slated to be a Randall's |
| #2790 | 12400 FM 1960 W. Houston, TX | Albertsons: 2000-2002 Kroger: 2002-Present |
| #2791 | 12466 Interstate 45 N, Willis, TX 77378 | Albertsons: 2001-2002 Kroger: 2002-2011 Moved across I-45 to Marketplace location, Fuel and C-Store at old location continued to operated into 2016 |
| #2794 | 8745 Spring Cypress Rd. Spring, TX | Albertsons: 2001-2002 Kroger: 2002-Present |
| #2796 | 1901 S Texas Ave, Bryan, TX 77802 | Albertsons: 2002-2006 Walmart Neighborhood Market: 2013-2016 Opened in the final months of the Houston Division before being transfered to Dallas. |
| ???? | 6616 Farm to Market Rd 1488, Magnolia, TX 77354 | Planned Store, property purchased but never built. Kroger opened in 2003, Built according to Albertons Plan, Bank of America on Fuel Center Site |
| #2806 | Eldridge Parkway @ W. Little York Houston, TX | Planned Store, property purchased but never built. Kroger opened in 2005, Built according to Albertons Plan, Bank of America on Fuel Center Site |
| #2811 | FM 1960 @ Ella Blvd Houston, TX | Planned Store, property purchased but never built. Would have been on the SE Corner |