It all started with Piggly Wiggly
Minimax has a long and storied history in Houston and throughout Texas. The story starts with Brenham resident E.A. Eversberg. Mr. Eversberg had become a prominent businessman in Central Texas during the early 1900s. Previously a cadet at Texas A&M, Eversberg served both abroad at Camp Bowie during World War I. During the war, Eversberg had become familiar with self-service grocery, specifically, Piggly Wiggly, which he may have seen in Houston as early as 1917, only months after debuting in Memphis or possibly in San Antonio or Fort Worth the following year. Watching the chain multiply, Eversberg decided to cash in on his hometown. In September 1919, E.A. Eversberg opened a Piggly Wiggly franchise in Brenham. For ten years, Eversberg would operate the single store. He had recruited a butcher to lease space for a meat counter and had what was one of the most modern grocery stores in Washington County at the time. With the growth of the Brazos Valley, Eversberg would open a second Piggly Wiggly in Brenham in 1928. The growth in the area was not limited to Brenham, but unfortunately, Eversberg was. Like other Piggly Wiggly franchisees, Eversberg's contract was geographically limited to where he could expand. To remedy this, E.A. began courting other grocery franchises to try to get a jump on the competition. He would find his answer in Humpty Dumpty, an Oklahoma-based chain that was essentially a clone of Piggly Wiggly. Adapting the self-service concept to use unique "Stoop-no-More" shelving, in addition to "bargain corners," Humpty Dumpty was able to differentiate themselves from Piggly Wiggly's patents on their self-service system, an early problem that prevented independents from just "switching over" to self-service. Eversberg was so confident in Humpty Dumpty that he purchased master franchise rights for most of Texas.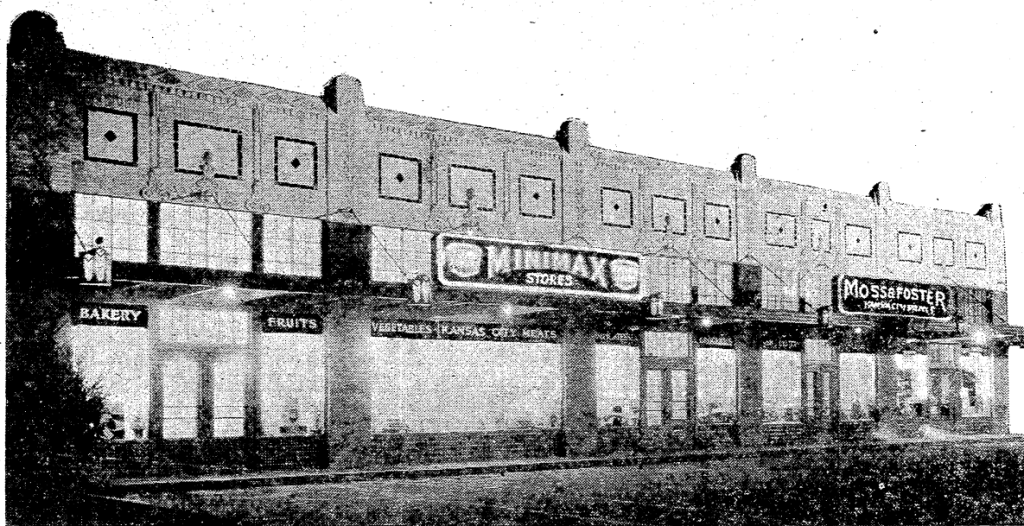 In 1929, after ten years as a Piggly Wiggly operator, E.A. Eversberg announced he would flip his first Brenham store to a Humpty Dumpty. The store would be retrofitted to use the new Humpty Dumpty system, removing the old fixtures from Piggly Wiggly. Likely due to contractual reasons, Eversberg would continue to operate his second Piggly Wiggly as normal. As Humpty Dumpty master franchisee of Texas, it would be Eversberg's responsibility to recruit new franchisees for Humpty Dumpty. In this role, Eversberg would be entitled to a percentage of the profits of each franchisee he signed. However, Eversberg made no money from the sales of fixtures to the new franchisees, which was a major source of cash needed to pay for advertising and other executive functions. Always the wise businessman, he began working on his own franchise system, including his own fixture manufacturing facility in Rockdale, Texas. In 1931, the first "Minimax" stores opened throughout small Texas towns. With Eversberg in control of the fixtures and royalties, he was able to set low rates and sign over planned Humpty Dumptys to his new Minimax System. Back in Brenham, when the butcher who leased space in Humpty Dumpty left his position to operate a Cafeteria, Eversberg decided to take over operations of the butcher counter, a rarity at the time. By this point, Eversberg owned more than a few Minimax and Humpty Dumpty locations throughout Central Teas, and it seemed that E. A. felt he was finally ready to compete with the "big boys" in Houston. The Houston store was built in the "suburb" of Montrose and was considered by far the most advanced grocery store in suburban Houston. Many early shoppers made comparisons to Weingarten's and Henke & Pillot. Residents of Brenham compared the store to their local Humpty Dumpty, which means Minimax, could be considered a copy of, a copy of a Piggly Wiggly. The Houston location would include a leased butcher counter, bakery, and a wide array of groceries. Despite Minimax's flagship store being in Houston, Eversberg vowed to remain in Brenham.
As mentioned in many other pages on HHR, despite the Great Depression having a measurable impact on Texas, certain areas were not as badly affected as others. Houston was able to largely scrape by, funded by a growing oil & gas industry. While we had hardships, Houston also experienced growth during the Depression. Minimax would open its second store in July 1932, in a former Alexander-Bale store, a chain that had not been as lucky during the Market Crash.  Additional new stores would continue to open in other areas of Texas where growth was experienced, like Newgulf. With Houston doing quite well in the 30s, robberies by traveling criminals became common, sometimes even attracting robbers from out of state. Despite all the troubles in operation, the Houston Minimax stores would prove to be quite profitable. One of Everberg's biggest advantages was his relationship with Schumacher Co., his supplier since the Piggly Wiggly days. Schumacher had started in La Grange and grown to serve many small towns, serving as the main supplier for Humpty Dumpty and later Minimax. Much of Minimax's success was deflected towards its suppliers, and abilities to provide fresher foods than competitors. To help keep up this reputation, Schumacher would make the logical step to expand its presence in Houston to help an ever-growing Minimax. In 1935, Eversbreg planned for Joseph Finger to design a new store at Milam and Gray. This building would not only be home to a complete grocery store but would also sublet space to Walgreens and even include A/C. It was clear with this new store that E.A. was ready for the big leagues that was Houston, opening his fourth store in town just a year later. To deal with the responsibility of running the increasingly complicated Houston Minimax stores, Eversberg had slowly been selling off his Humpty Dumpty locations and had converted the Brenham location into a Minimax. However, sometime around 1938, E.A. and his family leased out the Brenham store and moved permanently to Houston. In 1939, in what was likely a direct step against Weingarten's, who had started a similar program, Eversberg opened a BBQ and poultry plant. The plant would cook fresh BBQ and roast poultry daily, which would then be sent to the stores and sold directly to customers. Eversberg had dedicated his life to Minimax, and his efforts were apparent. However, he had his eye on an even bigger picture during this time, and around 1940, he sold both Minimax and Humpty Dumpty to Schumacher in preparation for a possible American entry into World War II.
Schumacher buys Minimax and doubles down
While coverage on the sale was light, the date of its occurrence coincides with Everberg's enlistment into the National Guard and relocation to San Antonio, from where he would be called into active duty just over a year later and months before the attack on Pearl Harbor. With E.A. totally out of the picture (he would once again go on to have an impactful career in the European theater of the war), the fate of the chain lay in the hands of its supplier, John Schumacher. A wholesaler by trade, it was apparent that at this point, Schumacher had operated at least a few grocery stores by this point. However, they all seem to be small stores in country towns. Houston was likely a new experience for the man from La Grange, who would experience some of the same pitfalls as Eversberg. Despite these early hiccups, Schumacher was able to quickly grow both Minimax and Humpty Dumpty over the next few years. Around this time, though, the Humpty Dumpty identity would begin to fade, likely related to a merger the original Oklahoma-based company had undergone shortly prior. While Minimax had been used for country stores, Schumacher planned to restrict the Mimimax name to modern supermarkets, leaving some smaller country stores aligned with I.G.A.. While he would not stop supplying the smaller stores, Schumacher's focus would be on Minimax in Houston. In 1946, Minimax would debut their first 24/7 grocery store. Offering a unique service for the time, the stores would be open 24 hours a day, seven days a week, and every day of the year. It was a new concept, but the innovations that had pushed Eversberg to build his own chain were one of the reasons Minimax was successful. Even under new ownership, the risk would prove successful enough to call for a second 24-hour store in Houston just about a year later. To support this consistent expansion, in 1947 Schumacher would start work on a massive new $1 Million warehouse in Houston. By 1949, Minimax would be up to 11 company-owned locations in Houston and a similar number of franchised stores around the Houston suburbs, making Minimax one of the larger grocery chains in Texas at the time.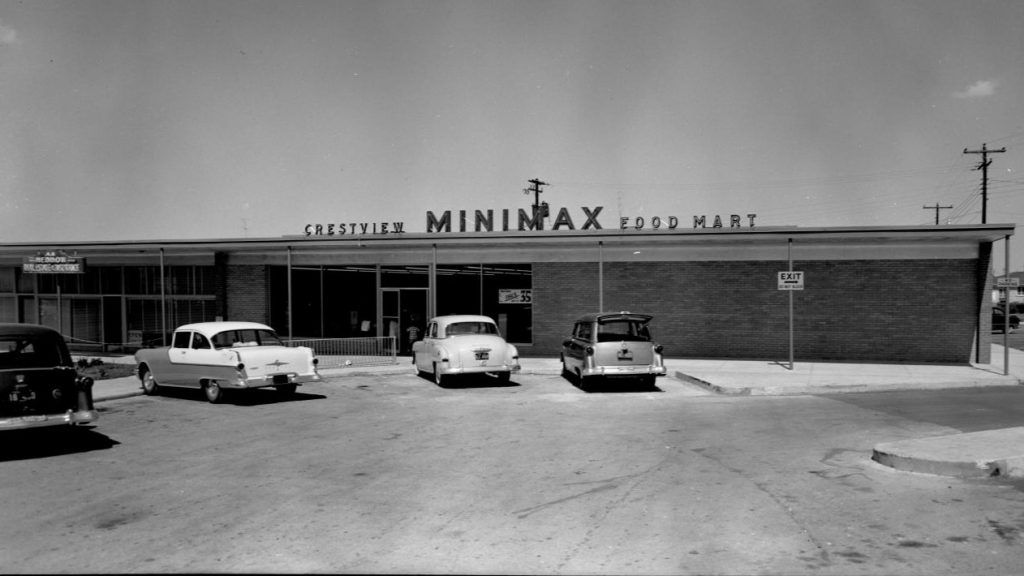 Under new ownership, Minimax had become enormous in the 1940s. However, this still was only the tip of the iceberg for the grocer. While Schumacher had done a great job at running the Houston stores, at its heart, Minimax was still a co-op, and Schumacher was still just a supplier. With the Baby Boom starting at the end of World War II, the chain needed to grow faster than ever, and Schumacher wasn't up to the task on his own. As mentioned previously, Minimax had largely been focused on the city. However, smaller towns required supermarkets, and they were going to fill them with or without the help of Minimax. Schumacher saw this and realized a quick way to build store count would be to sign on existing stores in new territories. The first location to meet this qualification would be Barber's Market in Conroe, which would maintain its family ownership but join the Minimax system in 1951. Over the next few years, Minimax stores would pop up anywhere Schumacher operated in Texas. New stores were mostly centered around Houston, the Gulf Coast, and Austin, although stores were known to exist as far North as Killeen. New franchisees were also brought on in Houston, and with the ever-expanding city limits, the lines of company-owned and franchised stores were soon becoming blurry. It seems around the mid-50s, Schumacher began to sell off the remaining company-owned Minimax locations, shifting mostly to a franchise only system. Some of this push seems to have been to facilitate the Florian family. A long line of grocers who had worked for other chains (mainly Weingarten's and H&P), decided to go out on their own as a family and take hold of Minimax. While they would never gain corporate control, the family would take over the remaining company-owned stores and majorly influence Minimax's business. As Schumacher transitioned out of direct retail, they would push focus on building and maintaining buildings for "store owners" to lease out. The supplier would set an ambitious goal of jumping from 40 locations in 1958 to 75 by 1975.  To facilitate this plan for rapid growth, Minimax would start building new stores for franchisees. Schumacher would even sign leases in new shopping centers where they did not have a franchisee signed on because they knew they would be able to find owners. While it was unknown to the public at the time, these decisions would be some of the last made by Schumacher.
In April 1960, Schumacher Co. was quietly bought out by wholesale competitor Fleming. While the plan would be to dismantle Schumacher eventually, Fleming realized that the company's core was their Minimax and IGA operations consisting of about 250 stores. As such, one of Schumacher's final actions was jointly hosting a "roundup" with Fleming. Higher-ranking franchisees would be invited to meet the Fleming executives and learn about upcoming changes. Houston was rapidly changing at the time, and Minimax needed to adapt to keep up. The Houston grocery market had become quite tense with increasing national competition, local chains, and slowing growth compared to the 50s. While the early 60s would see a continuation of the Schumacher plan to build and lease new suburban stores, a new opportunity would present itself after only a few years. While Minimax struggled to compete with national chains, they could keep up with local competition and often outsold other independents. In the 1960s, Minimax stores started to deviate from their earlier counterparts. While Schumacher had allowed variation between stores, this really seemed to increase under Fleming. While larger Supermarkets would still be built, some smaller independent markets could flip to Minimax after this change. The increased business resulted in Fleming starting work on a new warehouse, distribution center, and even a bakery in 1966. The bakery would only be the second in the Fleming operation, which stretched North to Nebraska then. The chain would continue to expand throughout the late 60s, both with acquired and newly built stores. However, the late 60s brought serious economic woes to Houston for the first time in nearly 30 years and undermined lots of confidence. While Minimax planned to build twelve stores in 1968, development would slow around this time. A large factor in this slowdown was increased supermarket competition in Houston. With new competitors, like Handy Andy, Safeway, and Eagle, planning to enter the market, Minimax was starting to look quite basic by comparison.
The Grocery Wars begin to shred Minimax apart
The 1970s would be quite rough on Minimax. The increased competition would be our first real onset of grocery wars, and while not the most severe we would ever see, this decade would hasten the death of the independent grocer market in Houston. With competition becoming more intense, it was common to see families like the aforementioned Florians exit the grocery market. The conditions in Houston weren't exactly unique either and would expand into most of Flemings's operating territory. With corporate support spread a bit thin during this time, Minimax operators were somewhat left to fend for themselves. Especially when an owner would exit the market, it was common for another, more established Minimax operator to try and take over the fallout. This conglomeration would eventually lead to a small pool of owners holding a majority of Minimax locations. In addition to ownership changes, many stores that had joined Minimax from another co-op found themselves leaving when their contract ended. Although lots of stores were leaving, Minimax Fleming was able to swing a few new clients like Texas Super Foods. By 1978, the chain was down to about 35 locations across Southeast Texas, and only about 19 of those in Houston. A large amount of Fleming's business was devoted to supplying ever-growing location chains like Randalls. Even though Minimax continued to shrink, Fleming continued to support the co-op through advertising and promotions like S&H Green Stamps, which were abandoned by most national chains at the time. Still, faith was declining in Minimax, and some of the larger owners began experimenting with moving away from the banner altogether. Continental Finer Foods, which had been a long-term Minimax operator, was one of the first opening their first "Finer Foods" store in 1975, and moving away from Minimax all together over the next few years. By the end of the 1970s, though, Fleming seemed to stabilize a bit.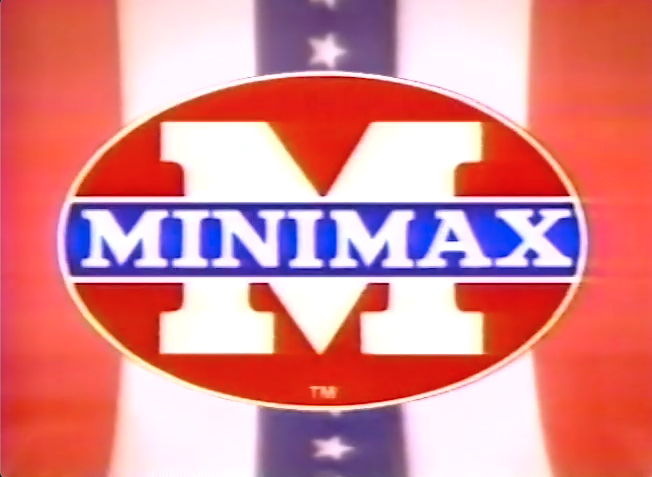 One of the long-term issues Fleming had was not updating their stores. While some Minimax operators had added things like delis and bakeries to their stores, most were basic small grocery stores. Again, this problem also expanded to other Fleming divisions, and by 1980, the wholesaler seemed to get the message. They began debuting new larger format stores, doubling average sizes from about 20k Sqft to 40k Sqft. While still not setting any requirements, these larger-size stores did have the effect of store owners adding service departments. In 1982, Minimax President Ray A McBride passed away. McBride had been with the company since the Schumacher days and was initially a store owner. He was largely the glue that held the entire Minimax organization together towards the end and was not officially replaced. While Fleming would continue to supply Minimax stores and promote the chain, the management side appears to have been outsourced to Fleming's Kansas HQ. This was really the last straw for Minimax as a chain, and shortly after, Jumbo and Holiday Foods would both spin-off from Minimax. The remaining Minimax stores would slowly close over the next few years. The few remaining Minimax locations had little against the many other independents or chain grocers in Houston at the time. The final Houston area Minimax seems to have closed around 1994. During this time, many local grocers had pulled away from Fleming, with the most famous case being Randall's switch to self-supply. In 1996, the Houston Fleming Warehouse and Offices would close, ending Minimax's remaining operations. A handful of rouge Minimax stores continued to operate on their own into the 2000s, with a few even outliving Fleming. The final known Minimax closed in Austin in 2016, ending the name nearly 100 years after E.A. Eversberg opened his first Piggly Wiggly.
Location List
| Address | Notes |
| --- | --- |
| 1200 Westheimer Rd, Houston, TX 77006 | 1931-1937 Original store, Relocated |
| 1019 Westheimer Rd Houston, TX 77006 | 1937-1972 Company Owned, Relocation of First Store, Later Jamail's Minimax, Demolished |
| 5216 Almeda Rd, Houston, TX 77004 | 1932-1949 Company Owned, Former Alexander-Bale Store, Recently Demolished, Walgreens still there |
| 12661 Market St, Houston, TX 77015 | 1950-1960 Seems to have closed after "faked" robbery was taken to court, Handy Dandy Minimax |
| 1105 East 11th Street, Houston, TX | 1935-1948 Company Owned, Sold to independent operates as Bill's, Later Thrifty |
| 711 Gray St, Houston, TX 77002 | 1937-1952 Company Owned, Later European Import Co, Yaller Moon, and Bert Wheeler |
| 2014 Clinton Dr Galena Park, TX 77547 | 1947-Present Originally Middleton's Joined Minimax in 1948 as Whisenant's, Left for Lucky 7 in 50s as Middletons |
| 220 W Sterling Ave, Baytown, TX 77520 | 1950-1959 Originally opened as a King Cole Food Market (another Schumacher Brand) Converted to Pasadena Minimax, and closed shortly after to become S&H Green Stamp Store |
| 10341 Palestine St Houston, TX 77029 | 1948- Martin & Wallace Minimax 1953, McBride Minimax 1955, 1959 |
| 1300 Wayside Dr, Houston, TX 77023 | Angle & Lynch Minimax 1953, Angle's Minimax 1955 |
| 802 Telephone Rd, Houston, TX 77023 | |
| 2902 N Shepherd Dr Houston, TX 77008 | Minimax No 11 1953, Florian's #2 Minimax 1955, 1967 |
| 6919 Jensen Dr Houston, TX 77093 | Coleman's Minimax 1955,1967 |
| 1100 Quitman St, Houston, TX 77009 | Now Fiesta |
| 4520 Holmes Rd Houston, TX 77033 | J.D. Jamail Minimax (Inside King Center) 1953, 1955, King Center Minimax 1959 |
| 5800 Lyons Ave, Houston, TX 77020 | Now Fiesta |
| 1001 S Broadway St La Porte, TX 77571 | La Porte Holiday Foods Minimax, La Porte Minimax 1979 |
| 1019 Westheimer Rd Houston, TX 77006 | Store #1, Company Owned December 18, 1931-, Jamail's 1953, Florian's #3 1955, 1967 |
| 10341 Palestine St Houston, TX 77029 | Martin & Wallace Minimax 1953, McBride Minimax 1955, 1959 |
| 1117 Bayou Rd La Marque, TX 77568 | Texas Super Minimax 1981 |
| 1153 Kingwood Dr Kingwood, TX 77339 | Kingwood Minimax 1976, 1981 |
| 11530 Bellaire Blvd Houston, TX 77072 | Brays Forest Minimax 1976, 1979 |
| 1201 Strawberry Rd Pasadena, TX 77506 | Strawberry Minimax 1967, Kingmart Minimax 1976, 1979 demolished after 2013 for a Stripes |
| 1204 Westheimer Rd Houston, TX 77006 | Likely original location. Built around 1930 still standing now a Slick Willie's Pool Hall |
| 1238 W 43rd St Houston, TX 77018 | Florian's #1 Minimax 1955, 1967 |
| 12512 Bellaire Blvd Houston, TX 77072 | Ferguson's Minimax/Bellford Crossing Minimax 1981 |
| 12661 Market Street Rd, Houston, TX 77015 | Built 1950, 1953 Store #2, Handy-Dandy Minimax 1959 |
| 1285 Pinemont Dr Houston, TX 77018 | King Mart Minimax, 1976, 1979, 1981 now HCC Northeast |
| 1303 Ella Blvd, Houston, TX 77008 | Continental #2 Minimax 1967 |
| 13815 S Post Oak Rd Houston, TX 77045 | Allen's Minimax 1967 |
| 1411 Ahrens St Houston, TX 77017 | Womack's #1 Minimax 1953, 1967, 1979 |
| 1424 Spring Cypress Rd Spring, TX 77373 | Spring Minimax 1976, 1979 |
| 1719 Garth Rd Baytown, TX 77520 | Texas Superfoods 1979,1981 Now a furniture store. |
| 1728 W Mt Houston Rd Houston, TX 77038 | Clayton's Minimax Opened 1978 still open in 1983, Amato's Minimax grand opening 1981, Now a Fiesta |
| 1813 Center St Deer Park, TX 77536 | Plaza Minimax |
| 18518 Kuykendahl Rd Spring, TX 77379 | Wheat's Minimax/Village Green Minimax 1981 |
| 2014 Clinton Dr Galena Park, TX 77547 | Whisenant's Minimax 1953 |
| 219 N Taylor St Alvin, TX 77511 | Stanton's Minimax 1967, 1979, 1981 Still Open without the Minimax name! |
| 220 West Sterling Pasadena, TX | Whisenant's Minimax 1955 |
| 2410 Bay Area Blvd, Houston, TX 77058 | Barne's Minimax 1981 |
| 2540 E Broadway St Pearland, TX 77581 | Pearland Minimax 1967/Texas Super Minimax 1981 |
| 2555 Gessner Rd Houston, TX 77080 | Kyle's Minimax was previously a Gerland's |
| 2601 Cartwright Rd Missouri City, TX 77459 | Hopper's Minimax Open in 1986, possibly in 1992. Previously a Gerland's now a gym. |
| 2728 Texas Ave Texas City, TX 77590 | Texas Super Minimax 1979 |
| 2801 Palmer Hwy Texas City, TX 77590 | Texas Superfoods (Did not use Minimax Name) |
| 2902 N Shepherd Dr Houston, TX 77008 | Minimax No 11 1953, Florian's #2 Minimax 1955, 1967 |
| 302 Winkler Dr, South Houston, TX 77587 | Hord's Minimax 1955, Florian's #4 Minimax 1959 |
| 3020 Little York Rd, Houston, TX 77093 | Little York Minimax 1967 |
| 3102 Milam St Houston, TX 77006 | Store #3 1935-? |
| 3421 Spencer Hwy Pasadena, TX 77504 | Popp-Jones Minimax 1967 |
| 3910 Aldine Mail Rte Rd Houston, TX 77039 | Continental Minimax 1976 |
| 405 South Park | Womack's #2 Minimax 1959 |
| 4520 Holmes Rd Houston, TX 77033 | J.D. Jamail Minimax (Inside King Center) 1953, 1955, King Center Minimax 1959 |
| 519 Jackson Ave Pasadena, TX 77506 | A&G Minimax 1979, 1981 |
| 5109 Fulton St Houston, TX 77009 | Joe Di Chiara Minimax 1955 |
| 5216 Almeda Rd Houston, TX 77004 | Company Owned July 30, 1932- |
| 5321 Westheimer Rd Houston, TX 77056 | Minimax Foodliner 1955, Lamar Terrace Minimax 1959 |
| 5472 Bellaire Blvd Bellaire, TX 77401 | Bellaire Minimax 1959 |
| 5550 North Freeway Houston, TX 77076 | Martin's Minimax now a 99 Cents Only Store |
| 5817 W Airport Blvd Houston, TX 77035 | Westbury Minimax 1967, Barne's Westbury Minimax 1976, 1979 |
| 603 S Friendswood Dr Friendswood, TX 77546 | K.U. Davis Minimax 1967? Mitchell's Minimax 1979 |
| 620 W. Shaver Street, Pasadena, TX 77506 | 1950 |
| 6919 Jensen Dr Houston, TX 77093 | Coleman's Minimax 1955,1967 |
| 6935 W Bellfort Blvd Houston, TX 77035 | Wynn-Warren Minimax 1967 |
| 711 W Gray St Houston, TX 77019 | 1950 Store #4 |
| 7925 Katy Fwy Houston, TX 77024 | Continental #1 Minimax 1967 |
| 820 S Oak St La Marque, TX 77568 | Texas Superfoods Minimax 1981 |
| 850 Maxey Rd Houston, TX 77013 | Maxey Rd Minimax 1981 |
| 8540 Broadway St Pearland, TX 77584 | Dell's Minimax 1979 |
| 8622 Irvington Blvd Houston, TX 77022 | 1961-2013 Originally Berry Road Minimax, Later Carmona's Minimax, Then aligned with Festival |
| 9101 Long Point Rd Houston, TX 77055 | Miller's Minimax 1955 |
| Alta Loma, TX | Tombrella Minimax 1967, Santa Fe Minimax 1979 |
| Cleveland, TX | Cleveland Minimax 1981 |
| Conroe, TX | Barber's Minimax 1953 |
| Dickinson, TX | Bayshore Minimax 1967 |
| 1535 Elton St Houston, TX 77034 | Freeway Manor Minimax 1959, 1967 |
| Ganado, TX | Kucera's Minimax 1953 |
| Livingston, TX | William's Minimax 1953 |
| Leauge City, TX | Snell's Minimax 1967 |
| Memorial Drive at West Belt | Wynn-Warren Minimax 1967 |
| 20 Highway 59 Porter, TX | Porter Minimax Highway 59 at FM 1314 Possibly where Big Lots is? |
| Richmond, TX | Love's Minimax 1953 |
| Uvalde at I-10 East | Wynn-Warren Minimax 1967 |
| Wharton, TX | Sansing & Smith Minimax 1953 |
| Demolished after 2011 Company Owned July 30, 1932- | |