Company History:
The history of the Big Boy Chain is a long and complicated one, but the basics of it are as follows: The original idea for Big Boy comes from Bob Wian. He developed the concept and named his restaurant Bob's Big Boy. The chain had a diner style menu serving both Hamburgers are more complicated affairs such as the Shrimp Dinner. Though the signature dish was easily the Big Boy Hamburger. Which includes, a sesame seed bun, special sauce, two beef patties separated by a piece of bread. Sound familiar? Invented in 1937 the Big Boy was the inspiration for the Big Mac (also providing half the name) among many other similar burgers across many chains. The concept took off quickly, and Bob found himself approached by more potential franchisees than he knew what to do with. A concept which he was not supportive of. This led to Bob focusing on licensing rather than franchising. He would end up choosing a small set of franchisees for broad regions of the United States and allowed those franchisees to grant sub-franchises.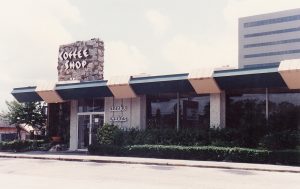 Houston History:
With Bob's focus on licensing, as opposed to franchising, major differences existed between Big Boy chains. Generally the only guaranteed connecting factor was the burger and the name. The entire state of Texas was assigned to the Kip's Big Boy Franchise. Also operating in Oklahoma, and Kansas; Kip's mostly aligned themselves with Bob's only adding a few extra items to the menu. Kip's Texas locations began popping up first in Dallas during the early 1960s, and by the middle of that decade the expansion had moved to Houston. The first Houston location to open was at 5111 Griggs Road. The original restaurant was also the first to close, not making it into the 1980s, due to a string of robberies as the area shifted. Kip's however would survive all the way up until 1995 when the Pasadena location would close.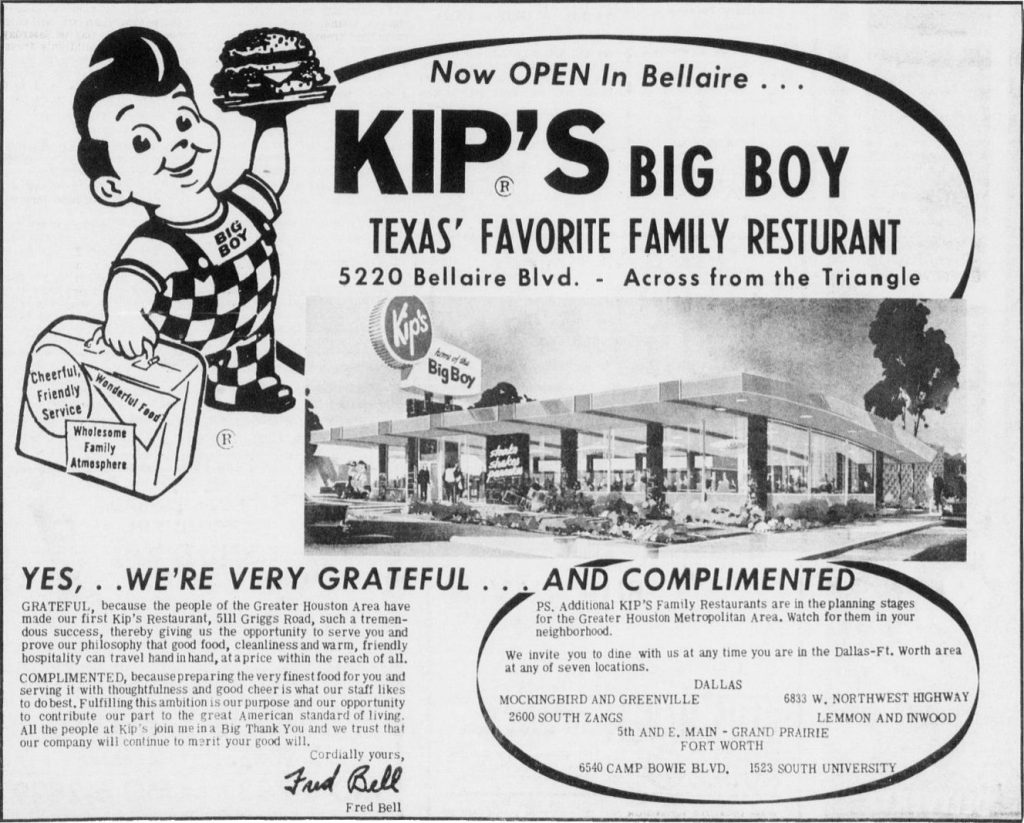 In 1966 The Bellaire location became the second to open. This location would eventually be demolished to build a bank. The Westheimer location was the third to be built, it was also one of the last to close as Kip's. In the 1990s it was converted into the second Dot Diner location, and was eventually demolished for Central Market. The Westheimer and Hillcroft location was eventually converted into a Mexican restaurant which was demolished in 2016 for a new strip center. Finally, this leaves us with the Gulf Freeway and Spencer Highway locations, both of which are still standing and operating as restaurants, as of 2020. The Spencer Highway Kip's opened in 1974, and was the second to last to be built. It operated as a Kip's up until 1994, when the contents of the store were sold at auction. The restaurant would sit vacant until Frank's Grill opened in 2004.
List of Locations
| Address | Notes |
| --- | --- |
| 5111 Griggs Rd Houston, TX 77021 | 1965-1978 Building new in 1965, required demolishing a closed restaurant named Golden Hour. After closing converted to a few unsuccessful clubs, then demolished for a beauty supply store. Now location of Alice McKean Young Library |
| 5320 Bellaire Blvd Bellaire, TX 77401 | 1966-1990 Demolished to build headquarters of Citizens National Bank. |
| 3839 Westheimer Rd Houston, TX 77027 | 1968-1988 Converted into Dot Coffee Shop, Demolished 2001 for Central Market. |
| 8520 Gulf Fwy Houston, TX 77017 | 1978-1994 Converted into Omega Family Restaurant. Now Mannie's Seafood Restaurant. |
| 3807 Spencer Hwy Pasadena, TX 77504 | 1974-1994 Sat vacant until Frank's Grill opened in 2004. Slightly updated, but still looks like a Big Boy |
| 7705 Westheimer Rd Houston, TX 77063 | 1974-1989 Converted into Doneraki Mexican Restaurant, Demolished 2016 for new center. |