Company History
On the Border South Texas Cafe, as it was originally known, opened in 1982 in the Knox Park suburb of Dallas. To give some context, this area was not exactly the trendiest part of town, but was it beginning to turn. It was very popular with young single professionals. At the time many Mexican restaurants were dark, dreary places stuck in the 60s. Applying a "yuppie" vibe to Tex-Mex was a new idea. This simple change would help On the Border grow to three locations within the DFW area by 1987. The same year On the Border would make their first expansion into a new city. As with other Dallas based restaurants Houston was the target of choice.
The inter-city expansion would prove very fruitful with On the Border growing to 21 locations by 1994. With other chains taking notice of the growth OTB would be approached by Dallas based Brinker, who had acquired multiple other restaurant chains at this point. Famously starting with Chilli's which they had turned from a regional burger chain into a national success using a franchise model. This model was quickly applied to On the Border stores whose numbers grew into the hundreds by the late 90s. Brinker would often sell restaurants in groups, trying to put On the Border near existing Chili's. On the Border consistently ranked among the top dine in Tex-Mex chains throughout the years. For Brinker it always served as a strong second. Although it was finally sold in 2010 as Brinker encountered further financial issues. At the time of sale, On the Border was a relatively healthy company. Independently they have maintained this momentum for this most part, showing growth since closing the Houston stores.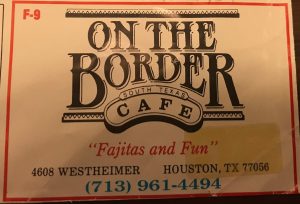 Local History
In 1987 On the Border opened their first location outside of DFW, their fourth over all. Just as their first Dallas location this part of town was experiencing a rebirth. The corner of Westcreek Lane, and Westheimer. The area had been known throughout the 60s and 70s as "Acid Lane" and featured a variety of smoke shops, among other less savory outlets, but had been re-imagined in the 1980s as trendy bars and restaurants, like Le Peep. This first location was received relatively well by Houstonians although, On the Border was far from having Ninfa's shaking in their boots. At the time Tex-Mex food was split into two distinct categories. The American style chains such as El Torito which was focused on providing a fake "immersive" experience. The flip side of the coin were independently run authentic restaurants. On the Border helped bridge a gap in providing more authentic Tex-Mex in a chain environment.
By 1990 Houston was in the process of receiving its second On the Border location, located at the corner of Gessner and Westheimer. The new location took over another Tex-Mex restaurant named, Caliente which had operated there since 1988. Caliente had been a re-branding initiative undertaken by El Torrito who had built the huge restaurant (318 seats) in 1980. With new towers popping up just a bit closer to Beltway 8, this area was seen as a possible second Galleria centered around Carillon.
The first location would be converted a year later into Sullivan's Steakhouse. A very upmarket chain who completely remodeled the building. This lasted until 2017 when the building was abandoned and later demolished pending future development. The second location, which had already undergone a remodel to become an On The Border, fared a brighter fate. It was quickly converted into Churrascos, which serves South American cuisine. As of 2020 it is still open, and was recently renovated. After the Brinker sale, On the Border would share a similar fate to Chili's. The menu would be simplified and somewhat dulled for mass appeal. They would also focus on towns in which they were the "only game" in terms of Tex-Mex selection. This idea eventually brought On the Border back into the Houston area. About 10 years later, with most locations opening in 2006.
Upon their return, On the Border was accused of having generic, and bland Mexican food. When comparing our local options this is undeniably true. These locations would last until about 2011, after which Brinker sold On the Border to a Capital Firm. Again likely a victim of under performance the restaurants were shuttered and sold off to competitors. While not a culinary treasure by any stretch of the imagination, it creates a curious comparison to the old adage. If a first you fail, try again.
| Address | Notes |
| --- | --- |
| 4608 Westheimer Rd, Houston, TX | 1987-1997 Sullivan's Piano Bar Demolished 2018 |
| 9705 Westheimer Rd Houston, TX | El Torito 1980-1986 On the Border 1990-1995 Churrascos 1995-Present |
| 12200 Greenspoint Dr Houston, TX | El Torito 1980-1993 On the Border 1993-1996 |
| 1320 Bay Area Blvd Friendswood, TX | Lardeo Bros, Cafe Adobe, Los Cucos |
| 12330 Southwest Fwy Stafford, TX | 1994-1996? Gringo's 2002-Present |
| 4765 Farm to Market 1960 Rd W Houston, TX | El Torito 1980-1990 On the Border 1991-1996 |
| 25686 Northwest Fwy, Cypress, TX | Second Gen Was most recently PDQ |
| 7215 FM 1960 Humble, TX | Second Gen Now Lupe Tortilla |
| 2728 Smith Ranch Rd Pearland, TX | Second Gen Now Lupe Tortilla |
| 9313A Katy Fwy, Houston, TX | Second Gen Now Lupe Tortilla |
| 24108 Southwest Fwy, Rosenberg, TX | Second Gen Now Gringo's Mexican |
| 8765 Spring Cypress Rd Ste I Spring, TX | Second Gen Now Postal Annex |