Original House of Pies is a chain with roots in California. However, for many years the restaurant has been more connected to Houston than any other city. It was founded in 1965 by Al Lapin Jr. the same man who had created IHOP about 10 years prior. Throughout the 1960s the chain expanded mostly within Southern California eventually making it to at least to a couple dozen locations within the state. In April 1970, "OHOP" as it was sometimes referred to, began a multi-state expansion. The first location outside of California would be in Houston. Franchise rights were being offered entire cities at a time, for essentially anyone willing to build at least one restaurant.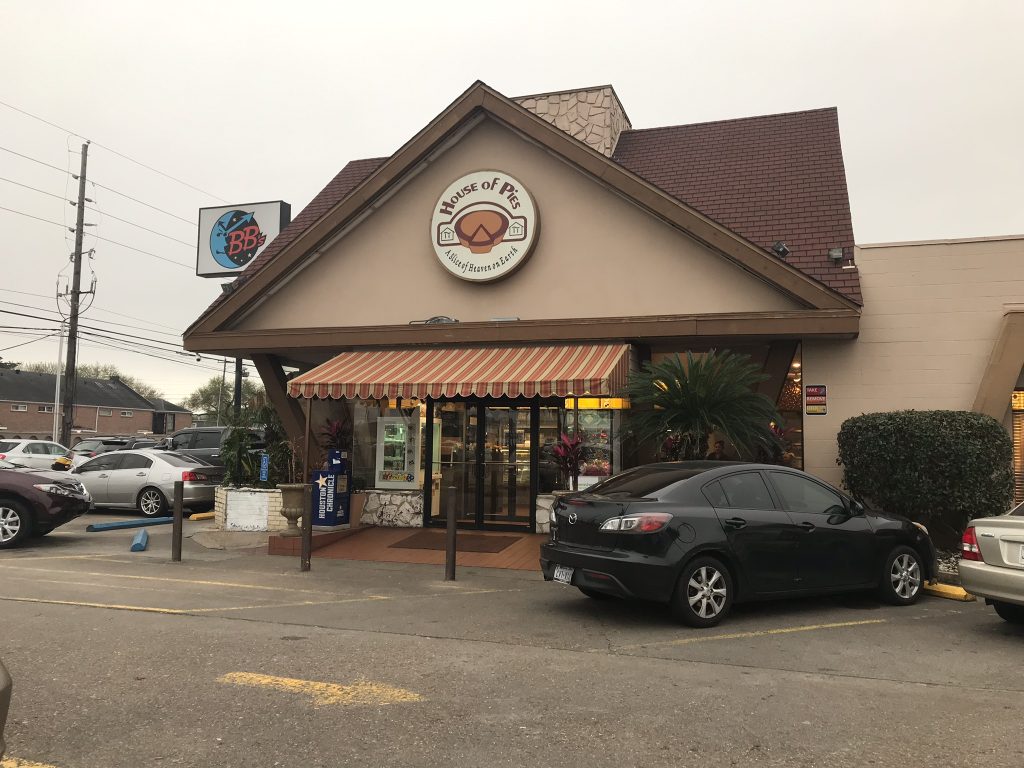 The House of Pies of the 1960s and early 70s was not what we know today. First there was the chain's size, which is estimated to have been around 60 units at is peak. Next was the menu, which served a very limited number of rotating dishes (3-5 choices per meal) with options changing daily. Sometimes a buffet component was used, but this seems to be dependent on the franchisee opting for it. As well, menus were split into breakfast, lunch, and dinner and did not overlap. Finally, the hours which generally ran from 6AM-12AM (2AM on weekends) but did vary somewhat by location.
Outside of California, locations were all built in a similar manner. A square "cottage" style house was at the front of the building. With a tall, pitched roof, and centered chimney. This part of the restaurant held the ovens for the bakery, display cases, and cashier. The sides of the cottage were made of glass, surrounded by stone and wood. To the right of the entrance was a long rectangular building which was attached to the back of the cottage. This formed the dining room and kitchen. The exteriors of these buildings were mostly stuccoed with an accent arch added above windows, and along blank sides. Some larger locations would have two of these rectangular buildings usually side by side, however the Denver location formed an L-shape.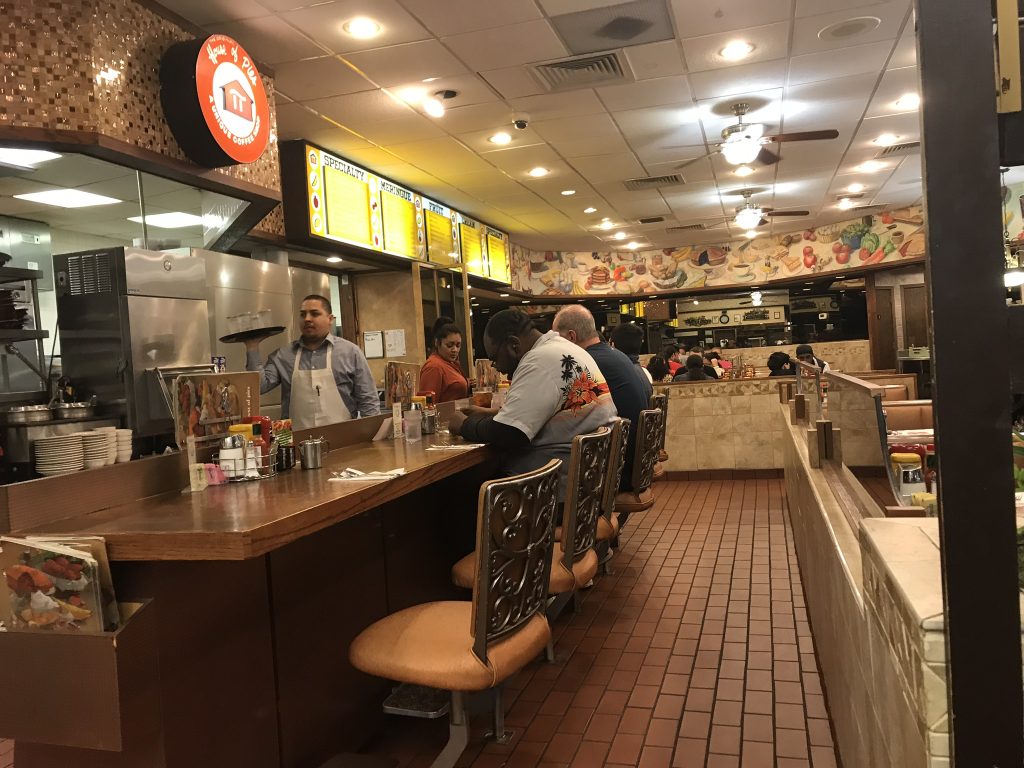 In the mid 1970s as the chain reached peak expansion it became evident that it was not doing well. Especially when compared to other International Industries companies, such as Orange Julius and IHOP. A decision was made to modify the restaurant to help increase sales. Many updates were made, such as changing the menu setup to a more traditional diner menu similar to IHOP. The hours were also expanded with most locations becoming 24 hours. Despite all this, the company began to falter. Generally each city would either continue to operate under a new name/franchise or the locations would be liquidated.
By 1976 the Original House of Pies as a company had been sold to owner of the Houston locations, Robert Herndon. The company now consisted of the Denver, Omaha, and two Houston locations. They also owned, and continue to own the rights to the logo, menu, and pies. At this point other locations did continue to operate using the House of Pies name, but did so independently of the original chain. One of the final locations to close was the prominently located Hollywood Boulevard restaurant. After this we ended up with the final three locations. Los Angeles, and the two in Houston. They differ in menu, but maintain a shared heritage.
Houston:
Houston's presence started in April 1970 with the Kirby location. It was a company owned location, and was under the direction of "Regional Supervisor" Martin Sprung. International Industries took out a full page ad in the chronicle to celebrate their new franchisee. The Westheimer location would follow shortly after in August of that same year. Advertisements in other cities reference that 2 Houston locations were built, and land had been leased for a third, although it was never built. These ads also showed plans to expand to Austin, Dallas, and San Antonio. The locations would end up in possession of  International Industries subsidiary, Uniworld Foods at least until 1973. Eventually changing hands Houston's locations would be purchased by David A. Herndon, who would in turn operate them from 1976 up until 1996, when they were sold to the current owners.
Washington:
Two locations were built in small towns around Seattle, one in Bellevue the other in Lynnwood. Both locations opened with hours of 7 AM-12 AM (2 AM on Weekends), quite a bit later than most other locations. Being an early location the Seattle stores did sell the original menu. The locations would be sold to Jim Davis in 1975 who had worked for the corporate, and was possibly the Regional Supervisor. When the stores were sold they had to adopt a new logo and name. Changing to "Hi-Quality House of Pies". The locations seemed to have trouble selling food, changing their menu and adopting the slogan "We have more than just good pies". These changes led to the renovation of the interior. Under new ownership the Bellevue location expanded their store to 24 hours, and the Lynnwood location began opening at 6 A.M.
Below is a list of Original House of Pies locations. It is NOT complete. If you have any locations or information to add please leave it in the comments below.
| Address | Notes |
| --- | --- |
| 3112 Kirby Dr Houston, TX 77098 | 1970-Present First location outside California |
| 6142 Westheimer Rd Houston, TX 77057 | 1970-Present Company Owned, stores had also opened in CO, WA by this point. |
| 6134 Antoine Dr Houston, TX 77091 | 1987-2007? 2nd Generation, Was not 24 hrs Franchised from the Houston location, now a Mexican Restaurant |
| 11311 Fuqua St, Houston, TX 77089 | Former Black Eyed Pea, opened 2017 |
| 444 FM 1960 Houston, TX 77090 | 1992?-1993? 2nd Generation, |
| 1330 Lake Woodlands Drive, The Woodlands, TX 77380 | Opened late 2018 in former Black Eyed Pea |
| | |
| <b>Chicago, IL<b> | |
| 800 N Harlem Ave, River Forest, IL 60305 | 1970-1980 Demolished in 1992, approximately where now abandoned bank is. |
| 223 N York St Elmhurst, IL 60126 | 1972-1980? Became Rainbow Restaurant which is still operating, although they moved from original building in 2019. |
| 106 S Northwest Hwy Park Ridge, IL 60068 | 1972-1980 Now The Original Pancake House, Still has the original exterior "house" theming |
| | |
| <b>Omaha, NE</b> | |
| 9106 W Center Rd, Omaha, NE 68124 | 1970-1980? Address is Approximate, building was demolished in the early 90s. |
| | |
| <b>Denver, CO</b> | |
| 745 Colorado Blvd, Denver, CO 80206 | 1970-? Exterior resembles House of Pies, building split between Chipotle and Cheba Hut. This was the 2nd Chipotle and this location supposedly influenced their open kitchen design. |
| 7052 N Pecos St, Denver, CO 80221 | 1970-? Exterior resembles House of Pies, interior has been remodeled, and many different things including a pawn shop. Now El Canton Cantina. |
| | |
| <b>California<b> | |
| 1869 N Vermont Ave, Los Angeles, CA 90027 | Still Open, The Final CA location Was remodeled after company split, including removal of old logo. |
| 6031 San Vicente Blvd Los Angeles, CA 90036 | Still Standing, slightly remodeled exterior, interior completely remodeled. Now Fortune House Chinese Restaurant |
| 385 S Winchester Blvd, San Jose, CA 95128 | Still standing, original exterior repainted. Now Kenji Sushi |
| 14136 Whittier Blvd, Whittier, CA 90605 | Demolished 2012, was somewhat remodeled. Was "Polly's Pies" closed after a fire. |
| 185 University Avenue, Palo Alto, CA | Exterior Facade is somewhat changed but retains original OHOP shape. Now a Whalburger |
| 10152 Balboa Blvd Granada Hills, CA 91344 | Open in 1969 Located in the "Hills Shopping Center" most recently "El Queso Grande" a Mexican Restaurant. Completely Remodeled |
| 1756 S Pacific Coast Hwy, Redondo Beach, CA 90277 | Still standing, operating as part of the "Original Pancake House" chain. |
| 501 Wilshire Blvd, Santa Monica, CA 90401 | Still standing, most recently a Panera Bread. Was a Polly's Pies for many years. |
| 6565 Hollywood Blvd Los Angeles, CA 90028 | Still standing, now a convenience store. The House of Pies logo terrazzo is still in front of the door. This was the second to last California location to close. |
| 805 Fair Oaks Ave, South Pasadena, CA 91030 | Still standing, now "Canoe House" a Hawaiian restaurant, prior to that was Wild Thyme, which served many similar OHOP items, and pies. |
| 10822 Lakewood Blvd, Downey, CA 90241 | Still standing, now Pieloons. Serving a similar menu, with a similar setup. |
| 4105 Atlantic Ave Long Beach, CA 90807 | Demolished early 2000s? |
| 12301 Ventura Blvd Studio City, CA 91604 | Still standing, Coin Connection. Maybe a prototype building? very small |
| | |
| <b>Seattle, WA</b> | |
| 1020 Bellevue Way NE Bellevue, WA 98004 | Original building still stands, but it has been highly modified. Closed prior to 1984. |
| 6200 196th St SW Lynnwood, WA 98036 | Demolished Stood Approximately where the Nissan Dealership is today. Closed prior to 1984 |
| 11817 NE 8th St, Bellevue, WA 98005 | Demolished 2008, Stood Approximately where Infiniti Dealership is today. Sold and renamed "High Quality House of Pies" Closed sometime after 1987 |
| 17611 128th Pl Ne Woodinville, WA 98072 | Was the bakery/factory operations for "High Quality House of Pies" until at least 2001. Presumably produced pies for retail sales. |
| | |
| <b>Salt Lake City, UT</b> | |
| 1875 E Murray Holladay Rd, Salt Lake City, UT 84117 | Building likely converted to Honey Baked Hams. Cottage was removed, but other indications windows, brick type, and missing facade) |
| 1701 S State St, Salt Lake City, UT 84115 | Building still standing, exterior slightly modified, and interior completely remodeled. Now a Title Loan place. |
| 1020 E 2100 S South Salt Lake, UT 84106 | Sat between two modern shopping centers. Demolished in 2005. |
| 1915 4800 S, Murray, UT 84123 | Unsure status of building. Unable to find exact location |
| | |
| <b>Portland, OR</b> | |
| 10502 SE Stark St, Portland, OR 97216 | Likely stood approximately where Jack in the Box is today |
| <b>Iowa</b> | |
| 217 Welch Ave Ames, IA 50014 | Demolished, stood where apartment building is today. 1971 |
| 6206 Douglas Ave, Des Moines, IA 50322 | Still standing, heavily remodeled and expanded. Used Cars sales, now Islamic Center |
| <b>Pheonix</b> | |
| 4242 N Central Ave Phoenix, AZ 85012 | Demolished |