Piccadilly Cafeteria hails from Baton Rouge, Louisiana, first opening its doors in 1932. In 1944, a new owner purchased the single downtown cafeteria and immediately began expanding the chain. The first new locations would take the chain across state lines to Beaumont and Memphis. By 1949 the chain had added another site in Texas, this one in Waco, and was preparing to reopen a cafeteria they had purchased in Austin. Over the next few years, Piccadilly would continue to expand in Texas, adding locations in Wichita Falls and Fort Worth. With each new store, Piccadilly would move a larger number of existing staff to the new city to manage the location and hire locals to run the cafeteria. By 1955, Piccadilly announced its plans to construct a new location in Houston. This new market would be Piccadilly's entry into building Cafeterias in malls, signing on as one of the first tenants of the new Gulfgate Mall. The construction would take nearly a year, with a previously announced Dallas location preceding Houston by about a month.
When Piccadilly opened in Houston, they were far from the first cafeteria or even the first cafeteria chain to take on the city. However, Piccadilly would do a few things differently from its competitors. Unlike most cafeterias of the time, which were not exactly ugly but certainly spartan in their decor, Piccadilly emphasized designing a modern-looking cafeteria. Aluminium and Walnut paneling were used extensively inside and out. The chain took such pride in this new restaurant they invited Houstonians to tour the entire location, including the kitchen. The Louisiana operator would also open their cafeterias with full-day service, not closing between lunch and dinner, unlike most other cafeterias of the time. Houstonians quickly took to the new cafeteria, attached to what was Houston's only mall at the time. Prior to Houston, Piccadilly, as with most other cafeterias, had focused on building downtown locations. The high volume such outlets served meant they were efficient choices for downtown workers on a break. They were often located nearby major downtown department stores helping to provide some traffic in the evening or on weekends. The success of the Gulfgate Piccadilly pointed the company in a new direction, the suburbs.
When Houston's second mall, Northline, was announced, Piccadilly quickly signed on as a new tenant. Suburbs were not a new concept in Houston, with our early 20th-century streetcar system connecting places like Bellaire and The Heights to downtown. However, by the time Piccadilly approached Houston, growth had exploded. Taking on the suburbs would be the natural approach, and significant foot traffic generated by malls would help drive the company to new levels. In 1963 the new Northline Piccadilly would open, and by the end of the year, plans were announced for a third location "somewhere in Spring Branch." Unlike the existing two locations, this location was not tied to any existing mall. Instead, it would end up opening in a Kmart-anchored shopping center. It is possible that this location was initially planned for one of a few proposed malls in the area, which never materialized. Only a few months after opening, Piccadilly announced a new location only a couple of miles away in the newly announced Memorial City Mall. By this point, the Piccadilly mall craze was not limited to Houston, and in most new markets where they could, Piccadilly would build at a mall.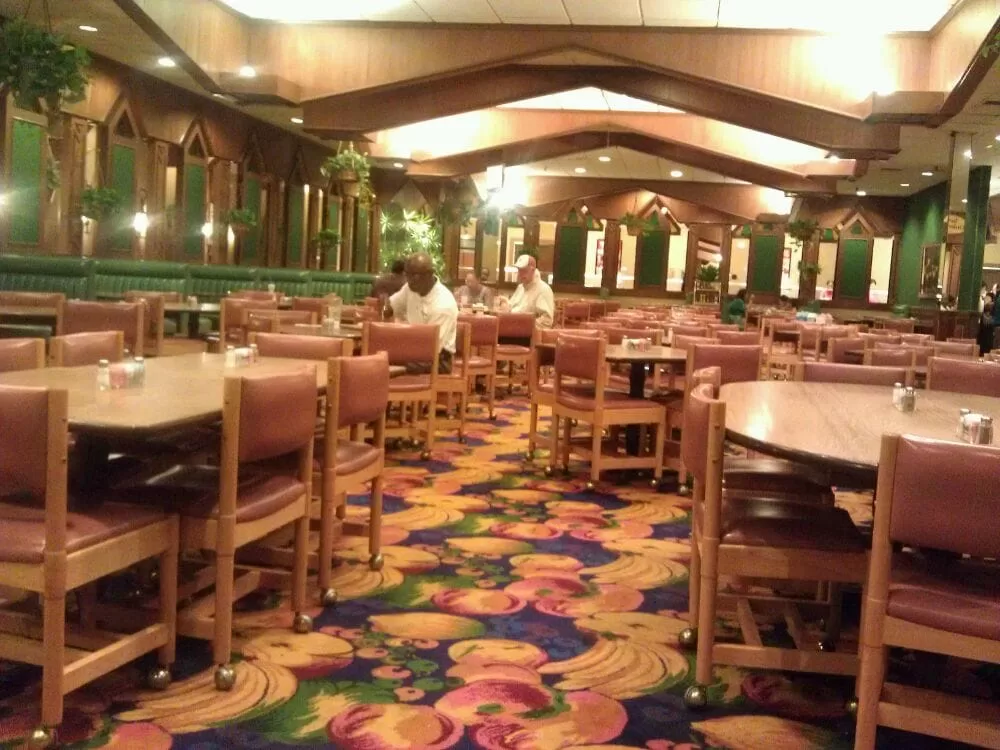 They would also capitalize on new locations in existing markets when malls were proposed. In Houston, both Northwest and Almeda Malls included new Piccadilly locations on grand opening day. The Northwest Mall location gave a dense concentration of locations in the greater Spring Branch/Memorial area. The cafeterias were no doubt cutting into each other's sales. To compensate for this, in 1971, the location was sold to Furr's Cafeterias, who purchased it as the first step of an expansion into Houston. In 1976, Greenspoint Mall opened with a new Piccadilly included. In 1981, the final Houston area Piccadilly location in a mall opened at San Jacinto Mall. Moving forward, Piccadilly would open three free-standing locations. Two of these locations would be strategically located in cafeteria-poor areas on the Southwest side of town. The three locations are at W. Bellfort and Fondren, Wilcest, and Bissonnet, and a third at Bay Area Blvd and Space Center Blvd in Webster.
After these three stores likely failed to perform to expectation, Piccadilly would suspend further development in Houston. As consumer tastes changed, Picdailly tried to keep up with the times, adopting a similar promotion to Luby's Luanne Platter, the Piccadilly Dilly Dish. Malls would continue to be the company's bread and butter, and with continued interest in malls in the 80s, Piccadilly was beginning to enter a problematic period. With continued competition in Houston from both Luby's and Wyatt's, Piccadilly's reliance on older malls meant the company could only survive for as long as the mall did. In 1993 the free-standing Alief Piccadilly would close, starting a wave of reductions throughout the state. Other Houston closures in the 90s would be Gulfgate, Northwest, and Greenspoint Malls. In 2003 after the purchase of a competitor, Piccadilly filed for bankruptcy for the first time. As a result, the free-standing Webster, Memorial City Mall, and San Jacinto Mall locations would all close. In 2007, Northline's Piccadilly would close along with the mall. This would leave two Houston Piccadilly locations, one in Almeda Mall and the other the final free-standing location near Brays Oaks. Both of these would last until 2014 when Piccadilly recovering from bankruptcy two years prior, closed its final Texas operations, leaving many unhappy Houstonians.
| Address | Notes |
| --- | --- |
| 139 Gulfgate Mall, Houston, TX 77087 | 1956-1999 Gulfgate Mall, Demolished with rest of mall |
| 141 Northline Mall, Houston, TX 77022 | 1963-2007 Northline Mall |
| 8351 Long Point Rd, Houston, TX 77055 | 1964-1971 Sold to Furr's |
| 321 Memorial City Way, Houston, TX 77024 | 1966-2004 Memorial City Mall |
| 402 Almeda Mall, Houston, TX 77034 | 1968-2014 Almeda Mall |
| 402 Northwest Mall, Houston, TX 77092 | 1968-1998 Northwest Mall |
| 434 Greenspoint Mall, Houston, TX 77060 | 1976-1998 Greenspoint Mall |
| 1026 San Jacinto Mall, Baytown, TX 77521 | 1981-2004 San Jacinto Mall |
| 9525 Wilcrest Dr, Houston, TX 77099 | 1985-1993 Free standing |
| 7750 W Bellfort Blvd, Houston, TX 77071 | 1985-2014 Free standing |
| 2465 Bay Area Blvd, Houston, TX 77058 | 1985-2004 Semi-Free standing, Built next to shopping center |