Did you know there was a discount department store chain headquartered in Houston? You can bet your bottom dollar while of course making a pun out of their name, Bottom Dollar was in fact a discount department store chain operated out of Houston. Information on the chain is unfortunately scant but from what I've been able to glean, the company was founded in 1962 by Joseph Lebow. Bottom Dollar seems to have been born out of a wholesale business that Lebow ran supplying other discounters. The chain never had any locations in Houston proper, although throughout the life of the chain the headquarters, distribution center, and even a "Club Store" would all be located within Houston city limits.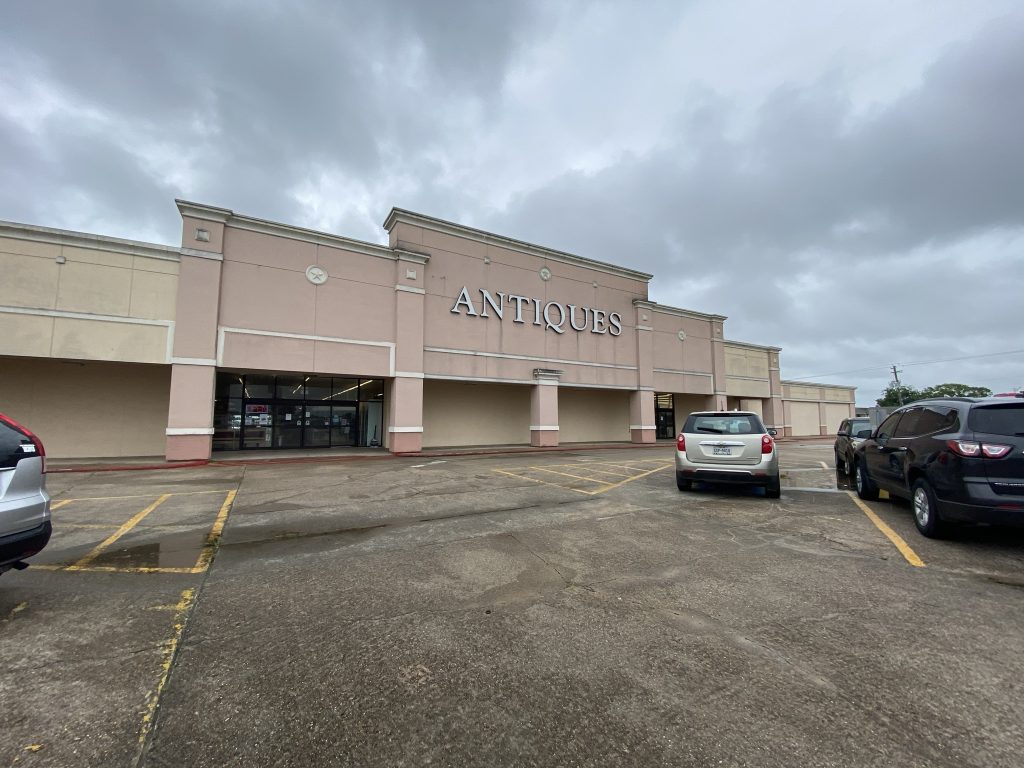 The earliest history of Bottom Dollar Stores seems to have been unfortunately lost to time. However, I have been able to confirm that among the earliest locations were Rosenberg, and Galveston which only lasted around 10 years. The stores were true discount department stores. With the earliest incarnations resembling Gibson's locations of the time in terms of item selection and price point. As time went on the size and selection of Bottom Dollar locations grew. At some point, Bottom Dollar integrated leased clothing departments which were operated by K-Wolen. By 1969 Bottom Dollar was up to 6 locations with the addition of Port Lavaca. The stores were all served out of a distribution center which was located behind Schlumberger's plant off of I-45. By the 1970s the company had outgrown its original headquarters and found refuge in a newly constructed combination offices, warehouse, and distribution center. This new facility even featured a direct rail connection and was located in the Spring Branch area off Tidwell. The jump in capability helped to fuel another expansion with larger stores featuring new amenities. Some larger locations even featured amenities like a photo counter and space leased to a pharmacy. With services like these Bottom Dollar, was able to successfully compete with competitors like Wal-Mart who were quickly encroaching on their territory.
The first "new" Bottom Dollar to open was Alvin in 1972. This location was clearly different from the original stores, which were essentially built as metal barns, and covered in a brick facade. The new stores were built with flat roofs like other big box stores of the time. The stores also featured truck wells allowing 18 wheelers to back into the store and unload improving efficiency. The new stores would be Cuero, Wharton, Bay City, and finally Angleton. Bottom Dollar would top out at 11 locations built, ranging from ~1962-1979 the stores were very different from each other, but all formed a cohesive chain with about 8-9 stores all operating simultaneously. Bottom Dollar had its own share of the spotlight a few times. Early on the company was involved in a Blue Law dispute where they were fined for selling prohibited items (a toy) on Sunday. Joseph Lebow the owner would be fined for this, in a time when most companies were given a blind eye in terms of blue law sales. In a more positive light, Bottom Dollar's most desirable location would turn out to be the Angleton store which was leased to Wal-Mart from 1983-1994 by Lebow. In 1983 the final concept associated with Bottom Dollar would debut, a membership warehouse store named Club Warehouse. This was operated out of Bottom Dollar's actual warehouse and offered either yearly memberships or the option for non-members to purchase items with a surcharge added on.
The Club Warehouse concept would last until 1986 when it along with all but two Bottom Dollar locations were closed. With only Port La Vaca and Clute remaining, Bottom Dollar began to wind down operations. It is unclear exactly why the decision was made, however in most cases Lebow owned the property and as is the case with Wal-Mart continued to lease back his empty space to other retailers, sometimes fellow discounters! By the end of 1987 the final Bottom Dollar stores shut down, and their properties were put on the market. Lebow would continue as landlord until his passing in 2001 when it seems most properties were sold off. It seems that Lebow may have simply come to the realization that you make much easier and more consistent money as a landlord than a tenant.
Location List

| Store No | Address | Notes |
| --- | --- | --- |
| 0 | 2200 Schlumberger St Houston, TX 77023 | Headquarters 1962-1967, Now Building 14 UH ERC |
| 1 | ??? | ??? |
| 2? | Rosenberg | 196?-197? K-Wolen Clothing Department, Closed prior to making into records |
| 3 | 5110 Broadway Avenue J Galveston, TX 77551 | 1963?-1971 |
| 4 | 800 US-288 Business, Clute, TX 77531 | 196?-1987, K-Wolen Clothing Department |
| 5 | ??? | ??? |
| 6 | 212 TX-35, Port Lavaca, TX 77979 | 1969-1987 K-Wolen Clothing Department, Had a pharmacy, Final store to close, outlived the DC by a month! |
| 7 | 2500 TX-35 Alvin, TX 77511 | 1972-1986, Had a pharmacy, K-Wolen Clothing Department, Later Superwarehouse Foods |
| 8 | 1101 N Esplanade St Cuero, TX 77954 | 1973-1986, Had a pharmacy, K-Wolen Clothing Department, Cuero Plaza |
| 9 | 1110 E Milam St, Wharton, TX 77488 | 1974-1986 K-Wolen Clothing Department, Had a pharmacy |
| 10 | 3508 Avenue F, Bay City, TX 77414 | 1978-1986, K-Wolen Clothing Department |
| 11 | 1524 E Mulberry St Angleton, TX 77515 | 1979-1983, Later Wal-Mart |
| | 9645 W Tidwell Rd Houston, TX 77041 | 1980-1987 Club Warehouse (Also HQ from 1967-1987) |