Handy Andy was a small grocery chain based out of San Antonio, with roots as a convenience store founded by the Becker family in 1927. The chain was one of the dominant players in early San Antonio's grocery market. Handy Andy was once hailed as innovators in the San Antonio grocery market, adding features like drug stores, bakeries, and housewares long before competitors like H-E-B or Piggly Wiggly. The company was considered to be a very well-run affair, employees were promoted based solely on job performance, not seniority, which led to a very dynamic and forward-thinking team. By the 1960s, Handy Andy had grown into a similar operating area as competitor H-E-B. Serving San Antonio, the Hill Country, and Rio Grande Valley regions. Despite the similarity in the territory served, these were two distinct operations. With Handy Andy's store count being dwarfed by the much larger H-E-B stores. In what may have been a bit of a sly dig by the 1960s HEB's hometown of Kerrville, even managed to find themselves with a Handy Andy. The stores were known as being relatively dependable on prices and a bit nicer than the competition. They were far from being "luxury grocers" but you could tell the Becker family put pride into their stores.
By the 1970s, Handy Andy had essentially hit its expansion limit to the West of San Antonio. With uncertainty to as where to go next company leadership would bring in a consulting firm to help them determine their next move. During the build-up of their grocery operations, Hand Andy had also kept a side business of continuing to run convenience stores, generally, ones that sold liquor next to supermarkets, as well as commissaries and cafeterias in offices and public buildings. In the late 60s Handy Andy's C-Stores and Cafeteria, services had already grown into Houston, making our city the next logical choice. By 1971 it was confirmed that Handy Andy would be coming to Houston. The first location chosen was to be part of a new shopping center in the Memorial area. Located at the Northwest corner of Memorial and Dairy Ashford, it was directly across the street from what was at the time one of the first Safeway stores in Houston. At 40,000 Square Feet, the new store dominated the tiny Safeway, which was just over half the size. It also did not look like a grocery store. The building was designed to look like it fit in with the styling of area homes. The best description to give is that of a Ranch Style Home, with Flagstone and Timbers. A long sloped gable roof, flagstone fronting around all four sides, and large visible support timbers. The store did a great job of feeling homey. The store also did a great job of targeting their surrounding demographic. The new store was to be built with all the latest luxuries, including all modern service departments, a special French bakery, deli-cafe, and assortment of normal and specialized crockery, along with a high-class gift shop. It should be noted that while their non-Houston stores were generally a step up from say an H-E-B, it wasn't by very much.
The store was very well received in the developing Memorial area, quickly becoming a trendy new shopping destination. Within less than two months after the first store had opened, Handy Andy announced plans for their second Houston location. This new store was to be in the Woodlake Shopping Center, at the Northwest corner of Westheimer and Gessner. It would be nearly identical to the first store inside and out, with only some slight changes to the roofing material to match existing structures in the center. One of the incredible things about Handy Andy stores in Houston was their "lack of backsides". While it sounds like a set-up for a bad joke, all four sides of Handy Andy stores were equally themed and decorated. You could obviously tell which side was which by the lack of entry doors, and the existence of a truck dock, but the stores looked nice from all sides. This was utilized by developer Trammel Crow, who Handy Andy had a partnership with to "plant" these stores in the middle of developments, and allow things to later spring up without needing to modify existing stores. The stores were considered cutting edge for the time, even going so far as to feature an in-store bank in 1972!
The future looked up for Handy Andy in the 1970s. While they did face stiff competition from other grocers attempting to enter the Houston market, like Eagle, and price wars with existing grocers, it was nothing they hadn't faced before. By 1973 Handy Andy was up to 3 stores in Houston, and had just broken 40 locations chain-wide. While they did have plans for expansion in Houston, management was being extremely tight-lipped about what exactly it would entail. In early 1974 a new store would open at the Southwest Freeway and Gessner. This store was slightly smaller than the other locations, with another distinct feature being, its lack of exterior theming. While the inside of the store featured murals and other decor pieces, existing stores had, the exterior was comparatively barren. Flagstone and timber had been replaced by Precast Concrete, and River rocks fronted with a metal awning. Giving the building a relatively bland exterior, compared to its Houston sibling stores (although it didn't look too far off from other San Antonio locations). The basic-looking design aside, the concept on the inside was the same. Lots of exotic groceries and gifts mixed with everyday needs, not unlike Rice Epicurean's approach. Despite this being the first "downsized store", one final 40,000 Square Foot Ranch Style location would open in the Champions Forest shopping center, in 1974. This location had actually aimed to open in 1973 but was pushed back for unknown reasons.
A possible reason for the delay, and the cause for the downscaling in Houston operations, was an ongoing price war in San Antonio. While Handy Andy was not unfamiliar with the price war stunts put on by H-E-B, this time it was a bit different. In the mid-70s, many local grocers were growing their presence in San Antonio, and national chain Lucky was attempting Eagle Discount Centers and Magnamart locations in San Antonio. H-E-B planned to bring everything they had to the table to win this price and make a name for themselves as the dominant grocer of San Antonio. While many expected the price wars to only go on for a few months, they lasted for years. At the same time, an almost identical situation was playing out in Houston, but on a much larger scale. Comparing the two districts, San Antonio stores had a much higher profit compared to Houston stores. While the Houston stores were doing very good business, the huge, and intricate stores cost lots of money to operate. To appease shareholders, the Becker family was taken out of control of the company after nearly 50 years.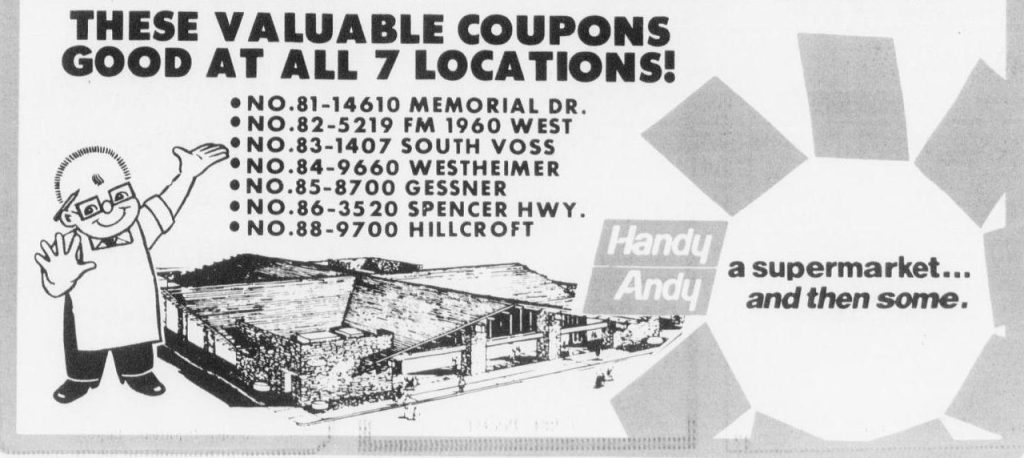 With a new board of directors, immediate changes were being made to the company. New stores built would be much smaller, coming in closer to 30k Sqft. Existing locations would be reconfigured to focus on soft lines, and more traditional "supermarket" fare, likely along the lines of Safeway Superstores. Exotic groceries would be reduced, being replaced by cheaper alternatives. The emphasis on Handy Andy in Houston would no longer be luxury but cost-cutting. While lots of changes were made, some concepts were held over, such as the French Bakery, and Deli-Cafe. The hope was that with these changes made, the resultant increase in traffic would be enough to make up for the running costs of the huge stores. By this point, multiple new stores were still being announced by Trammel Crow. They were however to be much smaller in size and did not feature all the extras that the chain had become known for in Houston. This change in strategy would exclude Handy Andy from one announced store. Their Sugar Land location was planned for US-59 and Sugar Creek Drive. It is unclear why exactly the store was not built, but it seems possible that the Neighborhood developer, who sold the land, was unhappy with the changed store plans.
A commercial from 1980, just a year after leaving Houston gives a good idea of what image they were shooting for.
In late 1975, Handy Andy opened their final Houston location, directly South of Almeda Mall. Built-in conjunction, like all their other stores, with Trammel Crow, little was to be said about the appearance or offerings of this location. However, it did feature a French Bakery and a smaller but still present line of fancy imported wines and cheeses. In San Antonio, the grocery market was still brutal as the price war continued. Smaller independents had already been forced into bankruptcy, and thankfully Handy Andy's diversity into other markets helped them remain competitive. Just as things were starting to even out a bit in San Antonio, in Houston conditions were getting worse. With the 1970s energy crisis proving that Houston's oil money market could be very unstable, the decision was made to close the district's two worst-performing stores. By 1978 the Almeda, and Kempwood locations were both closed and sat vacant. Due to not meeting the requirement to find a replacement grocery tenant, Handy Andy had to continue to pay rent in these vacated stores.
In early 1979 just a month after one of their stores was the target of a relatively major robbery, Handy Andy announced their intent to sell off their Houston operations, which at the time consisted of seven stores. Weingarten would purchase one location, Rice would buy two, and Randall's would buy the four large-format "original" stores. When Randall's moved into their new digs, they returned Handy Andy to its former glory. Lots of luxury cooking items were brought back, along with exotic and imported groceries. The soft lines were replaced with cosmetics and drug stores. The service departments continued on under the same style of operation, and within a few years were part of every new build Randall's location. Almost as soon as Handy Andy announced they were exiting Houston, Lucky left San Antonio, and the prices wars mostly ended. Handy Andy put their focus on a proposed expansion into the Corpus Christi area, opening multiple new stores there. However, with the 1981 entry of Kroger into the San Antonio market, and outstanding debts from the Houston stores, including the continual rent payments on empty locations, Handy Andy filed for bankruptcy. While the company was able to somewhat reorient themselves in bankruptcy most of what was done, was to separate the C-Store/Cafeteria and Grocery Store business. Handy Andy's grocery business would continue to operate under different ownership with varying levels of success until 2012 when Arlan's bought the remaining 6 locations.
Location List
| Store No. | Address | Notes |
| --- | --- | --- |
| #81 | 14610 Memorial Dr Houston, TX 77079 | 1972-1979, Sold to Randalls, Still operating as of 2022 |
| #82 | 5219 Farm to Market 1960 W, Houston, TX 77069 | 1974-1979, Sold to Randalls, Still operating as of 2022 |
| #83 | 1407 S Voss Rd, Houston, TX 77057 | 1973-1979, Sold to Randalls, Torn down for Whole Foods 2014 |
| #84 | 9660 Westheimer Rd, Houston, TX 77063 | 1973-1979, Sold to Randalls, Torn down and rebuilt 2011, Still operating as of 2022 |
| #85 | 8700 S Gessner Rd, Houston, TX 77074 | 1974-1979, Sold to Rice, 99 Cent Store occupies most as of 2022 |
| #86 | 3520 Spencer Hwy, Pasadena, TX 77504 | 1974-1979, Sold to Weingarten, Later sold to Kroger, Demolished and rebuilt early 2000s |
| #87 | 10255 Kempwood Dr Houston, TX 77080 | 1975-1978, Closed prior to rest of chain, Demolished for Albertsons 90s |
| #88 | 9700 Hillcroft St, Houston, TX 77096 | 1974-1979, Sold to Rice, Operated as Grocery World Demolished for Wal-Mart Neighborhood Market, Sign still in use? |
| #89 | 13833 Southwest Freeway, Sugar Land, TX 77478 | Location was never built, would eventually open as a Gerland's later Belden's then Gerland's Grand Market, Then Fiesta Market Place |
| #90 | 12148 Gulf Fwy, Houston, TX 77075 | 1975-1978, Likely building used by Family Thrift Center |
| | | |
| EZ-421 | 14604 Memorial Dr Houston, TX 77079 | 1974-1976, Liqour Store outside Handy Andy |
| EZ-422 | 211 Farm to Market 1960 W Houston, TX 77069 | 1974-1976, Liqour Store outside Handy Andy |
| EZ-423 | 1301 S Voss Rd, Houston, TX 77057 | 1974-1976, Liqour Store outside Handy Andy |
| EZ-424 | 9660 Westheimer Rd, Houston, TX 77063 | 1974-1976, Liqour Store outside Handy Andy |
| EZ-425 | 8400 S Gessner Rd Houston, TX 77074 | 1974-1976, Liqour Store outside Handy Andy |