The Grocery Store was a homegrown attempt at a "sack and save" super discount grocery operation. The concept was the brainchild of Cedric Wise, who had experienced the concept at a store in Chicago. While the store was never identified in writing, it was most likely a Plus Discount Foods. A mostly forgotten Aldi-Clone was brought to the United States from Europe by A&P's German ownership at the time to help save the ailing chain. The Discount Foods/Aldi strategy then was to eliminate anything that needed refrigeration, stock only private labels, and drastically limit the number of staff needed. While the Plus chain wouldn't find any permanent success in the U.S., it would prove popular in the mid to late 70s inflationary era. With A&P leaving Texas in 1975, Plus Discount Foods would never operate here. However, another national operator, American Stores, would bring their clone, Jewel-T, to Dallas, where it experienced a decent amount of success, spinning off towards the end as Texas-T. The sack-n-save operators of North Texas flourished, with some even making plans to expand into Houston; however, down South, the competition was quite limited. A few operators had tried one-off conversions of existing stores, but no one had succeeded with the concept in our competitive market. The aforementioned Cedric Wise, son of one of the founding members of Lucky-7, was a somewhat prominent fixture in the independent grocery scene of Houston. Having served as co-op president for two years, initially Wise would stick with what he knew by experimenting with applying ultra-low price policies to his existing stores.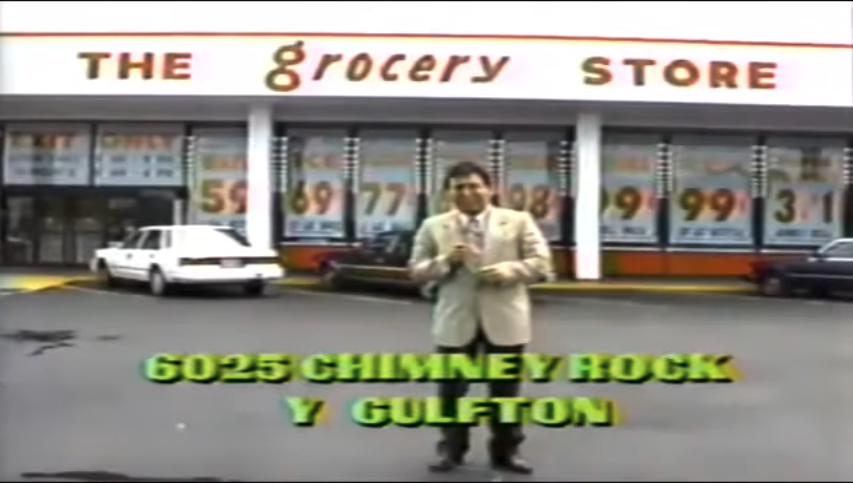 Inspired by the concept of targeted selections, Wise would try limiting the selections of an existing Lucky-7. However, unable to remove perishables, he could not reach his target. Wise's plan was modified to establish a new store closer to the practices of a Plus or Jewel-T. He would locate nearby an existing grocery store and stock only items that did not require refrigeration, with the rationale being that customers would be willing to visit his store for most of the trip and the neighboring grocery store for everything else. Items that could be found would include canned, jarred, bagged, and boxed foods. The store would only feature about 850 items and employ nine people, who would rotate between checking and stocking. The checkout stands would not feature belts or bagging stations. Customers' purchases would be placed into a metal basket, which customers could push to a bagging station. Bags were not provided but could be purchased for 3 cents apiece. Unlike competitors, though, nearly every item was name brand. The first location opened in Seabrook in late 1979. At the time, the store was a hit, bringing in customers from all over town. Wise predicted that by the end of 1980, he would have about five locations throughout town.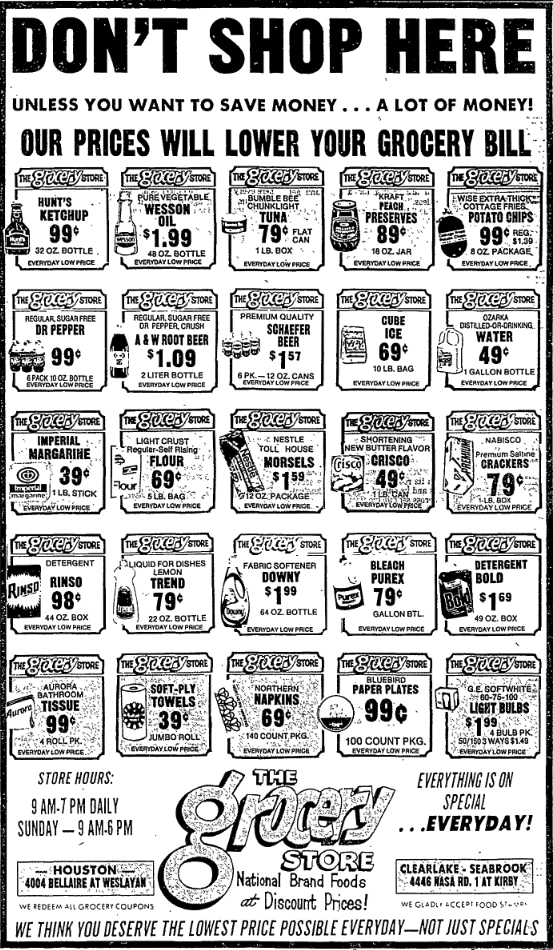 Just over a year later, The Grocery Store would be on the way to opening its second location, which was at 4004 Bellaire in West U. With this second location, a new audience would be found, bringing folks from all over the loop to the area. Unlike the initial store, which was directly across from Weingarten's, this location did not have any direct competitor, with Safeway many blocks away being the companion store for most shoppers. This new store had also previously been a Fed-Mart and originally a Henke & Pillot, meaning it had some built-in refrigeration equipment. Wise would decide to put this to use to carry a scant amount of frozen foods, along with a single cooler for milk. The store would also stock eggs, butter, and processed cheeses without refrigeration. By the mid-80s, the Seakbrook location would close, and Wise would begin scouting for a new location in Houston. The opportunity would present itself in 1987 when Wise leased two former Safeways. By this point, the chain was up to three locations and had expanded its customer base. However, analysts began to speculate that The Grocery Store's days may be numbered, as competitors like Sam's Club and Target carried similar groceries for as cheap if not often cheaper than TGS. The predictions would hold true, and in 1989, all three The Grocery Store locations would shut down for good.
Location List

| Address | Locations |
| --- | --- |
| 4446 NASA Road 1, Taylor Lake Village, TX 77586 | 1979-1984 Demolished 2012 |
| 4004 Bellaire Blvd, Houston, TX 77005 | 1980-1988 Former H&P, Fed Mart, Whole Foods as of 2023 |
| 11214 Beechnut St, Houston, TX 77072 | 1987-1989 Former Safeway, 11214 Boone Alt Address, El Ahorro as of 2023 |
| 6025 Chimney Rock Rd, Houston, TX 77081 | 1988-1989 Former Safeway, Later Flea Market and Bingo Hall, Charter School as of 2023 |