Home Town Foods was a short-lived but notable supermarket chain based out of Houston. The company was founded as a subsidiary of Schepp's Grocery Co., a prominent wholesaler. Schepp's Grocery Co. was established in 1936 by Alvin I Schepp, a relative of the Schepp's Dairy Dynasty. Originally born in Russia, Schepps emigrated in the early 1900s to join the rest of the family in Dallas and initially worked for the family before going off to Texas A&M. After graduating from A&M, Schepps took an engineering job, which he quit to pursue a prosperous wholesale delivery company. In 1936, Alvin, or A.I. as he had termed himself, came off the road establishing a small presence just outside of Houston's Market Square. Schepp's business would be supported by many independent grocers and, in only a few years, would require a move to a larger space on the block. During World War II, Schepps would be called into service early on, leaving control of the company in the competent hands of his wife. While the war was tough, Schepp's business continued to grow. After the end of the war and resuming control of his company, Schepps would begin to cash in on the bevy of independent grocers opening up.
The baby boom in Houston coincided with an increase in construction. The changing cityscape would also all but shut down Market Square, giving Schepps a chance to design a new facility along Produce Row. His engineering background would help Schepps design a facility that would handle the merchandise "mechanically." While not computerized, the warehouse was very advanced for the time. In the 50s, the Houston grocery game was still a developing landscape. Schepps was far from the only wholesaler in town and mostly served Superette/Drive-In grocery stores. As the next two decades passed, the number of independents continued to rise. For the Schepps Grocery Co, this was great news, and their business presence proved so strong that the Dallas side of the family became interested in partnering with their Houston counterparts. In 1969 Schepps Dairy announced their plans to bring Schepp's Food Store to Houston. These "drive-in groceries," which had debuted in Dallas a few years prior, would carry a selection similar to a U-Tote'm or Stop n Go, with groceries supplied by Schepps Grocery Co.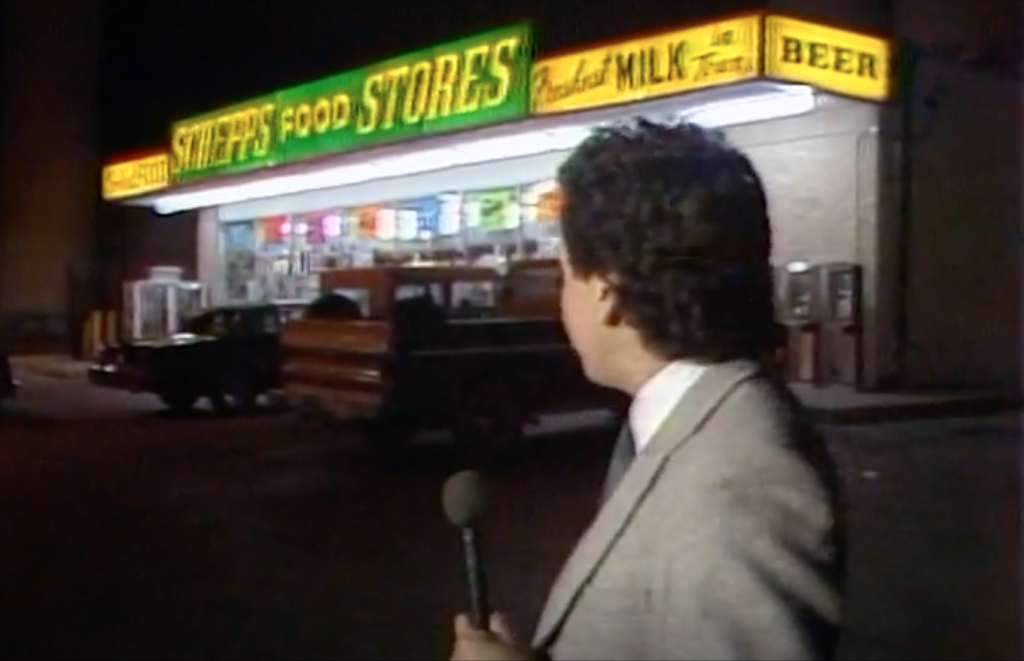 The plan was for Houston's Schepps Grocery to supply non-dairy merchandise to local stores but not be involved in the operation of the stores. While Schepps had already established the chain in Dallas, these new stores would represent the chain's first attempt outside of DFW. The first Houston area location to open would be Angleton, followed by Conroe. The company would then open two stores within Houston City limits. First was an odd and long demolished location on South Post Oak in a converted Apartment Leasing Office, second a traditional store at 1513 Bingle Rd. A third location was planned for I-45 and Winkler but seems to have not been constructed. After only a few months of operation, Schepps Dairy would close its Houston area stores. While unsuccessful here, the Dallas portion of the chain would fare much better, eventually being sold to Stop N Go. While Schepp's Dairy did not comment on the closure of the Houston stores, it was likely related to intense local competition in the Superette/Convenience Store market of the time. While this competition would doom Schepp's Food Stores, the separate Schepps Grocery Co. would thrive with an ever-increasing customer base. This increasing customer base would include some retailers who would get the backing of Schepps to expand.
Around this time, Schepp's began consigning leases for proven retailers. A common practice by wholesalers of the time, the locations would bring income by agreeing to be supplied by Schepps. This would, however, create a risk of putting Schepp's Grocery Co. on the line for the lease of any store they had co-signed on if, for whatever reason, the store couldn't pay it. In 1972 Schepps would have to take over six locations from customer R&T Enterprises Inc. Operating under the Spin-N-Mart name, Schepps had a seemingly good relationship with the operator co-signing and supplying many of their stores. Only months later, the operator would enter bankruptcy and, in 1973, transfer the bulk of the remaining R&T stores to Schepps. A.I. had strong opposition to operating a chain from day one, and as such, the company would look to lease the newly acquired stores to other operators. While the company would be able to achieve this with some stores, there were too many locations and not enough operators. Rather than close these stores down, Schepps would continue to operate them under the Spin-N-Mart name. After years of searching, Schepps was eventually able to lease all but 10 of the Spin-N-Mart stores to other operators. During this time, the Houston grocery market had wildly shifted. Schepp's ownership of the Spin-N-Mart chain gave them a first-hand perspective as to how turbulent the market was.
While Minimax still held some clout during the 70s, by the start of the 80s, the company was somewhat dated, and some grocers began breaking away. The breakaways needed a new supplier, and while Schepps could handle it, their Super Serv and Triangle Stores grocery brands didn't have a much better reputation than Minimax. In 1982, Schepps Grocery Co. named Leroy J. Lidiak as vice president of business development. While not known then, this would be Schepp's first step in creating a new concept. Lidiak was a veteran of the company, having joined in the 1950s. One of his first tasks as new vice president was to begin developing a concept for a new co-op Supermarket. The idea was to move away from the 1950s image of the local co-op and be able to compete with the big box chains. Thankfully during this time, multiple retailers were going through "realignments" that would provide the larger spaces needed for a full supermarket. Two chains would stand out. Kroger, which was realigning their stores after some "over building," and Weingarten's, which was about to announce their complete shutdown. The next step would be to plan an identity for the chain. While it would truly be up to the operators to choose how they ran their stores, the plan was to make them nicer than the average co-op store of the time.

The first hint of this new chain was leaked to the public at the end of 1983 when Grand Union announced the shutdown of Weingarten's. While Schepps was still being coy, they noted that they were purchasing "some of Weingarten's operations" and had plans for "much more." While not explicitly explained, what was purchased from Weingarten's was likely store leases. While the company did have a serious back end of warehouses and food processing facilities, none of it would have been needed at this stage for Schepps. The next day, Schepp's would describe further their plans for the new chain. They wanted to purchase up to 12 new stores to lease out, would all have a common name, and would be provided advertising and management support by Schepps. The company was clearly stepping beyond its bounds and entering new territory, but it seemed prepared to do so. The biggest commitment to the plan by Schepps was the construction of a new warehouse in West Houston. This brand-new facility was one of the first of its kind, using many automation technologies which are now present in warehouses, including optical scanning, belt routing, and many other advanced technologies. The system was also capable of running in reverse, allowing for semi-automated stocking. The design was meant to better support the independent grocers Schepps was looking to serve, with Davis Food City being the company's largest customer at the time. About a month later, Schepps would reveal that they had purchased three of the first locations to be operated under the Home Town Foods name.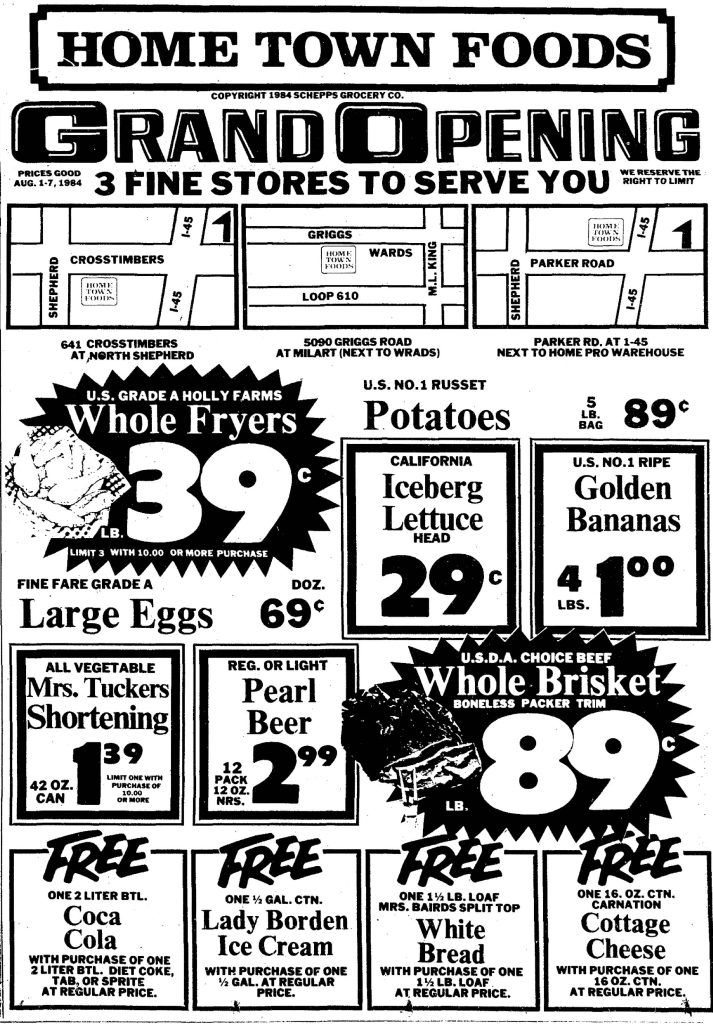 Throughout 1984, Schepps would open Home Town Foods stores. The process seemed to be that Schepps would renovate a former grocer and occupy the space for a few months before locating an operator. In addition to the newly built locations, Schepps could convince three of their customers with larger stores to join the "Home Town Foods co-op." However, trouble was quietly brewing under the surface. While you would figure they had learned their lesson with Spin-N-Market, Home Town Foods was having trouble keeping tenants. While the exit of Weingarten looked like a possible end to Houston's grocery price wars, they continued. The debt from having to run the stores soon began to overrun Schepp's profits, and while the company was not yet insolvent, they were relying on dwindling reserves which were already low. In May 1985, Dennis Schepps, son of A.I., planned to perform a leveraged buyout of the company. While Schepp's Grocery had realigned their spending, legal fees and obligations set by union contracts meant that Schepps was still losing as a whole. The buyout was predicted to succeed, as all stock was owned by members of the Schepps family. After the purchase, the old company would be shut down, and a new one using the same name, employees, and facilities would open. However, for an undisclosed reason, Dennis could not acquire back all company shares, and the buyout failed.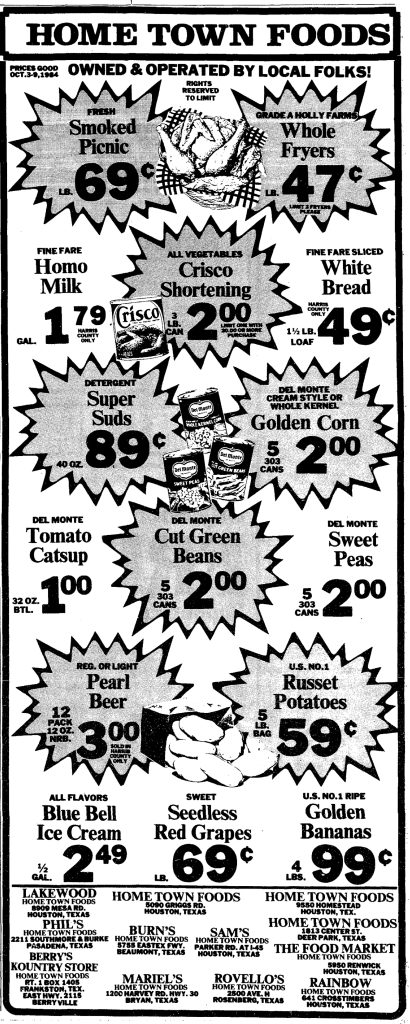 With the buyout failed, Schepps Grocery Co would continue to bleed money. While many factors were at play, the Hometown Foods Chain was likely a big part of this issue, and as such critical services like advertising were discontinued. With this, Home Town Foods was essentially dead in the water just over a year after opening. About two weeks after the failed buyout, Schepps Grocery filed for bankruptcy, owing millions of Dollars to creditors. Of the creditors, the largest was MBank (with multiple members of the Schepps family on the board). A.I. would go on to assure his creditors that they would all be paid. Possibly amid family drama, A.I. would publically place the blame on his son Dennis, citing the co-signed leases as being the largest cash drain. At the time, Schepps owed MBank nearly $5 Million, which was a small change compared to the chain stores that could spend that much remodeling a single location. However, by the end of 1985, Home Town Foods and Schepp's involvement in Spin-N-Mart would both end as part of the bankruptcy. In early 1986, MBank petitioned the court to convert Schepp's bankruptcy to Chapter 7 to speed up repayment. It seems their petition was successful, as Schepps would begin liquidating its merchandise and facilities later that year. Schepps would sell the new automated warehouse to Randall's and lease their Produce Row space, ending the company after 52 years.
Location List

| Address | Notes |
| --- | --- |
| 641 W Crosstimbers St, Houston, TX 77018 | Former Kroger, Rainbow Home Town Foods, Later TFM |
| 9550 Homestead Rd, Houston, TX 77016 | Former Weingarten, Closed late 70s, Leased to independent who burned the store down multiple times |
| 5900 Renwick Dr, Houston, TX 77081 | Former Weingarten, The Food Market Home Town Foods, Sold to Sellers Bros |
| 400 W Little York Rd, Houston, TX 77076 | Former Weingarten, Sam's Home Town Foods |
| 8909 Mesa Dr, Houston, TX 77028 | Lakewood Home Town Foods |
| 11655 Jones Rd, Houston, TX 77070 | A former Super-Serve location, Cypress Foods, now Ace Hardware |
| 5090 Griggs Rd, Houston, TX 77021 | Former Kroger, Inside Palms Center |
| 2211 Southmore Ave, Pasadena, TX 77502 | Now El Michocana, Later HEB Pantry Foods |
| 1813 Center St, Deer Park, TX 77536 | Former Kroger, Never leased?, Later Plaza Foods Minimax |
| 2500 Avenue H, Rosenberg, TX 77471 | Former Weingarten, The Food Market Home Town Foods |
| 1200 Harvey Rd, College Station, TX 77840 | Former Weingarten's, Post Oak Mall |
| 5755 Eastex Fwy, Beaumont, TX 77706 | Former Kroger, Burn's Home Town Foods, Later TFM |
| 2718 MacArthur Dr, Orange, TX 77630 | Former Weingarten, Located next to Big Lots (Former Kmart) |
| 11487 State Hwy 155, Frankston, TX 75763 | Berry's Country Store |
| 1104 N 5th St, Silsbee, TX 77656 | The Food Market Home Town Foods, Silsbee Police Dept |