Company History
Del Taco was founded in 1964 in Yermo, California. Starting out only a few years after the first Taco Bell location, Del Taco was obviously not the first attempt at fast Mexican food, but they were quite a successful one. The business experienced tremendous growth in the California market, along with locations in Eugene, OR and Yuma, AZ. The original owners of Del Taco sold the company to private investors in 1976. This was followed a year later by the sale of franchising and development rights to W.R. Grace & Company, anywhere stores had not yet been built. A chemical company at heart Grace decided to manage Del Taco through a subsidiary. This essentially created two Del Taco corporations. The original, (Del Taco Inc.) with claims to territory in California, Arizona, and Oregon. With the other (Del Taco Restaurants of Dallas, TX) holding claims everywhere else.
W.R. Grace began to build their first Del Taco locations in 1978, starting in many states at once, including Texas. The stores were a hit, and the resources available to the newly formed subsidiary helped quick growth. Stores numbers were within the hundreds by the first few years. The connection to Grace also served as a easy pull for high level managerial talent. These roots would however only serve to eventually divide the two Del Taco's. By the mid 80s Grace's Del Tacos began to face issues.
While building designs, menus, and even logos were all originally the same, the two companies would develop different identities. Promotions would be separate, and the Earth toned buildings were ditched for a more sterile white look. As the chains grew further separate W.R. Grace looked for a way to help the ailing stores become more profitable. The idea was to move Grace's reliance away from the original Del Taco and reduce costs paid in licensing. This task was made easier by the large number of other restaurants Grace had acquired since franchising their first Del Taco. The name of the new company would be Taco Villa, originally  from an existing chain that was integrated into Del Taco of Dallas. Some Del Taco locations would make the conversion, however this plan would never be completed. In 1986 Grace announced they would spin off their restaurants division, except for Del Taco/Taco Villa. Later that year Original Del Taco would purchase Taco Villa from W.R. Grace including a majority of the locations. The remaining locations in Texas, Georgia, and Florida were rejected by In 1992, the W.R. Grace Company decided to sell their remaining Del Taco restaurants to Taco Bell for conversion. This would give full control of the chain back to the original company.
Local History
Being outside the original franchise area, Texas was under the aforementioned second Del Taco. The company first arrived in Houston in the summer of 1978 with the establishment of a regional office. Being a chemical company at heart, the original HQ was in a booming new office area which was part of Greenspoint (16720 Hedgecroft Drive). The first restaurant to open (1915 Mangum) would open only a few months later in early November. This was quickly followed by the Richmond at Main location. All restaurants designs were based off a simplified version of the California's Del Taco buildings.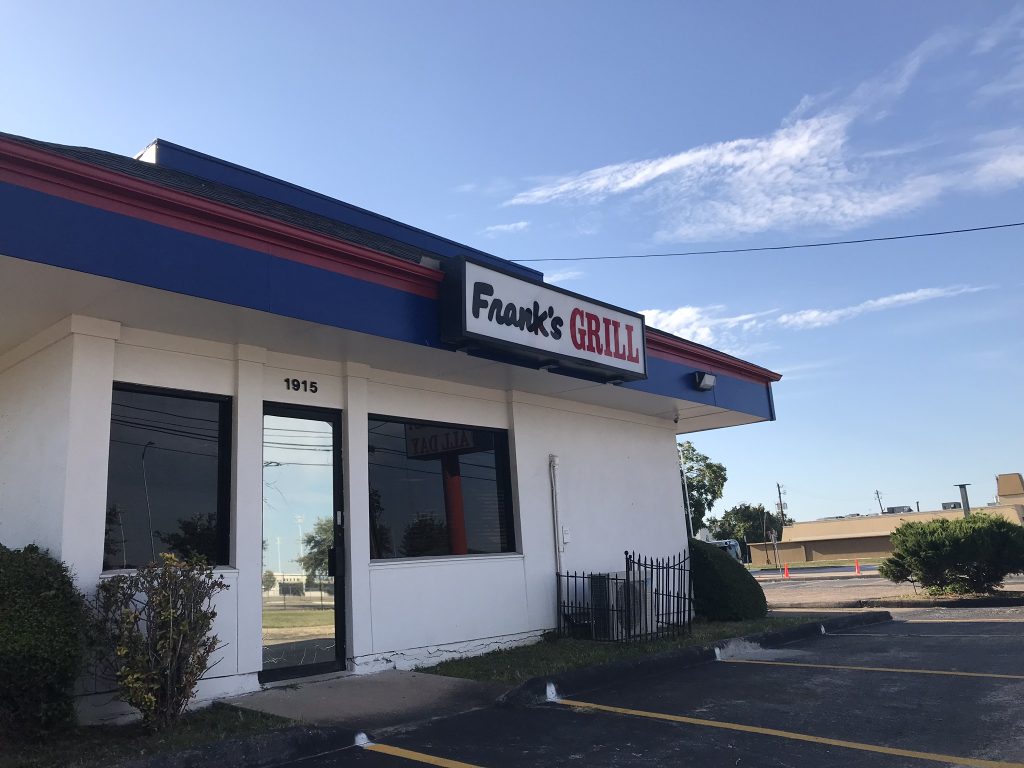 It was apparent from the start that Del Taco, knew winning Houston would mean taking on Taco Bell. Which was already an established chain in Texas at the time, having made their debut in Houston over 10 years prior. Many of the first Del Taco locations were placed near to popular Taco Bell locations. These "knockoff locations" would make up the bulk of the first Del Tacos to open in Houston. The second wave of restaurants hit smaller cities around Houston that lacked a Taco Bell or in some cases even a strong fast food presence. The third wave of growth focused on new developments around the Houston area, and trying to beat Taco Bell to them. 
When choosing new locations, W.R. Grace had good success. Most of their former Del Tacos, are still operating as restaurants some 40 years later. They also took a strong presence in advertising their entry into the market. Such as a "charming" advertising insert provided with newspapers. This strong advertising presence matched with a consistent 2-3 stores opening per month quickly launched Del Taco's Houston division to over 40 stores. Despite all these efforts, W.R. Grace's lack of knowledge in operating food service outlets began to show. Especially when pitted against PepsiCo's numerous resources.

One of the first cracks to show was an issue with keeping staff. This seemed to be a problem at most locations, and generally throughout the chain. They had a constant posting for jobs long after expansion had ended. Mostly seeking replacement staff with little details. Specifically, management seemed to be the biggest hole to fill. The frequency of the for-hire posts would increase closer to the chain's exit from the Houston market.
By the 1980s hundreds of Del Taco locations had been built by W.R. Grace. The chains had shifted greatly apart due to Grace's methods of management. Promotions, menus, and logos were all different. The stores would also be remodeled to a simpler more clinical look. During this time W.R. Grace had begun to acquire multiple restaurant chains, one of these was an already established medium size Tex-Mex chain named Taco Villa. It seems that the intention of the company was to replace the Del Taco name with Taco Villa while keeping the menu and buildings the same. A rough estimate is about 100 of the nearly 300 Grace stores were converted to Taco Villa. One known Houston example was 3030 Cullen which was a Taco Villa when it closed in 1987.
The conversion to Taco Villa was halted in 1986 when the W.R. Grace spun off their restaurant group to form a new company. Del Taco agreed to purchase about half of the restaurants from Grace with a long term plan for integration. Grace would continue to operate the remaining Del Taco and Taco Villa locations as leases ran out. Houston lost all of our stores by 1990, with other metropolitan areas like Atlanta keeping their stores until 1992.
Location List

| Store No | Address | Notes |
| --- | --- | --- |
| #2001 | 1915 Mangum Rd Houston, TX 77092 | November 1978-1989 Became Hartz's Chicken by 1993. Now a Frank's Grill |
| #2004 | 401 Richmond Ave Houston, TX 77002 | November 1978-1989 Now Shipley's |
| #2002 | 9204 Bellaire Blvd Houston, TX 77036 | December 1978-1989 Demolished 2001 |
| #2007 | 914 Federal Rd Houston, TX 77015 | February 1979-1987 Now EZPawn |
| #2017 | 917 Edgebrook Dr Houston, TX 77034 | March 1979-1989 Later China Feast, Now Marco's Seafood |
| #2016 | 3030 Cullen Blvd Houston, TX 77004 | July 1979-1987 Converted to Taco Villa; Demolished |
| #2018 | 4902 Kirby Dr Houston, TX 77098 | July 1979-1984 Now Goode Co. Taqueria |
| #2012 | 5929 S Braeswood Blvd Houston, TX 77096 | July 1979-? Now a Jewish Temple Originally 5919 |
| #2020 | 5522 Bellaire Blvd Houston, TX 77081 | September 1979-1988 Converted to El Pollo Loco in 1985 and Arby's in 1989. Demolished for McDonald's parking 1991. |
| #2021 | 4502 W Fuqua St Houston, TX 77045 | September 1979-1988 Converted to Popeye's. Building Remodeled 2013.* |
| #2023 | 14510 Memorial Dr Houston, TX 77079 | September 1979-1989 Converted to a Schlotzsky's in 2010. Store #2023^ |
| #2033 | 218 W Greens Rd Houston, TX 77067 | 19??-19?? Demolished* |
| #2038 | 17388 Hempstead Hwy Houston, TX 77041 | 1980-19?? Became Whataburger, Demolished during 290 expansion, Originally in Jersey Village |
| #2006 | 9990 Bissonnet St, Houston, TX 77036 | April 1980-1989 Now a Brenda's Taqueria* Originally 10100 |
| #2050 | 9120 S Main St Houston, TX 77025 | April 1980-1989 Demolished Now a Popeye's Store #2050* |
| #2019 | 11403 Wilcrest Dr Houston, TX 77099 | March 1980-1989 Still Standing, Now Vacant Store 2019* |
| #2031 | 12550 Bellaire Blvd Houston, TX 77072 | March 1980-1989 Demolished Rebuilt as a Popeye's with Gas Station in 2003.* |
| #2028 | 7629 W Bellfort Blvd Houston, TX 77071 | 1979-1989 Converted to a Whataburger. Still standing somewhat updated. Store #2028. |
| #2036 | 3198 Fondren Rd, Houston, TX 77063 | 1980-1984 Became an El Pollo Loco 1985 Then Frenchy's 1986 Finally Hartz's Chicken 1989. |
| #2045 | 18552 Kuykendahl Rd Spring, TX 77379 | 1985-19?? Converted to Popeye's building heavily remodeled* |
| #2015 | 2420 Gessner Rd Houston, TX 77080 | 1989-19?? Demolished?* |
| #2027 | 9131 Long Point Rd, Houston, TX 77055 | 1979-1989 Still Standing, Now a Used Car Lot. Store #2027* |
| #2042 | 5625 Richmond Ave Houston, TX 77057 | 1979-1989 Converted to Popeye's. Building still standing, remodeled 2014. Store #2042* |
| #2043 | 10599 Telephone Rd, Houston, TX 77075 | 1980-1984 Still standing Taqueria Los Jaliscienses as of 2022 |
| #2022 | 2601 S Loop 35, Alvin, TX 77511 | September 1979-1989 Converted to Popeye's?* |
| #2039 | 1800 N Velasco St Angleton, TX 77515 | 1980-1989 Converted to a Little Caesars |
| #2011 | 3921 7th St Bay City, TX 77414 | April 1979-19?? Now a Dry Cleaners |
| #2037 | 100 S Alexander Dr Baytown, TX 77520 | 1980-19?? Sold to El Pollo Loco. Original building torn down 2009 rebuilt by Dairy Queen. |
| #2047 | 850 Dixie Dr Clute, TX 77531 | 1980-19?? Demolished now a Sonic. |
| #2005 | 802 N Loop 336 W Conroe, TX 77301 | September 1979-1988 Now a Whataburger |
| #2052 | 2354 N Mechanic St El Campo, TX 77437 | 1980-1989 Now a Subway |
| #2029 | 528 University Blvd Galveston, TX 77550 | 1980-1989 Converted? to a Whataburger |
| #2009 | 3101 Farm to Market 1960 Rd E Humble, TX 77338 | 1980-1989 Demolished?* |
| #2044 | 2705 11th St Huntsville, TX 77340 | 1980-1989 Converted to a Sonic in 2001, building still used as dining room |
| #2024 | 2133 Southmore Ave Pasadena, TX 77502 | 1980-1989 Now an independent restaurant. Expanded in 1997 |
| #2049 | 3416 Broadway St, Pearland, TX 77581 | 1980-1989 Converted to a Popeye's. Remodeled in mid 2010s. |
| #2040 | 4417 Avenue H, Rosenberg, TX 77471 | 1980-1989 Converted to Whataburger, Closed 2009? |
| #2008 | 1503 Spencer Hwy South Houston, TX 77587 | September 1979-19?? Now a Jack in the Box |
| #2003 | 8260 Louetta Rd Spring, TX 77379 | February 1979-1989 Originally 7400, Became a Whataburger (Thanks Rudy!) Now Taste of China. |
| #2026 | 3101 Palmer Hwy Texas City, TX 77590 | 1980-1989 Demolished |
| #2014 | 938 NASA Road 1 Webster, TX 77598 | September 1979-19?? Demolished |