The name Weingarten means groceries in Houston. Even nearly 40 years after their demise, those who weren't even around for the store have heard tales of the grocery giant that once dominated the Houston landscape. Despite their legacy, the Weingarten's chain had quite a humble start. In 1880, Harris Weingarten migrated from Austria-Hungary (modern Poland) to New York City, looking for opportunity. He left behind his wife, and newborn son Joseph, with plans to bring them to America as soon as he could afford to do so. Finding it difficult to make a living in the already busy city, Harris decided to make the move to Galveston. Arriving in what at the time was a bustling yet lawless town, Harris again found himself struggling to find work. As such, he would choose to resettle on a plantation near Sugar Land. Here Weingarten would operate the plantation's commissary, which was much like a general store meant for those who lived on or around the plantation. Finding this to be a somewhat limiting venture, Harris would soon move to Richmond and continue to operate a general store. By 1890 the Richmond store was doing well enough Harris was able to send for the rest of the Weingarten family to come and join him in Texas. In 1895, with his son Joseph nearly of working age, Harris moved to take the family to the quickly expanding Houston. Weingarten would establish a dry goods outlet named "The Cent Store." While details on this store's operations are limited, it supposedly did quite well until Mr. Weingarten lost his savings during a financial panic and was forced to sell the operation. Thankfully, Mrs. Weingarten had been saving spare cash before this. Using those savings, the family opened their first grocery store in 1901. This first store would be under the name H. Weingarten. It was at the corner of Congress Ave and Crawford Street.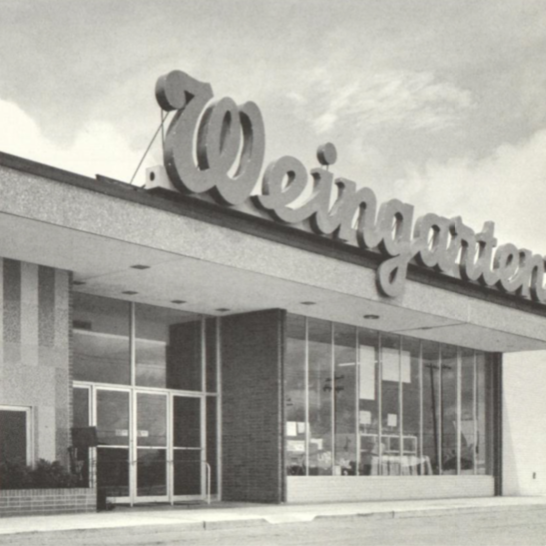 Around 1905, Harris' son Joe took over as store manager. While Harris would still hold a role in the company, the store name would be updated to J. Weingarten to reflect the new management. Over the next ten years, the company would make two moves in a short period. Both moves were needed to keep up with the growing pace of business. Weingarten's first two stores had both been in existing facilities purchased from other grocers. To match growing customer demand, in 1913, Weingarten's announced plans to move into a brand new unoccupied building on Main Street. As typical at the time, the grocery store would be 'full-service,' meaning that groceries would be behind a counter, and customers would place their orders with a clerk. The clerk would fill the order behind the counter and wrap the purchases up. According to their claims, Weingarten would outfit the new store to be the most modern grocery store in the South. The store would have most of the trappings of a modern supermarket; Produce, Refrigerated, dry, and canned foods, with even a bakery and deli present at this new store. While the new location did not have a meat market, an adjacent space was reserved and rented to a butcher. This new location would prove to be Weingarten's most successful, with over 2000 customers turning out on the first day, which was over 2% of Houston's total population at the time! The two old locations would be leased out to other operators by the Weingarten family and a few houses they had purchased on adjacent land.
The early teens would be quite successful for Weingarten's. They established themselves as a dominant player in developing areas of town. While they did have competition from existing grocers like Henke & Pillot and Lewis & Coker, their biggest threat came with the invasion of an out-of-state company. In 1917 self-service grocer Piggly Wiggly entered Houston via the franchising of their name and business model to an existing Houston grocer. The idea of self-service grocery was only a few years old, and as such, Piggly Wiggly set about creating patents to slow down or possibly even stop imitators. The success of self-service grocery prompted Weingarten to change its business model, but Piggly Wiggly's patents delayed the switchover a bit. However, once the change was complete, Weingarten's familiarity, mixed with the popular new shopping method, helped increase business even further. In 1921, the company would open a second location, and by 1926 they would be up to five stores. Many locations were purchased from other smaller independent grocers and updated to fit the new self-service model. The updated stores would also bring in butchers to help make a complete grocery experience. The 1929 Stock Market crash seems to have somewhat benefitted Weingarten's, who used the panic to snatch up even more independent grocers. In one of these buyouts, Houston grocery notable C.P. Florian would join Weingarten's. His experiences would eventually drive him to try and build Minimax as a premier chain.
Throughout the 1930s, Weingarten's would continue to open new locations and would soon begin building their stores from the ground up. Many of the stores would be designed by a family friend, Joseph Finger. Following the city's growth, new stores popped up on all sides of Houston. The newer stores were progressively becoming more extensive and more intricate with their offerings. Compared to other operators of the time, Weingarten's stores were often up to double their size. The company would fittingly adopt the moniker "Weingarten Big Food Stores," and holding true to its name would start a process of remodeling older locations into larger outposts. In early 1941 Weingarten's took their company public and sold out of shares within two weeks. Developments at the time included their 15th, and 16th stores, along with a new warehouse. Weingarten's would also expand outside of Houston for the first time by purchasing two Grenader Food Market locations in Goose Creek and Baytown. The development of new stores would slow down with America's entry into World War II, shifting resources and labor toward the war effort. However, the chain would play a critical role on the homefront, continuing to provide essential goods, although the government somewhat restricted prices and selection. With the post-war suburban boom, Weingarten's store count shot up to 23 locations by 1949. This new expansion would also include stores outside the great Houston area, as far as Orange. Around this time, Weingarten's would begin to develop a new concept called Weingarten Home Center. These separate stores would stock an expanded selection of home goods based on some lines the grocery stores already carried. The stores also carried clothing, small appliances, and other sundries. In many cases, when a store was relocated rather than remodeled, a Weingarten Home Center would take the place of the old grocery store.

In the early 1950s, Weingarten's had made it up to 29 locations by the end of 1951. As they reached the suburbs and beyond, these locations continued to grow in floor space. With the ability to purchase large plots of land, Weingarten's would find themselves building the first of their signature shopping centers around this time. The shopping centers would often contain a drug store, a variety store, a few boutiques, and of course, a Weingarten's grocery store as the anchor. These adjacent businesses would help ensure ample customers for Weingarten's, who, around this time, would expand their reach even further. Their growth outpaced Houston's growth, forcing Weingarten's to look for expansion in other markets. The first store to open outside of Texas would be in Lake Charles in 1954. The same year Weingarten's would begin work on a distribution center in Shreveport and multiple stores in the area. New markets in Texas, like Bryan/College Station and Tyler, were also targeted at this point. The family would develop their realty deals under the Weingarten Realty arm of the company during this time period. Back at home, Weingarten's continued expanding existing stores and opening Home Centers in closed locations. Around this time, Weingarten's began to receive national recognition, representing the face of modern grocery. With locations across three states, this regional grocer seemed to have aspirations of becoming the first national chain out of Texas. The firm's next purchase would be of an existing chain in Tennesee. The six stores were members of a co-op and used Pic-Pac branding. The stores were relatively modern but not nearly as large as their Houston counterparts. They would change names to "Weingarten's Food Centers." It's unclear if the Shreveport distribution center supplied them or if they continued to be supplied by the co-op. For the most part, the Tennesse Weingarten's stores did little to set themselves apart from their competition. The chain would never expand beyond the six original locations. By 1961 Weingarten's would lease their Tennesse stores to a local competitor who would revert them to Pic-Pac locations.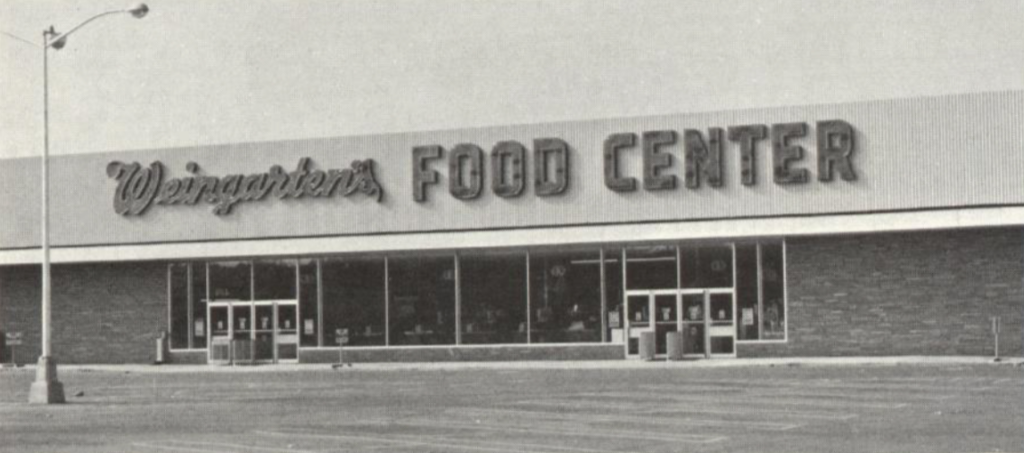 Back in Houston, the 1960s expansion of locations was still moving in response to the rapid new growth. In 1960 the company would purchase the Texas Servall chain adding six new locations throughout Houston. Weingarten's would also keep older stores open in areas where grocers would exit. Downtown and the Third Ward areas are both notable examples of Weingarten's presence in the absence of others. To keep up with changing demands, Weingarten's would finally give in to pressure and adopt the Big Bonus Stamps Program. While competitors had long been using the stamps, Weingarten's claimed that the tamp program would only increase costs. Customers would be given stamps according to how much they spent. They could then use the stamps to pay for certain merchandise from Redemption Stores located next to Weingarten's. To help manage the growing business portfolio Weingarten's was developing, in 1962, a subsidiary was created. Named Inland Industries, Weingarten's developed the company with diversification in mind.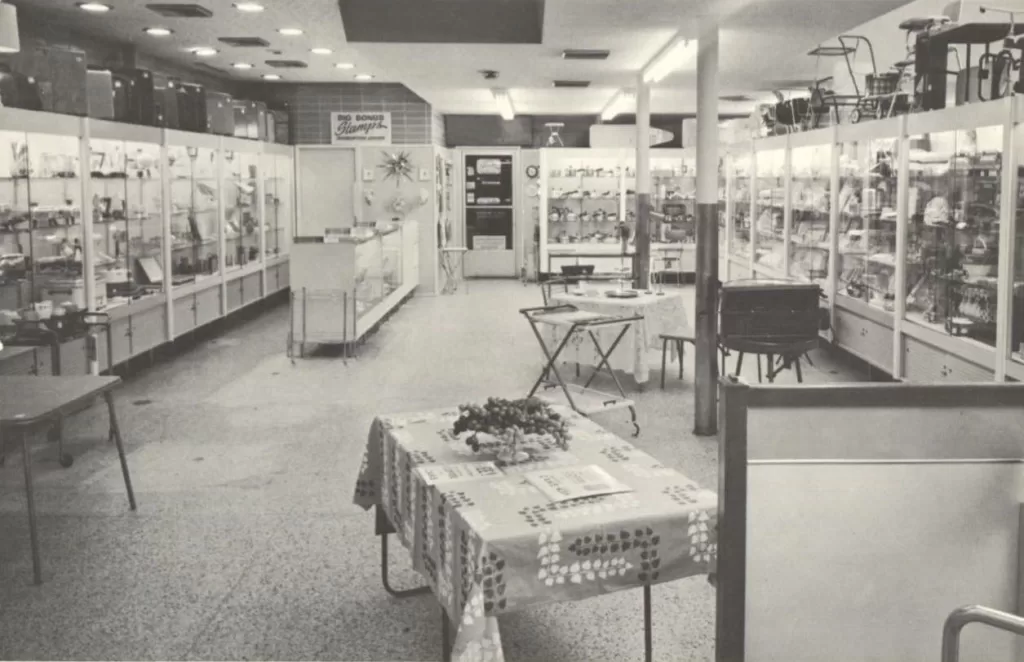 Weingarten's would immediately place their Bonus Stamp Company under the new subsidiary and begin negotiations to purchase existing companies. By 1963, Weingarten's subsidiary purchased two hardware manufacturers, making them the second-largest distributor of metal fasteners in the United States. The firm would also purchase an auto parts manufacturer, bringing them to a record profit of nearly $150 Million in 1964. Weingarten's would continue to experiment with property development opening a location in Houston's first "air-conditioned sidewalk" mall. By the end of the year, the company would operate 65 locations across three states. Joe Weingarten had taken his father's small concern and grown it into a true regional grocer. In 1966 Weingarten's recognition would reach the state level with Governor John Connally attending a dinner held in Mr. Weingarten's honor. Unfortunately, though, the next year, Joseph Weingarten passed away. The family had been prepping for this for years, with various family members taking over different positions within their companies. Most notably, Joe's son Bernard Weingarten had been placed in charge of their realty division. That did not, however, mean the focus was lost on their stores. In late 1967, Weingarten's announced plans to extend their private label lines.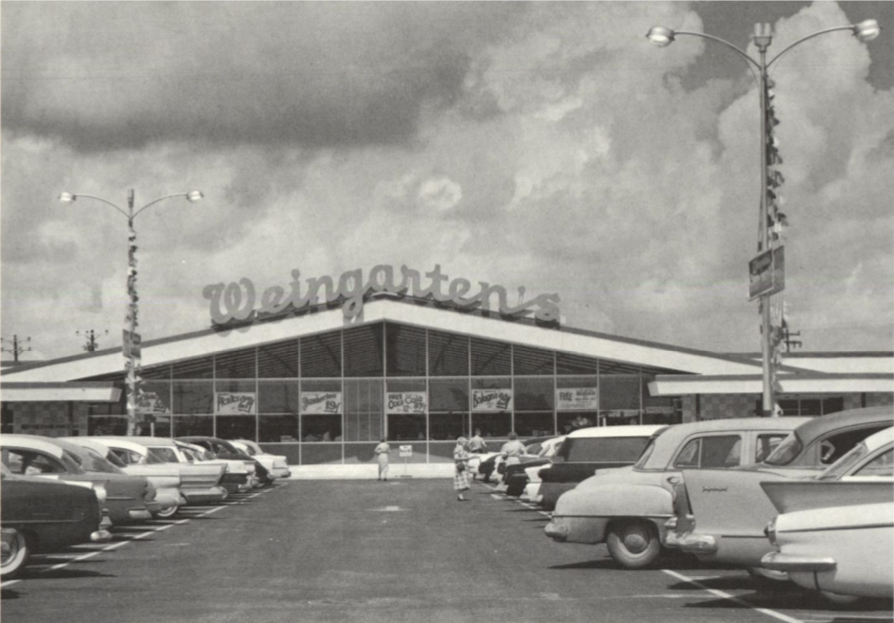 Weingarten's plans for the future included continuing to build its image as a reasonably priced grocer. At the time, Weingarten's operated in a duality. They were consistently building new stores in developing suburban neighborhoods while not giving up on older locations where demographics had changed. This strategy was helpful for dealing with national competition, which had arrived in Houston in the mid-50s. Rumors were swirling that Safeway would finally make good on a decades-old promise that they, too, would arrive in Houston. Undoubtedly, the previously mentioned focus on store brands was another attempt at bolstering this image. In 1968 many new members of Weingarten management were promoted, and some outsiders, like a former executive of Topco, a generic distributor. By the end of the year, the company had opened 5 new locations, three in Houston and three out of state. While the company was operating like a regional grocer, they were starting to feel the pinch of new competition even prior to Safeway opening its first Houston store. With the former head of Weingarten's realty branch now at the helm, the company began to focus heavily on building new shopping centers. In 1970 the company started work on its largest project yet, the Eastpark Shopping Center, at nearly 200,000 Square Feet. By 1971, Weingarten's prepared to break the 100-store mark, with 76 locations throughout Texas, 13 in Louisiana, and 8 in Arkansas.
With the arrival of Safeway in Houston, there was no way Weingarten could keep up with the growth of the national chains. Instead, they would look to differentiate themselves by installing the first UPC scanners in Houston and dating items sold before it was required by law. That being said, the company did also try to focus on value. Some locations were converted to an alternate banner named Valu-King, which would offer limited selection and services compared to a typical store, but with much lower prices. The mainline Weingarten's stores would also be closed for a day in 1974 to reduce prices. While these ideas successfully increased Weingarten's sales, their overall profits continued to decrease. At the time, the Houston grocery market was more competitive than ever, with Handy Andy, Eagle, and the relaunched version of Randall's all taking on Weingarten's pricing. Beyond this, Weingarten's commitment to keeping older locations open left them with stores in dangerous areas. In 1976 national news broke of a massive bribery scandal involving Weingarten's.  The company would pay over $80,000 out of their Bonus Stamps Company to various politicians and HPD. It was quickly becoming evident that the Weingarten family was losing interest in their grocery chain. The real estate arm of the firm had quickly overtaken interests. With Weingartens even experimenting with building malls, both here in Houston and oddly in Maine. Their expansion far beyond the bounds of their grocery chain meant that Weingarten's Realty had to form new partnerships. Seemingly, as a result of these new partnerships, Earl Eden of Acme Markets was named as a new Executive Vice President of Weingarten's.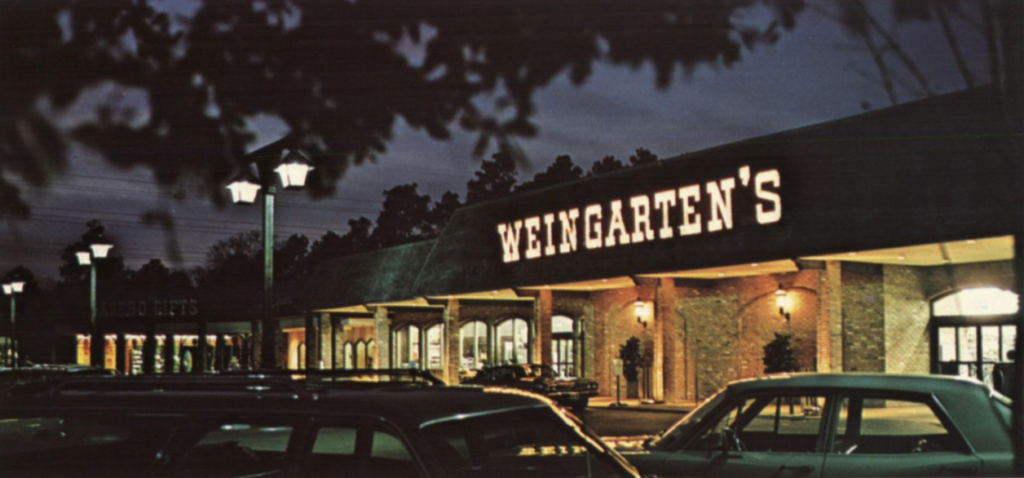 Major changes were underway with new outside management now mainly operating the grocery store chain. One of the most significant changes was abandoning the Bonus Stamps program in favor of their "Budget Chopper" pricing. Around the same time, Weingarten's also expanded their generic food selections. The stores also underwent a modernization program, where some locations were given exterior updates to create a more cohesive and modern image. Finally, a few locations, including those using the Valu-King nameplate, would be permanently closed, reducing the store count from an all-time high of 105. Most of the changes were effective, with Weingarten's sales and profits finally rebounding in 1979. After a few consecutive years of bad luck, things seemed to look up for the local grocery store. The Weingarten's name was still highly respected but was somewhat reliant on the family and local connections. Just as Harris Weingarten had known how to tailor his first store years earlier, the modern store managers were allowed a great deal of autonomy that let locations differentiate. In 1979, the Weingarten's Board of Directors, which mainly was compromised of family members, approved a buyout by a British company Cavenham Inc. At this point, it became evident that the improvements being made were likely meant to prepare the company for sale. In early 1980, less than a month after going up for sale, 93% of Weingarten's stock had been sold to Cavenham Holdings, which planned to "merge" with Weingarten's.
The company was a subsidiary of Cavenham Foods, a British company that had entered the U.S. through its 1972 purchase of Grand Union. Cavenham would continue to acquire other chains, placing them all under the purview of Grand Union. Not included in the sale would be Weingarten's Realty, which was spun off as an independent company. The new Weingarten Realty would continue to own and operate the malls and shopping centers and lease spaces to the new company. As well they would also continue to work in unison on some already planned stores. By March, Joseph H. McCaig, a former VP of Grand Union, replaced Bernard Weingarten as president of the new company. Only a few days after this replacement, the Grand Union management strategies were put into place. The company that Grand Union was now in charge of was a wild mismatch of locations. Including tiny out-of-date stores in urban parts of Houston and rural supermarkets with no competitors, all the way to upper-class options in swanky suburbs. The company would be allowed to act as a subsidiary rather than being directly folded into Grand Union. However, they would still receive directives from their new parents One of Grand Unions' first significant changes would be to begin closing lower-performing locations. Some were slated for replacement; however, many others would simply be cut. In late 1980 a meat cutter strike began, which quickly grew to include clerks and cashiers. While multiple chains were affected by the strike, its impact on Weingarten's was so severe that certain locations were forced to close temporarily or reduce hours. Nearly three months into the strike, Parent Company Grand Union would help to bring the strike to an end.

A map of Weingarten's locations from 1901-1986
During this time, Grand Union completed its merger and started preparations for closing Weingarten's corporate offices, essentially making the company a division of its parent company. As a part of this process, Joseph McCaig was promoted to a senior executive position and was replaced as division president by C. Schulke, another Grand Union employee. According to reports that would not become public until years later, the Weingarten's division was not performing as desired. By 1981, Grand Union had closed eight locations. During this time, the way Weingarten's operated would change drastically. With the closing of their corporate offices, all local control was lost and merchandising decisions were now being made at a division level instead of store by store. Unfortunately, this change in merchandising would only lower sales, leading to further store closures. The first stores to go would be the locations served by the Shreveport Distribution Center. This would include locations in Northwest Louisiana, Texarkana, and all six stores remaining in Arkansas. This closure would be blamed on intense competition and a lack of expansion. Here at home, the remaining locations would start to receive "remodels" in order of importance. The update involved adding a Grand Union style vestibule and finally completely removing hardlines. It seemed that Weingarten's wanted the chain to focus on being seen as the freshest grocery store out there. By 1982, new stores were finally being opened by Grand Union, and the remodeling program was expanded to more locations. This was met with local praise for what was seen as a much-needed investment into these stores.
While the reception was initially positive, when venturing into the new stores, many customers were upset with the new merchandising policy. At the same time, Grand Union touted that their remodel program actually cost more compared to building a new location. Unfortunately, though, new locations were what the chain needed. In the 1980s, Houston's suburbia expanded Weingarten's was struggling to keep up and, more importantly, stay relevant. The chain was seen as overpriced and out of touch by many. To help finance these updates, Weingarten's had gained the ire of their unions. Employees were upset about cutting hours and reduced services and options, which they felt were hurting business. Unfortunately, the company would not listen, falling to 71 stores by the middle of the year. In a surprise move, Grand Union announced its intent to either sell or close all remaining Weingarten's locations as soon as possible. The move was surprising but not questioned by employees who had felt the sting of Cavenham's wrath. With one manager stated, "I could have all the wine I wanted, but I couldn't sell corkscrews." By February, most of the Weingarten's locations had been sold. The lion's share, 43 locations, would end up in the hands of Safeway, which would abandon some of its locations in favor of the new stores.
Other buyers included Rice, Gerland's, Fiesta, Home Town Foods, and even TJ Maxx. Many other stores were sold to independents, and about 20 were closed without replacements. This did, however, leave three stores that were contractually obligated to continue operating. According to some of the early leases made by Weingarten's with other landlords, they had first right of refusal on lease transfers between grocers. Gulfgate Mall, Montclair Plaza, and the Post Oak Shopping Center all refused to allow Safeway to take over stores at their properties. Gulfgate would change their minds after a few weeks, leaving two stores in limbo. In this situation, the remaining two stores would stay open until suitable replacements could be found. They would operate as independents supplied by Grocers Supply Corp, maintaining a small advertising presence. However, this plan was foiled when the Montclair Plaza store was sold to Randall's. The final Weingarten's would operate until April 1986, when it would finally be handed over to Rice Food Markets, who was preparing to convert their nearby location into an Epicurean store. While the final closing of the chain didn't bring out any significant attention, Weingarten's remains fondly remembered by most Houstonians to this day. Plenty of love stories originating in our fair city start with "Well, I was at Weingarten's…." Even though Randall's would later usurp the identity of the most prominent local grocer, Weingarten's legacy remains. The realty wing of Weingarten's continued its expansion until their 2021 merger with Kimco.
Location List

| Store # | Address | Notes |
| --- | --- | --- |
| 1 | 1601 Congress St, Houston, TX 77002 | 1901-1909, Existing store purchased for $400 from previous owners, Still standing |
| 1 | 1420 McKinney St, Houston, TX 77010 | 1909-1914 Moved in 1909 for undisclosed reasons although likely more space |
| 1 | 1502 Main St Houston, TX 77002 | 1914-1951, Lease Expired, store contents sold at Auction, Demolished |
| 1 | 18091 Upper Bay Rd, Houston, TX 77058 | 1967-1984 Still standing? Replacement Store |
| 2 | 1009 Texas Ave Houston, TX 77002 | 1921-1935 Destroyed in a fire |
| 2 | 8826 Jensen Rd Houston, TX 77093 | 1953-1981, Originally Humble Rd, Still standing, Family Dollar, Contains likely original Terrazzo flooring, Family Dollar Opened in 1988 |
| 3 | 105 Preston St Houston, TX 77002 | 1923-1955 Demolished |
| 3 | 5908 Broadway Avenue J, Galveston, TX 77551 | 1955?-1980 Still standing? Part of a shopping center, Where Big Lots is, "W" logo glass was discovered after Ike, Home Center location |
| 4 | 3406 S Main St Houston, TX 77002 | 1925-1955 Demolished |
| 4 | 2535 9th Ave, Port Arthur, TX 77642 | 1955-1984 Demolished prior to 2008, although sign was still standing, Vacant as of 2021, Home Center location |
| 5 | 808 Prairie Ave Houston, TX 77002 | 1926-1966, Moved to 11011 Prairie |
| 5 | 1011 Prairie St, Houston, TX 77002 | 1966-1978 Demolished prior to 2007, Serving predictably as downtown parking |
| 6 | 1601 Taft St, Houston, TX 77019 | 1935-1970, Originally an independent, Demolished ~2010 for apartments, Slanted Entrance |
| 6 | 1938 W Gray St, Houston, TX 77019 | 1972-1984 Still operating as Kroger as of 2021 |
| 7 | 5100 Harrisburg Blvd Houston, TX 77011 | 1930-1965 Previously an A&P, Still Standing |
| 7 | 750 S Wheeler St, Jasper, TX 75951 | 1966-1974 Still standing as of 2021 |
| 8 | 2001 Yale St Houston, TX 70008 | 1930-1976 Move to 239 W 20th |
| 8 | 239 W 20th St, Houston, TX 77008 | 1976-1984 Still open as Kroger, Weingarten labelscar was briefly visible ~2019 |
| 9 | 1420 Richmond Rd Houston, TX 77006 | 1931-1962 Former Texas SerVall, Contents Auctioned, Later became a Go Go Bar, Still standing Menil Building |
| 9 | 1150 Airline Dr, Bossier City, LA 71112 | 1964-1978, Had a crime problem, was briefly another grocery store, has been different pottery/outdoor stores since |
| 10 | 1602 Polk Ave Houston, TX 77003 | 1931-1960, Demolished where GRB is |
| 10 | 1513 W 18th St, Houston, TX 77008 | 1962-1977, Demolished for HEB? |
| 10 | 3520 Spencer Hwy, Pasadena, TX 77504 | 1980-1984 Likely Demolished |
| 11 | 3600 N Main St, Houston, TX 77009 | 1932-1971 Still standing, O'Reilly's, Contains many original exterior features including the sign? |
| 11 | 450 Sheldon Rd, Channelview, TX 77530 | 1972-1984 Still operating as Food Town as of 2021, 100th Store built |
| 12 | 3114 Smith St Houston, TX 77006 | 1935-1963, Demolished?, Originally 3100 Smith |
| 12 | 510 N Downing St, Angleton, TX 77515 | 1961-1978, Unsure |
| 13 | 1118 Broadway Harrisburg, TX 77012 | 1936-1964, Not officially referred to as #13, Later Became a Car Dealer then Leonard's Dept Store |
| 14 | 1100 Quitman St, Houston, TX 77009 | 1939-1984 Rebuilt 1974, Still standing, Operating as Fiesta as of 2021, Still has cathedral ceiling |
| 15 | 2512 University Boulevard, Houston, TX 77005 | 1941-1984 Demolished during Rice Village renovations |
| 16 | 4820 Washington Ave, Houston, TX 77007 | 1941-1983 Still standing, Now subdivided, still retains many external cues as of 2021, Later Valu King, Now 4800 Washington |
| 17 | 2 E Texas Ave, Baytown, TX 77520 | 1942-1950 Former Grenader Store, Demolished |
| 17 | 8620 Stella Link Rd, Houston, TX 77025 | 1956-1984 Sold to Safeway, Then the final AppleTree in Houston |
| 18 | 800 W Texas Ave, Baytown, TX 77520 | 1942-1950 Former Grenader Store, Rebuilt as #17 |
| 18 | 7840 Long Point Rd, Houston, TX 77055 | 1956-1984 Preceded by Garden Center by a year! |
| 19 | 1006 N 16th St, Orange, TX 77630 | 1944-1952 Merged with #20, Address approximate |
| 19 | 1352 W 43rd St Houston, TX 77018 | 1956-1984 Still standing, subdivided, Most recently Fallas Paredes, Most external features remain |
| 20 | 200 W Turrett Ave, Orange, TX 77630 | 1944-1980 Home Center location |
| 21 | 1102 Telephone Rd, Houston, TX 77023 | 1946-1980 Still standing HISD Building |
| 22 | 1711 W 2nd St, Freeport, TX 77541 | 1949-? Unsure?, Home Center Location |
| 23 | 5800 Lyons Ave Houston, TX 77020 | 1949-1984 Still Standing, Fiesta, Home Center Location |
| 24 | 200 Gilham Cir, Port Arthur, TX 77640 | 1950-1980 Home Center location, Still standing as Family Dollar |
| 25 | 2090 Railroad Avenue Beaumont, TX 77705 | 1950-1980 Demolished, Home Center Location |
| 26 | 4100 Almeda Rd, Houston, TX 77004 | 1951-1984 Demolished, Stood where Post Office is |
| 27 | 800 W Texas Ave, Baytown, TX 77520 | 1951-1980 Still standing, Modified but recognizable exterior, Home Center Location |
| 28 | 4000 Bissonnet, Houston, TX 77005 | 1951-June 1984 Sold to Randalls, Originally 4000 Richmond |
| 29 | 10901 Market St, Houston, TX 77029 | 1951-1984 Referred to as Jacinto City, Still operating as Seller Bros as of 2021 |
| 30 | 2220 Calder Ave, Beaumont, TX 77701 | 1952-1984 "Marina-Style", Sold to Safeway, Home Center location, Still standing |
| 31 | 4519 Griggs Rd, Houston, TX 77021 | 1952-1984 Still standing, Marina Similar, Planned GFS as of 2022 |
| 32 | 915 6th St N, Texas City, TX 77590 | 1952-1984 Still operating as Food King, Home Center location |
| 33 | 1222 S Shaver St, Pasadena, TX 77506 | 1954-1980 Still standing, Now a Crazy Boss location, Home Center location |
| 34 | 1010 S College Ave, Bryan, TX 77803 | 1954-1980 Still standing, now subdivided, Home Center location |
| 35 | 2830 Ryan St, Lake Charles, LA 70601 | 1954-? Marina Like Store, Home Center location, Still operating as a Market Basket |
| 36 | 3825 Gilbert Dr, Shreveport, LA 71104 | 1955-1977 Prototype "inverted roof" Later Price-Lo (Stanley), Anchor of Maddison Plaza |
| 36 | 2409 Bay Area Blvd, Houston, TX 77058 | 1979-1984 Subdivided around 2012 |
| 37 | 200 Gulfgate Mall Houston, TX 77087 | 1958-1984 Demolished |
| 38 | 1900 Louisville Ave, Monroe, LA 71201 | 1959-1961 Closed almost immediately after a deadly robbery |
| 39 | 4755 Concord Rd, Beaumont, TX 7703 | 1958?-1982 Still standing, Affordable Home Furniture |
| 40 | 3705 Jewella Ave, Shreveport, LA 71109 | 1958-1982 Later Price-Lo (Stanley) |
| 41 | 1710 New Boston Rd, Texarkana, TX 75501 | 1959-1982 Still operating, as a CashSaver |
| 42 | 5810 Bellfort Ave, Houston, TX 77033 | 1963-1980 Sold in 1980 to Rice, Still standing, Citi Trends, and other subdivided stores |
| 43 | 5130 Bellaire Blvd, Bellaire, TX 77401 | 1959-1984 Still standing, Was sold to Safeway, AppleTree, then Randalls who closed in 2020 |
| 44 | 2710 W 70th St, Shreveport, LA 71108 | 1960-1982? |
| 45 | 2763 Red Bluff Rd, Pasadena, TX 77506 | 1959-1984 Demolished, Sign post still standing |
| 46 | 2501 S Post Oak Ln, Houston, TX 77056 | 1960-1986 Demolished Early 2000s, Was the final store close in 1986 due to lease issues |
| 47 | 2718 MacArthur Dr, Orange, TX 77630 | Unsure? |
| 48 | 4404 Airline Dr, Houston, TX 77022 | 1960-1984, Northline Mall, Sold to Rice, Demolished with rest of Mall |
| 49 | 410 Dixie Rd, Lake Jackson, TX 77566 | 1960-1983, Demolished?, Originally 410 Loop Rd |
| 50 | 11320 Chimney Rock Rd, Houston, TX 77035 | 1960-1984, Westbury Square, Sold to Safeway, Still standing, 99 Cents Only Store, |
| 51 | 3803 Dunlavy St, Houston, TX 77006 | 1960-1984, Demolished for Condos 2013, Sold to Safeway, Later AppleTree, then Fiesta |
| 52 | | |
| 53 | 4400 N Shepherd Dr, Houston, TX 77018 | 1960-1967, Former Texas Servall, Demolished 2007 for LA Fitness |
| 53 | 3322 Center St, Deer Park, TX 77536 | 1978-1984, Sold to Gerland's, Still operating as a Food Town as of 2021, Recycled Number |
| 54 | 8011 Park Place Blvd, Houston, TX 77087 | 1960-1974, Former Texas Servall, Subdivided, Including Kelley's Country Cookin' |
| 54 | 5828 Line Ave, Shreveport, LA 71106 | 1976-1982 Former Big Chain Store, Sold to Safeway, Then Brookshires |
| 55 | 7061 Lawndale St, Houston, TX 77023 | Subdivided, 99 Cent Only Store, La Michoacana |
| 56 | 3020 Little York Rd, Houston, TX 77093 | 1960-1962, Former Texas Servall, Sold to Minimax, Family Thrift Center |
| 56 | 4425 W Fuqua St, Houston, TX 77045 | 1964-1984 Still open as Foodarama as of 2022 |
| 57 | 2040 S Richey St, Pasadena, TX 77502 | 1960- 1968, Former Texas Servall, Still operating as Food Town as of 2021 |
| 57 | 9634 E Houston Rd, Houston, TX 77028 | 1971-1984, Now 9634 Mesa, Later Save-A-Lot, Now KIPP Campus, Adjacent Eckerd/CVS stayed open until at least 2011 |
| 58 | | |
| 59 | | |
| 60 | | |
| 61 | 3228 Twin City Hwy, Groves, TX 77619 | 1962-1971, Still standing |
| 61 | 11700 Bellaire Blvd, Houston, TX 77072 | 1962-1971, Still standing, had much of the facade left until ~2018 |
| 62 | 10500 Eastex Fwy, Houston, TX 77093 | 1962-1978, Demolished |
| 62 | 9494 Hammerly Blvd, Houston, TX 77080 | 1979-1984, Still operating as a Seller Bros as of 2021 |
| 63 | 701 E Davis St, Conroe, TX 77301 | 1964-1984, Originally an indepdent named Sav-Way, Still standing, UTMB Health |
| 64 | 1175 Edgebrook Dr, Houston, TX 77034 | 1964-1984, Still operating as Fiesta, Cathedral Roof still visible |
| 65 | 610 Memorial City Mall Houston, TX 77024 | 1964-1977, Tennant of Memorial City Mall |
| 65 | 11041 Westheimer Rd, Houston, TX 77042 | 1979-1984 Anchor of Westchase Mall, Later Randall's, Currently Whole Foods as of 2022 |
| 66 | 5665 Beechnut St, Houston, TX 77096 | 1964-1974 Renamed "Value King" for 1973 & 1974, Sold to Cox's Foodarama who for their second store, Still open as Foodaram as of 2022 |
| 66 | 11240 Fondren Rd, Houston, TX 77071 | 1978-1984, Somewhat of a replacement store, Still operating as a Fiesta as of 2022 |
| 68 | 1602 Kings Hwy, Shreveport, LA 71103 | 1966-1983 |
| 69 | 4055 Calder Ave, Beaumont, TX 77706 | 1966-1980 Still standing, Harmony Science Academy |
| 70 | 7601 Westheimer Rd, Houston, TX 77063 | 1967-1984, Still standing, Ross, Was possibly given a new entrance under Grand Union? |
| 71 | 3009 Gerstner Memorial Dr, Lake Charles, LA 70601 | 1966-? Originally 3015, Third in Lake Charles, Most recently Kroger |
| 72 | 435 Uvalde Rd, Houston, TX 77015 | 1967-1984 Still standing as dd's Discounts, Was later HEB Pantry Foods |
| 73 | 2415 Bernardo De Galvez Ave, Galveston, TX 77550 | 1967-1984, Still standing, Was Arlan's until Hurricane Ike, Now Human Resources? |
| 74 | 939 Nederland Ave, Nederland, TX 77627 | 1967-1984, Still standing, Exygon Health Club |
| 75 | 2232 Spencer Hwy, Pasadena, TX 77504 | 1967-1980, Demolished? |
| 76 | 4523 Johnston St, Lafayette, LA 70503 | 1969-1984, Sold to Safeway |
| 77 | | |
| 78 | | |
| 79 | | |
| 80 | | |
| 81 | 2970 Washington Blvd, Beaumont, TX 77701 | 1967-1971, Renamed Valu-King 1968-69, Demolished? |
| 81 | 5330 W 34th St, Houston, TX 77092 | 1974-1983, Mostly now DD's |
| 82 | 2295 Delaware St, Beaumont, TX 77703 | 1964-1970, Still standing, New entrance, Renamed Valu King |
| 83 | 1365 N Main St, Vidor, TX 77662 | 1967-1973, Unsure? Likely demolished |
| 83 | 800 N Main St, Vidor, TX 77662 | 1973-1984, Replacement Store, Still operating as a Market Basket |
| 84 | 319 W Park Ave, Orange, TX 77630 | 1967-1970, Still standing? Vacant, Closed 1970 |
| 84 | 11830 Wilcrest Dr, Houston, TX 77031 | 1974-1982 Recycled Number, Still standing as Marshall's |
| 85 | 5320 Hwy 1765, Texas City, TX 77590 | 1968-1984, Food Rite Market |
| 86 | 2516 Avenue H, Rosenberg, TX 77471 | 1968-1984 99 Cents Only Store |
| 87 | 1203 W 1st St, DeRidder, LA 70634 | 1968-1984, Sold to Safeway then to Stanley/Price-Lo |
| 88 | 9420 Cullen Blvd, Houston, TX 77051 | 1968-1984 Still operating as Fiesta as of 2021, Cathedral Ceiling, Original Flooring |
| 89 | 1523 Little York Rd, Houston, TX 77093 | 1968-1980 Still operating as a Seller Bros as of 2021 |
| 90 | 5815 Lockwood Dr, Houston, TX 77026 | 1968-1983, Still operating as Fiesta as of 2021, Cathedral Ceiling, Original Flooring |
| 91 | 13150 Memorial Dr Houston, TX 77079 | 1968-1983, TJMaxx since closing, Uses original vestibule |
| 92 | 454 Heymann Blvd, Lafayette, LA 70503 | 1969-1984, Champagne's Market |
| 93 | 9550 Homestead Rd, Houston, TX 77016 | 1968-1980 Still operating as Super Value Foods |
| 94 | 1800 NE Evangeline Thruway, Lafayette, LA 70501 | 1969-1984 Northgate Mall, Originally 281 Frontage Road, Sold to Safeway |
| 95 | 400 W Little York Rd, Houston, TX 77076 | 1970-1983 Likely now Food Town |
| 96 | 3465 Gulf Fwy, Dickinson, TX 77539 | 1969-1984 Standing, Now StarFine Furniture |
| 97 | 3709 N 16th St, Orange, TX 77632 | 1970-1984 Still operating as a Market Basket, Retains most external characteristics |
| 98 | 11737 Eastex Fwy, Houston, TX 77039 | 1970-1984 Still standing, Citi Trends |
| 99 | 5300 N Braeswood Blvd #99, Houston, TX 77096 | 1971-1984 Braeswood Square, Sold to Safeway, then AppleTree, then Belden's until 2019 |
| 100 | 1811 N Alexander Dr, Baytown, TX 77520 | 1969-1984 Unsure |
| 101 | 7455 Southwest Fwy, Houston, TX 77074 | 1970-1975 Located next to Woolco, Demolished |
| 101 | 6470 W Little York Rd, Houston, TX 77091 | 1978-1984 Arched Design, Still operating as Food Town as of 2021 |
| 102 | 3323 Lockwood Dr, Houston, TX 77026 | 1969-1980 Formerly Pacini's Superette, Still standing Roller Rink |
| 103 | 838 Algregg St, Houston, TX 77008 | 1971-1984, Demolished 2013 for Apartments, Operated as Fiesta prior to this |
| 104 | 4628 Broadway Avenue J, Galveston, TX 77551 | 1971-1977 Globe Grocery Dept, Demolished for community center |
| 104 | 6450 Phelan Blvd, Beaumont, TX 77706 | 1978-1984 Arched Design, Subdivided, Center of facade removed |
| 105 | 4601 Farm to Market 1960 Rd W, Houston, TX 77069 | 1976-1984 North Oaks Mall, Most recently TJMaxx |
| 106 | 19633 Eastex Fwy, Humble, TX 77338 | 1977-1984, Still standing, Conn's? |
| 107 | | |
| 108 | 5900 Renwick Dr, Houston, TX 77081 | 1976-1984 Still operating as a Seller Bros as of 2021 |
| 109 | 8066 S Gessner Rd, Houston, TX 77036 | 1975-1984 Still standing, Currently Ross |
| 110 | 1050 Federal Rd, Houston, TX 77015 | 1976-1984 Still operating as a Seller Bros as of 2021 |
| 111 | 6059 S Loop E Fwy, Houston, TX 77087 | Target Food Store, 1973-1984, Sold to Rice Food Markets, Building later Auchan, Still standing |
| 112 | 7051 Southwest Freeway, Houston, TX 77074 | Target Food Store, 1973-1979, Building still standing |
| 113 | 9429 Katy Fwy, Houston, TX 77024 | Target Food Store, 1973-1979, Building still standing |
| 114 | 10000 Kleckley Dr, Houston, TX 77075 | Target Food Store, 1973-1979, Building still standing |
| 8009 | 3442 Palmer Hwy, Texas City, TX 77590 | 1982-1982 Possibly Never Opened? Sold to Super Warehouse Foods, Then to Randall's, Who quickly sold to Albertsons, Partially demolished for new stores |
| 8116 | 9701 Spencer Hwy, La Porte, TX 77571 | 1982-1984 Later Gerland's Food Fair, and then Food Town until ~2019 |
| 8120 | 1200 Harvey Rd, College Station, TX 77840 | 1983-1984 99 Cent Only Store, now Burke's Outlet |
| 8126 | 10717 Jones Rd, Houston, TX 77065 | 1982-1984 Steeplechase Shopping Center |
| 8136 | 15152 Bellaire Blvd, Houston, TX 77083 | 1983-1984 Still resembles a Grand Union |
| 8140 | 601 Bertrand Dr, Lafayette, LA 70506 | 1982-1984, Sold to Safeway, Later Price-Lo (Stanley) |
| | 2125 S Broadway Ave, Tyler, TX 75701 | 1956-1963 Still standing, Sold to local |
| | 929 3rd Ave, Lake Charles, LA 70601 | 1963-? Originally a Piggly Wiggly/Kroger |
| | 1169 W 16th Ave, Pine Bluff, AR 71603 | 1959-? |
| | Jacksonville, AR | 1959-? |
| | 2415 Broadway St # A, Little Rock, AR 72206 | 1960-? |
| | 8801 Geyer Springs Rd, Little Rock, AR 72209 | |
| | 9101 W Markham St, Little Rock, AR 72205 | |
| | 6823 Cantrell Rd, Little Rock, AR 72207 | |
| | 2145 Union Ave, Memphis, TN 38104 | |
| | 2754 Lamar Ave, Memphis, TN 38114 | |
| | 1154 Jackson Ave, Memphis, TN 38107 | Still standing East of interchange |
| | 3941 Park Ave, Memphis, TN 38111 | |
| | 3502 Summer Ave, Memphis, TN 38122 | Demolished, Walgreens |
| | 1170 S Bellevue Blvd, Memphis, TN 38106 | |