The Deauville Fashion Malls are truly an odd duck amongst Houston area malls. Chances are, if you clicked on this page, you probably either know exactly what the Deauville Malls were, or you have no clue; there's likely no in-between. Despite great intentions, backed by a strong Houston-based company, the Deauville Fashion Mall experiment is widely regarded as a failure, and there's little redemption to be had even today, nearly 40 years later. The tale starts with the Deauville Corporation of Houston, which was originally in the business of building apartments. Deauville got its first taste of building a shopping center via Deauville Place. This was an apartment complex developed by Deauville in the up-and-coming Greenspoint area, connected to a 125,000 Square Foot Shopping Center. As it was Deauville's first major venture in commercial realty, an outside firm was brought in to help them plan out their new shopping center. The new complex would feature Randall's as an anchor tenant and was located on I-45 between West and Aldine Bender. It proved to be a quick hit with the growing community! While the apartments were condemned in the early 2000s, the shopping center still stands, doing good business. Deauville's first taste of commercial realty would later inspire multiple other shopping centers in the same setup. A grocery anchor, and some sort of Junior Department Store. Complimented with restaurants and boutique shops you'd usually find in a mall, like Radio Shack. The joint venture with the shopping center developer would lead to three new regional shopping centers. It seems that this newfound success would quickly get to Deauville's head as they had grandiose plans in mind for the Northside of Houston.
The next chapter of Deauville's plan was to build a mall, but not the yet-to-be-developed Fashion Mall, rather a standard this would be a standard regional mall. In 1973 the Deauville Corporation purchased a plot of land along FM 1960, near I-45. The plan was to develop a full-scale mall that would coexist with the soon-to-open Greenspoint Mall. During the development of Greenspoint, Federated (developer of the project and owner of Foley's) had been approached by Montgomery Ward about adding a location at Greenspoint Mall. Already having signed on to have Sears at the mall, Ward's was rejected. Deauville Corp. learned of this and began to court Montomgery Ward into signing on as an anchor at their proposed mall. With a lack of mall experience, Deauville's mall was a tough sell to Ward's. At some point, Melvin Simon, national mall developer of Galleria-ownership fame in Houston, was brought into the project to help mediate an agreement between the two. Eventually, Deauville would possess a flimsy agreement that gave Mongtogomery Ward most of the control and many opportunities to abandon the project. Ward's immediately took Deauville's offer to Greenspoint and waved it in their face until Greenspoint agreed to allow Montgomery Ward to become an anchor as part of an expansion at Greenspoint Mall. Leaving no anchors for the aptly named '1960 Project' Deauville, and Melvin Simon, both dropped the project, and a suit was brought against Wards by Deauville.
During the next few years, no talk of a mall or shopping center development was undertaken by Deauville, who was wrapped up in a furious legal battle against their former prospective anchor tenant. However, in the early 80s, Deauville would once again move forward with another mall concept. This time, there would be almost no press coverage of the goings-on, likely due to the court battle which was going through appeals at the time. However, in 1984 the beans were spilled by the Chronicle on the first Deauville Mall at I-45 and Cypresswood. While little was known about the new mall, it was touted as the first of three 'Discount Malls' to open in the area. They would be anchored by off-price fashion retailers, but little other information was given. Only a few months later, the first of the three planned Deauville Malls opened. The Spring Mall was the first to open and would feature Designer Depot  and Siegel's Fashion as major tenants. Coming in at only around 300,000 Square Feet, including the anchor tenants, this first mall was a small-time deal. In addition to the anchor shops, a fair number of boutiques lined the interior of the mall, along with a small food court. Few of the store names were major brands, and I have a decent suspicion some of these stores started off as turnkeys by the Deauville Corp with a plan to sell them to operators. One notable chain that signed on was Spencer Gifts which operate in all three Deauville Malls for a little under a year before moving out.
The two other announced Deauville Fashion Malls, Meadows Place (59 and the Beltway) and Webster (I-45 & Bay Area Blvd), would open soon afterward. Unlike the Spring Mall, these newer locations would implement a movie theater, and Hardware Store, directly into the mall area, bringing up the total size of the centers to around 350,000 Square Feet. Each grand opening would feature special guest Monty Hall, to play a life-sized board game, based on the mall shopping experience, giving away prizes like tickets to Hanna Barbera Land, Gift Certificates for Mall Shops, and a Brand new Car! Despite all the fanfare, there was already a revolution brewing outside of the Deauville Malls. Just as quickly as these three locations had popped up, new Discount Malls were quickly making their way to other parts of town. Some, like the Buyer's Market Mall, were in direct competition with Deauville. To help improve the legitimacy of the malls, an expansion was planned to add a Lowe's Theater and Houseworks (which would quickly flip to Builder's Square) to the existing malls. At the Meadows and Webster locations, this would add on square footage, and in Spring, it would require the addition of a strip center to the rear of the mall property. In a retrospective at the end of 1984, Deauville had mostly positive comments to make about the mall. While they referred to this as a learning experience, newer discounters like TJ Maxx and Ross were unwilling to sign on to any kind of mall.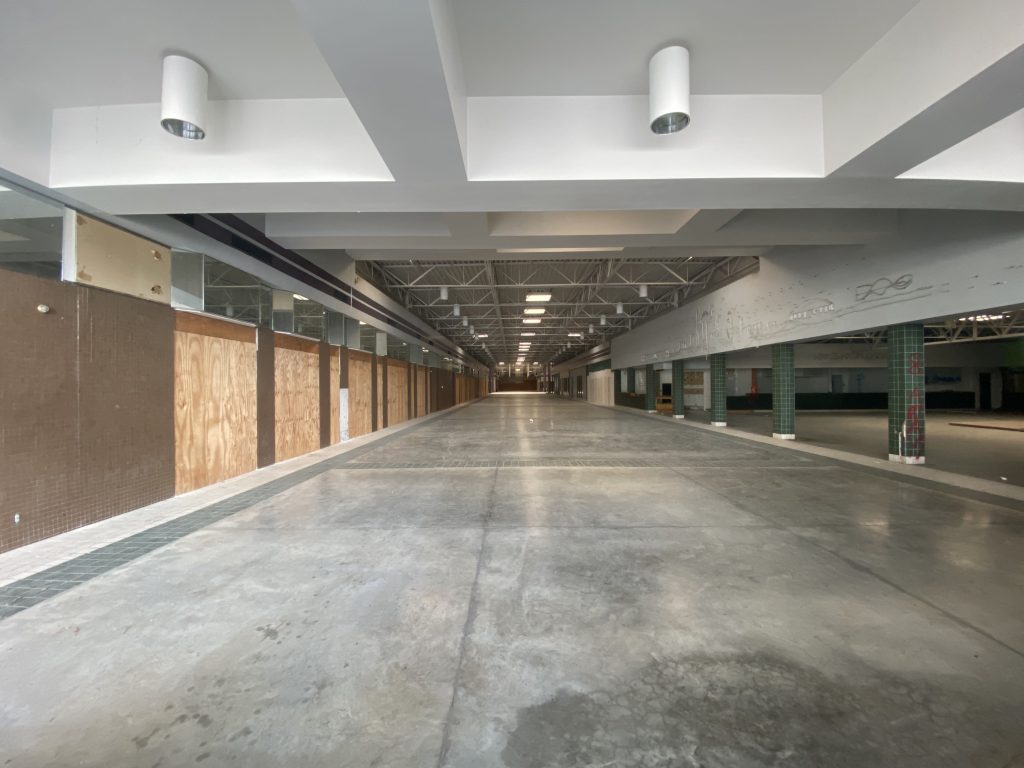 This small comment would be one of the first indications that things weren't turning out exactly as planned for the Deauville Malls. While Deauville kept a tight lid on negative press, it seems that out of the 60 tenants each mall was designed to hold, no mall was ever above about 3/4th full, all opening with vacant anchors. Despite the tenancy issues from the start, the Deauville Corp would continue chugging along, expanding the existing malls, and announcing plans for a Kingwood Mall in 1985. Part of the expansions brought the electronic store Federated to Texas, 1985 was a relatively quiet year for While Houston had proved to be a volatile market for malls, Deauville felt confident with its discount strategy, even with a weaker than normal economy. However, when the 1986 oil bust hit, prices dipped to their lowest in years, and Deauville lost not only foot traffic at their mall but thousands of leases on their apartments. In near financial ruin, the Deauville Corp began to panic. Their malls had been dealt a tough hand rife with competition and a sluggish economy, and with time would likely succeed. However, at the time being, they were a money drain losing far more money than they had ever generated, and with Kmart's decision to shutter the Designer Depot stores that year, they would once again be on the hunt to fill in another anchor spot. In October of 1986, Deauville Corp would hand over the deed for the Southwest Fashion Mall to InterFirst Bank. They would allow Deauville to continue running the mall for the time being, which by this point had taken on the City of Meadows Offices, and Police HQ.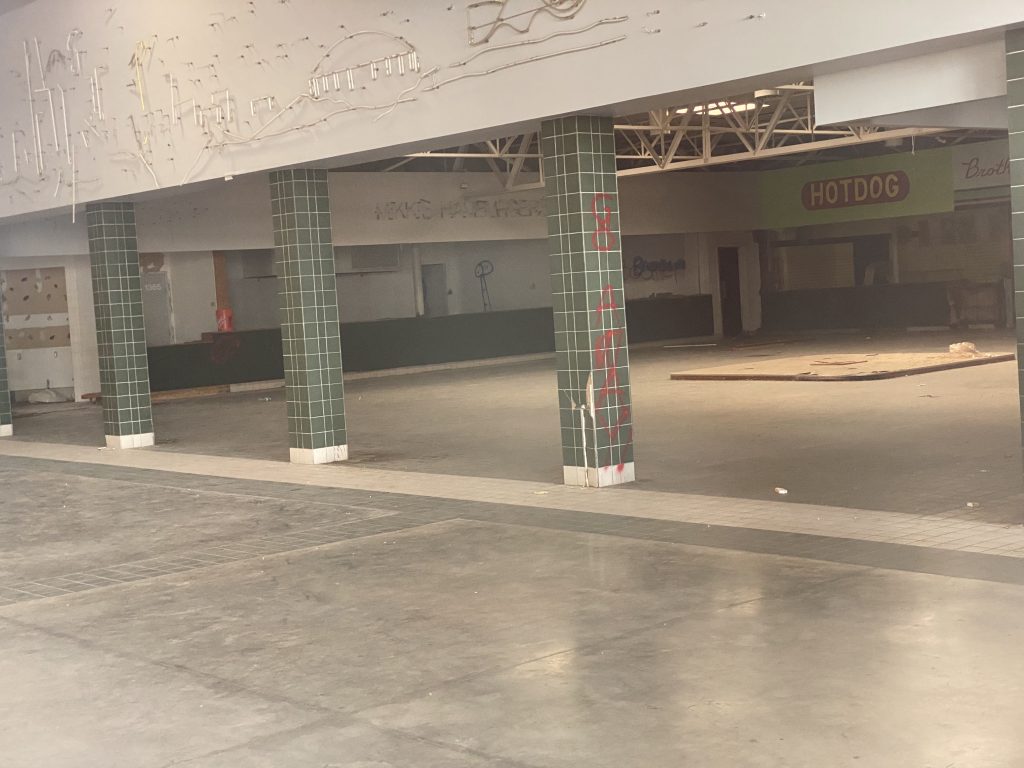 While Deauville or the bank refused to publically admit it, the company was on the verge of Bankruptcy. The price of oil had not recovered, continuing to sink throughout the year, and the economy continued to spiral in Houston, triggering a demographic shift that would become the downfall of the once prominent Deauville Corporation. In December 1986 Deauville's remaining commercial properties went into foreclosure. This included the Spring and Webster Malls, along with the completed but unopened Kingwood Mall. Different creditors were allowed to take over various properties. At the time the malls were all operating at or below 50% occupancy, with Spring holding the highest number of tenants. The mall operations would be split amongst various companies, taking Deauville out of the picture. The Stafford mall was almost immediately slated for a Power Center upgrade, which would not end up happening. Although the building would find multiple reuses, only a few exterior access stores still remain. The Webster Mall was the next location to close, in early 1987 for planned redevelopment, which would involve turning it into a Power Center, which still stands, and is in business. The power center upgrades involved demolishing the theater and connecting corridors. Leaving the mall in two chunks. These chunks were divided up into stores, and all received exterior entrances. A new anchor was built in the former theater site but does not connect to any of the former malls. The Kingwood Deauville Mall would never open. While exterior construction was completed, and some interior work had begun, development was halted when the three existing malls quickly began to fail.
Later articles would cite that over time the quality of merchandise at the stores dropped dramatically. From real discount designer items to poorly made knock-offs. Which I believe is a result of the turnkey ownership model handing over the stores to inexperienced operators. The Kingwood mall would eventually be turned over to the Friendswood Development Corp. who would enter into serious leasing negotiations with Atari Inc. to convert the facility into a manufacturing plant. It seems that Atari desired that the area be made a tax-free import/export zone. Allowing them to import nearly finished items, do a small cosmetic touch like adding a logo sticker, and avoid paying any import tax as the item was technically "made in the USA". It seems that the city of Kingwood was unwilling to budge on this item, as the mall was likely sold to them as a profit generator, much like it had been sold to Meadows. It seems possible that Atari may have intended to use this facility to import and rebadge RAM Chips, an illegal practice in which Atari was known to participate in at the time. Atari likely became aware of the malls after their purchase of Federated Electronics, which was recruited at the last minute to help fill out the malls. Eventually, the Kingwood Mall would be redeveloped as Office and Medical space and was eventually expanded into a Hospital. The Meadows Mall would eventually become home to Houston's next branch of Garden Ridge. The other two locations taking the entire Buyer's Market Malls, this one was comparably large, but only took about half of the former mall. Sam's Club would take the other half of the building, carving out a new entrance. The movie theater would continue to operate as a Dollar Cinema for many years after the mall's closure. However by around 2000 all of these businesses had moved out, leaving the space vacant. Some tenants would come and go, like Restaurant Supply Stores, but the Garden Ridge and Cinema portion sat unused for many years. Finally finding a new purpose as the HQ of Texas Direct Auto's Online Sales. The Webster Deauville Mall would find its end with the demolition of the center tenant and movie theater. Quickly after bankruptcy, the mall was "powercenter-ized" by walling off individual tenants, and adding entrances but still maintained its structure until the 2000s.