Food Town, sometimes referred to as Lewis Food Town, is an independent grocery chain operating in Houston, Texas. With 30 locations, they are the largest local chain in Houston as of 2022. Food Town has gained a positive reputation from its spartan service departments and targeted selection, the chain's growth is rather recent. The first Food Town locations opened in 1994 as the brainchild of Ross Lewis, a native of Bryan, Texas. Mr. Lewis was an early player in Houston's grocery scene. He was hired by Kroger after graduating from college and entered their manager training program finding a position with Henke & Pilot in Houston. In 1962, Lewis helped foil a robbery by using a codeword with a manager on the phone while being monitored by gunmen. This bravery and quick-wittedness would aid Ross throughout his grocery career, staying with H&P through the Kroger years. Mr. Lewis would also work for Lewis & Coker before settling on Al Davis Food City, where he would eventually work his way up to President of the company. By the early 90s, Lewis would 'retire' from Food City. However, he had retired with a plan in mind; he wanted to build his own chain. After watching years of grocery wars between local chains, and national competitors, embarrass themselves with foolish mistakes, Lewis felt ready to take on the Houston market. However, this was not a feat he could accomplish alone. As such, Lewis would recruit six other Houston grocery alum to create a robust local chain. This combination provided years of experience within the Houston market and, more importantly, an understanding of how to be successful here.
The plan would be to open as a force in the local grocery market. The stores would be pared down to essentially the bare minimum, featuring no service departments and limited non-grocery items. In May of 1994, three Gerland's Food Fair locations would be taken over by the newly founded Lewis Food Town. The transition from Gerland's to Food Town would involve a remodel of the store to facilitate a new layout and blocking off the bakery, deli, and butcher counters. During this time, the store would also get its now famous Maroon & White color scheme, a reference to Lewis' Alma Mater, Texas A&M. One location would take nearly a month to convert, but the new stores were all received positively by customers. While the other "founders" of Food Town have not been directly identified, they did include at least some other employees from Lewis' tenure at Food City, each bringing in expertise in areas Lewis lacked. Some people I have found are Jimmy Ross a produce buyer, Billy Drews, Food Town's meat supervisor, along with Mitchell Hills, Joe Valdez, and Chuck Conners, all store managers. With their limited service departments, Food Town wanted potential customers to see that the store did offer some services, such as custom cuts from a butcher or grocery carryout. However, three months into operation, the modest company still had not held any sort of grand opening celebration. In late August 1994, Food Town finally held grand opening celebrations by bringing radio stations to broadcast live from their stores, along with a prize wheel offering a chance to win groceries.
Though delayed, the grand openings only helped to cement the success of these stores. The three stores had all been low performers for Gerland's, who even tried converting one of the locations into a similar format for less than a year before selling to Food Town. By 1995, Food Town would be up to four locations, and by 1996 five. The quick growth of the store was focused in areas where Davis Food City did not operate, helping to reduce confusion between the two similarly named and themed grocery chains. Food Town's quick growth would sometimes catch the ire of other local retailers like Food Lion, who ran an 'attack ad' against Food Town. While Food Town's public response was nill, they would end up with the last laugh opening in two spots vacated by Food Lion in 1998. By the end of the year, Food Town was up to nine locations. While they had independently scouted some sites, Food Town largely depended on Grocers Supply Co. for real estate assistance. GSC was one of the reasons Food Town could pick up locations from other operators with such ease. In 2001, just seven years after founding the company, it had grown from three to ten locations.
While the chain had proliferated on its own, it was about to get an outside boost as Gerland's agreed to begin franchising the Food Town name and brand. Gerland's would choose specific locations to convert into Food Town stores. In a move that was likely to help fend off pressure from the increasingly dominant HEB, taking on the Food Town name and look would help these stores to gain customers with the promise of low prices. Although interestingly, Gerland's would choose to continue operating their locations 24 hours, and some even included their service departments. Gerland's would flip four Food Fair locations to Food Town in 2001 and 2002. The franchise deal was well received, and the response to these new stores was tremendous. In 2002 when Albertson's announced plans to exit Houston Food Town, and Gerland's worked together with GSC to purchase the leases of three closing stores and convert them to Food Towns. Two locations would go to Lewis and the third to Gerland's. This partnership would help build continued success and cooperation between the two companies. Outside of this budding relationship, Lewis's Food Town would also work with GSC to purchase half of the recently vacated French Hypermart, Auchan, on the west side of Houston. This new store would be larger than any other Food Town in operation and even includes a full-service seafood department. Clocking in at around 110,000 Square feet, the store took about half of the former Auchan space.
Throughout 2003, Gerland's, seeing the continued success of the Food Town banner, would convert even more of their locations from Food Fair. In 2003 alone, five more stores were switched over. Bringing the total number of Food Town locations from 3 to 24 in less than ten years. In 2006, Food Town would make moves into more former Albertsons locations. One, at Kirwood and Bissonnet, was meant to replace one of the three original 1994 locations. The spot had initially been picked up by Kroger, who would only operate it for around 2-3 years before abandoning the store without much notice. Food Town was seen as somewhat of a savior for the area. While they wouldn't have everything that Kroger/Albertsons did, they would keep the much newer and nicer building open and be able to expand their selection. The other Albertsons was a different story. This location had sat vacant since Albertson's left town. Located in the middle of Meyerland, this store didn't have much competition but rather a very mobile customer base, meaning people would gladly leave the area to find better deals. Taking on this store would take a great level of commitment on Food Town's part to adapt to the community, but their attempt has been well received.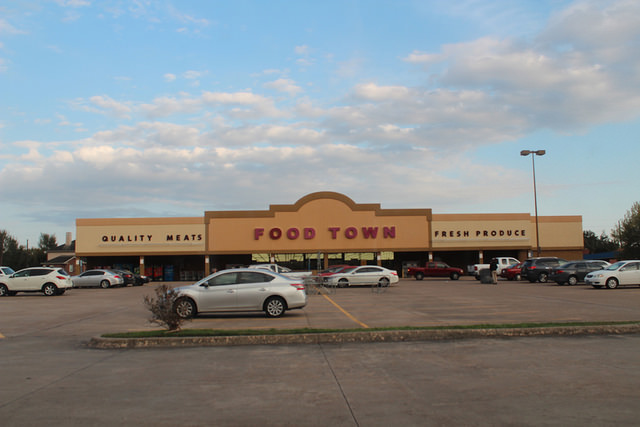 While Food Town's success was apparent by this point, few individuals outside of the grocery world knew that Food Town's operations were actually built with the help of two separate companies. Thanks in large part to Gerland's maintaining the Food Town levels of cleanliness and uniformity to help pull off the ruse. Unfortunately, though, in the late 2000s, the U.S. economy began to feel major troubles in the form of a recession. Houston was somewhat lucky in that our economic distress was more limited thanks to our strong energy economy. However, the effects would be seen at a corporate level, with essentially all but the most robust of grocers calling off new stores for many years forcing Food Town to pause plans for expansion. In 2013 in a somewhat unexpected move, Grocers Supply Co, the supplier to Food Town, and many other locals purchased Gerland's from the Gerland family. The supplier had also purchased their largest customer, Fiesta, about ten years prior, after rumors surfaced that the company would be sold to a competitor, cutting out GSC. While at the time, some speculated that GSC might be trying to build a grocery empire, this couldn't be further from the truth. About a year after purchasing Gerland's, the Levit Family, who owned GSC, announced plans to sell their Wholesale operations to a national competitor. Only a few months later, plans were leaked that an investment firm would be purchasing Fiesta & Gerland's, freeing up the Levits to focus on property management.
However, before Gerland's could be sold, the chain was offered to the Lewis family, and with six Food Fairs and ten Food Towns, they bought it! Overnight the chain would jump from 26 to 33 locations, with the conversion of the remaining Food Fair banners into Food Town following shortly after. The former Gerland stores would also reduce operating hours from 24 hours to about 6 AM-12 AM. As well the remaining rogue Gerland's service departments were also finally shuttered. Around this time, locations also began to receive decor updates for the first time in the chain's existence. Around 2015, Ross Lewis would retire, handing the reigns over to his son Mike, who still runs Food Town. As of 2019, the company had signed an option for a new Houston location, although these plans seem to be on hold at the moment. In late 2020, Ross Lewis sadly passed away, leaving behind a good legacy. Food Town stores aimed to do what other retailers wouldn't. Operating in areas that traditional grocers and major chains passed over. The Lewis Family's stores carry on great traditions started by Rice, Gerland's, and Weingarten's. They may not be the prettiest or fanciest grocery options in town, but they're a vital link in preventing Houston from becoming a food desert and turning us into a 'Food Town.'
Photo Gallery
Location List

| Store No | Address | Notes |
| --- | --- | --- |
| 1 | 2040 Richey St, Pasadena, TX 77502 | 1994-Present Former Gerland's Food Fair |
| 2 | 12655 Bissonnet St, Houston, TX 77099 | 1994-2006 Former Gerland's Food Fair, Originally Eagle, Replaced by #17 |
| 3 | 12182 Veterans Memorial Dr, Houston, TX 77067 | 1994-Present Former Gerland's Food Fair, Experimented as Top's Discount Food for 1 year prior to sale |
| 4 | 1700 Decker Dr, Baytown, TX 77520 | 1995-Present, Originally Globe Dept Store, Later Sak n Save Grocery |
| 5 | 3316 Shaver St, South Houston, TX 77587 | 1996-Present, Originally Builder's Square |
| 6 | 9520 Jones Rd, Houston, TX 77065 | 1998-Present, Former Food Lion |
| 7 | 442 W Little York Rd, Houston, TX 77076 | 1998-Present, Former Bowling Alley |
| 8 | 3002 W Baker Rd, Baytown, TX 77521 | 1998-Present, Former Food Lion |
| 9 | 16844 Stuebner Airline Rd, Spring, TX 77379 | 1998-2018, Originally a Gerland's purchased by Lewis |
| 10 | 901 Richey St, Pasadena, TX 77506 | 2001-Present Former Safeway sold to Super Warehouse Foods prior to AppleTree |
| 201 | 5 Uvalde Rd, Houston, TX 77015 | 2001-Present, Gerland's first franchise store, Previously Food Fair |
| 202 | 7426 Airline Dr, Houston, TX 77076 | 2001-Present, Gerland's franchise store, Previously Food Fair |
| 203 | 13811 Cypress North Houston Rd, Cypress, TX 77429 | 2002-Present, Gerland's franchise store, Previously Food Fair, Originally Safeway then AppleTree |
| 204 | 15875 Farm to Market Rd 529, Houston, TX 77095 | 2002-Present, Gerland's franchise store, Previously Albertsons |
| 11 | 5367 Antoine Dr, Houston, TX 77091 | 2002-Present Former Safeway |
| 12 | 7121 Broadway St, Pearland, TX 77581 | 2002-Present, Former Albertson's |
| 14 | 3517 N Main St, Baytown, TX 77521 | 2002-Present, Former Albertson's |
| 15 | 2770 North Sam Houston Pkwy W, Houston, TX 77038 | 2002-Present, Former Albertson's |
| 16 | 8800 W Sam Houston Pkwy S, Houston, TX 77099 | 2003-Present, Former Auchan |
| 205 | 1130 Eldridge Rd, Sugar Land, TX 77478 | 2003-Present, Gerland's franchise store, Previously Food Fair, Originally Food Lion |
| 206 | 1455 Wilcrest Dr, Houston, TX 77042 | 2003-Present, Gerland's franchise store, Previously Food Fair, Originally Safeway, Then David's |
| 207 | 10902 Scarsdale Blvd, Houston, TX 77089 | 2003-Present, Gerland's franchise store, Previously Food Fair, Originally Safeway, Then AppleTree |
| 208 | 3322 Center St, Deer Park, TX 77536 | 2003-2020, Gerland's franchise store, Previously Food Fair, Originally Weingartens |
| 209 | 302 N Main St, Highlands, TX 77562 | 2003-Present, Gerland's franchise store, Previously Food Fair, Originally Ronnie's |
| 17 | 9525 S Kirkwood Rd, Houston, TX 77099 | 2006-Present, Former Albertson's, Replaced store #2, Initially purchased by Kroger but closed in 2005 |
| 18 | 9725 Fondren Rd. Houston, TX 77096 | 2006-Present, Former Albertson's Kosher Location |
| 210 | 570 El Dorado Blvd, Webster, TX 77598 | 2009-Present Gerland's final franchise store, Previously Randall's (Soviet visited store) |
| 211 | 20851 FM 1485, New Caney, TX 77357 | 2015-Present Gerland's buyout, Previously Food Fair, Originally Albertson's |
| 212 | 9701 Spencer Hwy, Shoreacres, TX 77571 | 2015-2019 Gerland's buyout, Previously Food Fair |
| 214 | 435 Sheldon Rd, Channelview, TX 77530 | 2015-Present, Gerland's buyout, Previously Food Fair, Originally Weingarten's |
| 215 | 23221 Aldine Westfield Rd, Spring, TX 77373 | 2015-Present, Gerland's buyout, Food Fair opened in 2012, Had previously been Brookshire Bros. |
| 216 | 6470 W Little York Rd, Houston, TX 77091 | 2015-Present, Gerland's buyout, Previously Food Fair, Originally Weingarten's |
| 217 | 1420 Farm to Market 1960 Rd W, Houston, TX 77090 | 2015-Present, Gerland's buyout, Previously Food Fair, Originally Eagle |