This page primarily covers AppleTree's operations in Houston from their 1988 management-led buyout onward. For information pre-1988, check out the Safeway page.
Safeway Leaves Texas
The story of AppleTree Markets starts with a story of failure—specifically, the failure of the Texas Division of Safeway. Safeway entered Texas through the North and West Texas markets in the 1920s and 30s by buying out existing chains in DFW and El Paso and re-branding them as Safeway. By the 1940s, Safeway was building its own stores, intending to fill in all the gaps in the areas they already served, and by 1970 Safeway was opening its first Houston location and operating almost everywhere in the state except for San Antonio and South Texas. The stores were split across multiple divisions, DFW, Houston, and El Paso being the Texas-based operations. Any stores that didn't fall into these divisions would be served by the division they were closest to, such as Austin being in the Houston Division. Texas had been a relatively strong state for Safeway, a well-known company with multiple locations. The stores were also tailored to fit the communities, with some small towns choosing to simply expand their Marina stores and larger towns usually getting brand-new 24 Hour Superstore locations. Everything at the time looked great for the future of Safeway in Texas until the chain began to experience more significant issues.
By the 1980s, on the brink of international and domestic expansion campaigns, the profitable but cash-poor and publicly traded company was putting itself at risk of a hostile takeover. In July of 1986, Safeway's worst fears came true when Dart Group announced its intent to force a hostile takeover of the company. Much of Safeway's recent expansion had been financed through loans which put the company into debt. This debt meant Safeway could not prevent another company from buying a majority share of its stocks. It looked like if the Dart group got their hands on Safeway, they would immediately liquidate some or all of the chain to earn their money back, a common outcome for other companies acquired by the Dart Group in the past. To prevent this from happening, a month later, in August 1986, Safeway decided to accept a buyout bid from Kohlberg Kravis Roberts (KKR), who intended to act as "white knights." This meant the chain would not be liquidated; however, it would still need to reduce its debt load immediately. As soon as the sale with KKR closed, it became apparent that the easiest way to shed debt was to sell unprofitable divisions.
Safeway had already established a practice of disposing of entire divisions that they considered underperforming. However, in this situation, the company wouldn't just lose one division but nearly half of its presence throughout the country. In February 1987, only months after the takeover scare, Safeway announced Oklahoma as the first division to either be closed or sold. In a similar story to AppleTree, just over 100 stores, offices, and a distribution center were sold in a management-led buyout backed by a private equity firm. These stores would be rebranded as "Homeland" and experienced similar financial issues, mostly stemming from debt pushed from Safeway to the new chain, going bankrupt by 1994. Although they would fare better emerging from bankruptcy and continuing operations to this day. By March 1987,  Utah was on the chopping block. These stores would be sold to the Borman Family, owners of Farmer Jack, a grocery store chain in Detroit. The Utah stores were renamed Farmer Jack, and plans were drawn up to remodel the locations, as some stores dated back to the 40s and 50s. However, the wretched condition, age, poor locations, and high price caused the Borman family not only immediately to sell off and close their Utah stores but also forced them to sell their stores in Detroit to recoup their personal losses. The next division to receive the ax was DFW in April 1987; unlike Oklahoma and Utah, a buyer was not found for the entire division, so the stores were sold piecemeal to competitors, with some locations closing permanently. Beyond poor performance in these divisions, Safeway also looked for areas with higher labor disputes, which the Dallas division was known for. At this point, rumors began circulating that the Houston division would be the next group of stores on the chopping block. While store management denied it, secret preparations were being made behind the scenes for a new company.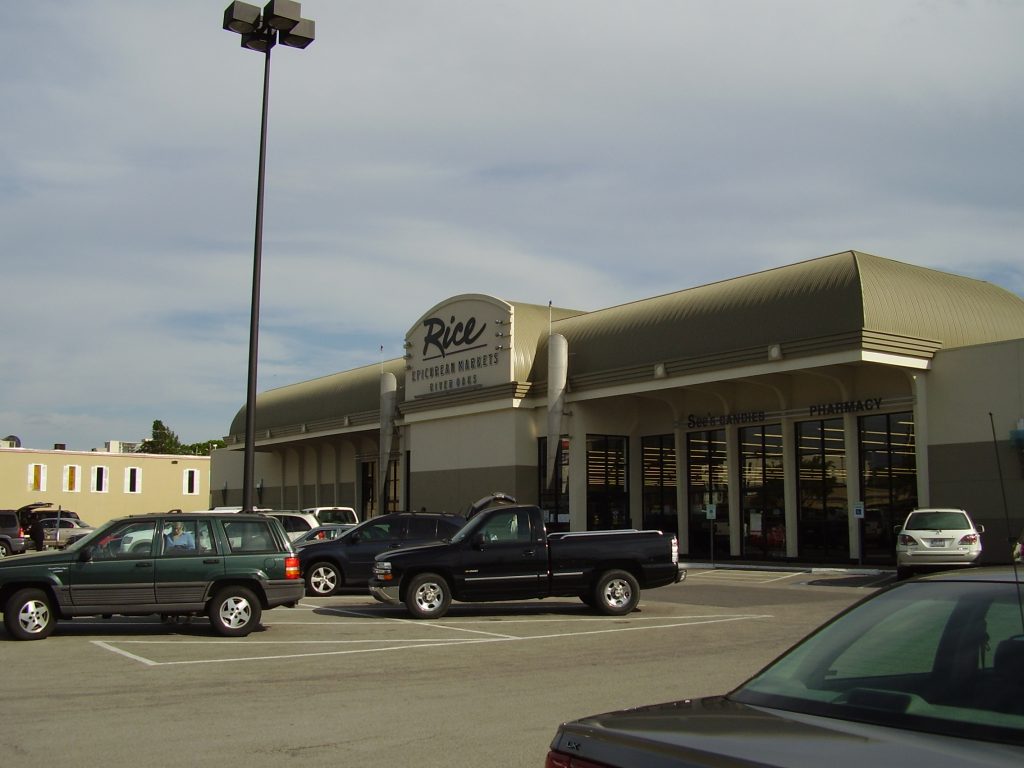 One of the first pieces of prepping to spin-off was a quiet transfer of 12 locations from the Dallas Division into Houston. These locations were all higher-performing stores and served smaller and often rural communities, although ultimately, two stores in the extreme Northern reaches were dropped. Another step was the reduction of underperforming stores within the existing Houston division. This was helpful on two fronts, as a smaller store count would make things easier on the new chain, and the property sales helped pay down some of Safeway's debt. From May to August 1987, Safeway closed 42 stores throughout the Houston division, some of which would later reopen under AppleTree. While nothing had been made public yet, AppleTree was formed with small clues like the use of the "99 Stores" (the original goal for the location count) in a June 1987 ad before actually reaching that number. Based on revelations that came forward nearly ten years later in Supermarket News, it seems that Safeway's Corporate Officers may have had more push in the formation of AppleTree than thought, given the exact same circumstances arose with three other divisions.
In September 1987, Safeway's Houston Division had just completed renegotiations with teamsters and announced that their wage concessions would help ensure the division "remain[ed] part of the national Safeway chain." The statement was made by a representative who worked for the division and was one of the first hints of future changes. Looking back, it's likely that this renegotiation was likely done not only to keep the Houston Division open but allow them to bank on Safeway's credibility with the union. In January of 1988, ads began to feature Safeway's "Budget Stores," which were locations with no service departments, minimal selection, but lower prices than a normal Safeway. This was another hint at the upcoming changes for the Houston division. In June of 1988, the cover was finally blown when Dean Gantt, President of the Houston Division, officially announced the buyout.
An AppleTree is Born!
A new company was born without a name, new image, or much of anything else. Named Texas Supermarkets Inc, the plan was to operate 100 locations (shortly after dropped to 99), continue to open new locations, and regain market share lost by Safeway to Kroger and Randall's. The company was also promoted as management-owned, which executives felt would convey a sense of commitment. However, the company was actually highly leveraged, with most ownership in banks and investment firms, with management owning only around 2%. This division also had an inherited problem of being "too big for their britches," having a distribution center and milk and bread plants set up for 300 locations. During this period, Texas Supermarkets could and continued to use the Safeway name and logo. Throughout the remainder of 1988, the company closed some stores under the Safeway banner to help meet that 99-store goal and reopened some. Including 10902 Scarsdale, which seems to be unplanned, brings the store count back to 100. Goodwill was also a goal, with Safeway improving its customer service guarantees in October 1988 and starting its famous "Apples from AppleTree" computer donation program, albeit without the name, in January 1989.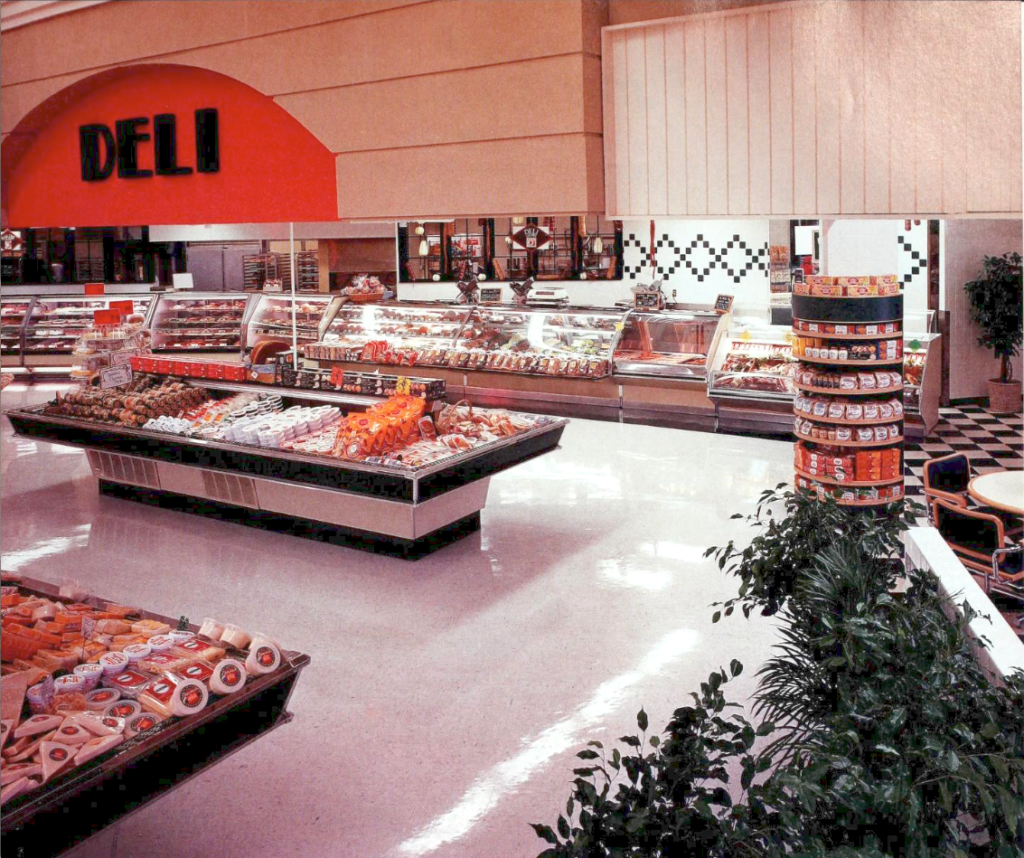 In July 1989, the first public discussion of a name change took place. This included failed ideas like Texway, Texas Food Co, and Gantt Stores, all thrown out in favor of AppleTree. This new name also came with a new logo and color scheme incorporating White, Green, Red, and Blue. The new look was meant to be wholesome and minimalistic. However, the new branding came with a hefty price tag from a national firm and was indicative of the problems the company was about to experience. The rename came in after it was needed, and likely far over the original budget, and using a company mostly because they had an existing relationship with Safeway. During July, August, September, and October of 1989, crews worked feverishly to convert the stores from Safeway locations into AppleTree Supermarkets. Mostly, the conversion only involved converting signage and a fresh coat of paint along the outside. During this time, AppleTree had to pay to license the Safeway name and logo from their predecessors on any remaining stores. In late October 1989, after the completion of rebranding and without any prior notice, Michael Dean Gantt, CEO of AppleTree and President of the Houston Safeway Division for ~30 years, suddenly retired. This action was very sudden, and without any real explanation, the company was left scrambling for what to do next. Fred R. Lummis, a Senior Vice President of Duncan Cook & Co, who was the main shareholder in the company, took over temporarily.
While the sudden retirement of M. Dean Gantt surprised AppleTree, it was far from a death blow to the company. Despite the massive amount of debt, the company sat under from the buyout, they had strong cash flow, and their change in name to AppleTree had boosted sales. By November 1989, AppleTree had found a new CEO, Arthur Patch, who had been hired away after working for Lucky Stores Inc and had worked with Safeway for over 20 years. AppleTree also continued its charitable actions, including constructing a "Market Exhibit" at the Houston Children's Museum in early 1990 to replace an older Safeway-branded exhibit. However, things would again become shaky within management, and in March 1990, AppleTree had its first attempt at negotiating with the Houston grocery unions. While some people put the death of AppleTree directly on the unions, this is not the reality. The first set of negotiations went relatively well, following the same corporate Safeway mindset of cutbacks to improve the bottom line. Less than a month later, in April, Stephen Cook, the President of Duncan Cook & Co, unexpectedly resigned. Cook's company had been one of the major driving forces in forming AppleTree. The local investment firm provided initial startup money and helped find other lenders to buy portions of the newly formed store. The company had initially owned about 30% of AppleTree but, by 1990, had trimmed back to around 20%. They were still the largest single shareholder in AppleTree and had some amount of leverage over operations.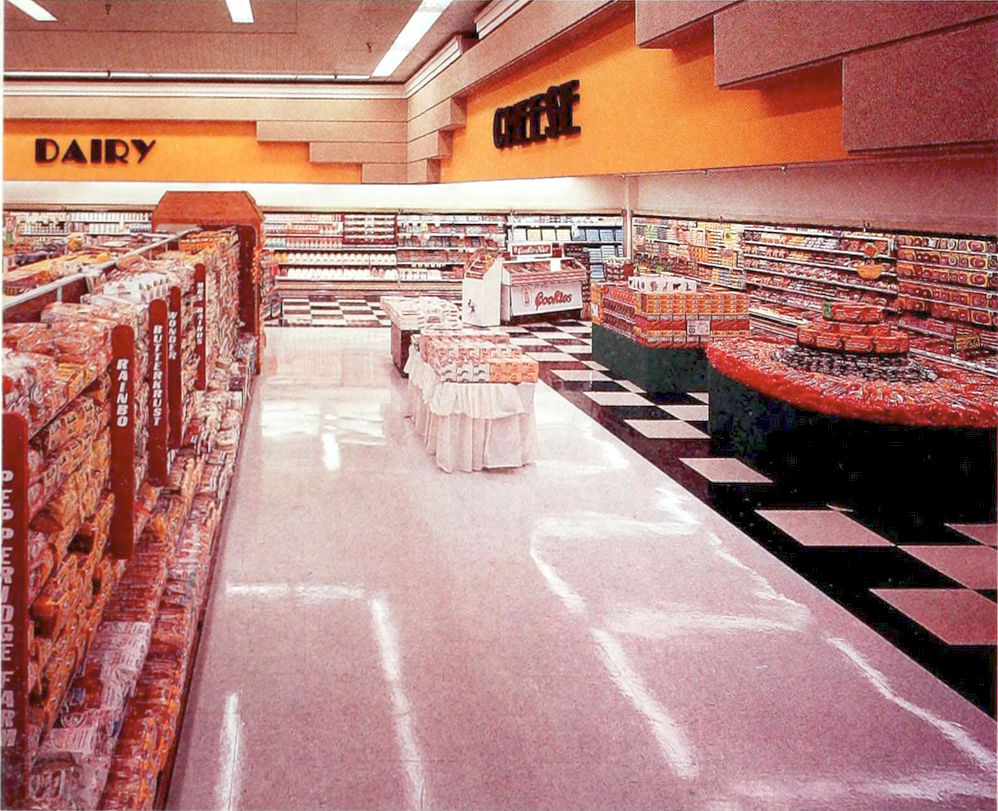 On the surface, AppleTree maintained a happy, smiling face and did its best to attempt to move along with the business. While all of their stores received a fresh coat of paint and new signage in 1989, no real remodels had taken place, despite this being a stated priority from day one. In May 1990, AppleTree tried to put an end to this outdated image by starting to remodel one of its busiest locations. The store at 9325 Katy Freeway was to be enlarged by nearly 20,000 square feet, with designs taking inspiration from a Safeway-developed prototype named 'Food Emporium.' While 3 Food Emporiums were completed in DFW before their exit, only one location was built in Houston. Despite the "new facade," AppleTree began feeling more internal stress. This led to some very quiet store closings, with 4 locations, 3 in Austin, closing by 1990.
The end of 1990 to the middle of 1991 was relatively non-eventful for AppleTree, at least nothing newsworthy. However, by June of 1991, the company was beginning to struggle with paying off its loan, which was now held mainly by the Long Term Credit Bank of Japan. An interest payment of nearly $6 million was missed causing AppleTree to take out a $10 million line of credit to prevent bankruptcy. This effort would be too little too late, as AppleTree would declare bankruptcy only a few months later, in January 1992. This was not entirely without warning, as in the prior weeks, some vendors for AppleTree stores had been asked to skip payments, and some had not been paid at all. Some stores were also beginning to run out of products, prompting AppleTree to seek a loan from the Japanese Longterm Credit Bank immediately. The new loan would be granted for $25 Million dollars while AppleTree's debts had exploded to over $268 Million, with the original division purchase price in the range of $175 Million. The rest of the cash would need to be generated by selling off stores.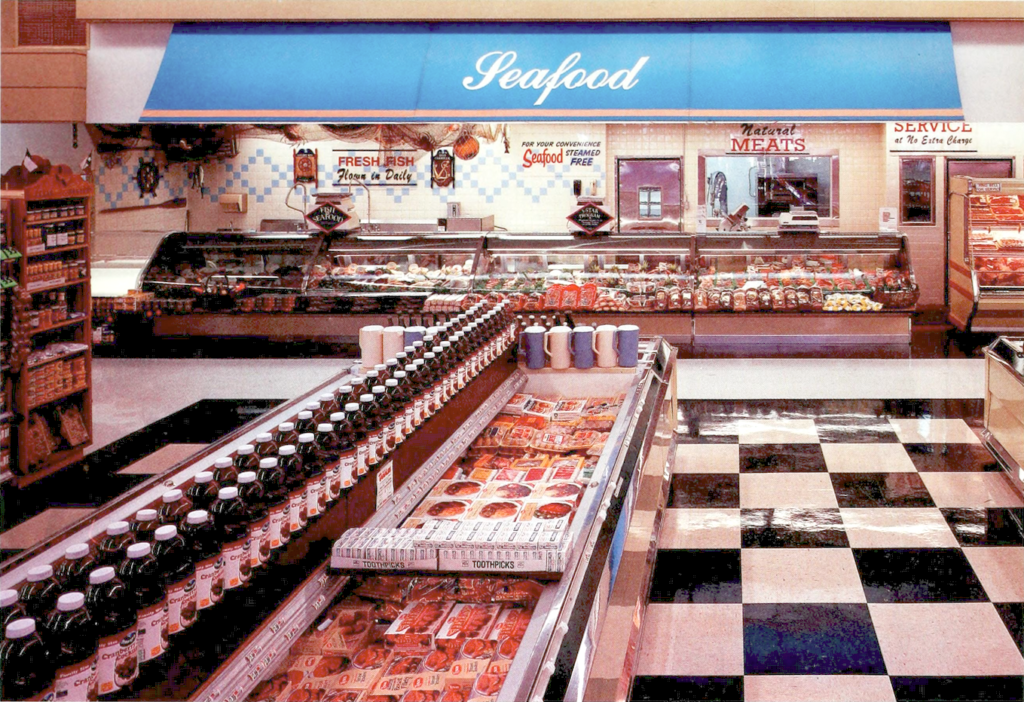 Bankruptcy Proceedings
Even with layers of issues piling up at AppleTree, changes were being made to try and increase sales at the stores. A few new undertakings during bankruptcy included allowing Hot Dog Carts (which had booted from outside of Sam's Club), adding parking lot Garden Centers to specific locations, and in-store coupon printers. During all these new developments, AppleTree continued quietly closing underperforming locations to help improve cash flow. Despite the company's best intentions to cover its money issues, it quickly became apparent that it would be an uphill battle to emerge from such a massive bankruptcy. In March 1992, Arthur Patch, who had been the second and longest-serving CEO of AppleTree, resigned. The article about Patch's resignation says he chose to leave for personal reasons and stresses that he was not pushed out (presumably by the banks). Although based on comments made once the banks were no longer involved, it seems that this was not fully true and that Patch may have refused to undertake changes and, more specifically, budget and store cuts and layoffs requested by the banks. Upon Patch's "departure," Fred Lummis of Stephen Duncan Cook & Co, who had previously served as interim CEO when Dean Gantt left, was again put in charge. One of his first tasks was the closing announcement for five more locations, bringing the total to 15 stores that had all shut down as AppleTree since 1990.
Less than a month later, in April 1992, AppleTree's financial issues took center stage again as the company begged unions to accept cuts to benefits and wages. The cuts generally meant a salary reduction, but thousands of employees also risked losing health insurance. While the company had promised not to make further cuts under bankruptcy, it seems this may have been an "Arthur Patch era" message and not something the banks agreed with. Later that month, AppleTree would take two significant steps to help stave off bankruptcy. First, they sought permission to sell eight stores, 4 of these were in the Orange/Port Arthur area, and four were in Houston. These 4 Houston stores would mark the first major closures of locations in Houston since the AppleTree branding was completed. Second, AppleTree would also move out of the Safeway-built and owned Distribution Center and HQ. While the company had purchased the contents of the warehouses, e.g., Milk bottling equipment, Bread manufacturing lines, shelving, etc… they rented the spaces from Safeway for around $400,000/month.
After two months of bankruptcy proceedings in May 1992, AppleTree reorganized its company and restructured its debt. The chain announced it would shrink from 83 locations to 50 by mostly closing stores outside Houston. The Longterm Credit Bank of Japan, one of the company's largest initial investors, announced its intent to swap debt for stock in AppleTree. The company also took their union contract to the bankruptcy court to be nullified, to allow them to make wage changes without negotiations. By June 1992 the Union was threatening to strike if Union demands could not be matched by AppleTree. While employees had already been subjected to cuts, AppleTree's plan to deal with a strike was to fire striking employees and replace them. By July 1992, AppleTree was down to 59 locations and was approved to cancel union contracts and begin wage concessions. Union officials asked customers to boycott the store before starting a strike. Within a few days, Federal Mediators were sent in to help avoid a strike, as both sides agreed it would likely kill the company despite the assistance of professionals, negotiations ground to a halt only a few days later. Issues the Union took with the new contracts included wages, hours given, days per week, insurance coverage, and non-reduced executive pay. After stalling progress, union leaders began a strike on July 16, 1992. AppleTree executives took a very Safeway-style corporate response hiring replacement workers as needed and distributing manuals to managers explaining how to cut meat, deal with vandalism, and even disperse picketers.

During this time AppleTree's P.R. was mainly focused on repairing their image. One of these attempts was the Molly Campaign.
Despite all the preparations for a strike, few workers actually ended up out on the picket line. Sometimes union members were bussed in from other states, and occasionally "volunteers" unrelated to AppleTree were paid to join the picket lines. The union still felt the strike was effective, citing a drop in AppleTree's number of shoppers and slowing sales. While things weren't entirely at the end of the line, the stores likely felt like a sinking ship to the few remaining Safeway and Weingarten-era employees. In 1992, dramatic new entries into the Houston grocery market included the short-lived Food Lion and H-E-B Pantry Foods, which purchased the former AppleTree Milk and Bread plants along with the Distribution Center and HQ from Safeway. Both of these chains, while non-union, were opening new stores and were looking to hire experienced employees for rates that were mostly comparable. This and insurance lapses showed how unsure AppleTree's future looked. In September 1992, AppleTree sought permission for the Japanese Long Term Credit Bank to become their majority owner. This would be the final step in exiting bankruptcy after shrinking to 50 locations. The plan would be quickly approved by the other shareholders in the company, with the bank taking about 90% ownership.
Things Start to Get Spotty
Things were beginning to look up for AppleTree for the first time in years. While the strike was ongoing and Fred Lummis (of Duncan Cook & Co) was still CEO, a brand new $70 Million reinvestment campaign was started in October 1992. This was in addition to some innovative new advertising AppleTree had undertaken, including a hot air balloon and the Molly campaign. However, there was a lightly reported detail in the excitement of emerging from bankruptcy. At the time, federal regulations did not allow an investment bank to own a business for more than two years. From the day AppleTree left bankruptcy, the bank set the wheels in motion to try and sell the grocery store chain. Lummis would remain in charge of AppleTree for the remainder of the year. By January 5, 1993, AppleTree had a new CEO. I'm unsure if Lummis was forced out, but once he left, the remaining office staff was either replaced or quit around this time. The new chairman, R. Howard Stanworth, was the former CEO of Pearle Vision and had been chosen by the Japanese Bank. While he may have looked good on paper, most accounts I can find of his time at Pearle Vision point to massive layoffs, and his exit from the company may not have been his decision. To boot, he was English and had spent much of his career working in Great Britain. Despite all this, one of the first things Stanworth was able to do was "officially" end the strike in September 1993. Despite this small goal, things were really beginning to unravel for AppleTree. With the increase in value-driven grocers in the area, including the first appearance of Super Wal-Marts and Super KMarts around town AppleTree doubled down on their original "neighborhood grocer" concept. While it appeared that AppleTree had completely dropped Molly and the customer suggestions route, the reality was the bank was attempting to market AppleTree to be purchased by another chain. On November 16, 1993, in a somewhat surprise move, AppleTree announced that they planned to sell off their remaining stores and go out of business.
In a secret transaction, Randall's had already purchased 12 stores to form a base of operations for their expansions into Austin and the surrounding I-35 corridor. By November 24, the company was able to find buyers for 30 of its 37 locations. The largest buyer was Kroger, with 11 locations. Next was Fiesta with 4, then Rice, Randalls, and Gerland's, all ending up with 3. Foodarama, Big Chief, and Stanley would also all buy one store. Finally, months later, in January 1994, HEB would purchase a single AppleTree in Brenham, despite earlier predictions from the Chronicle that they would purchase the remainder of the chain, to help expand their presence in the area. While the purchases were made and announced quickly, most stores continued operating as AppleTree for the remainder of the year. During this time, AppleTree closed its distribution center and again reduced its office staff. By August 1994, R.T. Kubieck, who had been with the company since the Safeway days, purchased the six remaining AppleTree locations. According to him, he would operate the chain as an independent retaining office in Houston, with a possible name change and eventual expansion plans on the table. In 1996 Gerland's purchased the Richmond Avenue AppleTree, which was one of two remaining in the city. At this point, the Huntsville location had also closed, leaving the chain with the Stella Link store and three locations in Bryan/College Station. By 1997 Mr. Kubieck finally decided for AppleTree to exit the Houston market just shy of 10 years after the buyout of the Houston Safeway division had been announced. Throughout the 2000s, in the B/CS area, AppleTree continued operations as three store chain until 2004, after the decision was made to close the College Station store. However, with one store closed, another opened. Tony Kubieck purchased a closed Albertsons location in Spring and began converting it into the first-ever "brand new" AppleTree. However, by the end of 2007, this location too would be closed, with AppleTree back down to two locations in Bryan which would both closed by 2009, putting a 20-year cap onto a hail mary attempt to save the Houston division of Safeway.
Location List
| Store # | Address | Notes |
| --- | --- | --- |
| #188 | 206 N Catherine St, Terrell, TX 75160 | 1989-1992 One of the 10 Dallas Division stores, Marina store, Front facade renovated by Safeway |
| #202 | 302 N Dallas St, Ennis, TX 75119 | Planned but never opened, moved to Houston Division, but canceled by April 13th 1987 |
| #271 | 6825 Burnet Rd Austin, TX 78757 | 1989-1989 Closed as a Safeway (by AppleTree), Currently a Mazda Dealership |
| #529 | 109 W Corsicana St, Athens, TX 75751 | 1989-1992 One of the 10 Dallas Division stores, Renovated as Henderson County Judicial Complex |
| #530 | 701 S Jackson St, Jacksonville, TX 75766 | 1989-1992 One of the 10 Dallas Division stores, Was later a Save-a-Lot location, demoed 2018 |
| #553 | 4811 Wesley St, Greenville, TX 75401 | 1989-1992 One of the 10 Dallas Division stores, Currently Super1Foods, Safeway sign still standing |
| #558 | 315 US-59, Atlanta, TX 75551 | Planned but never opened, moved to Houston Division, but canceled by April 13th 1987 |
| #541 | 301 S. Chestnut, Lufkin TX 75901 | 1989-1992 Currently Brookshire Bros |
| #542 | 1424 North St Nacogdoches, TX 75961 | 1989-1992 Subdivided Mostly CVS |
| #701 | 1919 E Riverside Dr Austin, TX 78741 | 1989-1989 Closed as a Safeway (by AppleTree), Currently a Bingo Parlor |
| #703 | 1500 W 35th St Austin, TX 78703 | 1989-1994 Currently Randalls |
| #708 | 8040 Mesa Dr Austin, TX 78731 | 1989-1994 Currently Randalls |
| #711 | 715 Exposition Blvd Austin, TX 78703 | 1989-1994 Recently Closed Randalls 2020 |
| #712 | 5335 Airport Blvd Austin, TX 78751 | 1989-1994 Demoed 2011 |
| #713 | 2327 S 57th St, Temple, TX 76504 | 1989-1992 One of the 10 Dallas Division stores, Currently Super1Foods, Currently a gym |
| #714 | 1725 S Texas Ave, College Station, TX 77840 | 1989-2004 Split between OfficeMax and Spec's |
| #715 | 902 N Austin Ave Georgetown, TX 78626 | 1989-1992 Subdivided |
| #716 | 804 W Braker Ln Austin, TX 78758 | 1989-1994 Northern Tool and Equipment |
| #719 | 2101 S Lamar Blvd, Austin, TX 78704 | 1989-1994 Subdivided CVS and Office Depot |
| #721 | 6920 Menchaca Rd Austin, TX 78745 | 1989-1990 Sprouts |
| #723 | 2025 W Ben White Blvd Austin, TX 78745 | 1989-1994 Currently Randalls |
| #724 | 9411 N Lamar Blvd Austin, TX 78753 | 1989-1994 Likely HEB |
| #726 | 3116 N Main St, Taylor, TX 76574 | 1989-1992 Exact Address listed as "Mallard Lane" |
| #728 | 1112 N Interstate Hwy 35 Round Rock, TX 78681 | 1989-1992 Now Mr. Gatti's |
| #729 | 601 E William Cannon Dr Austin, TX 78745 | 1989-1994 Now Melrose |
| #730 | 3229 Bee Cave Rd Austin, TX 78746 | 1989-1994 Currently Randalls |
| #731 | 2222 S Market St Brenham, TX 77833 | 1989-1994 Currently Vacant |
| #732 | 11150 Research Blvd Austin, TX 78759 | 1989-1992, Closed During Bankruptcy, Subdivided Party City and Petsmart |
| #733 | 200 W Hopkins St San Marcos, TX 78666 | 1989-1994 Sold to Randalls as part of the Austin stores, Closed as Randalls in 1998, Currently HEB |
| #735 | 6800 Berkman Dr, Austin, TX 78723 | 1989-1993 Currently El Rancho Was Randalls prior to 2011 |
| #736 | 2001 E State Hwy 21 Bryan, TX 77803 | 1989-2009 One of the final stores, subdivided La Michocana |
| #745 | 13945 U.S. 183 Hwy, Austin, TX 78717 | 1989-1990 Currently Randalls |
| #750 | 7125 New Sanger Rd, Waco, TX 76712 | 1989-1992 One of the 10 Dallas Division stores, Waco Cardiology Associates |
| #751 | 2200 E Veterans Memorial Blvd, Killeen, TX 76543 | 1989-1994 Originally 2000 E Hwy 190, One of the 10 Dallas Division stores, Currently a Thrift Store, Previously a Hastings |
| #754 | 1320 N 25th St, Waco, TX 76707 | 1989-1992 One of the 10 Dallas Division stores, Many different grocers since then, possibly HEB |
| #755 | 120 S Waco St, Hillsboro, TX 76645 | 1989-1992 One of the 10 Dallas Division stores, Currently Super1Foods, Brookshire's recent remodel revealed circle logo labelscar. |
| #777 | 19750 Interstate 45, Spring, TX 77373 | 2004-2007 Former Albertsons, only non-Safeway location, Opened by Tony Kubieck owner of B/CS locations |
| #903 | 7645 Dashwood Dr Houston, TX 77036 | 1989-1989 Closed as a Safeway (by AppleTree), Currently a Beauty Supply |
| #904 | 3745 Westheimer Rd, Houston, TX 77027 | 1989-1994, Sold to Rice Epicurean, Sold to Fresh Market, Subdivided currently Walgreens |
| #911 | 5232 Aldine Mail Rte Rd Houston, TX 77039 | 1989-1989 First Budget Store, Closed as Safeway (by AppleTree) |
| #917 | 1805 Ella Blvd Houston, TX 77008 | 1989-1994 Sold to Cox's Foodarama, also contains former Eckerd Space, Foodarama is set to move out by 2022 |
| #922 | 11006 Airline Dr Houston, TX 77037 | 1989-1992 |
| #932 | 4614 NASA Road 1 Seabrook, TX 77586 | 1989-1994 Sold to Big Chief Supermarkets |
| #933 | 2020 Fountain View Dr Houston, TX 77057 | 1989-1994 Sold to Rice Epicurean, Still operating, Somewhat resembles Safeway's original layout without departments, central freezers, etc. |
| #934 | 9325 Katy Fwy Houston, TX 77024 | 1989-1994, Originally 9305, The only store to ever recieve a full remodel and expansion as AppleTree, Sold to Kroger who still operates this location |
| #938 | 4805 Galveston Rd Houston, TX 77017 | 1989-1992 Budget Store |
| #939 | 1116 E Mulberry St Angleton, TX 77515 | 1989-1992 |
| #943 | 1100 W Dallas St Conroe, TX 77301 | 1989-1994 |
| #946 | 2617 W Holcombe Blvd Houston, TX 77025 | 1989-1994 Sold to Rice Epicurean, Sold to Fresh Market, Sold to Total Wine, Still standing, remodeled but some original elements intact |
| #947 | 4230 Decker Dr Baytown, TX 77520 | 1989-1992 |
| #948 | 115 E Boling Hwy Wharton, TX 77488 | 1989-1992 |
| #949 | 165 Oyster Creek Dr Lake Jackson, TX 77566 | 1989-1994, Sold to Stanley Stores, |
| #951 | 3316 Avenue H Rosenberg, TX 77471 | 1989-1992 |
| #952 | 12638 Bissonnet St Houston, TX 77099 | 1989-1992 |
| #954 | 6742 Hillcroft St Houston, TX 77081 | 1989-1992 |
| #956 | 8710 Bellaire Blvd Houston, TX 77036 | 1989-1994 Sold to Fiesta, Still operating, many original Safeway elements still intact, including the sign |
| #957 | 9510 N Houston Rosslyn Rd Houston, TX 77088 | 1989-1992 |
| #959 | 4100 Fairmont Pkwy, Pasadena, TX 77504 | 1989-1994, Sold to Super Warehouse Foods |
| #960 | 5 Uvalde Rd Houston, TX 77015 | 1989-1992, Sold to Gerland's Food Fair, Converted to Food Town 2001 |
| #962 | 4124 7th St Bay City, TX 77414 | 1989-1992 |
| #964 | 13642 W Montgomery Houston, TX 77086 | 1989-1994, Sold to Kroger who quickly closed the store as they had a location catty corner |
| #969 | 13811 Cypress N Houston Rd, Cypress, TX 77429 | 1989-1994, Sold to Gerland's Food Fair, now a Lewis Food Town, Still highly resembles a Safeway inside and out |
| #970 | 1700 Jefferson Dr Port Arthur, TX 77642 | 1989-1994, Sold to Gerland's Food Fair, now a Lewis Food Town, Still highly resembles a Safeway inside and out |
| #972 | 8801 9th Ave Port Arthur, TX 77642 | 1989-1992 |
| #973 | 5960 TX-105 Beaumont, TX 77708 | 1989-1992 Currently Market Basket |
| #980 | 2028 N Main St Pearland, TX 77581 | 1989-1994 Sold to Randall's, operated until 1999 buyout (of Randall's) by Safeway, Subdivided between Big Lots and Office Depot |
| #983 | 4705 Hwy 6 Houston, TX 77084 | 1989-1992 |
| #985 | 14900 Northwest Fwy, Houston, TX 77040 | 1989-1994, Sold to Kroger operated until 2005, now K1 Speed Go-Karts |
| #988 | 2192 FM 2234, Missouri City, TX 77459 | 1989-1994 |
| #989 | 7510 W Bellfort Blvd, Houston, TX 77096 | 1989-1994 Sold to Fiesta, Still operating as of 2021 |
| #990 | 17503 Imperial Valley Dr Houston, TX 77060 | 1989-1992 Subdivided, First location in Houston to close |
| #993 | 1990 Old Spanish Trail Houston, TX 77054 | 1989-1994, Sold to Kroger, Operated until property was sold in 2017 and store was demolished |
| #998 | 2601 11th St, Huntsville, TX 77340 | 1989-1995 |
| #1000 | 3210 FM 528 Rd Friendswood, TX 77546 | 1989-1992 |
| #1003 | 7068 FM 1960 Humble, TX 77346 | 1989-1994 |
| #1005 | 1509 W Church St Livingston, TX 7735 | 1989-1992 |
| #1009 | 1109 Eldridge Rd, Sugar Land, TX 77478 | 1989-1994 Sold to Gerland's Food Fair, Currently a Church Now 1049 Eldridge |
| #1011 | 21155 Tomball Pkwy Houston, TX 77070 | 1989-1994 Sold to Randall's, operated until 1999 buyout (of Randall's) by Safeway, Was Stein Mart until 2020 Bankruptcy |
| #1012 | 9371 Richmond Ave Houston, TX 77063 | 1989-1996, Sold to Gerland's Food Fair amidst changes in the neighborhood |
| #1014 | 5377 W Richey Rd, Houston, TX 77066 | 1989-1992 Champions Forest Plaza |
| #1021 | 10902 Scarsdale Blvd Houston, TX 77089 | 1989-1994 Closed by Safeway (California) in June '87 Reopened by AppleTree in September '88, Sold to Gerland's Food Fair, Currently Food Town |
| #1042 | 4501 I-35, Bellmead, TX 76705 | 1989-1992 One of the 10 Dallas Division stores, Currently Atwoods Ranch & Home |
| #1045 | 2300 Lohmans Crossing Rd, Lakeway, TX 78734 | 1989-1994 Possibly where Chair King is? |
| #1057 | 2300 N Gessner Rd Houston, TX 77063 | 1989-1994, Sold to Kroger still operating as of 2021 |
| #1101 | 2535 9th Ave Port Arthur, TX 77642 | 1989-1992 Ex-Weingarten, Demolished |
| #1102 | 1938 W Gray St Houston, TX 77019 | 1989-1994, Ex-Weingarten, Sold to Kroger, Still operating as of 2021 |
| #1103 | 239 W 20th St Houston, TX 77008 | 1989-1994, Ex-Weingarten, Sold to Kroger, Still operating as of 2021 |
| #1105 | 8620 Stella Link Rd Houston, TX 77025 | 1989-1998 Ex-Weingarten, |
| #1107 | 1352 W 43rd St Houston, TX 77018 | 1989-1994, Ex-Weingarten, Sold to Kroger, Still operating as of 2021 |
| #1108 | 435 Uvalde Rd Houston, TX 77015 | 1989-1990 Ex-Weingarten, Budget Store |
| #1110 | 915 6th St N #6304, Texas City, TX 77590 | 1989-1992 Ex-Weingarten, |
| #1111 | 1019 S College Ave Bryan, TX 77803 | 1989-1992 Ex-Weingarten, |
| #1115 | 5130 Bellaire Blvd Bellaire, TX 77401 | 1989-1994 Ex-Weingarten, Randall's Until 2021 |
| #1117 | 2409 Bay Area Blvd Houston, TX 77058 | 1989-1994 Ex-Weingarten, Sold to Kroger who moved out in the mid 2000s, location now subdivided by Goodwill |
| #1119 | 3803 Dunlavy St Houston, TX 77006 | 1989-1994 Ex-Weingarten, Sold to Fiesta, Demolished 2013 after HEB opened directly across the street |
| #1120 | 7061 Lawndale St, Houston, TX 77023 | 1989-1994 Ex-Weingarten, Sold to Fiesta, Sold in 2007 and subdivided by 99 Cent Only Store and La Michoacana |
| #1123 | 1175 Edgebrook Dr, Houston, TX 77034 | 1989-1992 Ex-Weingarten, Sold to Fiesta |
| #1125 | 11240 Fondren Rd Houston, TX 77071 | 1989-1992 Ex-Weingarten, Fiesta |
| #1126 | 7601 Westheimer Rd Houston, TX 77063 | 1989-1992 Ex-Weingarten, Sold to Gerland's Food Fair, Currently a Ross |
| #1130 | 939 Nederland Ave, Nederland, TX 77627 | 1989-1992 Ex-Weingarten, Exygon Health & Fitness Club |
| #1139 | 6450 Phelan Blvd, Beaumont, TX 77706 | 1989-1992 Likely Ex-Weingarten, Exygon Health & Fitness Club |
| #1141 | 8066 S Gessner Dr Houston, TX 77036 | 1989-1992 Ex-Weingarten, |
| #1142 | 1050 Federal Rd Houston, TX 77015 | 1989-1992 Ex-Weingarten,, Seller Bros |
| #1143 | 9701 Spencer Hwy, La Porte, TX 77571 | 1989-1994 Ex-Weingarten, Sold to Gerland's Food Fair, Became Lewis Food Town closed as of 2019 |
| #1145 | 15152 Bellaire Blvd Houston, TX 77083 | 1989-1992 Ex-Weingarten, |
| #1193 | 1760 Briarcrest Dr Bryan, TX 77802 | 1989-2009 One of the final stores, Aldi |