Company History
McDuff Electronics started out as a small chain based out of Memphis Tennessee. Early information is scant, but the chain had stores open at least as far back as the 1960s. At some point they seemed to have merged with another company, Scott Appliances, and also operated locations under the Santa Stores name. By the 1980s the company had expanded to Jacksonville, FL. and was doing well. In 1985 Tandy purchased a 24 store company to help them enter the name-brand market. At the time Tandy's largest retail outlet was RadioShack which mostly sold Tandy or RadioShack branded products. McDuff was intended to help compete with national discounters like Highland Superstores and Federated which carried name brand appliances and electronics. McDuff stores were a bit smaller than their competitors at the time, but they made up for this by positioning multiple stores throughout a city. By 1986 Tandy was in the early stages of expanding to areas like San Antonio, San Jose, CA and of course Houston.
Around the same time as the McDuff purchase, Tandy would also buy a chain of mall-based retail outlets named Video Concepts. These stores were owned by Eckerd and had been modeled after RadioShack. Tandy saw this as an opportunity to easily expand their McDuff footprint by converting some Video Concepts into McDuff locations which did not carry appliances and larger electronics.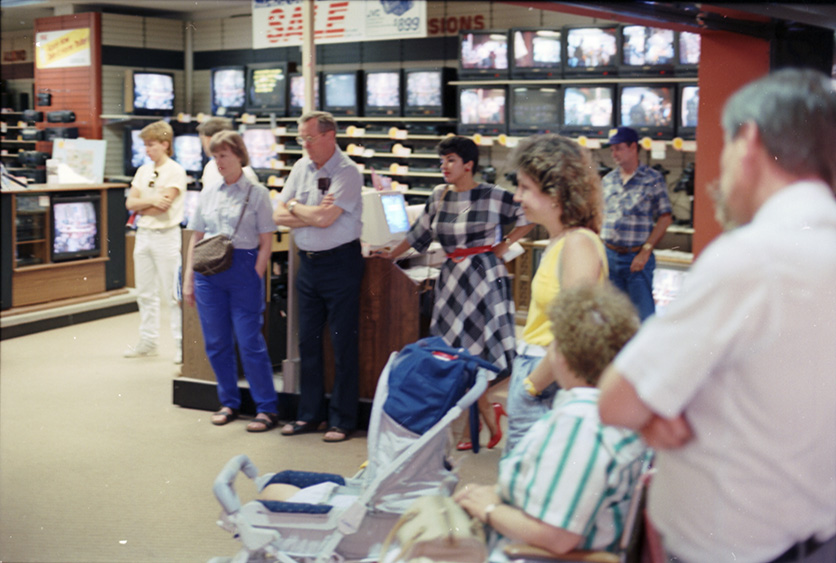 Houston History
In the summer of 1986 Tandy made the first moves to expand McDuff into Houston. They began searching for an operations manager for a new warehouse. By early November the first signs of the new brand hit town as Video Concepts locations in Houston area malls were converted to McDuff. Shortly after the conversions six new McDuff Supercenters opened outside of malls. These stores would carry a full line of electronics, and appliances. Four more supercenters would open by the end of November brining the Houston area locations to 10. Houston's McDuff stores were 10,000 Square Feet (about the size of a Dollar Tree) which was only about 1/3rd of the size of the competitors.

A commercial from shortly after the first stores opened in Houston.
Tandy had grand plans for quick expansion of McDuff and in Houston that included a total of 20 stores throughout the area. Further expansion was quick but not immediate, and by the end of 1989 a total of five new stores had opened, bringing the Houston area total up to 15, plus a store in Bryan/College Station that was included on Houston advertisements. Late 1991 would see the final McDuff open in Houston, from this point forward the store count would only begin to shrink. McDuff was starting to feel the pressure of the ever expanding Circuit City and Best Buy whose store count was growing quickly. By 1993 three McDuff Supercenter locations were closed, and it seems that they were sublet by Tandy to other stores. In January 1995 Tandy announced their plans to close all McDuff locations in Houston, along with most mall-based locations and all remaining Video Connections stores.
This blow was a large hit to the remaining McDuff store counts throughout the Southern United States, but it was not a complete shock for Houstonians. Tandy had been putting much more effort into their Computer City chain to keep up with the ever-developing home computing industry. Tandy was also in the process of ramping up Incredible Universe which in stark contrast to McDuff were huge stores combining every facet of Tandy's different portfolio into stores similar in size with Wal-Mart Supercenters. Although Tandy was very secretive about it at the time, the closings were likely related to the upcoming Houston Incredible Universe location. With a brief lifespan of only about 8 years in Houston, McDuff would only last one more year before shutting down all locations in the end of 1996. Some locations would go on to be used as other Tandy stores like Computer City, and a Radio Shack Clearance outlet.
Location List
| Store No | Address | Notes |
| --- | --- | --- |
| #2901 | 9223 Stella Link Rd Houston, TX 77025 | Now La Michoacana |
| #2902 | FM 146 at Palmer Highway | Bay Center in Texas City, Unable to find exact address |
| #2903 | 20210 US-59, Humble, TX 77338 | Across from Deerbrook Mall |
| #2904 | 7519 Westheimer Rd Houston, TX 77063 | Westhill Village at Hillcroft, Seems to have been Office Depot |
| #2905 | 90 Farm to Market 1960 Rd WHouston, TX 77090 | Original ad has this as 1860! Cypress Station/Randalls Center, Now Dollar Tree |
| #2906 | 11105 Fondren Rd Houston, TX 77096 | Originally ComputerCraft location |
| #2907 | 3800 N Shepherd Dr, Houston, TX 77018 | Warehouse Store near Distribution Center |
| #2908 | 13302 Westheimer Rd Houston, TX 77077 | Located in The Commons at Eldrige, Currently vacant |
| #2909 | 10900 FM 1960 W Houston, TX 77070 | Now Cici's Pizza |
| #2910 | 8460 Gulf Fwy Houston, TX 77061 | Now Skecher's Warehouse Outlet |
| #2911 | 3334 Spencer Hwy Pasadena, TX 77504 | Now Family Dollar? |
| #2912 | 6805 Southwest Fwy Houston, TX 77074 | Stereomax |
| #2913 | 20601 Gulf Fwy Webster, TX 77598 | Commons at Willowbrook later Computer City |
| #2914 | 640 Memorial City Mall | Super Center store including appliances |
| #2915 | 11500 East Fwy Houston, TX 77029 | Now Discount Tire Co |
| #2917 | 7630 FM 1960 W Houston, TX | Willowbrook Commons later Computer City, Car Stereo Installation |
| #2918 | 27730 Tomball Parkway #32 Tomball, TX 77375 | Now King Dollar |
| #1313 | Westwood Mall #1254 | Mall location, converted from Video Concepts. Did not sell appliances. |
| #1310 | San Jacinto Mall | Mall location, converted from Video Concepts. Did not sell appliances. |
| #1324 | Town & Country Mall #H-261 | Mall location, converted from Video Concepts. Did not sell appliances. |
| #1325 | Pasadena Town Square #260 | Mall location, converted from Video Concepts. Did not sell appliances. |
| #1301 | Galleria #3680 | Mall location, converted from Video Concepts. Did not sell appliances. |
| #1302 | Baybrook Mall | Mall location, converted from Video Concepts. Did not sell appliances. |
| #1328 | Deerbrook Mall | Mall location, converted from Video Concepts. Did not sell appliances. |
| #1317 | Willowbrook Mall | Mall location, converted from Video Concepts. Did not sell appliances. |
| #1327 | Sharpstown Mall #732 | Mall location, converted from Video Concepts. Did not sell appliances. |
| #1303 | Greenspoint Mall #469 | Mall location, converted from Video Concepts. Did not sell appliances. |
| #1319 | Victoria Mall #141 | Mall location, converted from Video Concepts. Did not sell appliances. |