Randall's has a two-part history. The store's first incarnation, which began in the 1940s and ended as Piggly Wiggly by the 70s. The second incarnation began in 1966 and runs to this day.
Randall's 1946-1966
Randall's was initially founded as Randall's Food Market sometime around 1946 by a gentleman named A.P. Randall Jr. Mr. Randall's first store was located in South Central Houston at 4540 Griggs Road. While sources differ on when exactly Mr. Randall opened his store, it became well known in the community as a reliable outpost. Early on, the store would be aligned with the Lucky 7 co-op; however, in 1949, Mr. Randall would decide to shift to the new Super Valu co-op. At this point, the store would come to the attention of Blocker Martin, who already operated stores under the Super Valu banner, and by 1950, Blocker had teamed up with fellow grocer E.K. Atwood to buy the busy Randall's Food Market. Atwood had managerial experience with other chains in Houston, and Martin would bring cash flow to the operation making for a successful partnership. After three years of operations, Blocker would choose to expand Randall's into a chain building its second location and eventually buying E.K. Atwood out as a partner. However, Atwood would stay on as a company executive for many years. By 1954 the new store would open, and it was one of the first modern supermarkets in the area. Providing new conveniences that other stores didn't, Randall's won over more customers continuing to drive up profits. As a testament to continued success, work on a new store in Pasadena would commence later that same year. While the modern stores were doing quite well, the original location at Griggs was starting to see some issues including being a known target for robberies and dealing with a massive fire early on. Despite this in September 1955, the Pasadena Randall's, third in the chain, would hold its grand opening, with Robert Onstead serving as manager of the store. Anyone familiar with the Randall's story will immediately recognize the Onstead name; they are far more associated with the company than any other family and even hold a connection to the Martin family, as Onstead was Blocker Martin's son-in-law. However, even at this point, young "Bob" was already helping shape the chain's future. Onstead's grand opening affairs included wrapping the entire store in the at the time, new invention, Saran Wrap.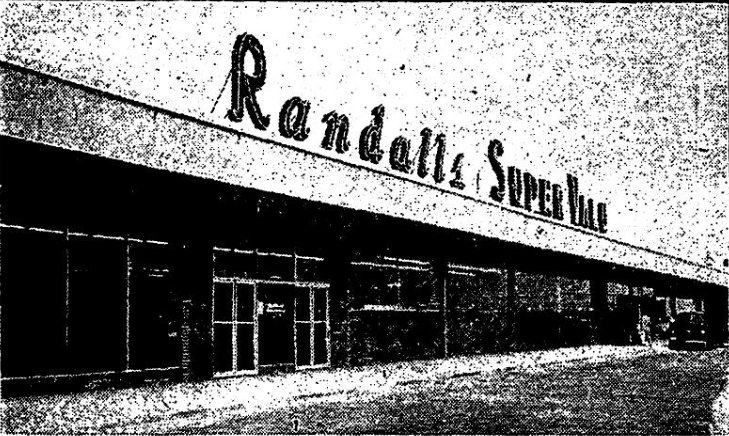 In the 1950s, the Southside of Houston was growing quickly. This growth outpaced the small number of chains operating in the area and dwarfed the efforts of independents. There was a need for chain style Supermarkets in South Houston, and Randall's filled that need. The early history of Randall's shows that the stores they built were similar in size and scope to other local chains like Rice, or Henke & Pillot. They were simple neighborhood supermarkets, modestly sized, around 15-20k square feet. Offering a simple selection of self-service groceries, which was still a somewhat new concept. By 1955 the entry of Kroger (through the purchase of Henke's) signaled the start of significant competition, so to keep up with competition, larger, more elaborate stores were built by Blocker. By 1957 Randall's was up to its fifth location. This new store was the largest in the chain at 22,500 Square Feet and featured the latest conveniences. The building was fully air-conditioned (still very novel at the time) and featured 100 feet of refrigerated and 140 feet of frozen foods. For comparison, the Griggs store likely had 1/10 of that, if they featured frozen foods at all. The new store also featured a lunch counter, soda fountain, and even electric cash registers! With this "new generation" of stores, Randall's was quickly becoming a force of its own. By 1959 the chain found itself large enough to "debrand" from the Super Valu Co-Op, although this would mean losing their Pasadena location, which would remain a Super Valu location, for undisclosed but likely contractual reasons.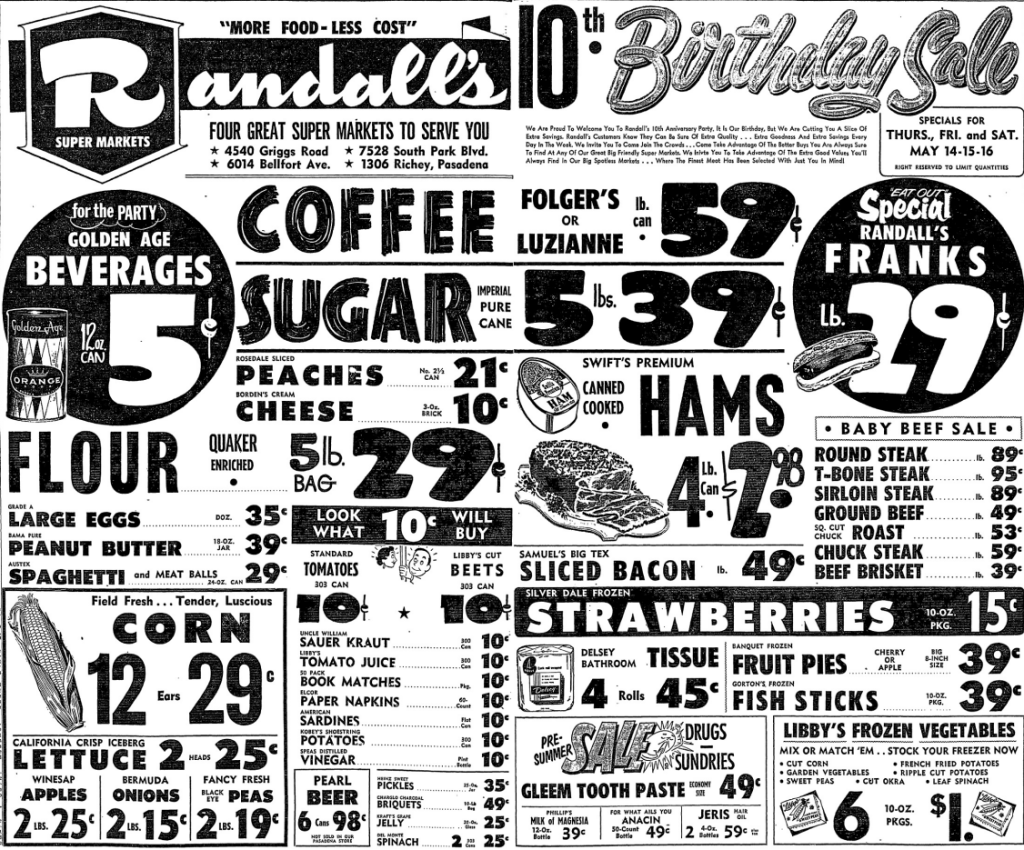 By 1960 plans were underway to rebuild older locations, including their original Griggs store, bringing the entire chain up to modern standards. In 1961 the new Griggs store would open and a slow trend of acquisitions would begin. A store at 10810 S Post Oak Rd, Houston, TX 77035 which started out as Belden's Minimax was picked up that year. This also seems to indicate that Randall's may have quietly aligned with Minimax supplier, Fleming Co. Unfortunately the next year, Blocker Martin, co-founder and at the time owner of Randall's Supermarkets unexpectedly passed away. His son-in-law, Robert Onstead who had previously been mentioned as manager of the Pasadena location, was then placed in charge of the chain, acting as its General Manager. Only a few days after the tragic death of Mr. Martin one of his final deals would be made public, the sale of a J.M.H. Supermarket to Randall's off Old Richmond Road. This would be the first Westward push that would find Randall's following a "higher class clientele" as the South of Houston had begun to lose its charm. This acquisition would be the last new store Randall's would buy on its own, with increasing competition in the area the Blocker and Onstead families sought out a plan for the company. In April 1964 the family members agreed to allow Food Mart Inc. to acquire Randall's. The company would be valued at nearly $1 Million, and in exchange, the family would also receive stock in Food Mart. The new company mostly operated stores in West Texas and New Mexico, with the exception of a chain named C.P. Evan's which they had recently picked up. Evan's were grocery stores based out of Galveston, and located mostly along the Gulf Coast, although Evans had recently built one location in Houston near the Galleria.

Under the new corporation, Robert "Bob" Onstead, would remain on board, being placed in charge of both Randall's and C. P. Evan's for "Food Mart Inc. with a new source of capital at their disposal, Randall's was essentially allowed to continue operations with little oversight from Food Mart Inc. Discovering that the Westside stores were their winners Randall's would open 3 new locations, and rebrand the single Houston based Evan's as a Randall's between 1964 and 1965. Things were once again looking up for Randall's thanks to their new partnership, however, this setup would not last much longer. In September 1965 a New Mexico-based Piggly Wiggly franchisee, Shop Rite, made plans to purchase Food Mart Inc. In December of 1965 the "final new Randall's" (of this chain), would open at 2311 Westheimer. By February of the next year even before an official announcement, the Piggly Wiggly name began to surface in Randall's publications signaling their intent to drop the old names. Within the month, the news broke that both Randall's and Evans would become Piggly Wiggly stores. This would actually signal a return of Piggly Wiggly to the Houston market after a 10-year absence when their last franchise pulled out of town.

With their entry into Houston, Shop Rite announced plans to build 6-7 new locations within the next 12-18, months. Based on the trends from Randalls in the past, and the store numbering, it is very likely that at least some of these new locations especially those on the west side were Randall's planned. On the other hand, the new Piggly-Wiggly-backed management felt investing in East and South Central Houston was the more prudent choice. While initially, Robert Onstead did stay on as President of the Gulf Coast Division of Piggly Wiggly. The Randall's Stores were all renamed by the end of 1966, and any stores built by Shop Rite after 1966 would use the Piggly Wiggly name. The company would continue its expansion building at least nine new stores. However, according to Onstead, who quickly left the company, Shop Rite made poor decisions in stocking the stores causing business to drop. By 1970 with the entry of new competitors like Safeway and Eagle, Piggly Wiggly locations began to close, with a mass wave of closures coming in 1973. By 1974 only 4 of the former Randall's/Piggly Wiggly stores remained throughout the Houston area and none would make it to the end of the year. All of their stores would close by the end of the year.
Location List
This includes Randall's and Piggly Wiggly stores
| Store No | Address | Notes |
| --- | --- | --- |
| 401 | 7528 South Park Blvd, Houston, TX 77033 | 1954-1970 Second Store Built, Renamed Save-U-Store in 1969, Demolished, Now MLK Blvd |
| 402 | 4540 Griggs Rd Houston, TX 77021 | 1946-1961 First store, Demolished |
| 402 | 4131 Griggs Rd, Houston, TX 77021 | 1961-1970 Replacement for above store, Demolished |
| 403 | 1306 S Richey St Pasadena, TX 77502 | 1955-1959 Sold to Super Valu |
| 403 | 10810 S Post Oak Rd, Houston, TX 77035 | 1961-1973 Still standing, Originally Belden's, then Randall's Currently Foodarama, Number later reused |
| 404 | 7115 Lawndale St, Houston, TX 77023 | 1957, Previously A&P Seemingly only open a brief time |
| 404 | 6019 Bellfort Ave Houston, TX 77033 | 1957-1971 Demolished |
| 405 | 5714 Bissonnet St Houston, TX 77081 | 1962-1966 Demolished, Aztec Rental Center |
| 405 | 8410 Fondren Rd, Houston, TX 77074 | 1968-1973 Relocation for above store, Opened as Piggly Wiggly |
| 406 | 1717 Post Oak Blvd, Houston, TX 77056 | 1964-1966 Opened in 1963 by Evan's, renamed Randall's after merger |
| 406 | 9419 N Shepherd Dr Houston, TX 77088 | 1968-1974 Reused number, Opened as Piggly Wiggly, Demolished |
| 407 | 1804 W 43rd St, Houston, TX 77018 | 1964-1969 Still standing, Dollar General |
| 408 | 1633 S Voss Rd Houston, TX 77057 | 1965-1966 Demolished? |
| 409 | 101 El Camino Houston, TX 77058 | 1963?-1966 Evans Seemingly planned to convert like the other Houston store, but Piggly Wiggly name change happened first |
| 410 | 2311 Westheimer Rd, Houston, TX 77098 | 1965-1973 Still standing, Antique Center, Final location to open as "Randall's" |
| 411 | 402 E Edgebrook Dr, Houston, TX 77034 | 1968-1974, First store built as Piggly Wiggly |
| 414 | 4408 Ave S, Galveston, TX 77550 | 1965-1973, Opened as Piggly Wiggly |
| 415 | 513 Market St, Galveston, TX 77550 | 1965-1973 Opened as Piggly Wiggly |
| 416 | 2413 69th St, Galveston, TX 77551 | 1965-1973, Opened as Piggly Wiggly, Still standing Dollar General? |
| 425 | 9336 Westview Dr, Houston, TX 77055 | 1965-1973, Opened as Piggly Wiggly, Most Recently 24 Hour Fitness |
| 426 | 2113 Pasadena Blvd, Pasadena, TX 77502 | 1968-1969 Opened as Piggly Wiggly, Still Standing Banquet Hall |
| 427 | 614 Cavalcade St, Houston, TX 77009 | 1968-1974, Opened as Piggly Wiggly, Demolished |
| 437 | 601 E Coombs St, Alvin, TX 77511 | 1965-1973, Opened as Piggly Wiggly, Likely demolished for Apartments |
| 439 | 820 Oak St, La Marque, TX 77568 | 1964-1974, Opened as Piggly Wiggly, Unsure |
| 447 | 1650 College St, Beaumont, TX 77701 | 1965-1973, Opened as Piggly Wiggly, Still standing, Mercado de Familia as of 2022 |
| 448 | 4140 Gladys Ave, Beaumont, TX 77706 | 1964-1967, Opened as Piggly Wiggly, Still standing, Subdivided |
| 449 | 3330 Avenue A, Beaumont, TX 77705 | 1964-1973. Opened as Piggly Wiggly, Still standing, Subdivided |