Eagle Discount Center Supermarket, was Lucky Stores Inc's attempt at entering the Houston market In the 1970s. Lucky's roots trace it back to San Diego, California, starting out as a collection of six former Piggly Wiggly stores in the 1930s which were purchased by a collection of ex-store managers after their franchisee went bankrupt during the Great Depression. Pouncing on this opportunity proved to be immensely profitable, with Lucky being one of the earlier chains in California to implement modern supermarkets. By the 1960s, the chain was vying for expansion beyond the West Coast, where they had successfully been buying up and converting other grocery chains. In 1968 Lucky wanted to expand their success across state lines, and did so by purchasing a long-established grocer, Eagle Food Centers. At the time, Eagle operated stores mostly in Iowa and had recently been merged with a wholesaler's Piggly Wiggly operation out of Chicago. After Lucky's acquisition, all stores were converted to the new Eagle Discount Supermarket name, to match the strategy Lucky had succeeded with along the West Coast. These stores would make up the newly created Lucky Midwest Division.
In July 1969 Eagle Discount Center announced its intention to build four new "discount centers" in Houston. These stores would all be at least 32,000 square feet in size, and in addition to a full supermarket, they also sold apparel, hardware, home goods, and health and beauty items. By 1970 plans had materialized that would make Houston Lucky's fourth regional HQ, a wise move as the distance from both Lucky and Eagle operations would otherwise limit operations. The plans for the Texas Division of Eagle included 60-150 stores "mostly within Texas". Houston had also been bumped from four to five stores, with three of the four original locations already planning to open by mid-July. The bump in the timeline was not accidental, but rather a direct attempt to compete with Safeway, who had entered Houston in May 1970, just a block away from Eagle's newly announced fifth store. While Safeway was already building true supermarkets in the 70s, the Eagle Stores were decidedly larger and carried a broader range of merchandise. This in addition to low prices were the main pull of Eagle Discount Supermarket.
On June 23, 1970, four Eagle stores opened simultaneously throughout Houston, with a fifth store planned to open within the next month. While this initial rollout for Eagle was immensely exciting and put them far ahead of other out-of-state competitors, growth beyond this was somewhat slow. At the time, Kroger, who had recently dropped the Henke's banner, was one of the cheapest options for chain supermarkets in Houston. While Eagle was easily able to meet and usually beat their pricing, the introduction of Safeway into the mix created a three-way price war. This would deeply impact Eagle's initial operations, as they were for the most part unable to keep up with the discounts the larger chains were able to offer. Instead, Eagle would tout their stores as being larger, better merchandised, and for the most part comparably cheap. In 1972 Lucky Stores Inc, would bring a new concept to the Houston market, GEMCO. The chain had been another one of Lucky's earlier acquisitions and was a membership-based discount store. It was not warehouse-based like Sam's Club or Costco, bearing more resemblance to a small Wal-Mart or Globe. From 1972-1974, Lucky would hold off on adding more Eagle Stores to Houston, instead opting to expand their GEMCO operations.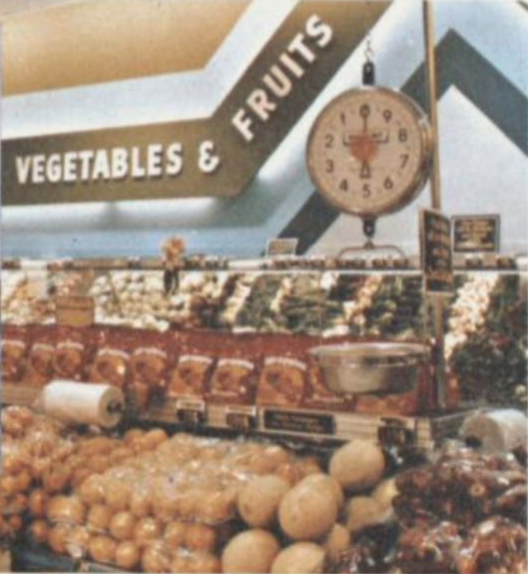 Throughout 1974-1978, only four new Eagle Supermarkets were built in Houston. These newer stores would be smaller than the original locations and often lacked service departments to feature the general merchandise selection. During this time period parent company, Lucky continued to diversify its operations. Acquiring other chains that didn't operate in the grocery field. Like Hancock Fabrics, and an auto parts chain, along with other established grocery chains that operated well outside of Lucky's territory. As such, the focus of the company was far from the Houston Division of Eagle, which was set to operate in a strict set of rules. Managers were not able to deviate from a set list of products to carry, and all stores were required to maintain their GM section in the front center of the store. The non-grocery items were not a wide selection and featured soft lines and hard lines like you might find at an HEB Plus in modern times. Some assorted clothing, small electronics, some sporting goods. Although not building any stores in Houston, Eagle began to build stores throughout San Antonio, and even one in Austin. Originally named Magnamart, the moniker was dropped to capitalize on what little brand recognition Eagle had at the time. The Houston grocery market had been rather competitive to Eagle, what they lacked in service departments they made up for in low prices. However, San Antonio and Austin were a different story entirely, with H-E-B being able to undercut just about any grocer that attempted to enter the area. Eagle would mostly exit the area by 1981, with only one of the six stores remaining by the end of Eagle in Texas.
Back in Houston, the early 80s were another story for Eagle. In 1980 Lucky again made another push to expand in Houston and better utilize its facilities which were serving only about 25 of the ~100 planned locations Lucky had invested in nearly 10 years back. They set a goal to bring the store count up to around 40 and made a valiant attempt to double their size. Within two years, Eagle had added about 10 more stores, mostly in the suburbs of Houston. While the stores were the smaller variety with general merchandise in front of the groceries, they were able to match and often beat other chains' prices and kept their store sparkling clean even in otherwise downtrodden areas. The trade-off was not only the previously mentioned lack of selection but also a lack of "extras" while many stores, including national chains, bought into ideas like double couponing, Eagle refused. They also kept the stores minimally staffed, required cashiers to bag, and didn't offer grocery carry-out. In the mid-1980s with the exit of Weingarten, expansion of Safeway and Randall's, the price wars in Houston became fierce. Although Eagle was mostly able to keep up, their lack of service proved to be a poison pill for the company. Why go to Eagle, when Randall's is much nicer, and often as cheap. While the strategy of adding the general merchandise departments to stores was meant to offset the losses incurred by grocery. Texans were already heavily under the influence of discount chains such as Kmart, and Target. Most families opted to only buy groceries at Eagle, and go to a discounter for everything else.
By 1983 the future of Lucky was in question, as they began to sell off previously acquired specialty chains. However, most things looked okay for Eagle, with plans for four new Discount Center Supermarkets throughout Houston. When asked to comment on the future of Gemco, the answer was a bit ominous, saying that it was currently "in a holding pattern" for future growth. In December 1983 Lucky announced that GEMCO stores in Texas would be shut down. While Eagle would liquidate the grocery sections, general merchandise would not be heavily discounted, and rather "shipped to other stores". Presumably the remaining stores in California, Arizona, and Nevada. In early 1985 Lucky sold all the Texas locations of their GSK auto store conglomerate. While most of the locations were throughout El Paso and the Pan Handle, this quick along state lines, raised concerns of Lucky possibly selling or shutting down the Eagle Houston Division. Just a few months later, in March 1985, store managers at both Eagle and Rice accidentally leaked the fate of the stores. They were to be broken up and sold, with the exception of one or two locations that would close without buyers. At the time, store management refused to comment, opting to call an official press conference the following Monday.
On Monday, March 4, 1985, Eagle officially announced that they were exiting the Houston grocery market. The demise was blamed on fierce competition and not having enough locations to justify their operations here. The plan was to sell 7 stores to Rice, 5 to Gerland's, 5 to King Saver, 2 to Fiesta, and 1 to Pyburns. This left two locations without buyers. Eagle employees were understandably upset about the decision. The company was unionized and selling out would mean an almost guaranteed lower wage, and require employees to reapply for their previous jobs. Weeks earlier the company had stated they had no intent to close in Houston, and news of the closures, unfortunately, reached the employees of purchased stores by having managers from the new owners come by to take measurements for new signage. The oversized distribution center, which was located catty-corner from Safeway's would be sold to Grocers Supply Corp. By the end of March 1985, Eagle Discount Center Supermarkets had left Houston completely. While the store's sales didn't exactly work out as planned, with Fiesta backing out of their two stores, and Rice dropping a store, only one location would end up shutting down permanently. One thing that would live on from Eagle in Houston was the reputation of a sparkling clean grocery store, which is something Rice would maintain with these newly purchased stores, eventually launching into their Epicurean Phase.
Location List

| Store No | Address | Notes |
| --- | --- | --- |
| #741 | 6425 San Felipe St, Houston, TX 77057 | 1970-1985 Eagle Discount Center, 24 Hour Fitness |
| #742 | 1818 Gessner Rd, Houston, TX 77080 | 1970-1985 Eagle Discount Center, Autozone |
| #743 | 3102 Kirby Dr Houston, TX 77098 | 1970-1985 Eagle Discount Center, Bed Bath & Beyond |
| #744 | 7426 Airline Dr, Houston, TX 77076 | 1970-1985 Eagle Discount Center, Food Town |
| #745 | 8201 Broadway St, Houston, TX 77061 | 1971-1985 Eagle Discount Center, Melrose |
| #746 | 1420 FM 1960 W Houston, TX 77090 | 1971-1985 Eagle Discount Center, Food Town |
| #747 | 5859 Bissonnet St, Bellaire, TX 77401 | 1972-1983 Eagle Discount Center, El Ahorro |
| #748 | 12201 East Fwy, Houston, TX 77015 | 1972-1984 GEMCO (Grocery Dept), Fiesta |
| #749 | 8103 Fondren Rd, Houston, TX 77074 | 1972-1984 GEMCO (Grocery Dept), Charter School |
| #750 | 3955 Eastex Fwy, Beaumont, TX 77706 | 1975-1984 GEMCO (Grocery Dept), Demolished |
| #751 | 4711 Airline Dr, Houston, TX 77022 | 1973-1984 GEMCO (Grocery Dept), Fiesta |
| #752 | 10920 FM 1960 W Houston, TX 77070 | 1974-1985 Eagle Discount Supermarket, Fitness Connection |
| #753 | 4711 W 34th St, Houston, TX 77092 | 1974-1985 Eagle Discount Supermarket, La Michoacoana |
| #754 | 12001 Beamer Rd, Houston, TX 77089 | 1974-1985 Eagle Discount Supermarket, The Gardens Venue |
| #755 | 1003 Bay Area Blvd, Houston, TX 77058 | 1975-1985 Eagle Discount Supermarket, Specs? |
| #756 | 9820 Gulf Fwy, Houston, TX 77034 | 1976-1984 GEMCO (Grocery Dept), Hong Kong Food Market |
| #757 | 17211 North Fwy, Houston, TX 77090 | 1978-1984 GEMCO (Grocery Dept), Floor and Decor |
| #758 | 9401 S Main St, Houston, TX 77025 | 1979-1985 Eagle Discount Supermarket, Suit Mart |
| #759 | 8541 W Bellfort Blvd, Houston, TX 77071 | 1979-1985 Eagle Discount Supermarket, Fallas Paredes |
| #760 | 9820 Gulf Fwy, Houston, TX 77034 | 1979-1985 Eagle Discount Supermarket, Fitness Connection |
| #761 | 5708 S Gessner Rd. Houston, TX 77036 | 1979-1985 Eagle Discount Supermarket, I-Fresh Supermarket |
| #762 | 4980 Hwy 6 N, Houston, TX 77084 | 1980-1985 Eagle Discount Supermarket, 99 Cents Only Store |
| #763 | 10321 Club Creek Dr, Houston, TX 77036 | 1980-1985 Eagle Discount Supermarket, Subdivided |
| #764 | 12655 Bissonnet St, Houston, TX 77099 | 1980-1985 Eagle Discount Supermarket, Dollar Tree |
| #765 | 3106 Quail Valley E Dr, Missouri City, TX 77489 | 1980-1985 Eagle Discount Supermarket, Vacant for 15+ years |
| #766 | 512 W Stassney Ln, Austin, TX 78745 | 1981-1982 Eagle Discount Supermarket, Texas Thrift Store |
| #767 | 13945 US-183, Austin, TX 78717 | 1981-1982 Eagle Discount Supermarket, Mega Furniture |
| #768 | 8077 Antoine Dr, Houston, TX 77088 | 1981-1985 Eagle Discount Supermarket, Dd's Discount |
| #769 | 3020 Gears Rd, Houston, TX 77067 | 1983-1985 Eagle Discount Supermarket, Than Hung Supermarket, Alternatively 3060 W Greens |
| #770 | 10 Uvalde Rd, Houston, TX 77015 | 1984-1985 Eagle Discount Supermarket, Food Town |
| #771 | 6723 S Flores St, San Antonio, TX 78221 | 1975-1985 Eagle Discount Supermarket, Subdivided |
| #772 | 9631 San Pedro Ave, San Antonio, TX 78216 | 1975-1981 Eagle Discount Supermarket, Northpark Subaru Service |
| #773 | 4722 Eisenhauer Rd, San Antonio, TX 78218 | 1975-1981 Eagle Discount Supermarket, American Home Express |
| #774 | 5555 N Lamar Blvd, Austin, TX 78751 | 1976-1982 Eagle Discount Supermarket, Goodwill/Half Price Books |
| #775 | 7130 FM 1960, Humble, TX 77346 | 1984-1985 Eagle Discount Supermarket, 99 Cent Only Store |
| #903 | 9835 Genard Rd Houston, TX 77041 | 1980-1983 Distribution Center, Sold to Kroger? |