From Kresge to Kmart
The Kmart Corporation has ties in Texas all the way back to the late 50s. This connection is not through Kmart, which would not open its first store until 1962. Instead, this involves Kmart's predecessor S.S. Kresge. The chain started off in 1897 as a variety store in Tennessee. Named after its owner Sebastian S. Kresge, the chain would grow rapidly under his management. Successfully managing rises and dips in the American economy, the chain began increasing in size and product selection. By the 1960s, stores varied from under 20,000 to 40,000 Square Feet in size. The first Kresge store to open in Texas would be in Dallas, with a second location planned for Pasadena the same year. While the Pasadena location would never open, in 1960, the first Houston area S.S. Kresge location would open, and plans were announced for three additional stores. One of the planned locations, Sharpstown Mall, would be the largest Kresge store in the chain at the time. Coming in at 45,400 Square Feet, with over an acre of sales space, it also had the novel feature of being attached to a mall. While it was not readily apparent at the time, the development of this location would be one of the factors leading to Kmart. A Kresge Vice President was even sent to the mall's groundbreaking. While development on this giant new Kresge store would take a bit of time, the first Houston location was able to open by the end of 1960. At the time of opening, the Sharpstown Kresge was the largest store in the chain, a title it would hold for over a year. While Texas had the largest Kresge store, the retailer had been experimenting with large-scale locations all over the country. In early 1962, a planned Kresge, would open under a new name and concept, Kmart. The main difference between the stores was that Kresge's was merchandised like a Variety Store, and Kmart would be a true discount department store. Less than a month after the first Kmart opened, Kresge announced their plans to build four Kmart locations in Houston.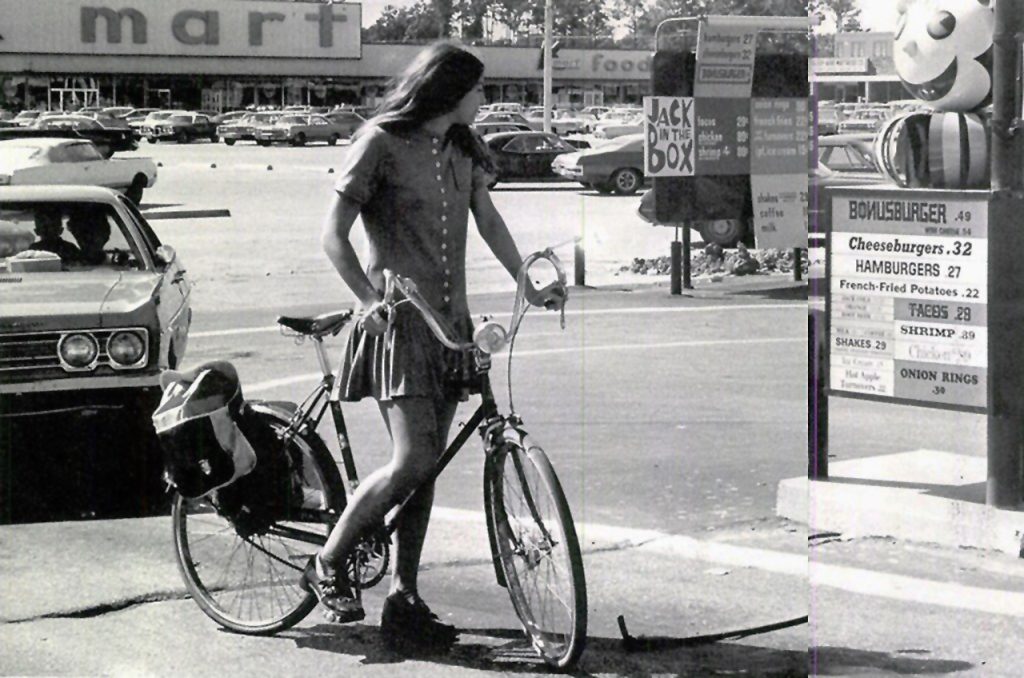 Kmart Arrives in Houston
On November 8, 1962, three Houston Kmarts tied with a Louisiana location to become the Tenth store in the chain to open. Of the Houston stores, one on Long Point would be the only location in the city limits, with the others in nearby suburbs of Baytown and South Houston. These new Kmart locations would dwarf their Kresge counterparts, coming in at 80,000 Square Feet. Of this space, about one-third of the building would be a separate store named Kmart Foods. While the chain used the Kmart name, it would actually be operated by the local grocery chain Lewis & Coker. The choice of L&C was somewhat unexpected; the chain was relatively small and had been in somewhat of a downfall prior to Kmart's partnership. However, with their support, Lewis & Coker would rebuild their store count, largely thanks to Kmart Foods. Unfortunately for Lewis & Coker, especially in the early years, they were required to completely disguise the fact that they had anything to do with Kmart Foods, leading many not to associate the company with their success. As well, despite using the Kmart name and building, the two stores were completely independent, with shoppers needing to use separate entrances. On the Kmart side of things, the new discount department stores proved to be a hit in Houston. While not the first discounter in the state, Kmart was arguably the first in Houston. Their success, however, did come with limitations. Of the four locations planned, only three would end up opening, with a planned store at 2411 Jensen canceled for unknown reasons. Over the next few years, Kmart would focus on building out its stores in new areas throughout the country. In 1965 the head of Kresge Real Estate would be spotted in Houston with developers. Houston's fourth Kmart would be announced only a couple of months later.
The allure of Kmart in the town had not gone unnoticed, with the City of Houston bowed to a request from Kmart to construct a bridge for Homestead Road across Hall's Bayou to give better access to their new store. Kmart would find itself soon after opening its fifth location, proving that Houstonian's reception to Kmart created a demand for further stores. Kmarts of the time somewhat differed from how the company left Houston in 2003. The large stores contained a vast variety of merchandise, primarily lower-end options, but for rock-bottom prices. In addition to its cheap merchandise, Kmart would offer multiple semi-autonomous departments, such as an Auto Center, a Cafeteria, and Optical Shop. All this selection and a full-service supermarket meant Kmart could truly be a one-stop shop. By 1967, Kmart confirmed plans to add four more locations to Houston, bringing their total up to 9 stores. In the 1970s, Kmart began a program to modernize and upgrade its stores. In some cases, Kmart Foods locations were shut down, with Kmart expanding the sales floor into the space. A trial location of a Kmart Chef Restaurant was built in the parking lot of a store that was undergoing remodeling. In 1971, Kmart began to push away from the Kmart Foods concept altogether and allowed or possibly required Lewis & Coker to run the advertising for Kmart Foods with their stores.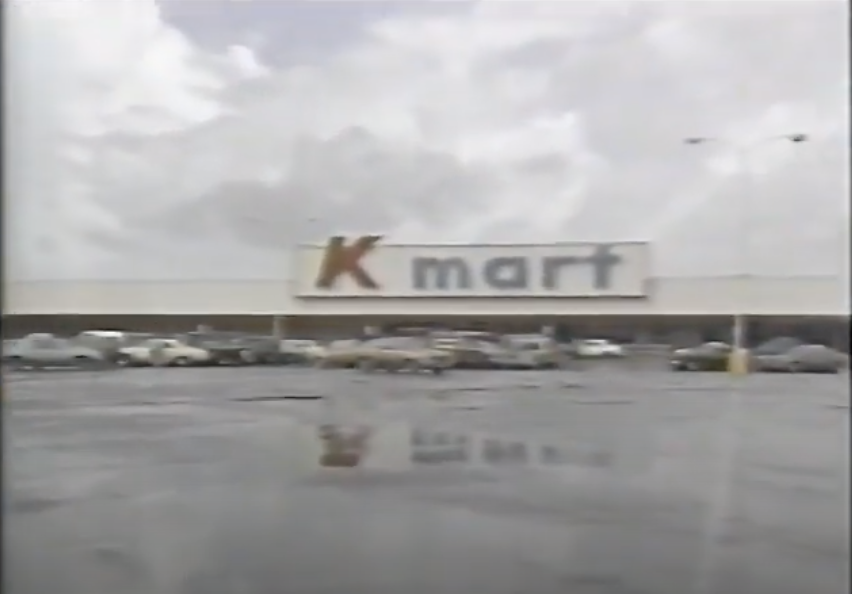 Competition Arrives in Town
Throughout the 70s, Kmart would continue to open new locations. Most of these new stores would ditch the Kmart Foods concept, opting to use the entire space for their discount department stores. With all the space back under their control, the Kmart Chef experiment was discontinued, and stores continued to be built with Cafeterias and Delis inside. As the chain grew, so did their selection. By the late 70s, stores would open featuring Lumber Departments and Pharmacies, options other Discount Department stores had yet to add in mass. Kmart's success was so grand that in this decade, the company dropped the Kresge name and sold off its remaining variety stores. The new company would change its name to Kmart Corp, becoming focused on Kmart. During this time, Lewis & Coker would enter bankruptcy due to unprofitable former Kmart Foods locations outside of Houston. Despite co-advertising, the lack of traditional Lewis & Coker stores meant that customers were mostly unfamiliar with the store. When Kmart slowly began pulling the plug on the Kmart Food's name, L&C suffered. Customers were either unaware of Lewis & Coker or associated them with memories of the old chain, mostly driving traffic away. Lewis & Coker would continue to operate a few locations attached to Kmart through the 1980s, although never fully recovering from bankruptcy and closing all but one location by the mid-80s. As for Kmart, while development continued mostly unabated during the 1970s, the 1980s were a different story. With the touchy energy economy of the time, wide-scale development in Houston was somewhat unpredictable in the 1980s. While Kmart would end up building a few new locations, the 80s would also be the decade in which Wal-Mart arrived in Houston en masse.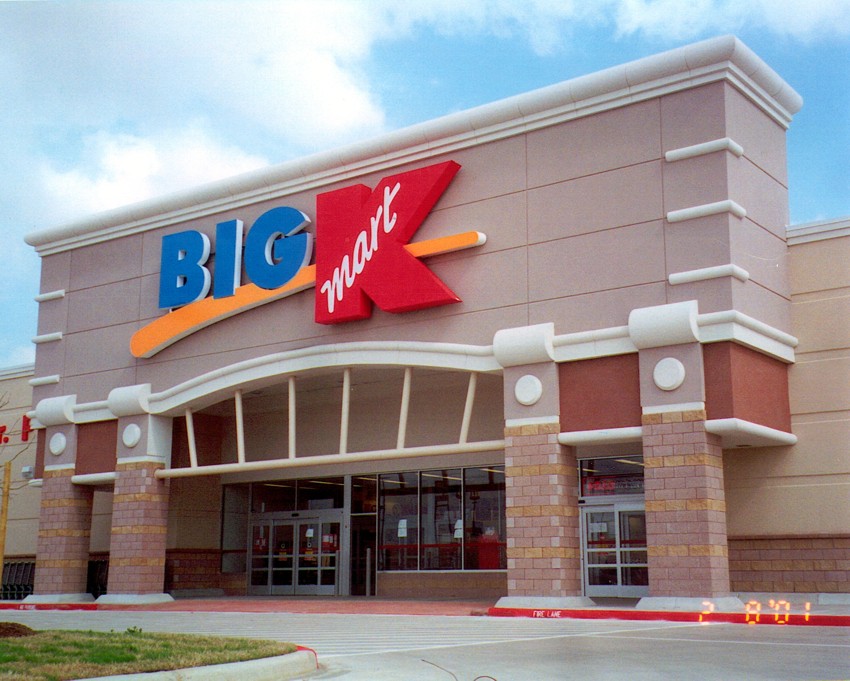 During the late 1980s, Kmart began a trend in which they were about to dump a tremendous amount of cash into acquisitions. Kmart watching other corporations had been convinced that diversifying their retail operations was the future, and wanting to stay ahead of the curve, Kmart would begin buying up promising new companies. While Walmart continued to expand in Houston and throughout Texas, Kmart would put less focus on its existing department stores and more thought into future concepts. One of these ideas was American Fare, a late 80s Hypermarket attempt by Kmart meant to compete with the likes of Hypermart USA and local Auchan. Much like Hypermarket USA, American Fare wouldn't lead directly to the next step for Kmart, but it would set up the stepping stones for Kmart's Super Center concept. Unfortunately, though, maintenance was somewhat lacking for the stores already around. With a Galveston location not being rebuilt to use the Kmart Foods space for over 15 years, and then when it finally happens, a knock-off Barney is assaulted. While on the funny side, these shenanigans showed that Kmart's priorities were being put by the wayside. With the development of Wal-Mart Super Centers in Houston in the early 90s, Kmart knew they had to respond quickly. By 1993 of first Super Kmart would open just outside of Houston, in Rosenberg. The small town wasn't chosen by accident, as it was home to a Wal-Mart that had been recently upgraded into a Super Center. Kmart's store was also an upgrade from a relatively small rural store. Kmart had the superior location at a busy Highway crossroads, with Walmart sticking to an FM Road within Richmond City Limits. Kmart's store also had the edge on size and selection with far more boutique offerings. It seemed that this Super Kmart could easily dominate Wal-Mart's Super Center.
Years of neglect from the top down within Kmart had left the company with tattered remains. While Wal-Mart was building new stores, they weren't gaining new customers by simply being the newest kids on the block. Instead, they were focusing on how to provide better values. While prices were comparably low between chains, merchandise quality was often at least slightly better at Wal-Mart. Along with less hassle on returns and a big push for American-made items, Kmart needed to make significant changes if they wanted to keep up. Kmart would need to expand its Superstore presence and build a network to support it. Although around this time, cash flow at Kmart became very restricted. To help smooth over the situation, Kmart would begin to close and sell underperforming locations. In the summer of 1995, eight locations would close over two waves. While Super Kmart expansion had been seen as the way of the future, the concept proved to be too little too late. Shoppers were not swayed from their adoption of Wal-Mart, and Kmart realized this. To help combat the problem, they would instead push their focus to upgrade stores into Big Kmarts. In most cases, this would mean increasing floorspace, adding a Little Ceasers, and switching up the merchandise a bit. However, in Houston, Kmart was able to pull off something a little grander. Thanks to the circumstances of Venture's exit from Houston, Kmart was able to pick up multiple brand-new stores on the cheap. Much of the upscale Venture styling would be kept in place, with the new Big Kmart locations being presented as higher quality. Houston was not the only market to receive these ex-Venture stores, and they seemed quite well received throughout the country. However, these new locations would not be enough to save Kmart from larger troubles.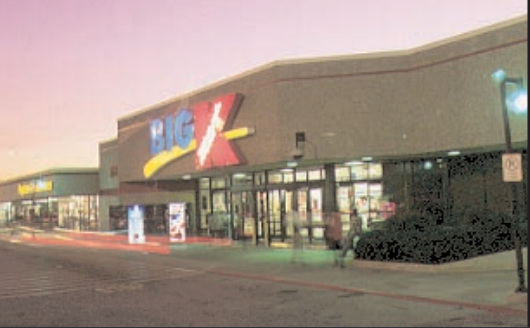 By 2000, Kmart was facing some very public financial issues while the CEO at the time, Charles Conaway, said the problems were inherited from previous management and vowed to bring Kmart into the 21st Century. While being quickly outpaced by Walmart, most still considered Kmart to be a reliably strong company. Many felt that in the right hands, Kmart could prove itself to be a competent second player to Wal-Mart by focusing on areas where they stood a chance. However, behind the scenes, Conaway and other members of the upper management were involved in an Enron-type scheme of concealing debt the company held. Using what looked like positive turnarounds, Conaway and others were loaned money by Kmart to use for personal purchases, such as planes, houses, and boats. In early 2002 Kmart filed for bankruptcy, the largest-ever retail bankruptcy filing. The filing had been rumored after Kmart had missed payments to Fleming Foods. While the future didn't look particularly bright, most expected Kmart to shake this off and continue on. As part of its bankruptcy in early 2003, Kmart closed the majority of its locations in Texas. This would include all locations within major cities except for a few in El Paso. The final Houston Kmarts would enter liquidation in April of 2003, usually closing only weeks after. The remainder of the Texas stores would be in East Texas and throughout the valley. These stores would mostly make it to 2017, with the final Kmart in Texas closing in 2020.
| Store No | Address | Notes |
| --- | --- | --- |
| #3153 | 12151 Katy Freeway Houston, TX 77079 | 1974-1995 Subdivided mostly AceMart |
| #3331 | 2305 FM 1960 W Houston, TX 77068 | 1976-1995 Subdivided mostly Texas Thrift Store |
| #3370 | 222 FM 1960 Bypass E Humble, TX 77338 | 1983-1994 Former Woolco, Replaced by #4958 Super Kmart |
| #3404 | 445 FM 1092 Stafford, TX 77477 | 1979-1995 Mostly New India Super Market |
| #3458 | 10955 FM 1960 W Houston, TX 77065 | 1978-1997 Subdivided between Hobby Lobby and Big Lots |
| #3466 | 12610 Bellaire Blvd Houston, TX 77072 | 1978-1992 Mr. Storage, Facade still in place |
| #3497 | 4815 Hwy 6 N Houston, TX 77084 | 1979-2002 Expanded to Big Kmart, Now Track 21 |
| #3647 | 8230 Kirby Dr Houston, TX 77054 | 1989-2002 Subdivided Ross, Petsmart, Five Below |
| #3648 | 230 S Loop 336 W, Conroe, TX 77304 | 1989-2003, Closed during Bankruptcy, now Incredible Pizza Company |
| #3745 | 3500 Garth Rd, Baytown, TX 77521 | 1992-2003 Replaced #4013 closed during bankruptcy. |
| #3809 | 17717 Tomball Pkwy Houston, TX 77064 | 1997-2002 Former Venture, Subdivided REI, Petsmart |
| #3830 | 14411 Westheimer Rd Houston, TX 77082 | 1997-2002 Former Venture, Big Kmart, Burlington Coat Factory, now Alief ISD Development Center. Largely remodeled facade removed by Burlington |
| #3835 | 3401 Palmer Hwy. Texas City TX 77590 | 1997-2003 Former Venture, Originally built as Woolco, was a BP office for many years, now subdivided retail |
| #3844 | 11542 Gulf Fwy Houston, TX 77034 | 1997-2002 Originally built for Woolco, Former Venture, now Floor & Decor, Venture facade still in use |
| #3863 | 310 FM 1960 W Houston, TX 77090 | 1997-2002 Former Venture, Subdivided multiple retailers |
| #3870 | 1001 Bay Area Blvd, Webster, TX 77598 | 1997-2003 Former Venture, Now subdivide Party City, Ashley, and World Market, Used to contain Circuit City |
| #3878 | 12005 Northwest Fwy Houston, TX 77092 | 1997-2002 Former Venture, Mostly Burlington Coat Factory, Some space is Affordable Furniture |
| #3901 | 28000 S US 59 Hwy, Rosenberg, TX 77471 | 1993-2002 Super Kmart, Mostly untouched until DPS moved in and took over half of building. The other half has been completely leased |
| #3904 | 2745 Town Center Blvd N Sugar Land, TX 77479 | 1997-2002 Former Venture, Subdivided Saks, DSW and others |
| #3909 | 300 Meyerland Plaza Mall Houston, TX 77096 | 1997-2002 Former Venture, Replaced original multiple Meyerland Plaza stores approximately half of the shopping center. Now a Target |
| #3913 | 8300 W Sam Houston Pkwy S, Houston, TX 77072 | 1997-2002 Former Venture, Now Viet Hoa Vietnamese Market. The Venture facade stands but it has been mostly covered by new shops |
| #4013 | 1801 N Pruett St, Baytown, TX 77520 | 1962-1992 Contained Kmart Foods replaced by #3745 |
| #4017 | 8315 Long Point Rd Houston, TX 77055 | 1962-1995 Contained Kmart Foods |
| #4024 | 1402 Spencer Hwy South Houston, TX 77587 | 1962-1995 Was not converted to Big Kmart, Extra Space Storage, Facade still in tact |
| #4080 | 9929 Homestead Rd Houston, TX 77016 | 1965-1991 Vacant |
| #4094 | 5702 Van Fleet St Houston, TX 77033 | 1965-1984 Contained Kmart Foods Demolished 2004 |
| #4197 | 12401 S Post Oak Rd Houston, TX 77045 | 1967-1994 Some kind of community center? Power Center? |
| #4223 | 1431 W 20th St Houston, TX 77008 | 1967-2003 Contained Kmart Foods, closed during bankruptcy, Now mostly Restaurant Depot |
| #4236 | 8150 Southwest Freeway Houston, TX 77074 | 1967-1995 Contained Kmart Foods, Building still standing, subdivided among many smaller tennants |
| #4299 | 11037 East Fwy Houston, TX 77029 | 1969-1996 Contained Kmart Foods, Building still standing, subdivided among many smaller tennants |
| #4302 | 6327 Stewart Rd Galveston, TX 77551 | 1969-2003 Closed during bankruptcy, Became Big Kmart, Now subdivided Ross-Five Below |
| #4328 | 630 W Little York Rd Houston, TX 77091 | 1969-1992 Contained Kmart Foods, replaced by #7439. Demolished in 2014 for HCC |
| #4398 | 4200 Pasadena Blvd Pasadena, TX 77503 | 1970-1995 Half was demolished 2018 for new Joe V's location. Other half furniture store and Tractor Supply Co as of 2023, Thanks Andrea! |
| #4425 | 3333 Telephone Rd Houston, TX 77023 | 1970-2003 Closed during bankruptcy, Building still standing, subdivided among many smaller tennants |
| #4884 | 7355 Hwy 6, Houston, TX 77082 | 1992-1997 Mission Bend Planned to and possibly converted into a Big Kmart right before Venture purchase, Replaced by 3830 |
| #4926 | 1919 N Main St Pearland, TX 77581 | 1994-2002 Super Kmart, Replaced #7312, Demolished 2005 for Wal-Mart Supercenter |
| #4958 | 9470 FM 1960 Bypass Humble, TX 77338 | 1994-2002 Super Kmart, Still standing but highly remodeled in 2010. Completely untouched prior to that |
| #4973 | 8400 Westheimer Rd Houston, TX 77063 | 1995-2003 Super Kmart, Site of infamous HPD Drag Racing Raid, that resulted in the incorrect arrest of multiple Kmart shoppers, Demolished for Home Depot in 2005 |
| #7038 | 3803 Avenue H Rosenberg, TX 77471 | 1975-1993 Replaced by 3901 Became Variety Outlet (Thanks Ty!), Later Big Lots & Hobby Lobby |
| #7072 | 1000 W Nasa Blvd, Webster, TX | 1979-1995 Original facade intact, Subdivided Buck Wild Club, Furniture Store, and Habitat for Humanity |
| #7312 | 3205 E Broadway St, Pearland, TX 77581 | 1980-1994 Replaced by #4926, Subdivided between multiple tenants |
| #7439 | 10261 North Fwy, Houston, TX 77037 | 1992-2003 Built as an Anchor of the Kmart Power Center along with PACE and Builder's Square, Building now subdivided Closed during bankruptcy |
| #7411 | 3502 Palmer Hwy. Texas City TX 77590 | 1980-1997 Demolished for HEB around 2015 |
| #7441 | 501 Sawdust Rd, Spring, TX 77380 | 1992-1995 Originally 25055 Budde, Subdivided among Hobby Lobby and many different smaller centers. Also Whataburger training center! |
| #7449 | 13572 Tomball Parkway Houston, TX 77086 | 1981-1992 Originally 13572 W. Montgomery Rd., Subdivided mostly La Casa Del Pueblo Carniceria |
| #7594 | 5607 Uvalde Rd, Houston, TX 77049 | 1983-2003 Closed during bankruptcy, Building still standing, highly remodeled Mostly Joe V's but side is now used as strip center |
| #7751 | 5200 Fairmont Pkwy Pasadena, TX 77505 | 1995-2003 Closed during bankruptcy, Building demolished around 2004 for a Wal-Mart |
| #9390 | 11110 Fondren Rd Houston, TX 77096 | 1999-2002 Former Target, Very interesting store, Now subdivided mostly Citi Trends |
| #9426 | 333 Mason Rd Katy, TX 77450 | 1999-2003 Last Houston store built, Now mostly Fiesta, other sections subdivided inlcuding garden center as gym |
| #9646 | 5264 W 34th St Houston, TX 77092 | 1979-1998 Subdivided between several tennants |
| #9677 | 1200 FM 1462, Alvin, TX 77511 | 1980-1995 Subdivided Tractor Supply, and Harbor Freight |