Kmart has deep roots in Houston, starting with the expansion of their predecessor chain S.S. Kresge to the city in 1960. The first Kmart stores were actually a larger format version of the original Kresge Five and Dime locations and operated as a subsidiary. In 1962 the first Houston Kmart location would open its doors, followed shortly after by Dallas, and Amarillo. These stores all opened just a few months after the Kmart concept had first debuted. These early locations often included grocery stores named "K-Mart Foods". These were grocery stores co-located with K-Mart stores but were operated independently by local grocery companies. While the grocery operations would not catch on, the discounter would.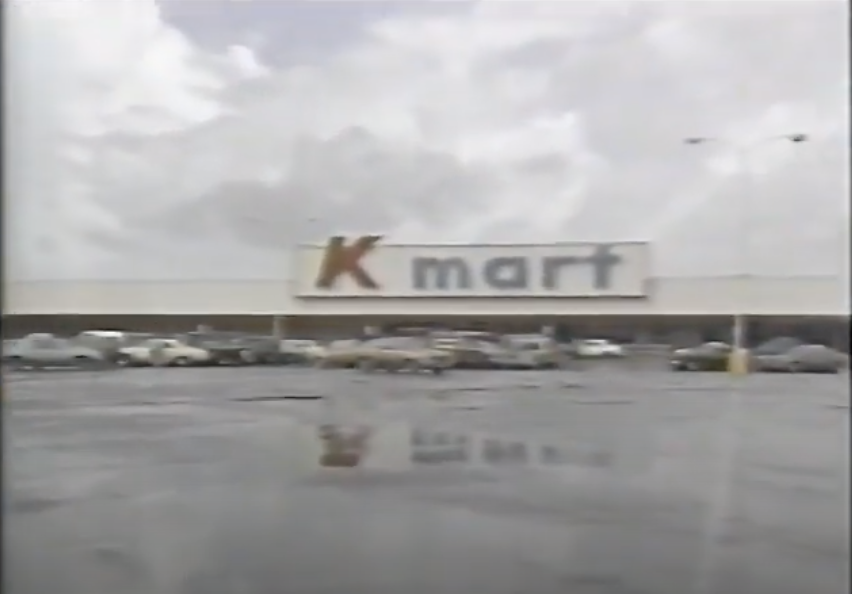 Kmart and Target were the first two national discount department stores to take on the "Wild, Wild, West" of retailing in Texas. Interestingly, Wal-Mart would not enter Texas until 1975. As such, Kmart was able to build a strong presence throughout the state. Initially, most discount department stores were located in larger cities. While smaller towns were served by stores like Gibson's, a smaller discounter that was similar in format, but with less variety and slightly higher prices. When Wal-Mart would finally debut in the state, they first took on smaller towns served by Gibsons and other smaller discounters. To keep up Kmart also began building in smaller Texas towns. These expansions often brought on "Main Street Massacres" when once vibrant Main Streets lost most of their businesses due to competition from discounters. It wasn't unusual to find medium-sized towns in Texas with both a Wal-Mart and a Kmart.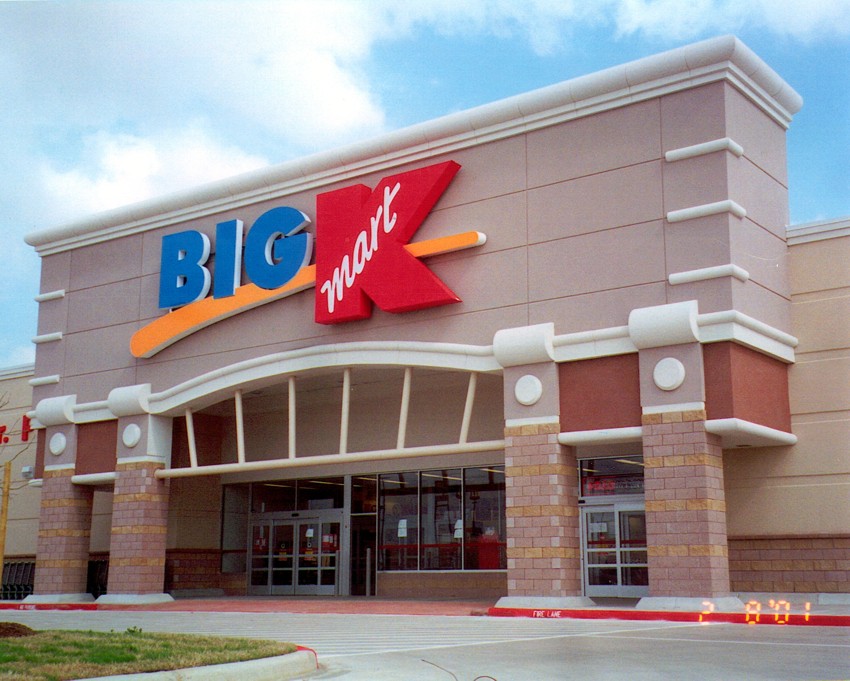 By the 1980s Kmart had mostly stopped expanding in Texas while focusing on diversifying their company by buying other chains. Most famously Builder's Square, Sports Authority, Pace, and Borders. All the while, Wal-Mart continued to expand and more importantly began to focus on expanding smaller locations. Both chains experimented with true Hypermarket concepts in the late 80s. Wal-Mart with HyperMart USA, and Kmart with their mostly forgotten American Fare. By the mid-90s, Kmart refocused its efforts on expansion, which included new Super Centers and expansion of smaller locations. In 1993 the Rosenberg Super Kmart became the first location to open in the state and the 8th Super Center overall. Texas was seen as a good market to explore the super locations, as it was where Wal-Mart had built a strong presence. Forming a partnership with the Fleming Grocery Company, which supplied multiple independent grocers, in a similar move to Wal-Mart partnering with Cullum for their Hypermart stores. The stores were initially well-received, and to capitalize on this success Kmart purchased multiple assets of failed new contender Venture who announced they were shrinking their Texas presence. These locations would reopen under the Big Kmart label and be again well-received. Although by this point, most other locations were 30+ years old. Despite the newer stores, many other issues persisted, such as a lack of updated technology, including an inventory system that was far outdated compared to their competitors and only showed a limited amount of chain-wide data.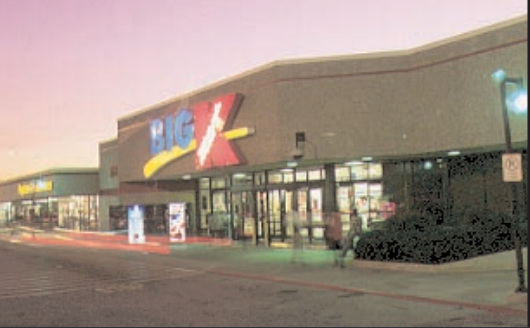 By the early 2000s Kmart was facing some very public financial issues while CEO at the time Charles Conway blamed the problems on inherited issues and vowed to bring Kmart into the 21st Century. While it wasn't known at the time, high-level executives began to funnel money from the company into personal accounts. They then used this money to purchase things like jets, houses, etc. In 2002 the company began to close low-performing locations and sell the properties. This helped to bring some cash into the company but not enough to save it. By 2003 suppliers were missing payments which the company lied about, blaming it on outdated equipment. It can be said that moves like the Venture purchase and Super Kmart expansions were steps in the right direction, it seems that Kmart even styled their final built location Somers Point, NJ off of their former Venture stores. Unfortunately, by this time the company had reached a point of no return and was forced to declare bankruptcy. As part of their bankruptcy in early 2003, Kmart would close the majority of their locations in Texas. This would include all locations within major cities, except for a few in El Paso. The remainder of the Texas stores would be in East Texas and throughout the valley. These stores would mostly make it to 2017 with the final Kmart in Texas closing in 2020.
| Store No | Address | Notes |
| --- | --- | --- |
| #3153 | 12151 Katy Freeway Houston, TX 77079 | 1974-1995 Subdivided mostly AceMart |
| #3331 | 2305 FM 1960 W Houston, TX 77068 | 1976-1995 Subdivided mostly Texas Thrift Store |
| #3370 | 222 FM 1960 Bypass E Humble, TX 77338 | 1983-1994 Former Woolco, Replaced by #4958 Super Kmart |
| #3404 | 445 FM 1092 Stafford, TX 77477 | 1979-1995 Mostly New India Super Market |
| #3458 | 10955 FM 1960 W Houston, TX 77065 | 1978-1995 Subdivided between Hobby Lobby and Big Lots |
| #3466 | 12610 Bellaire Blvd Houston, TX 77072 | 1978-1992 Mr. Storage, Facade still in place |
| #3497 | 4815 Hwy 6 N Houston, TX 77084 | 1979-2002 Expanded to Big Kmart, Now Track 21 |
| #3647 | 8230 Kirby Dr Houston, TX 77054 | 1989-2002 Subdivided Ross, Petsmart, Five Below |
| #3648 | 230 S Loop 336 W, Conroe, TX 77304 | 1989-2003, Closed during Bankruptcy, now Incredible Pizza Company |
| #3745 | 3500 Garth Rd, Baytown, TX 77521 | 1992-2003 Replaced #4013 closed during bankruptcy. |
| #3809 | 17717 Tomball Pkwy Houston, TX 77064 | 1997-2002 Former Venture, Subdivided REI, Petsmart |
| #3830 | 14411 Westheimer Rd Houston, TX 77082 | 1997-2002 Former Venture, Big Kmart, Burlington Coat Factory, now Alief ISD Development Center. Largely remodeled facade removed by Burlington |
| #3835 | 3401 Palmer Hwy. Texas City TX 77590 | 1997-2003 Former Venture, Originally built as Woolco, was a BP office for many years, now subdivided retail |
| #3844 | 11542 Gulf Fwy Houston, TX 77034 | 1997-2002 Originally built for Woolco, Former Venture, now Floor & Decor, Venture facade still in use |
| #3863 | 310 FM 1960 W Houston, TX 77090 | 1997-2002 Former Venture, Subdivided multiple retailers |
| #3870 | 1001 Bay Area Blvd, Webster, TX 77598 | 1997-2003 Former Venture, Now subdivide Party City, Ashley, and World Market, Used to contain Circuit City |
| #3878 | 12005 Northwest Fwy Houston, TX 77092 | 1997-2002 Former Venture, Mostly Burlington Coat Factory, Some space is Affordable Furniture |
| #3901 | 28000 S US 59 Hwy, Rosenberg, TX 77471 | 1993-2002 Super Kmart, Mostly untouched until DPS moved in and took over half of building. The other half has been completely leased |
| #3904 | 2745 Town Center Blvd N Sugar Land, TX 77479 | 1997-2002 Former Venture, Subdivided Saks, DSW and others |
| #3909 | 300 Meyerland Plaza Mall Houston, TX 77096 | 1997-2002 Former Venture, Replaced original multiple Meyerland Plaza stores approximately half of the shopping center. Now a Target |
| #3913 | 8300 W Sam Houston Pkwy S, Houston, TX 77072 | 1997-2002 Former Venture, Now Viet Hoa Vietnamese Market. The Venture facade stands but it has been mostly covered by new shops |
| #4013 | 1801 N Pruett St, Baytown, TX 77520 | 1962-1992 Contained Kmart Foods replaced by #3745 |
| #4017 | 8315 Long Point Rd Houston, TX 77055 | 1962-1995 Contained Kmart Foods |
| #4024 | 1402 Spencer Hwy South Houston, TX 77587 | 1962-1995 Was not converted to Big Kmart, Extra Space Storage, Facade still in tact |
| #4080 | 9929 Homestead Rd Houston, TX 77016 | 1965-1991 Vacant |
| #4094 | 5702 Van Fleet St Houston, TX 77033 | 1965-1984 Contained Kmart Foods Demolished 2004 |
| #4197 | 12401 S Post Oak Rd Houston, TX 77045 | 1967-1994 Some kind of community center? Power Center? |
| #4223 | 1431 W 20th St Houston, TX 77008 | 1967-2003 Contained Kmart Foods, closed during bankruptcy, Now mostly Restaurant Depot |
| #4236 | 8150 Southwest Freeway Houston, TX 77074 | 1967-1995 Contained Kmart Foods, Building still standing, subdivided among many smaller tennants |
| #4299 | 11037 East Fwy Houston, TX 77029 | 1969-1996 Contained Kmart Foods, Building still standing, subdivided among many smaller tennants |
| #4302 | 6327 Stewart Rd Galveston, TX 77551 | 1969-2003 Closed during bankruptcy, Became Big Kmart, Now subdivided Ross-Five Below |
| #4328 | 630 W Little York Rd Houston, TX 77091 | 1969-1992 Contained Kmart Foods, replaced by #7439. Demolished in 2014 for HCC |
| #4398 | 4200 Pasadena Blvd Pasadena, TX 77503 | 1970-1995 Half was demolished 2018 for new Joe V's location. Other half still operating as Hobby Lobby including original doors and slightly modified facade |
| #4425 | 3333 Telephone Rd Houston, TX 77023 | 1970-2003 Closed during bankruptcy, Building still standing, subdivided among many smaller tennants |
| #4884 | 7355 Hwy 6, Houston, TX 77082 | 1992-1997 Mission Bend Planned to and possibly converted into a Big Kmart right before Venture purchase, Replaced by 3830 |
| #4926 | 1919 N Main St Pearland, TX 77581 | 1994-2002 Super Kmart, Replaced #7312, Demolished 2005 for Wal-Mart Supercenter |
| #4958 | 9470 FM 1960 Bypass Humble, TX 77338 | 1994-2002 Super Kmart, Still standing but highly remodeled in 2010. Completely untouched prior to that |
| #4973 | 8400 Westheimer Rd Houston, TX 77063 | 1995-2003 Super Kmart, Site of infamous HPD Drag Racing Raid, that resulted in the incorrect arrest of multiple Kmart shoppers, Demolished for Home Depot in 2005 |
| #7038 | 3803 Avenue H Rosenberg, TX 77471 | 1975-1993 Replaced by 3901 Became Variety Outlet (Thanks Ty!), Later Big Lots & Hobby Lobby |
| #7072 | 1000 W Nasa Blvd, Webster, TX | 1979-1995 Original facade intact, Subdivided Buck Wild Club, Furniture Store, and Habitat for Humanity |
| #7312 | 3205 E Broadway St, Pearland, TX 77581 | 1980-1994 Replaced by #4926, Subdivided between multiple tenants |
| #7439 | 10261 North Fwy, Houston, TX 77037 | 1992-2003 Built as an Anchor of the Kmart Power Center along with PACE and Builder's Square, Building now subdivided Closed during bankruptcy |
| #7411 | 3502 Palmer Hwy. Texas City TX 77590 | 1980-1997 Demolished for HEB around 2015 |
| #7441 | 501 Sawdust Rd, Spring, TX 77380 | 1992-1995 Originally 25055 Budde, Subdivided among Hobby Lobby and many different smaller centers. Also Whataburger training center! |
| #7449 | 13572 Tomball Parkway Houston, TX 77086 | 1981-1992 Originally 13572 W. Montgomery Rd., Subdivided mostly La Casa Del Pueblo Carniceria |
| #7594 | 5607 Uvalde Rd, Houston, TX 77049 | 1983-2003 Closed during bankruptcy, Building still standing, highly remodeled Mostly Joe V's but side is now used as strip center |
| #7751 | 5200 Fairmont Pkwy Pasadena, TX 77505 | 1995-2003 Closed during bankruptcy, Building demolished around 2004 for a Wal-Mart |
| #9390 | 11110 Fondren Rd Houston, TX 77096 | 1999-2002 Former Target, Very interesting store, Now subdivided mostly Citi Trends |
| #9426 | 333 Mason Rd Katy, TX 77450 | 1999-2003 Last Houston store built, Now mostly Fiesta, other sections subdivided inlcuding garden center as gym |
| #9646 | 5264 W 34th St Houston, TX 77092 | 1979-1998 Subdivided between several tennants |
| #9677 | 1200 FM 1462, Alvin, TX 77511 | 1980-1995 Subdivided Tractor Supply, and Harbor Freight |