H-E-B is quite the player in the Texas Food Market. They maintain 4 active and separate grocery store brands. Central Market, Joe V's Smart Shop, Mi Tienda! and H-E-B. Operating locations in 4 out of the 5 largest metroplexes in the state, sorry El Paso. H-E-B also has extensive operations throughout Northeastern and Central Mexico. With all this progress, it become easy to forget where it all started. Before you read any further I just want to extend a thanks to Aaron Johnson of The Houston Files for helping compile the location list.
The expansion of H-E-B is relatively recent given the fact that it was founded in 1905, and Houston's first "full fledged" H-E-B didn't open until 2001. Prior to that H-E-B had focused on building outward from their home of Kerrville. Through this strategy they entered San Antonio in Austin. Eventually coming to Houston suburbs opening stores under the H-E-B Pantry Foods banner. The Pantry Foods banner was a limited concept compared to other grocery stores of the time. There were no specialty shops such as a Deli Counter, Bakery, or Butcher. If it wasn't out on the shelf to be sold, it wasn't available. The number of items in the store was also dropped limiting variety. These ideas helped to keep costs down. The end goal was to introduce H-E-B to the Houston area, as a serious competitor against chains like Kroger, and at the time AppleTree and Albertsons.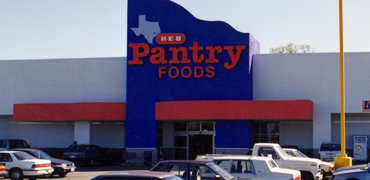 The end of H-E-B Pantry Foods was announced in 2000. H-E-B Corporate offices announced that all locations would be either converted or closed. Many of the buildings were not built by H-E-B, and more outdated than the competition. To save on costs H-E-B would often convert older grocery stores. The lack of space and selection also began to hurt the company as many shoppers moved to "One Stop Shop" grocery stores such as, Kroger Signature, Walmart Supercenter, and even Randall's Flagship. By 2002 the company was closing their final Pantry Foods locations.





For the most part the locations were either replaced or remodeled. However, not every store had a replacement. Some were consolidated into others. At the same time the demise of the Pantry Foods brand, H-E-B began a huge push into Houston. Many locations which never had Pantry Foods locations gained new H-E-B's. The Pantry Food's experiment only lasted about 10 years. Some stores did survive, simply dropping the Pantry Foods banner. Some of these locations received small updates, and new products. However, they're still quite limited compared to most other grocery stores.
Locations in the Houston Area
| | | |
| --- | --- | --- |
| Store Number | Address | Notes |
| 319 | 12900 Aldine Westfield Rd Houston, TX 77039 | Now Dollar Tree and smaller stores |
| 309 | 5815 Antoine Dr Houston, TX 77091 | Built 1992, now Harris Co. Annex 38 |
| 329 | 11616 Beamer Rd Houston, TX 77089 | Now CubeSmart |
| 306 | 4980 Hwy 6 N Houston, TX 77084 | Now 99 Cent Only Stores |
| 316 | 9510 Beechnut St Houston, TX 77036 | Gol Bar and Dollar City |
| 317 | 15707 Bellaire Blvd Houston, TX 77083 | Now CubeSmart |
| 364 | 11700 Bellaire Blvd Houston, TX 77072 | Now Bellaire Auto Parts |
| 321 | 12638 Bissonnet St Houston, TX 77099 | Converted to smaller stores |
| 320 | 8440 Bissonnet St Houston, TX 77074 | Now Southwest Schools – Elementary Campus |
| 322 | 5417 S Braeswood Blvd Houston, TX 77096 | Remained open until Hurricane Harvey. |
| 328 | 3131 Campbell Rd Houston, TX 77080 | Now a production facility for prepared foods. |
| 365 | 11320 Chimney Rock Rd Houston, TX 77035 | Now a 99 Cent Only Store |
| 335 | 1050 Federal Rd Houston, TX 77015 | Currently Sellers Bros., former Safeway…may not have been AppleTree |
| 369 | 6102 Scott St Houston, TX 77021 | Still Open |
| 331 | 301 W 11th St. Houston TX 77008 | Torn down around 2007 for Regions Bank |
| 435 | 1511 W 18th St Houston, TX 77008 | Opened August 1997 as per outside plaque, still open, replacement underway |
| 330 | 11940 Westheimer Rd Houston, TX 77077 | Now a Sprouts Farmers Market |
| 440 | 1414 Wirt Rd Houston, TX 77055 | Now the Trini Mendenhall Community Center. Originally a Safeway. |
| 304 | 435 Uvalde Rd Houston, TX 77015 | Now a dd's Discounts |
| 442 | 1011 Westheimer Rd Houston, TX 77006 | Now a Half Price Books |
| 456 | 6960 Barker Cypress Rd Houston, TX 77084 | After sitting vacant for many years, this location was finally converted into a Planet Fitness |
| 310 | 13730 Cypress North Houston Rd Cypress, TX 77429 | Hunting Specialty Supplies |
| 337 | 12550 Bammel North Houston Rd Houston, TX 77066 | Now a campus for Vistas High School (Klien ISD) |
| 349 | 7308 Louetta Rd Spring, TX 77379 | Rebuilt with new store directly behind it |
| 352 | 5130 Cedar St Bellaire, TX 77401 | Opened April 1994 as per outside plaque. Demolished in 2016 for replacement store |
| 362 | 1550 S Mason Rd Katy, TX 77450 | Now a 24 hour Fitness Sport location |
| 438 | 5104 Harrisburg Blvd Houston, TX 77011 | Now an AutoZone and other stores. |
| 308 | 22618 Aldine Westfield Rd Spring, TX 77373 | Closed in 2017 with construction of Joe V's Smart Shop down the road |
| 439 | 5450 Airline Dr Houston, TX 77076 | King Dollar |
| 338 | 4703 Lexington Blvd Missouri City, TX 77459 | Now Embody Fitness Center, facade still intact. |
| 460 | 7994 Bellfort St Houston, TX 77061 | Now Northern Tool + Equipment |
| 470 | 21155 Tomball Pkwy Houston, TX 77070 | Now a Stein Mart |
| 469 | 9215 West Rd Houston, TX 77064 | Split between a Goodwill and Dollar Tree |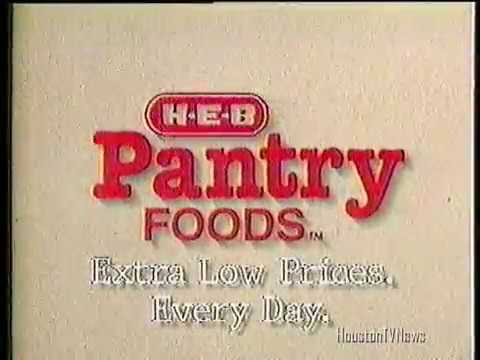 Locations Outside of Houston
| | | |
| --- | --- | --- |
| Store Number | Address | Notes |
| 288 | 207 E South St Alvin, TX 77511 | Still Open |
| 17 | 1239 E Mulberry St Angleton, TX 77515 | Still Open |
| 336 | 7130 FM 1960 Humble, TX 77346 | 99 Cents Only Store |
| 283 | 2200 N Main St Baytown, TX 77520 | vacant |
| 73 | 3930 E Lucas Dr Beaumont, TX 77706 | vacant |
| 33 | 75 N Major Dr Beaumont, TX 77707 | Storage Spot |
| 12 | 1180 S 11th St Beaumont, TX 77701 | Goodwill |
| 62 | 1905 Old Hearne Rd Bryan, TX 77803 | Replacement store built almost directly next to it in 2011, original store torn down |
| 118 | 2031 Texas Ave Bryan, TX 77802 | Harmony Science Academy |
| 305 | 1033 Bay Area Blvd Clear Lake, Webster, TX 77062 | Now a Spec's |
| 257 | 100 Truly PLZ Cleveland, TX 77327 | Still Open |
| 59 | 2026 Texas Avenue South College Station, TX 77840 | Open as H-E-B Pantry 1991-2002, later Gattitown (2003-2012), now DSW (2013-) |
| 256 | 2105 Milam St Columbus, TX 789 | Still Open |
| 360 | 2108 N Frazier St Conroe, TX 77301 | Still Open |
| 287 | 1035 E Loop 304 Crockett, TX 75835 | Still Open |
| 23 | 14670 FM 2100 Crosby, TX 77532 | Crosby ISD Transportation Building |
| 368 | 1161 N Esplanade St Cuero, TX 77954 | Closed After 2013 |
| 21 | 3601 Center St Deer Park, TX 77536 | Building existed prior to 1990s, was likely built as a Safeway. |
| 351 | 301 N Wells St Edna, TX 77957 | Still Open |
| 326 | 115 W Parkwood Ave Friendswood, TX 7754 | Converted into smaller shops (most of parking displaced by bank) |
| 286 | 6013 Stewart Rd Galveston, TX 77551 | Opened 1990 (former Safeway), closed 2008 after Ike, now Odyssey Academy |
| 417 | 424 St Matthew St Gonzales, TX 78629 | Still Open |
| 54 | 5000 32nd St Groves, TX 77619 | Still Open |
| 436 | 216 FM 1960 Humble, TX 77338 | 99 Cents Only Store |
| 15 | 909 S Sam Houston Ave Huntsville, TX 77340 | |
| 266 | 420 E Gibson St Jasper, TX 75951 | Harbor Freight Tools |
| 459 | 412 N Timberland Dr Lufkin, TX 75901 | Still Open |
| 311 | 5320 FM 1765 Texas City, TX 77591 | Food-Rite Market |
| 416 | 450 E Travis St La Grange, TX 78945 | Still Open |
| 358 | 4431 Nelson Rd Lake Charles, LA 70605 | Opened 1996 (acquired from Delchamps) and closed 2003 (later became Market Basket) |
| 279 | 410 Plantation Dr Lake Jackson, TX 77566 | Closed |
| 323 | 215 W Main St League City, TX 77573 | Palais Royal |
| 278 | 1021 N Main St Liberty, TX 77575 | Vacant, but not before becoming "Thrif-Tee Food Center" |
| 339 | 1509 W Church St Livingston, TX 77351 | Still Open |
| 116 | 819 S Main St Lumberton, TX 77657 | Still Open |
| 44 | 320 S Twin City Hwy Nederland, TX 77627 | Home Surplus Outlet |
| 35 | 2424 N 16th St Orange, TX 77630 | Still open |
| 307 | 2211 Southmore Ave Pasadena, TX 77502 | El Ahorro Supermarket |
| 315 | 2226 Shaver St Pasadena, TX 77502 | Later 99 Cent Only Stores |
| 277 | 3216 E Broadway St Pearland, TX 77581 | Later Athletic Dreams, now Forgotten Angels Resale Shop |
| 86 | 3401 Gulfway Dr Port Arthur, TX 77642 | Still Open |
| 297 | 20 Porterwood Vlg Porter, TX 77365 | Now a Goodwill |
| 261 | 1502 W Cameron Ave Rockdale, TX 76567 | Former Safeway, closed without replacement in 2005 (no mention of "Pantry" signage) |
| 348 | 4206 Avenue T Santa Fe, TX 77510 | Still Open |
| 437 | 2000 Bayport Blvd Seabrook, TX 77586 | Palais Royal |
| 267 | 918 21st St N Texas City, TX 77590 | Relocated 2015, empty. |
| 318 | 28520 Tomball Pkwy Tomball, TX 77375 | New store built behind it, old store torn down |
| 271 | 110 E Brazos AveWest Columbia, TX 77486 | Still Open |
| 355 | 201 W Gonzales St Yoakum, TX 77995 | Still Open |
| 457 | 1305 Tenaha St Center, TX 75938 | Currently vacant; Originally Safeway later part of U Save Foods |
| 458 | 419 Texas Loop 436Carthage, TX 75633 | Open; Originally a Safeway, branched off with U Save Foods. |
| 459 | 412 N Timberland Dr Lufkin, TX 75901 | Still Open |
| 468 | 1420 N University Nacogdoches, TX 75961 | Brookshire Brothers |
| 303 | 130 Sawdust Rd Spring, TX 77380 | Former Safeway, torn down for new store around 2003 (new store faces east) |