Company History
Minimax was a grocery franchise system with roots in Brenham, Texas. Unfortunately it's difficult to find information online about the chain, and nearly impossible to find anything about it prior to expanding into Houston. Based purely off assumption they offered self-service dry goods and groceries likely starting in Brenham and a few other central Texas towns. The first Houston store opened December 18th, 1931. It was one of the first grocery stores in Houston to include specialty departments like a bakery, butcher, deli, and even a pharmacy which had a soda fountain.
Houston History
The first Houston location was owned by E.A. Eversberg, who also held the national franchise rights to Minimax. The store was run by assistant manager C.T. Newton. As was customary at the time meat sales were handled by independent butchers, Moss and Foster, who were considered to be the premier butchers of Houston's City Market moved their operations to the new Minimax. The pharmacy was also operated by an independent company, Austin Pharmacy, it seems that the pharmacy sublet some of their space to a barber shop. The Minimax and Meat Market were all in shared space, with the barber and pharmacy separate.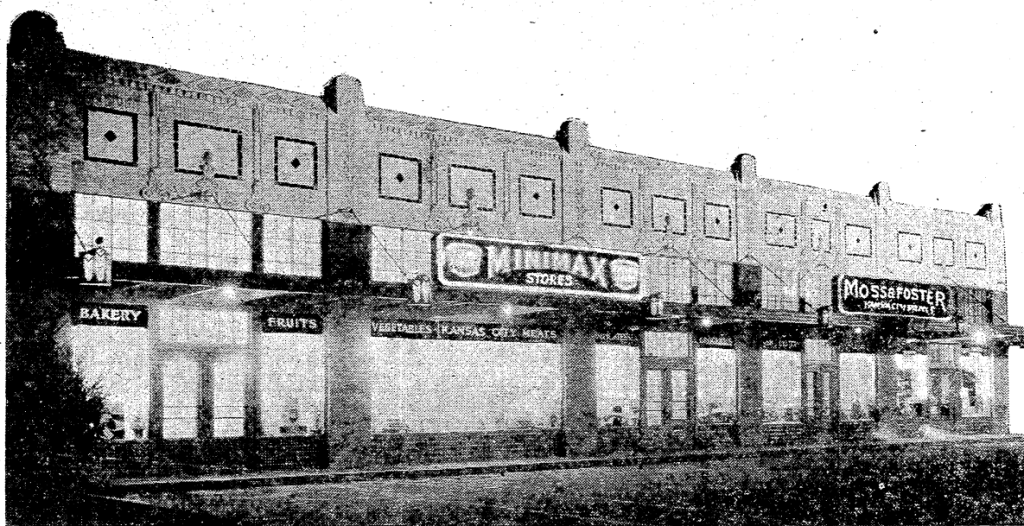 This new style of all in one grocery shopping managed to quickly win over customers who were used to shopping either in open air markets or small specialty shops. Convenience and availability during foul weather helped to drive the idea of combined grocery stores not only in Houston but throughout the U.S.. Self-Service grocery was already prevalent in other parts of the nation and was proving to be effective in Texas too especially with the expansion of Piggly Wiggly. Minimax continued to grow their stores throughout Houston and all of Texas.
Minimax continued to be the dominant leader in grocery throughout the 50s, when company owned supermarkets began to pop up in Houston. While Minimax had a much larger service area the difference in operations allowed huge price cuts. Minimax managed to hang on during the late 60s with Henke & Pilot being converting to Kroger, and Safeway beginning their first expansion. Minimax managed to survive until the 1980s, and some locations may have made it into the 90s. However, this was at a reduced presence compared to the statewide locations the chain had previously held. Many of the buildings still stand. However, very few if any still operate as full-fledged grocery stores. Mostly due to the small nature of the original Minimax locations.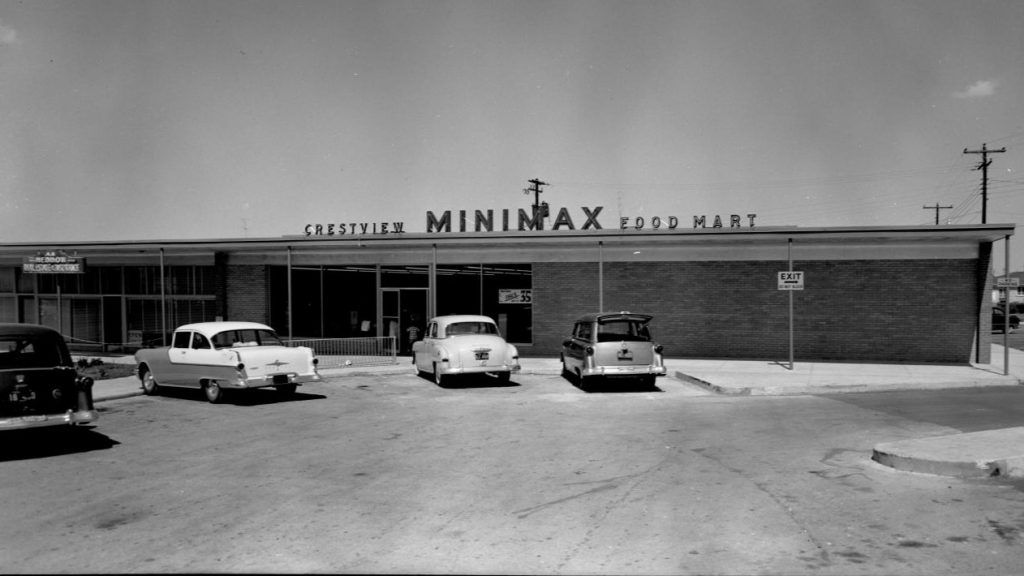 As of 2018, most of Houston's original grocery stores are remembered in some way. Weingartens continues to own and manage many of their former properties and the shopping centers they occupy. Henke & Pilot has become the name of a trendy Gastropub. While Minimax has been left to the wind. With only a single somber reminder. Minimax Drive, a road leading to the now demolished Distribution Center East of the also abandoned Northwest Mall.
| Address | Notes |
| --- | --- |
| 1001 S Broadway St La Porte, TX 77571 | La Porte Holiday Foods Minimax, La Porte Minimax 1979 |
| 1019 Westheimer Rd Houston, TX 77006 | Store #1, Company Owned December 18, 1931-, Jamail's 1953, Florian's #3 1955, 1967 |
| 10341 Palestine St Houston, TX 77029 | Martin & Wallace Minimax 1953, McBride Minimax 1955, 1959 |
| 1117 Bayou Rd La Marque, TX 77568 | Texas Super Minimax 1981 |
| 1153 Kingwood Dr Kingwood, TX 77339 | Kingwood Minimax 1976, 1981 |
| 11530 Bellaire Blvd Houston, TX 77072 | Brays Forest Minimax 1976, 1979 |
| 1201 Strawberry Rd Pasadena, TX 77506 | Strawberry Minimax 1967, Kingmart Minimax 1976, 1979 demolished after 2013 for a Stripes |
| 1204 Westheimer Rd Houston, TX 77006 | Likely original location. Built around 1930 still standing now a Slick Willie's Pool Hall |
| 1238 W 43rd St Houston, TX 77018 | Florian's #1 Minimax 1955, 1967 |
| 12512 Bellaire Blvd Houston, TX 77072 | Ferguson's Minimax/Bellford Crossing Minimax 1981 |
| 12661 Market Street Rd, Houston, TX 77015 | Built 1950, 1953 Store #2, Handy-Dandy Minimax 1959 |
| 1285 Pinemont Dr Houston, TX 77018 | King Mart Minimax, 1976, 1979, 1981 now HCC Northeast |
| 1301 Wayside Dr, Houston, TX 77023 | Angle & Lynch Minimax 1953, Angle's Minimax 1955 |
| 1303 Ella Blvd, Houston, TX 77008 | Continental #2 Minimax 1967 |
| 13815 S Post Oak Rd Houston, TX 77045 | Allen's Minimax 1967 |
| 1411 Ahrens St Houston, TX 77017 | Womack's #1 Minimax 1953, 1967, 1979 |
| 1424 Spring Cypress Rd Spring, TX 77373 | Spring Minimax 1976, 1979 |
| 1719 Garth Rd Baytown, TX 77520 | Texas Superfoods 1979,1981 Now a furniture store. |
| 1728 W Mt Houston Rd Houston, TX 77038 | Clayton's Minimax Opened 1978 still open in 1983 |
| 1813 Center St Deer Park, TX 77536 | Plaza Minimax |
| 18518 Kuykendahl Rd Spring, TX 77379 | Wheat's Minimax/Village Green Minimax 1981 |
| 2014 Clinton Dr Galena Park, TX 77547 | Whisenant's Minimax 1953 |
| 219 N Taylor St Alvin, TX 77511 | Stanton's Minimax 1967, 1979, 1981 Still Open without the Minimax name! |
| 220 West Sterling Pasadena, TX | Whisenant's Minimax 1955 |
| 2410 Bay Area Blvd, Houston, TX 77058 | Barne's Minimax 1981 |
| 2540 E Broadway St Pearland, TX 77581 | Pearland Minimax 1967/Texas Super Minimax 1981 |
| 2555 Gessner Rd Houston, TX 77080 | Kyle's Minimax was previously a Gerland's |
| 2601 Cartwright Rd Missouri City, TX 77459 | Hopper's Minimax Open in 1986, possibly in 1992. Previously a Gerland's now a gym. |
| 2728 Texas Ave Texas City, TX 77590 | Texas Super Minimax 1979 |
| 2801 Palmer Hwy Texas City, TX 77590 | Texas Superfoods (Did not use Minimax Name) |
| 2902 N Shepherd Dr Houston, TX 77008 | Minimax No 11 1953, Florian's #2 Minimax 1955, 1967 |
| 302 Winkler Dr, South Houston, TX 77587 | Hord's Minimax 1955, Florian's #4 Minimax 1959 |
| 3020 Little York Rd, Houston, TX 77093 | Little York Minimax 1967 |
| 3102 Milam St Houston, TX 77006 | Store #3 1935-? |
| 3421 Spencer Hwy Pasadena, TX 77504 | Popp-Jones Minimax 1967 |
| 3910 Aldine Mail Rte Rd Houston, TX 77039 | Continental Minimax 1976 |
| 405 South Park | Womack's #2 Minimax 1959 |
| 4520 Holmes Rd Houston, TX 77033 | J.D. Jamail Minimax (Inside King Center) 1953, 1955, King Center Minimax 1959 |
| 519 Jackson Ave Pasadena, TX 77506 | A&G Minimax 1979, 1981 |
| 5109 Fulton St Houston, TX 77009 | Joe Di Chiara Minimax 1955 |
| Demolished after 2011 Company Owned July 30, 1932- | Company Owned July 30, 1932- |
| 5321 Westheimer Rd Houston, TX 77056 | Minimax Foodliner 1955, Lamar Terrace Minimax 1959 |
| 5472 Bellaire Blvd Bellaire, TX 77401 | Bellaire Minimax 1959 |
| 5550 North Freeway Houston, TX 77076 | Martin's Minimax now a 99 Cents Only Store |
| 5817 W Airport Blvd Houston, TX 77035 | Westbury Minimax 1967, Barne's Westbury Minimax 1976, 1979 |
| 603 S Friendswood Dr Friendswood, TX 77546 | K.U. Davis Minimax 1967? Mitchell's Minimax 1979 |
| 620 W. Shaver Street, Pasadena, TX 77506 | 1950 |
| 6919 Jensen Dr Houston, TX 77093 | Coleman's Minimax 1955,1967 |
| 6935 W Bellfort Blvd Houston, TX 77035 | Wynn-Warren Minimax 1967 |
| 711 W Gray St Houston, TX 77019 | 1950 Store #4 |
| 7925 Katy Fwy Houston, TX 77024 | Continental #1 Minimax 1967 |
| 820 S Oak St La Marque, TX 77568 | Texas Superfoods Minimax 1981 |
| 850 Maxey Rd Houston, TX 77013 | Maxey Rd Minimax 1981 |
| 8540 Broadway St Pearland, TX 77584 | Dell's Minimax 1979 |
| 8622 Irvington Blvd Houston, TX 77022 | Carmona's Minimax 1967, 1979, 1981 |
| 9101 Long Point Rd Houston, TX 77055 | Miller's Minimax 1955 |
| Alta Loma, TX | Tombrella Minimax 1967, Santa Fe Minimax 1979 |
| Cleveland, TX | Cleveland Minimax 1981 |
| Conroe, TX | Barber's Minimax 1953 |
| Dickinson, TX | Bayshore Minimax 1967 |
| 1535 Elton St Houston, TX 77034 | Freeway Manor Minimax 1959, 1967 |
| Ganado, TX | Kucera's Minimax 1953 |
| Livingston, TX | William's Minimax 1953 |
| Leauge City, TX | Snell's Minimax 1967 |
| Memorial Drive at West Belt | Wynn-Warren Minimax 1967 |
| 20 Highway 59 Porter, TX | Porter Minimax Highway 59 at FM 1314 Possibly where Big Lots is? |
| Richmond, TX | Love's Minimax 1953 |
| Uvalde at I-10 East | Wynn-Warren Minimax 1967 |
| Wharton, TX | Sansing & Smith Minimax 1953 |