Der Wienerschnitzel, was founed in California in 1961. The concept was developed by John Gilardi, an early partner and employee of Glen Bell, the man behind Taco Bell. The Wienerschnitzel idea came to life after Giladri and Bell's partnership dissolved. With the support of outside funding, the encouragement of Bell, and a promise not to sell tacos, Gilardi decided to enter the hot dog market as he felt it was underserved. From the first location, Wienerschnitzel would feature unique buildings. While Whataburger had already pioneered the A-Frame concept in Texas, Wienerschnitzel's restaurants were different in setup. Whataburger A-Frames featured a small kitchen and dining room under a massive roof. Der Wienerschnitzel, on the other hand, had much smaller buildings, which contained no dining room, simply a walkup counter. Wienerschnitzels were also bifurcated by a drive-thru, creating a "car hole" in the middle. Der Wienerschnitzel was an early hit in the franchising community. Expanding East out of California, landing in Arizona, and in 1966, Texas.
The first Der Wienerschnitzel locations in Texas opened in El Paso and Fort Worth, where it was possible to find franchisees willing to operate the hot dog shacks prior to constructing them. However, when approaching Houston, Wienerschnitzel started a new concept. Rather than looking for franchisees first, the company would build the stores and then find franchises to sell them to. Wienerschnitzel promoted the idea that they would provide on-the-job training and make franchising a fast food stand accessible to pretty much anyone. Der Wienerschnitzel first announced their move into Houston in late 1968. They had planned for four locations, with one already under construction. Houston was also selected as the location for the Texas and Louisiana regional offices, with official plans to eventually develop 16 locations in the area. The four planned locations were S Shepherd, Jensen, a location on Bellaire that would never open, and one on Southmoore in Pasadena, which was nearly complete. Wienerschnitzel was particularly proud of this new build-then-lease franchising concept, expanding it to multiple portions of Texas.
After building the first four locations, Der Wienerschnitzel had no issue finding franchisees quickly finding operators for the existing locations. However, Wienerschnitzel's expansion in the Houston area would not cease here, with the chain continuing to build out locations, looking for prospective franchisees, expanding throughout the state, and even entering Baton Rouge, which I believe represents the chain's furthest push East. For the first few years, things were relatively smooth for Der Wienerschnitzel in Houston. Their biggest issue seemed to be that they were an easy target for robberies. By 1968 up to 11 locations in the Houston area, and many more across Texas, crowning themselves as the Number 1 drive-thru hot dog chain in Texas! While initially, Wienerschnitzel found willing operators, early owners seemed to be somewhat unstable, with some locations only lasting a few months under certain operators. Growth of the chain would also grind to a halt. While Wienerschnitzel was not failing, it was stalling out. One issue seemed to be a lack of advertising, which was left up to individual franchisees. Compared to other hot dog sellers, like our own James Coney Island, Wienerschnitzel was a bit of an unknown quantity.
By 1969, things were looking up for Der Wienerschnitzel in Houston again. New locations would start to be built again, and new franchisees would be found. While robberies were still an issue, and advertising was limited to what each individual could come up with, it seemed that D/W finally had a firm footing in Houston. Der Wienerschnitzel would also finally find a somewhat reliable franchisee who would take on multiple locations. While it's not published, it seems that when operators would dip out of underperforming stores, they would be offered to the Pasadena franchisee, who came to possess most of the Houston area stores by 1971. In another turn of bad luck, the "master franchisee" in Houston would finally bail from their post in mid-1972 after a failed attempt to look for another owner. Rather than shutting down the stores, Der Wienerschnitzel's corporate office would look to take over these stores themself. The six locations would be put under corporate control, and the regional office would also close around this time.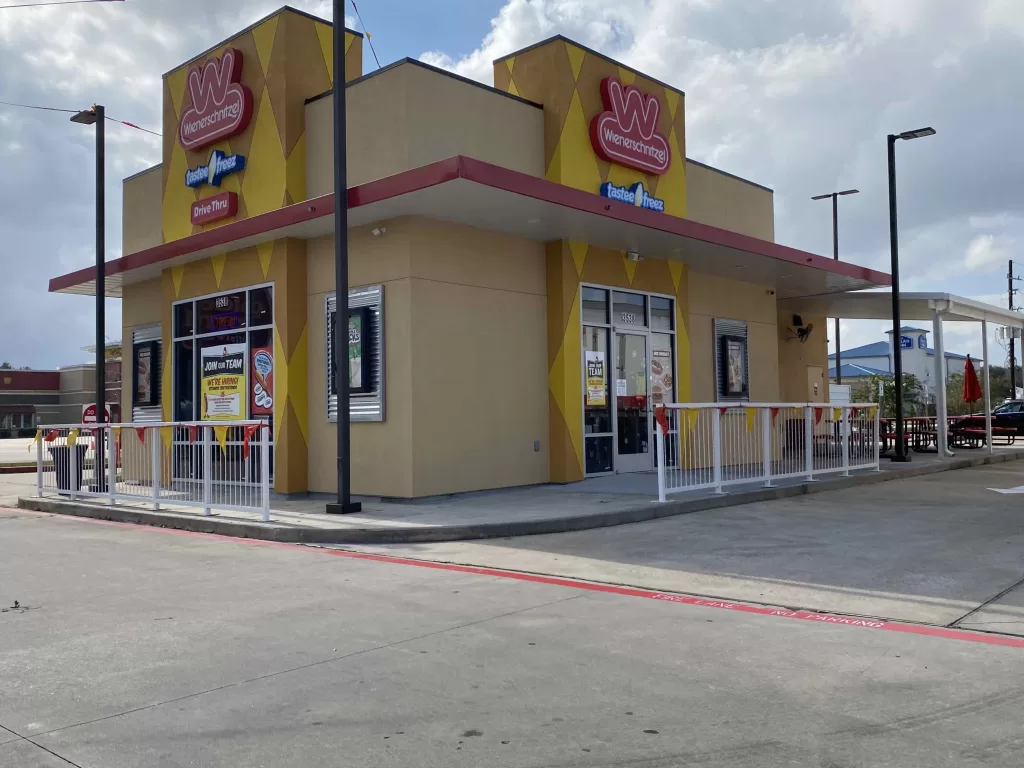 Over the next ten years, there was no real movement or changes by Der Wienerschnitzel in Houston. They would quietly acquire and rent out other locations as franchisees flaked and continued loudly looking for managers and operators to take over these stores. Even under corporate direction, advertising would remain relatively limited, with D/W never really overcoming the competition in Houston. Around 1981, Wienerschnitzel would finally decide to call it quits. Finding multiple buyers for the stores who would shut down all but two of the six remaining locations. The two remaining stores in Beaumont and Pasadena would continue to operate until about 1985 but without any real support from California. The owner of the Pasadena location would actually operate the location as an essentially unbranded Der Wienerschnitzel until about 2011. In the meantime, Houston would mostly lack representation for the self-branded Number 1 Drive-Thru Hot Dog Chain. In the late 90s, a location would pop up for a few months in a Shell station on Wirt Road, although only for a few months. A since-closed Church's Chicken in Copperfield on Highway 6 would offer the Wienerschnitzel menu during the 90s and early 2000s but was simply a "co-brand" attempt. During this time, the closest "true" Wienerschnitzel was in nearby Bryan. In 2019, Wienerschnitzel would finally announce a return to Houston with plans for multiple locations here. As of 2023, only one store has opened within city limits.
Location List
| Store No | Address | Notes |
| --- | --- | --- |
| #77 | 901 Southmore Ave, Pasadena, TX 77502 | 1966-1984, Still Standing, Originally 903 E. Southmoore, Operated by former franchisee until 2011 |
| #91 | 1818 N Shepherd Dr, Houston, TX 77008 | 1967-1969, Demolished, Take 5 Oil Change as of 2022 |
| #94 | 9019 Jensen Dr Houston, TX 77093 | 1967-1969, Demolished |
| #95 | 7535 Bellfort St Houston, TX 77071 | 1967-1981, Demolished for Whataburger |
| #96 | 7601 Hillcroft St, Houston, TX 77081 | 1967-1984, Demolished |
| ?? | 4510 Almeda Rd, Houston, TX 77004 | 1967-1970, Demolished for Meineke |
| ?? | 1201 N Alexander Dr, Baytown, TX 77520 | 1967-1970, Sold to Charlie Brown's Coffee Shops, Still Standing |
| ?? | 4914 Griggs Rd, Houston, TX 77021 | 1967-1970, Demolished |
| #115 | 1303 Westheimer Rd, Houston, TX 77006 | 1969-1982, Demolished for Wendy's |
| #164 | 3716 Farnham St Houston, TX 77098 | 1969-1981, Demolished and not replaced |
| #165 | 712 Seawall Blvd, Galveston, TX 77550 | 1967-1970, Demolished for Pizza Hut |
| #245 | 1095 S 11th St Beaumont, TX 77701 | 1969-1985, Still standing, Operating as a restaurant |
| #251 | 2014 Gessner Rd, Houston, TX 77080 | 1969-1981, Still standing |
| #255 | 501 Texas Ave, Bryan, TX 77801 | 1969-Present, Still Operating as of 2023 |
| #570 | 2800 Texas Ave S, College Station, TX 77845 | 1993-2002, Still standing, Converted to Church's Chicken which has since closed |
| | 20172 US-59, New Caney, TX 77357 | 2019-Present, 2nd Gen Location |
| | 3538 S Texas 6, Houston, TX 77082 | 2020-Present, Former Twistee Treat |