Luther's Bar-B-Q was a Houston staple for over 30 years. The restaurant was founded as the third venture of an entrepreneur who went by "Chandler" (His family name). A stockbroker by trade, Chandler's first venture into food service was The Great Mining Company a Colorado/Gold Mining themed steakhouse. Which seems to have been inspired by the popular Aspen Mining Company in San Diego. The unofficial Houston counterpart was located at 2626 Tanglewilde. Positioned in the rear of the Woodlake Square Shopping Center, the new restaurant was in quite a hip area, and had a price tag to reflect this. The dining room included huge rocks hoisted in by crane prior to construction, support timbers, antiques, and mining equipment, all delivered from Colorado. The exterior of the building made it look almost like you were entering a mountain. The landscaping was filled in using mature East Texas pine trees. The detailed thought Chandler put into planning The Great Mining Company helped it to become a great success.

The Texas market commercial
Riding high on this success in 1975 Chandler decided to expand his restaurant ventures with a new bar named "The Park" located on Richmond at Fountain View. The Park sported a 1920s theme and included an antique bar flown in from California along with multiple 1920s Tiffany lamps, it was an early example of a fern bar. While hip, the bar was not as exclusive as Chandler's previous establishment. To compliment the bar, Chandler envisioned a simple restaurant directly across from the street. This restaurant would specialize in hamburgers, BBQ, and beer. This simple start would give birth to Luther's. The first location was designed to resemble an old General Store with a wide front porch, and polished wood floors. Inside the restaurant Chandler used a cafeteria line to serve BBQ, and a separate counter to order hamburgers from. Both lines ended with beer and a cash register in the center. The exterior landscape was left open giving a courtyard feel between The Park and Luther's. Similar to his previous restaurant Chandler planted mature Texas pine trees to help accent this location. All of these design features would be present in the later franchised versions of Luther's.

A wildly different Louisiana variant
As Chandler developed his knowledge of running a BBQ restaurant, he wanted to expand on the concept. Being quoted as saying that he wanted to take Bar-B-Q and apply the Ray Kroc formula to it. At the time most BBQ restaurants in Houston were smaller family owned operations. It wasn't really seen as a chain affair, and that was something he decided he wanted to change. One of the first changes for the new chain Luther's locations would be that they were given Drive-Thru's. While drive-thru BBQ was not a brand new it was quite the novelty.

Finally, the Colorado version
In September 1981 high-end steakhouse chain Chart House acquired Luther's.  During this move Chandler left Luther's taking a position to help develop failed Chili's competitor, Spoon's. Chart House maintained a steady cash flow by franchising hundreds of Burger King units, the company realized with a concept they owned the rights to they could easily increase their returns. This began a period of rapid expansion for Luther's opening multiple locations in Dallas, Louisiana, and Colorado.  An expansion into Phoenix was planned with Chandler acting as franchisee, but as far as I can tell it never happened. A single location was also constructed, and almost opened in Charleston, South Carolina. Although this was stopped due to the 1985 purchase of parent company Chart House by Pillsbury. Throughout the years Luther's would continue to be passed through different sets of ownership.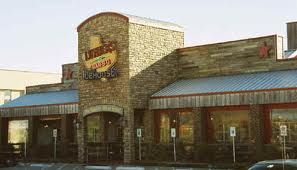 While business hadn't slowed in their home market of Houston, external forces caused the locations outside the Houston to close. First in the 1990s the Dallas locations became Colter's BBQ, a clever re-imagining of the name to reuse as many letters as possible. The Colorado locations were removed from the website in 2003, leaving Louisiana and the original Houston market. Hurricane Katrina would destroy all the remaining out-of-state locations, forcing Luther's to accept a purchase offer from competitor Pappa's BBQ in 2005. The Luther's name would last through most of 2006, with the final stores transitioning to Pappa's by 2007. A sad and slow end to what had once been a bright and vibrant star, this still leaves one question. Who the hell was Luther?!
Photo Gallery

| Store No | Address | Notes |
| --- | --- | --- |
| 000 | 3100 Fountain View Dr, Houston, TX 77057 | July 1975-1991 Original Location, Now Prospect Park |
| 001 | 9797 Westheimer Rd, Houston, TX 77042 | May 1977-Present as Pappas BBQ |
| | 1033 FM 440, Killeen, TX 76541 | September 1978 - August 1979, Demo'd 2008 on Streetview, Third Store ever built |
| 002 | 8560 Gulf Fwy, Houston, TX 77061 | September 1978-Present as Pappas BBQ |
| 003 | 1001 Gessner Rd, Houston, TX 77043 | October 1978-2006 Demolished during I-10 expansion, was owned by Pappas but not converted |
| | 14999 Montfort Dr Dallas, TX 75254 | July 1979-February 1986? |
| 004 | 703 FM 1960 W, Houston, TX 77090 | September 1979-Present as Pappas BBQ |
| 006 | 1100 Smith St, Houston, TX 77002 | December 1980-Present as Pappas BBQ |
| 008 | 19713 US-59 Humble, TX | October 1981-Present as Pappas BBQ |
| 010 | 1101 W Dallas St Conroe, TX | March 1992-? Manny's BBQ Still resembles Luther's on the inside, likely relocated |
| 011 | 3814 Little York Rd Houston, TX | Burned down 2014 |
| 014 | 11311 Fondren Rd Houston, TX | Demolished for McDonald's |
| 018 | 7925 FM 1960 Rd W Houston, TX | 1988-? Outside of Willowbrook Mall, now Whiskey River North |
| 018 | 27752 Interstate 45 N, Conroe, TX 77385 | 1988-Present as Pappas BBQ |
| | 1200 McKinney St Houston, TX | 1983-1988 Ground Floor #103 Houston Center |
| | 8775 S Main St Houston, TX | Pappas BBQ Address Change? |
| 765 | 5860 Eastex Fwy Beaumont, TX | July 1984-2008? Pappa's then Tony's BBQ and Steakhouse, Since Demolished |
| | 12917 Northwest Fwy, Houston, TX 77040 | Pappas BBQ |
| | 20794 Gulf Fwy, Webster, TX 77598 | Pappas BBQ, Closed 2020 |
| | | |
| | | |
| 801 | | |
| 802 | | |
| 803 | | |
| 804 | | |
| 809 | | |
| | | |
| | | |
| | | |
| | | |
| 842 | | |
| 840 | | |