Company History
Circuit City originally opened as Wards (unrelated to Montgomery Wards) in 1949. The chain started out selling appliances and jumped into the new market of television sales. By 1984 Wards officially changed their name to Circuit City to reflect their sales of everything electronic in addition to their original appliance business. They were known for having exceptional service, although generally a bit pricey when compared to the competition. By the early 2000s Circuit City's locations were beginning to become outdated when compared to the competition. The company decided to move away from their bread and butter which had been the large appliance business and focus more on consumer electronics.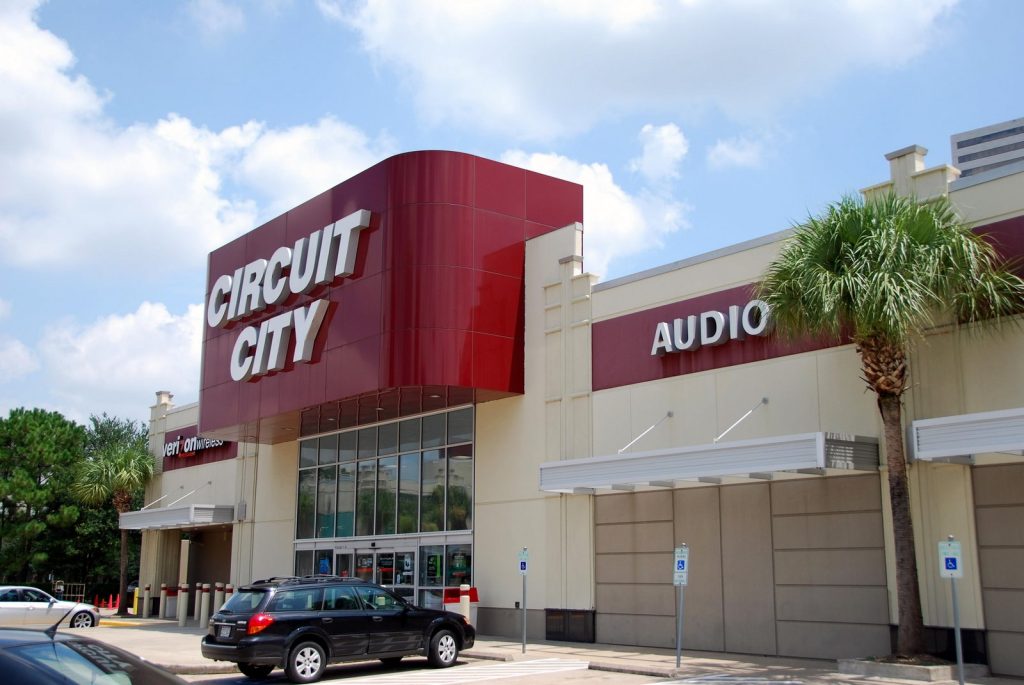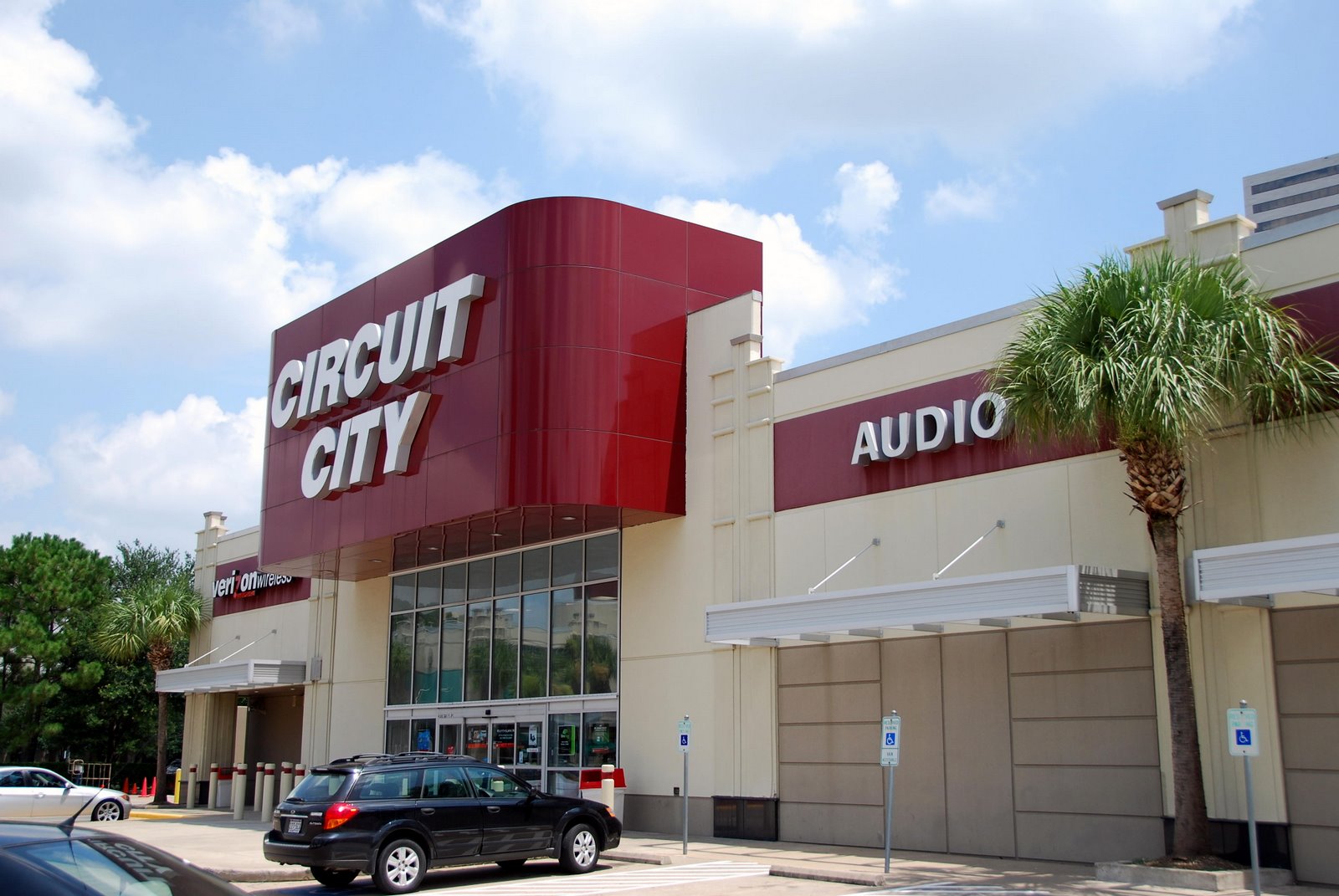 This shift in focus was initially quite successful which sparked a new wave of investment in upgrades and new locations. However, as online shopping started to become commonplace in the later 2000s, Circuit City began to take a hit in business. The items which had become their focus, general electronics, could often be bought online for a fraction of the price of the in-store items. More and more business took place online. Still many new locations were planned and being built, when the company unexpectedly announced their intent to close a majority of their stores in 2008, with the closing of final locations taking place in March 2009. The closure was blamed on multiple things, including the extremely poor economy at the time.
Houston History
Circuit City was not the first major electronics store in Houston. Being beat out by Highland Superstores in 1986 (Who would liquidate a month prior to Circuit City opening, and Texas-based Conn's in 1983. Circuit City opened their first stores August 29, 1991. These five stores were as follows: Almeda, Baybrook, Greenspoint, West Oaks and Willowbrook. Circuit City was able to beat out Best Buy to the Houston market by almost a year, which would help with their initial growth in town. The first Circuit City locations were all built near malls, but not on mall owned property. While considered small by today's standards Circuit City's first set of stores were termed "Superstores" they all featured Auto Installation bays for car accessories, loading docks for customers purchasing large appliances, and a circular showroom layout. In the mid-2000s and effort was made to remodel or rebuild older stores. Stores would have showrooms opened up, appliances were discontinued, so new stores no longer built loading docks.
Photo Gallery
| Store Number | Address | Notes |
| --- | --- | --- |
| 538 | 9950 Kleckley Dr Houston, TX | August 29, 1991-2003? Social and Health Center Still Standing |
| 538* | 10025 Almeda Genoa Road Houston, TX | ?-March 2008 Replaced 9950 Kleckley, Sat Vacant until after 2011, Replaced by a Conn's Home Plus. |
| 539 | 171 N Sam Houston Pkwy E, Houston, TX | August 29, 1991-February 10, 2004 Now Goodwill with Computer Works location attached in old loading bay area. |
| 540 | 7537 Southwest Fwy Houston, TX | October 5, 1991- Later Harley Davidson dealership, now owned by HBU. |
| 540* | 7553 Bellaire Blvd Houston, TX | -November 8, 2008 Replaced 7537 Southwest Fwy, Closed prior to bankruptcy |
| 541 | 2680 Highway 6 S Houston, TX | August 29, 1991-March 2009 Sat vacant until around 2014, replaced by Goody Goody Liquor Store. |
| 542 | 17270 Tomball Pkwy Houston, TX | August 29, 1991- Building exterior untouched labelscar still visible, Family Thift Center since 2012 |
| 542* | 17727 Tomball Pkwy, Houston, TX | -March 2009 Replaced 17270 Tomball Pkwy location Replaced by Ashley Furniture. |
| 566 | 18800 Gulf Fwy Friendswood, TX | August 29, 1991-2007 Replaced by 1001 Bay Area Demolished 2010 during Baybrook Mall expansion. |
| 3500 | 10405 Katy Fwy Houston, TX | June 11, 1994-2003? Demolished around 2012 for apartments. |
| 3233 | 4500 San Felipe Street Houston, TX | October 1996-2008 Now Ashley Home Furniture, former audio installation bays still visible. |
| 3520 | 13350 East Fwy Houston, TX | November 30, 1996-2003? Was originally subdivided with Academy, which has expanded into former Circuit City space. |
| 3815 | 5000 Katy Mills Circle Katy, TX | July 24, 2008-March 2009 Katy Mills Mall location was a las ditch rebranding known as "The City" now a Ross. |
| 3579 | 100 Meyerland Plaza Mall Houston, TX | 2005?-March 2009 Part of Meyerland Plaza, now a Best Buy 2010-Present |
| 3519 | 20465 US Hwy 59, Humble, TX | October 1994-February 2008 Now subdivided between Robert's Carpet, Scrubs Etc, and Safelite who uses the auto install bays. |
| 3253 | 1455 Lake Woodlands Dr The Woodlands, TX | -March 2008 Now The Container Store, was refronted during conversion. Never had disctinct Circuit City features. |
| 4312 | 3270 Gulf Fwy League City, TX | -November 8, 2008 Closed prior to bankruptcy |
| 3254 | 16734 Southwest Fwy Sugar Land, TX | -March 2009 Now Party City |
| 3856 | 1001 Bay Area Blvd, Webster, TX | September 2007-March 2009 Built as Venture in 1994, became Kmart 1997. Vacant after Bankruptcy, now a Party City |
| 4150 | 3931 Fairway Plaza Dr, Pasadena, TX | 2007-March 2009 Now a Conn's Home Plus |
| 3857 | 20131 US-59 #8 Humble, TX | February 2008-March 2009 Deerbook Mall, Built as Mervyn's, later Total Home Furniture, now Forever 21. |
| 4237 | 9714 Katy Fwy Houston, TX 77055 | The City location meant to open November 2008. Likely never opened maybe a month at most, became CompUSA/Tiger Direct, now Nordstrom Rack |