Rice Food Markets' story begins in May 1938. The first store to open replaced a grocer who failed after only a few months. Located at 2501 Rice Boulevard, the new store was in the heart of Rice Village, taking on the name Rice Boulevard Food Market. This new store was the brainchild of William H. Levy, who had been working in his father's stores, which had opened in 1901. In addition to his knowledge of the rapidly evolving grocery business, the store's success was no doubt thanks to the fact that Levy's father-in-law happened to be the developer behind Rice Village. The store was tiny and, at the time, in an area that would be considered rural by modern standards. Rice even served as the Post Office in the area for a few years. However, with the suburban boom starting in the 40s, Rice would quickly find a customer base. The store started out as a 500 Square Foot self-service store, and by the 1950s, had doubled in size By the late 50s, expansion was on the brain for Rice. Following the pattern of suburban development, this new store would be in Tanglewood.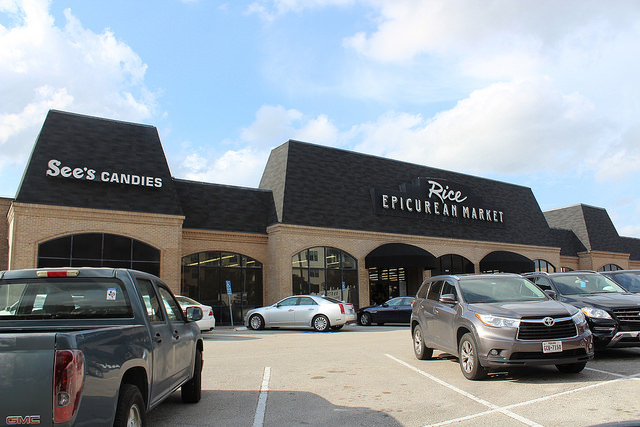 In April 1958, a second location was opened in the Tanglewood area at 5016 San Felipe. The fact that this new location was so far from the Rice area necessitated a change in name to "Rice Food Markets." The new store would be a modern Supermarket. At 17,000 Square Feet, it was massive compared to the first location. The store would even feature a counter for local candy maker Kegg's. In a tradition that would continue over the next few years, the new shopping center would be built as a joint venture between Levy and his son-in-law Alfred Friedland. Similar to the agreement with the original store, Levy would own the center, leasing the remaining space to other tenants. In 1958 the third and fourth locations would be confirmed. The third store would be slightly larger, modeled after California Supermarkets. The same year a fourth store was also planned as an anchor tenant for West Point Shopping Center, a proposed mall in Spring Branch, although the plans would at some point fall through.  By 1960 Rice had three operating locations and plans for at least two more. At this point, Rice would also start to open Grocery Departments. The same year a merger took place with another grocery chain owned by a local family known as "Jack's." This acquisition would boost Rice's reach exponentially. Through purchases of existing supermarkets and opening new stores, Rice would reach ten locations by 1964. While not the largest independent in Houston, Rice was growing much faster than pretty much every Houston supermarket at the time. Only two years later, Rice would open its 16th location in the Bellaire Country Club Shopping Center. During this growth spurt, the Levy family had taken a new technique. Rather than simply scouting for open anchor spots, they would begin building shopping centers in Houston's booming suburbs. These shopping centers are somewhat identifiable by the inclusion of the Rice, a drug store spot, and nearly always a Dairy Queen. Things look great for Rice's future, but an unexpected death would suddenly stir things up.
In September 1968, William Levy unexpectedly passed away. At the time, Levy was still a prominent figure in the company, still serving as President. of Rice Food Markets. With the position open, Alfred Friedlander was promoted to become the new President of Rice. The decision was made as Friedlander had been the Executive Vice-President prior to Levy's passing. It also helped that Friedlander was Levy's son-in-law. Looking forward in a press conference only days after Levy's passing, the future of Rice still appeared bright. Friedlander would announce plans to add bakeries to all present and future locations after a test run of five stores. National competition had arrived for the first time with the Kroger buyout of Henke's. However, Rice faced a future where even more chains would set their eyes on Houston. Opening another store creatively in a space sublet from an oversized Woolco in 1968. Throughout the end of the 60s and the start of the 70s, Rice would continue to build new locations. By 1971 Rice's next major acquisition would occur, with the purchase of five former Epp's Supermarket locations. A little less than a month later, two more stores would be purchased and flipped (Sacco's and Ledbetter's) as well Rice would open another location adjacent to a Woolco. With all this feverish growth, Rice was at an impressive 35 stores by early 1971. The next major buyout would be of the exiting Piggly Wiggly nee Randall's chain in 1973. Rice would be able to pick up three locations, eventually coming back for one more. During this time, Rice would also experiment with building stores as far North as Conroe and even Huntsville! In 1977, looking for a bit of diversification, Rice attempted its hand at a quick-service restaurant concept named "Pit Stop Barbecue." While initially, Pit Stop would not attach itself directly to Rice, a somewhat tepid reception would seemingly force them to rely on that relationship in advertising. Aside from this concept, around this time, Rice would attempt a liquor store to accompany their Bellaire Blvd location. Although this concept does not seem to have lasted very long.
By the end of 1979, Rice was over 50 locations, thanks to the acquisition of some Handy Andy locations, as they exited the Houston market. While BBQ may not have been Rice's strong suit, they seemed ready to serve the Houston grocery market wherever other grocers wouldn't tread. Unlike independents like Gerland, or Weingarten, who took on nationals for locations, Rice's stores were always a bit more subdued. Instead of taking on national chains, Rice's stores were often nearby another independent, normally only stepping up to face national chains when taking the spot of another retailer. While Rice had been able to hold its own against the chains invading Houston in the 70s, price wars between the nationals and locals had become fierce. Rice would thus rely on often being the "grocer of convenience," basically the closest store to the neighborhood. As such, prices were a bit higher than the competition, but Rice made up for it in service. Many Houstonians who shopped at Rice did so because they felt the stores and their staff were more personable and responsive than larger chains. Around this time, Rice would also experiment with diversification again, this time through new supermarket concepts. Experimenting first with Cash Saver Warehouse. This new concept would help expand Rice into the realm of a discount grocer. The Warehouse grocery concept was still novel at the time, and Rice was one of the first to bring the concept to Houston, ultimately closing the locations after a few years. In 1984 the implosion of previously independent but now outside-owned Weingarten netted Rice a total of five new locations. The Weingarten locations would do well, with many customers sticking with Rice, compared to Safeway's buyout of the remaining Weingarten stores. Two years later, Rice would also acquire the "rouge" Post Oak Weingarten that stayed open due to a lease dispute. Just over a year later, Eagle Discount Supermarket would also exit the Houston market, with Rice picking up seven of their former stores. In a somewhat morose outcome, some of the first Eagle employees to learn of their division's closure did so because Rice managers had shown up at locations to take measurements for new signage. The 1980s had so far been a success for Rice they had achieved about 50 concurrently open locations, but in an ever more competitive grocery market, they needed a way to differentiate themselves.
In 1987, Rice would announce its plans to again diversify its grocery lines. Starkly to the previous attempt, this new concept would be focused around high-end groceries. Know as Rice Epicurean, the new stores would feature exotic, imported, and high-end items, in addition to a full complement of prepared foods. The first location to be converted would be Rice #2, located near the Galleria it would be the perfect addition to the area. While Rice's Epicurean store would not be the only gourmet market in town, it would be the first to combine gourmet foods with general groceries. Much of what you could find in normal Rice was also carried at their Epicurean location. Not oblivious to the value-driven side of Houston's grocery market, Rice would also debut Price Buster the same year. Between the two concepts, multiple locations were tried, but it was clear that Epicurean was the winner. Multiple other discount grocers had made their way into town by the late 80s and early 90s, most notably HEB through their Pantry Foods syndicate. This would limit Price Buster's development to areas where HEB was not, mainly within 610. In 1994 at the end of AppleTree, Rice was able to pick up three locations, adding them all as new Epicurean stores. Rice would also try rebranding some of its mainline stores as Grocery World during the mid-90s, while this was likely done to help "refresh" the stores, it also signaled a move away from the Rice name as it was being adapted to fit the Epicurean banner. In 1998 in a non-surprising but still shocking announcement, Rice made the decision to close all non-Epicurean locations, meaning the end for Rice Food Markets, Grocery World, and Price Buster. Only one location was saved from this death sentence. The original store at 2500 Rice Boulevard would remain open and be upgraded to an Epicurean store. Around this time, Rice also purchased the final Lewis & Coker location, converting it into an Epicurean store.
While Epicurean was meant to be the future of Rice, the final store to open would be the aforementioned former L&C location in 1997. In the meantime, one of the main functions of the former grocery chain became finding tenants for the now empty Rice locations. While a few independent markets would take over some of the locations, a large number of the former Rice Food Markets were far too small to effectively serve as modern supermarkets. No grocery chains would pick up any former Rice locations, although a few regional department stores like Fallas Paredes would end up in them. One exception would be the former Rice Epicurean at 6425 San Felipe, which would be sold to Whole Foods in 1998. This first store to drop Rice Epicureans numbers from eight to seven. Only two years later, two more Rice Epicureans would shut down, one at the corner of Kirby and W. Alabama and another at Champions Forest and 1960. Bed Bath and Beyond had expressed interest in leasing the spaces, and Rice was happy to oblige. In a space of about five years, the company had become a shell of itself. Epicurean, which had been envisioned for the future, had mostly been dropped as an expansion plan. Rather Rice would maintain these five stores as "property placeholders" for the most part. The limited chain did still run much better organized and with much more stock than some of their national competitors during this time. Rice's dedication to the community was seen through its services, like its online and over-the-phone grocery delivery service, which is the longest-running consistent internet-based grocery ordering system in Houston. In 2012 Rice would make the decision to finally shut down all but one of its Epicurean Market stores, bringing an end to the chain era of Rice. The stores would be leased to North Carolina based, The Fresh Market, who would fully remodel the stores, usually subdividing the spaces. Despite a healthy investment, they would not last long, exiting Houston in 2016. With the leases of three locations eventually transferred to Total Wine, which still operates from these spaces.
Over the next ten years, the final Rice Epicurean location at 2020 Fountain View continued to quietly operate. During their closings of other locations, certain services were consolidated at the Fountain View store. For example, Rice's delivery service continued to serve old areas like River Oaks and West U. despite the remaining store being quite far away. Despite being down to one location, Rice would not change their product line up and continued to maintain their own private label items all the way until the end. The service departments, including their extensive catering and floral operations, would also stay open. In 2022 Rice announced that their final store will close at the end of July to be replaced by a Spec's, putting a cap on a nearly 85-year history of Houston's finest independent grocer.
Photo Gallery

Location List

| Store No | Address | Notes |
| --- | --- | --- |
| 1 | 2500 Rice Boulevard Houston, TX 77005 | 1938-2000, Original Store, Later Epicurean, Now Urgent Care |
| 2 | 5016 San Felipe St, Houston, TX 77056 | 1958-2012 Later Epicurean, then Fresh Market, Now Total Wine |
| 3 | 9223 Stella Link Rd, Houston, TX 77025 | 1959-1986, Later Al Davis Food City, Now La Michoacana |
| 4 | Long Point @ Witte Rd. Houston, TX 77055 | Contracted 1959 but never built, intended to be part of West Point Shopping Mall |
| 4 | 4420 W Orem Dr, Houston, TX 77045 | 1963-1991 Still standing, Originally J.M.H. Food |
| 5 | 3030 Woodridge Dr, Houston, TX 77087 | 1960-1978 Globe Discount City Grocery Dept |
| 6 | 5320 N Shepherd Dr, Houston, TX 77091 | 1960-1978 Globe Discount City Grocery Dept |
| 7 | 6200 Bellaire Blvd, Houston, TX 77081 | 1961-1978 Globe Discount City Grocery Dept |
| 8 | 4330 Fulton St, Houston, TX 77009 | 1963-1986 Still standing, Originally Central Food Market, Family Thrift Since 1989 |
| 9 | 7200 Lyons Ave, Houston, TX 77020 | 1963-1998, Originally Jack's No 1, Then Bi-Rite Supermarket, Sol Supermarket since 2008 |
| 10 | 1401 Holland Ave, Galena Park, TX 77547 | 1963-1986 Still standing, Originally Jack's No 2 |
| 11 | 3700 Navigation Blvd, Houston, TX 77003 | 1963-1985 Demolished, Originally Jack's No 4 |
| 12 | 2640 Fondren Rd, Houston, TX 77063 | 1964-1987 Still standing, most recently Stein Mart |
| 13 | 5417 S Braeswood Blvd, Houston, TX 77096 | 1964-1983 Still standing, Miller's Outpost, Then HEB Pantry until 2015 |
| 14 | 8610 Martin Luther King Blvd, Houston, TX 77033 | 1964-1991 Still standing, Medical Clinic |
| 15 | 1811 Gessner Rd, Houston, TX 77080 | 1966-1973 Rice Food Market, Value Village |
| 15 | 1979-1980 Originally a Handy Andy | 1975-1977 Still standing, Previously an A&P (Number Reuse) |
| 16 | 8424 Bellaire Blvd, Houston, TX 77036 | 1966-1977 Still standing, Later Sears Surplus Store, and 50-Off |
| 17 | 1004 Southmore Ave, Pasadena, TX 77502 | 1966-1978 Globe Discount City Grocery Dept |
| 18 | 975 Gessner Rd, Houston, TX 77024 | 1968-1976 Globe Discount City Grocery Dept |
| 19 | 11520 Gulf Fwy, Houston, TX 77034 | 1968-1975 Next to Woolco, Later Sears Surplus, Demolished |
| 19 | 3902 Westheimer Rd, Houston, TX 77027 | 1977-1987 Previously Henke & Pillot, Number reused |
| 20 | 14054 Memorial Dr, Houston, TX 77079 | 1969-1982 Still standing |
| 21 | 3500 Little York Rd, Houston, TX 77093 | 1969-1983 Next to Woolco, Mi Tienda |
| 22 | 1700 Decker Dr, Baytown, TX 77520 | 1969-1978 Globe Discount City Grocery Dept, Now Food Town |
| 23 | 8031 S Kirkwood Rd, Houston, TX 77072 | 1970-1981 Vacant |
| 24 | 7243 Bissonnet St, Houston, TX 77074 | 1970-1984 Converted to Cashsaver Warehouse around 1982 |
| 25 | 5710 W Little York Rd, Houston, TX 77091 | 1970-1981 Giant Dollar |
| 26 | 440 W Parker Rd, Houston, TX 77091 | 1971-1983 Possibly Adjacent to former Woolco |
| 27 | 2616 Blodgett St, Houston, TX 77004 | 1971-1995 Formerly Sacco's, Blodgett Food Hall |
| 28 | 6804 Spencer Hwy, Pasadena, TX 77505 | 1971-1981 Big Lots |
| 29 | 8753 Katy Fwy, Hedwig Village, TX 77024 | 1971-1985 Formerly Ledbetter's |
| 30 | 300 Dell Dale St, Channelview, TX 77530 | 1972-1984 The Table Thrift Store |
| 31 | 1356 Federal Rd, Houston, TX 77015 | 1971-1984, Formerly Epp's Supermarket |
| 32 | 8427 E Houston Rd, Houston, TX 77028 | 1971-1991 Formerly Epp's Supermarket, Now Mesa Dr |
| 33 | 2017 Strawberry Rd, Pasadena, TX 77502 | 1971-1984 Formerly Epp's Supermarket |
| 34 | 2425 Campbell Rd, Houston, TX 77080 | 1971-1977 Still standing, Formerly Epp's Supermarket |
| 35 | 565 Uvalde Rd, Houston, TX 77015 | 1971-1978 Still standing, Subdivided, Formerly Epp's Supermarket |
| 36 | 2405 Ave I, Huntsville, TX 77340 | 1972-1984 Still standing |
| 37 | 10553 Homestead Rd, Houston, TX 77016 | 1972-1990 Still standing Subdivided, Later Price Buster #108 |
| 38 | 6912 Telephone Rd, Houston, TX 77061 | 1973-1982 Demolished? Previously Garden Villas Lucky 7 |
| 39 | 5330 Chimney Rock Rd, Houston, TX 77081 | 1973-1996 Converted 1990 to Price Buster #109 |
| 40 | 105 Rayford Rd, Spring, TX 77386 | 1973-1984 Later became Academy |
| 41 | 11225 Bissonnet St, Houston, TX 77099 | 1973-1982 Converted to Cashsaver Warehouse |
| 42 | 2311 Westheimer Rd, Houston, TX 77098 | 1973-1982 Originally Randall's/Piggly Wiggly |
| 43 | 610 W Cavalcade St, Houston, TX 77009 | 1973-1996 Originally Piggly Wiggly |
| 44 | 9419 N Shepherd Dr, Houston, TX 77088 | 1973-1984 Originally Piggly Wiggly |
| 45 | 11801 Chimney Rock Rd, Houston, TX 77035 | 1975-1980 Originally a Henke/Kroger, Later a Bingo Hall, Demolished |
| 46 | 12024 Homestead Rd, Houston, TX 77050 | 1975-1978 Demolished Previously an A&P |
| 47 | 6102 Scott St, Houston, TX 77021 | 1975-1996 Originally a Henke & Pillot Most Recently HEB Pantry |
| 48 | 8504 Bellaire Blvd, Houston, TX 77036 | 1975-1976 Beverage Mart opened next to existing Bellaire store |
| 49 | 6019 Bellfort Ave, Houston, TX 77033 | 1976-1980 Original Randall's Supermarket, Demolished |
| 50 | 22618 Aldine Westfield Rd, Spring, TX 77373 | 1979-1992 Later HEB Pantry Foods Now, Dollar Tree |
| 51 | 9700 Hillcroft St, Houston, TX 77096 | 1979-1998 Originally a Handy Andy, Was the first Epicurean Conversion, downgraded in 1993, and converted into Grocery World in 1997 |
| 52 | 8700 S Gessner Rd, Houston, TX 77074 | 1979-1980 Originally a Handy Andy, |
| 53 | 5810 Bellfort Ave, Houston, TX 77033 | 1980-1998 Originally a Weingarten, Still standing |
| 54 | 6150 Bissonnet St, Houston, TX 77081 | 1980-1981 Former Sacco's, now Salvation Army |
| 55 | 6620 Antoine Dr, Houston, TX 77091 | 1981-1998 Previously Gerland's Food Fair, Still standing |
| 56 | 17164 Blackhawk Blvd, Friendswood, TX 77546 | 1981-1984 Previously Gerland's Food Fair, Still standing? |
| 57 | 10505 Telephone Rd, Houston, TX 77075 | 1981-1993 Previously Gerland's Food Fair, Still standing |
| 58 | 15915 S Post Oak Rd, Houston, TX 77053 | 1981-1998 Previously Gerland's Food Fair, Now Foodarama |
| 59 | 9419 N Shepherd Dr, Houston, TX 77088 | 1982-1984 Cashaver Warehouse Originally Piggly Wiggly, 9419 N Shepherd Dr, Previously a Rice |
| 60 | 11225 Bissonnet St, Houston, TX 77099 | 1982-1984 Cash Saver Warehouse, Previously a Rice |
| 61 | 7243 Bissonnet St, Houston, TX 77074 | 1982-1984 Cash Saver Warehouse, Previously a Rice |
| 63 | 4519 Griggs Rd, Houston, TX 77021 | 1984-1994 Former Weingarten, Still standing |
| 64 | 151 Northline Mall Houston, TX 77022 | 1984-1988 Former Weingarten, Later Price Buster |
| 65 | 9420 Cullen Blvd, Houston, TX 77051 | 1984-1998 Former Weingarten, Currently Fiesta |
| 66 | 11737 Eastex Fwy, Houston, TX 77039 | 1984-1985 Former Weingarten |
| 67 | 6063 S Loop E Fwy, Houston, TX 77033 | 1984-1985 Former Weingarten, Closed before Reopening as Price Buster, Previously Target Foods, Later Auchan |
| 68 | 3102 Kirby Dr, Houston, TX 77098 | 1985-2001 Former Eagle, Rice Epicurean, Now Bed Bath & Beyond |
| 69 | 6425 San Felipe St, Houston, TX 77057 | 1985-1998 Former Eagle, Rice Epicurean |
| 70 | 8201 Broadway St, Houston, TX 77061 | 1985-1996 Former Eagle, Grocery World |
| 71 | 5708 S Gessner Rd, Houston, TX 77036 | 1985-1987 Former Eagle, Hong Kong Food Market, Now Sun Wing Supermarket |
| 72 | 10321 Club Creek Dr, Houston, TX 77036 | 1985-1991 Former Eagle |
| 73 | 8541 W Bellfort St, Houston, TX 77071 | 1985-1988 Former Eagle, Later Price Buster |
| 74 | 8077 Antoine Dr, Houston, TX 77088 | 1985-1996 Former Eagle, Later Grocery World |
| 75 | 4114 Fulton St, Houston, TX 77009 | 1985-1996 Former Kroger, Later Grocery World |
| 76 | 2501 Post Oak Blvd, Houston, TX 77056 | 1986-1991 Final Weingarten location (Closed 2 years after others due to lease disputes) |
| 101 | 400 W Little York Rd, Houston, TX 77076 | 1988-1998 Price Buster |
| 102 | 151 Northline Mall Houston, TX 77022 | 1988-1998 Price Buster |
| 103 | 8541 W Bellfort St, Houston, TX 77071 | 1988-1988 Price Buster |
| 104 | 6063 S Loop E Fwy, Houston, TX 77033 | 1988-1996 Price Buster |
| 105 | 5815 Lockwood Dr, Houston, TX 77026 | 1988-1998 Price Buster, Former Weingarten |
| 106 | 5232 Aldine Mail Rte Rd, Houston, TX 77039 | 1989-1998 Price Buster, Former Safeway Budget Store |
| 107 | 1414 Wirt Rd, Houston, TX 77055 | 1990-1997 Price Buster, Former Safeway |
| 108 | 10553 Homestead Rd, Houston, TX 77016 | 1990-1996 Price Buster |
| 109 | 5330 Chimney Rock Rd, Houston, TX 77081 | 1991-1996 Price Buster |
| 110 | 2600 Farm to Market 1960 Rd E, Houston, TX 77073 | 1991-1993 Price Buster #110 |
| 111 | 6620 Antoine Dr, Houston, TX 77091 | 1991-1998 Price Buster #111 |
| 112 | 4711 W 34th St, Houston, TX 77092 | 1992-1998 Price Buster #112 |
| 113 | 1818 Gessner Rd, Houston, TX 77080 | 1991-1995 Price Buster, Originally an Eagle, later Sak-n-Sav |
| 114 | 9419 N Shepherd, Houston, TX 77037 | 1992-1996 Price Buster #114 |
| 115 | 4425 W Fuqua St, Houston, TX 77045 | 1991-1997 Price Buster #115 Foodarama |
| 130 | 8201 Broadway St, Houston, TX 77061 | 1996-1998 Grocery World |
| 131 | 8077 Antoine Dr, Houston, TX 77088 | 1996-1998 Grocery World #131 |
| 132 | 4114 Fulton St, Houston, TX 77009 | 1997-1998 Grocery World #132 |
| 201 | 2500 Rice Boulevard Houston, TX 77005 | 1999-2003 Rice Epicurean, Now Elite Care |
| 202 | 5016 San Felipe St Houston, TX 77056 | 1987-2012, Rice Epicurean, Fresh Market, Now Total Wine Superstore |
| 203 | 5470 Farm to Market 1960 Rd W, Houston, TX 77069 | 1997-2001 Rice Epicurean, The Container Store 2001-Present |
| 204 | 12516 Memorial Dr Houston, TX 77024 | 1997-2012 The Fresh Market 2012-2016, Total Wine Superstore 2017-Present, Lewis & Coker 1963-1997 |
| 205 | 2020 Fountain View Dr Houston, TX 77057 | 1994-2022 Originally Safeway/AppleTree, to become Spec's |
| 206 | 3745 Westheimer Rd Houston, TX 77027 | 1994-2012 Originally Safeway/AppleTree, Fresh Market, now Walgreen's |
| 207 | 2617 W Holcombe Blvd Houston, TX 77025 | 1994-2022 Originally Safeway/AppleTree, to become Spec's |
| 268 | 3102 Kirby Dr, Houston, TX 77098 | Rice Epicurean 1985-2001 |
| 269 | 6425 San Felipe St, Houston, TX 77057 | Rice Epicurean: 1985-1998 |