Editor's Note: Today's post is Part One of a two-part guest submission from HHR's local A/V geek, Jason McMillon

Recently making news for several unusual business decisions, today we're looking at the long history of AMC Theatres in Houston. While AMC has closed all of its smaller, older theatres, they continue to thrive as a major exhibitor in the Houston market. Their biggest competitor by screen count in Houston is Cinemark. AMC Theatres recently announced "sight-line" seating in their auditoriums, whereby the closer you are seated to the audio-video "sweet spot" in the center of the auditorium, the more expensive your seat will cost. Having been in and out of the Cinema exhibition industry for 30 years, including a stint with AMC in the 90s at various times at Festival 6, Almeda Square 5, Westchase 5, Town and Country 10, and Meyer Park 16, I'm going to have a hot take on the dynamic pricing that I'm sure will not be popular: it's not a bad idea. Other entertainment industries already have dynamic pricing. In an article published by Rob Saucedo with Alamo Drafthouse, he writes, "When you go to a concert or play or live performance of any kind, seats cost different amounts of money depending on where you sit. Why should movie theater seats be any different?" There will always be customers who will want to pay less for the less-than-premium experience; this is a way to save money on their entertainment. Catching matinee pricing helps save even more. I do recommend reading Rob's entire article for a more insightful and detailed analysis. In the comments, we'd love to hear your take on this new policy from AMC. In light of this news, Mike with Houston Historic Retail has let me partner up with him on an idea I had. I have compiled a comprehensive timeline of the history of AMC Theatres in Houston, including the buildings' status.
I sprinkled in some technical details here and there, hoping there are at least some other audio/video nerds out there who would appreciate the technical details. I especially would like to thank my friend and fellow former AMC Projectionist James Hammonds for some of his valuable insight in putting some of this timeline together. I met James when Meyer Park sent me to his theatre, Willowbrook, to borrow their print of Mars Attacks for a screening for 104 KRBE. Only two people showed up for the screening – 104KRBE had given out hundreds of free passes. I returned his print at the end of the evening and to this very day, we share a laugh over a technical detail difference of how I returned the print. It's hard to believe a friendship has endured for 27 years all because of Mars Attacks. A lot of this information also came from hours of digging through the Houston Chronicle archives and speaking to other fellow cinema enthusiasts who pre-dated my time in the industry. You'd be surprised about how passionate old projectionists are about their craft.
Founded in 1920 as Durwood Theatres, the company we know today first started taking shape when Stanley Durwood, son of Edward Durwood – one of the founders, took control of the company in 1961. Stanley had the idea he could double his box office by adding a second screen to one of their early theatres and still operate with the same size staff. In 1968 Durwood Theatres changed its name to American Royal Cinema. However, not long after, a naming dispute with the American Royal Livestock and Horse Show required Durwood again change the name, settling on American Multi-Cinema, or AMC Theatres as we know them today. Yes, AMC Theatres stands for American Multi-Cinema Theatres, which is a bit redundant. April 1965 saw the opening of Houston's first multiplex theatres, General Cinema Corporations Twin cinemas at Gulfgate, Meyerland, and Northline malls. Seeing the growth in the Houston Market and the success of the early General Cinema locations, AMC entered in 1969 on Christmas Day with their own trio of locations: Almeda Mall 4, Northwest 4, and Town & Country 6.
The 60s and the 70s. Build 'em small and build 'em cheap
With cinema palaces becoming a thing of the past, in the 1960s and 1970s, as the concept of the multiplex took off, the idea was smaller theatres to fit more screens in a building. AMC famously would design what is coined by those in the industry as "shoebox" theatres since they resembled the shape of a shoebox. Long, narrow rooms with small screens and typically with one center aisle down the middle of the auditorium. A theatre complex would typically feature one or two bigger, wider auditoriums, while the rest would be the famous AMC shoebox design.
Almeda Mall 4 East and Almeda Square 5
Opening Christmas Day 1969, Almeda 4 was a freestanding building behind Almeda mall at the intersection of Kingston and Kleckley streets. It proved to do brisk enough business that in June 1976, a 5-plex was opened in an adjacent shopping center closer to the freeway, providing nine screens. Almeda Mall 4 was renamed "AMC Almeda 4 East" and the new 5-Plex was named "AMC Almeda 5 West". Eventually, at the end of 1990, the four-plex closed down, and the five-plex remained, dropping "West" from its moniker to be known as "AMC Almeda Square 5". The theatres themselves were unremarkable in terms of décor, although the 5-plex remained in operation until the opening of AMC Gulf Point 30 in December 1997, which replaced it in this market. Today, the 5-plex has been torn down, and the warehouse for Hilton Furniture and Mattress is in its place. The four-plex still stands empty at the rear of the mall however has been sold to a church. An insider at Almeda mall has informed us that the interior ceiling has collapsed, and they will have to gut the interior and remodel it before the church moves in. Almeda Square 5 closed on December 19, 1997. Before closing, Almeda Square 5 was eventually retrofitted to add Dolby Stereo in two of its auditoriums.
Northwest Mall 4
The second of the original trio theatre complexes was Northwest 4 at the now defunct Northwest Mall, opening on Christmas Day 1969. With no other theatres even remotely nearby, Northwest 4's tiny auditoriums flourished, attracting patrons from the surrounding Garden Oaks, Oak Forest, and the Lazybrook/Timbergrove neighborhoods. The theatre made it to 1992 before AMC closed it, where it found new life as a Mexican dance club called El Chaparral. The building was eventually demolished as part of the Highway 290 expansion plan. The theater was eventually upgraded to have Dolby Stereo in two auditoriums.
Town & Country 6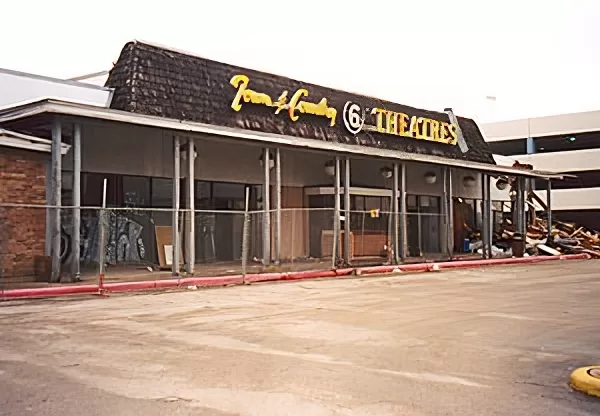 Rounding out the first foray of theatres for AMC in Houston was the Town and Country 6. Again, opening on December 25, 1969, the theatre was in operation until 1989 as AMC opened up their new Town & Country 10 theatre across the Katy freeway. The 6-Plex had a brief stint as a dollar cinema coinciding when AMC opened up the new Town and Country 10. However, the 6-Plex failed to do much business as a sub-run competing against the much nicer for the time 10-plex. The building was demolished in 2002. Interestingly enough, Loews Theatres built a 3-plex cinema virtually right next door to the old Town & Country 6 in 1972, which closed when Loews moved into an 8-plex inside of Memorial City mall. The Loews 3-Plex was also demolished in 2002, both as part of the Sam Houston Tollway expansion and redevelopment of the old Town & Country mall. Town and Country 6 received Dolby Stereo upgrades in two of its auditoriums.
Greenway 3
Underground cinema, oddity, the Greenway 3 opened to the public on February 1st, 1974, and ran mainstream fare with moderate business. To help try to bolster business and cater to a more niche crowd, the cinema started showing Art films in 1978. Because of the unusual location, the theatre eventually set a ticket price of $1.50 to attract business to some success. In 1995, AMC decided not to renew its lease on the Greenway 3, and the theatre was taken over by Landmark Theatres. I had the great pleasure of working at the Greenway in 1995 during my tenure with Landmark, but it was clear that by the time AMC had long decided to abandon the theatre, it was in a serious state of disrepair. Landmark invested in restoring the lobby, concessions, restrooms, and box office areas, but little to no changes were made to the auditoriums in terms of presentation or to the seating and flooring. Landmark made the decision to close the Greenway 3 on December 31st, 2007, and it has since sat boarded up. The Greenway was upgraded at some point to add Dolby Stereo in its largest auditorium, with the smaller two houses remaining mono throughout its run as an AMC and Landmark theatre.
Southway 6
AMC's fifth Houston theatre opened on January 30th, 1976, in the Southway shopping center at South Gessner and Highway 59. Dubbed the Southway 6, it ran mainstream fare for many years. Business soon started to wane as movie-goers' tastes changed, as such AMC announced on November 28, 1986, they had spent $50,000 upgrading the experience at the Southway, including adding stereo sound to all auditoriums, with 3 of the auditoriums being Dolby, a new lobby, and adding new cupholders to the seats. Even with the interior and presentation upgrades, it failed to attract more business in the long run, resulting in the Southway becoming a dollar house in the late 1980s. AMC made the decision to close the theatre in late 1995 as it was no longer financially feasible to keep the facility open. Little information – and no photos – seem to exist of this theatre. Today, the space has been gutted out and was formerly a Factory-2-U, an off-brand clothing store, and was recently renovated into a DD's Discounts.
Champions Village Twin
Originally opened by Entertainment Project Incorporated in September 1973, AMC acquired this cinema at some point in the mid-1970s. Set far back at the rear of an unremarkable shopping center of FM 1960. This theatre was noted to be a very small complex. AMC ran it until the end of 1985. The theatre ran as a dollar cinema for a time in 1982 and 1983, resuming mid-run in 1984 for North Oaks until its closure. The building later found life as a laser tag facility and currently is a Redzone Training Center Gym.
Kingwood Twin
Probably the theatre we could find the least historical information on, this twin was built sometime between 1978 and 1979 by an unknown company and taken over by AMC sometime in the early 80s. Perhaps the most notable thing about this theatre is when Star Trek The Motion Picture debuted, an article in the December 8th, 1979 edition of The Houston Chronicle mentions employees dressed up as Klingons by putting green food coloring on their faces. In 1985 the theatre was selling tickets for $1.75 as business declined, finally closing at the end of 1985. The building was demolished and a new shopping center sits in its place, according to one former employee from the 1970s commenting circa 2009 that a Starbucks sits approximately where the old theatre sat. Upon checking, however, the nearby Starbucks sits away from the shopping center that 1401 Kingwood Drive reflects, so we cannot verify the exact location.
North Oaks 6
An original AMC build opening on February 10th, 1978, the AMC North Oaks 6 was located inside the rear of the North Oaks Mall at 4623 FM 1960 Road West. This theatre ran for many years with first-run films, with the nearby AMC Champions Twin shifting to a mid-tier theatre. Once a film had run its course at the new 6-plex, it would be sent down to the Champions Twin to give the movie a little more life if demand called for it until 1982 while making space for new films at North Oaks. North Oaks 6 was the first AMC Theatre new with Dolby Stereo, having been built with 4 of the auditoriums featuring Dolby Stereo. Sadly, AMC never re-invested in this theatre with the only upgrade it ever received as an AMC was the armrests were replaced with AMC Cupholder armrests in the 1980s. By the 1990s, AMC had turned this theatre into a sub-run dollar cinema. Eventually, the theatre was run by a handful of other companies, all independents, until finally closing on March 17th, 2020. The cinema sat closed for a brief time between owners Silver Cinemas and independent cinema operator Steven Tsang in roughly 2003 but otherwise ran continuously. The space still sits empty, listed at 18,000 Square Feet according to a flyer on LoopNet, who are willing to redevelop the space into something other than a Cinema.
The Transcontinental Theatres Acquisitions
In 1978 Transcontinental Theatres divested three theatres to AMC in the Houston market, the Shamrock 6, the Westchase 5, and Festival 6.
Shamrock 6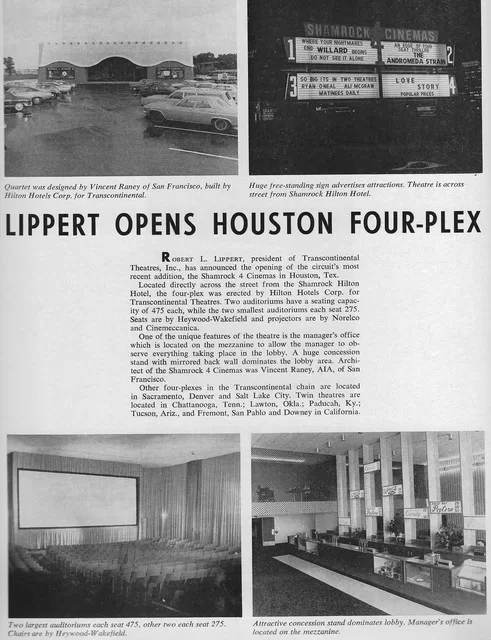 Opening on July 14, 1971, with four screens and expanding to 6 screens on May 23, 1975, the Shamrock 6 was originally opened by Transcontinental Theatres and later taken over by AMC. The Hilton corporation built the cinema adjacent to their Hilton Shamrock hotel. Unfortunately, this theatre flooded in 1986 and the damage was extensive. The theatre was demolished in 1987, along with the Shamrock Hilton Hotel, and today, a Sonic Drive-In sits approximately where the theatre was. The two largest auditoriums were retrofitted with Dolby Stereo in the late 1970s.
Westchase 5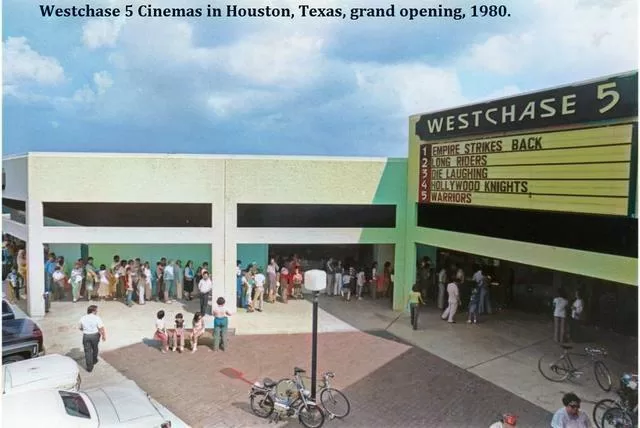 A lavish theatre opened by Transcontinental Theatres on October 21st, 1977, in the Westheimer Shopping Center at 9749 Westheimer Road and was taken over by AMC soon after. The theatre was plush for its time, including auditorium doors made of rich mahogany wood. One screen was built with a massive 70MM screen which showcased 6-channel Dolby Stereo sound (the best you could get at the time) and is only a handful of AMC Theatres ever to show 70MM presentations. This theatre showcased the following 70MM features: Alien for 21 weeks starting April 25, 1979; Apocalypse Now for 22 weeks starting December 21, 1979; The Empire Strikes Back for 38 weeks starting May 21st, 1980; Raiders of the Lost Ark for 25 weeks starting December 25, 1981; Indiana Jones and the Temple of Doom for 17 weeks starting May 23rd, 1984 and finally the last 70MM presentation was 2010: The Year We Make Contact, for eight weeks starting December 7th, 1984. This theater was one of a handful that showed The Empire Strikes Back in 1980, and lines stretched all around the shopping center as patrons waited for hours in line to buy tickets. The theatre did brisk business until Studio 30 opened in 1997 – which had the unfortunate side effect of drawing business away from Westchase 5, Town and Country 10, and even Loews Memorial City 8, rendering them ghost towns. Westchase saw a brief run as a dollar cinema once Studio 30 opened. Once Westchase 5 closed, the space was gutted and was a Tuesday Morning until 2018. Today, the site is a Kids Empire. The theatre opened with Dolby Stereo in every auditorium.
Festival 6
For all the lavish expense Transcontinental spent on Westchase 5, none of that effort was put into Festival 6 theatres located on the Northwest side on Highway 290 near 34th street. Squeezed into a narrow strip center, the only competition in the area was AMC's Northwest 4, only a few miles away at Northwest Mall. When AMC took over in the late 1970s, the only known investment they ever made was upgrading the armrests on the seats to have built-in cupholders in the early 1980s. While this theatre was built with all mono sound however, it is possible that the two largest auditoriums might have been upgraded with generic stereo sound at some point (memories aren't clear on this one). As cheaply as this theatre was run, it didn't matter as this theatre was a golden cash cow to AMC due to the lack of any nearby competitors. The auditoriums were long and narrow with tiny screens, making for sightlines that were bad. As a kid, this was my home theatre, having grown up in the Oak Forest neighborhood, and it wasn't until I was a teenager before I started venturing to other theatres and I realized just how truly awful this theatre was. AMC squeezed every dime they could out of this theatre until Cinemark built a 16 plex just up the freeway opening November 15, 1996.  Business plummeted as they could not compete with the state-of-the-art Cinemark with booming digital sound, massive screens, and stadium seating. After a brief run as a dollar cinema riding out the remaining time on the lease, the theatre closed on May 24, 1999.  The space was then converted into an OfficeMax, and today a Conns Home Plus occupies the space.  The Conns sign at the front of the parking lot was the old Festival 6 movie marquee.
The 1980s and the era AMC grows up
In 1977, George Lucas started a push for better sound and picture presentations with Star Wars, and moviegoers started demanding stereo sound in cinemas.  AMC, famously building cheap, small theatres in the 1970s, took notice and started building wider auditoriums for larger screens and installing stereo sound, beginning with their first new build in the 80s. Although often AMC would not spring for the pricier Dolby Stereo (a trend that would continue into the 1990s and beyond), instead opting for Dolby Stereo in only their largest auditoriums and utilizing cheaper competitors such as Ultra Stereo and Smart Stereo in medium and small auditoriums. They begin standardizing their look across theatres, focusing on peach, maroon, and salmon color schemes with teal highlights. Très 1980s, indeed.
Deerbrook 8 (originally known as Humble 6)
This theatre opened to little fanfare on May 23, 1981, and gave a sneak peek at the décor choices AMC would bring in the 1980s.  In January 1984, the theatre was renamed Deerbrook 6. Eventually adding two additional screens and renamed Deerbrook 8, this unassuming theatre was replaced by Deerbrook 24 in the 90s, and today is a Planet Fitness. Three of the original six auditoriums were outfitted with Dolby Stereo, and the two new screens added featured a competing product, Ultra Stereo. AMC briefly ran this theatre as a dollar cinema once Deerbrook 24 opened across FM1960 at Deerbrook Mall, with the facility eventually being taken over by Silver Cinemas for a time in the mid-1990s.
Commerce Park 8 (originally known as the Quorum 8)
AMC opened the Commerce Park 8 (originally known as the Quorum 8 for five months until October 25, 1985) on May 24, 1985.  All auditoriums featured stereo sound, 4 of which were real Dolby Stereo. The largest auditorium was capable of running 70MM with 6-Track Dolby Stereo.  70MM presentations included Amadeus for two weeks in May of 1985, 2010 for one week in October of 1985, and as part of a 70MM series to help draw attendance (and for people to notice the name change). The final 70MM prints to run here, each for one week starting November 1st, 1995: Star Trek II, Star Trek III, 2001: A Space Odyssey, Gone with the Wind, Rocky IV, Close Encounters of the Third Kind, Brainstorm, Doctor Zhivago, Starman, and Wargames. Commerce Park featured big screens, but unfortunately, you could see the seams in them, which could be distracting during your movie. Due to a fatal robbery attempt in December 1996, the resulting lawsuit, and the general decline of the surrounding area, this theatre was closed by AMC on September 24, 2000, at the end of their lease, sitting empty until March 2006, when Movie Tavern spent $2 million dollars renovating the space and moved in. Movie Tavern closed on May 11, 2017, and the facility currently continues to sit empty and unoccupied.
Town and Country 10
AMC stepped its game up, opening a 10-Plex in Houston on June 6, 1986.  One of the debuting films at this theatre is the Houston Exclusive showing of "Absolute Beginners" starring David Bowie, in 70MM 6-Track Dolby Stereo.  It is the only 70MM ever shown at this complex, running for a total of 3 weeks. AMC made sure that this theatre had fairly large screens in all ten auditoriums.  The two largest auditoriums featured top-of-the-line Dolby Stereo units for the time, and the remaining eight screens featured Smart Stereo. In 1993, a DTS digital sound system was installed in Auditorium 5 for the debut of Jurassic Park. In 1995, all auditoriums received Sony Dynamic Digital Sound and the speakers were upgraded in every auditorium. I spent a great deal of time working as a projectionist at this theatre in the 90s, and the theatre was packed on weekends, periodically selling out all ten screens. As the theatre steadily lost business to the new Studio 30, AMC finally closed it on April 22, 1999.  The theatre remained first-run during its entire almost 13-year run. Today, it is part of Houston Community College as their Performing Arts Center.

Greens Crossing 6
Arguably the worst decision AMC made in the 1980s in terms of Houston real estate for a theatre was opening Greens Crossing 6. Anchoring a strip center at the intersections of Ella Blvd and Greens Parkway, this theatre had little visibility and little other retail around to attract guests. The area was a mixture of industrial and some light residential, and with Beltway 8 still under construction at the time of the theatres opening, there was little to attract patrons. Opening July 25th, 1986, this little 6-Plex almost felt like a step backward for AMC after having just opened the Town and Country 10 and what they had on the horizon with the upcoming Meyer Park.  The six auditoriums were divided into three auditoriums on each side of the complex, with a center concession, and all auditoriums carried Smart  Stereo sound. Attendance was dismal from the start, competing with AMC's own Commerce Park 8 and General Cinema's Greenspoint Mall 5. AMC ran a map in their daily newspaper listing for months hoping to help drive traffic to the theatre taking up a substantial portion of their ad space. Only four short months after opening, on November 14, 1986, AMC turned Greens Crossing into a sub-run dollar cinema. The theatre found modest success as a sub-run venue which it remained for the next 14 years, finally closing on May 6, 2000.  Four months might be a record for any cinema – anywhere – for how long a brand-new cinema showing first-run films became a dollar house.  Today, the strip center sits mostly empty, and a printing company briefly occupied the former AMC space.  Today, the former AMC space now sits vacant.
Meyer Park 16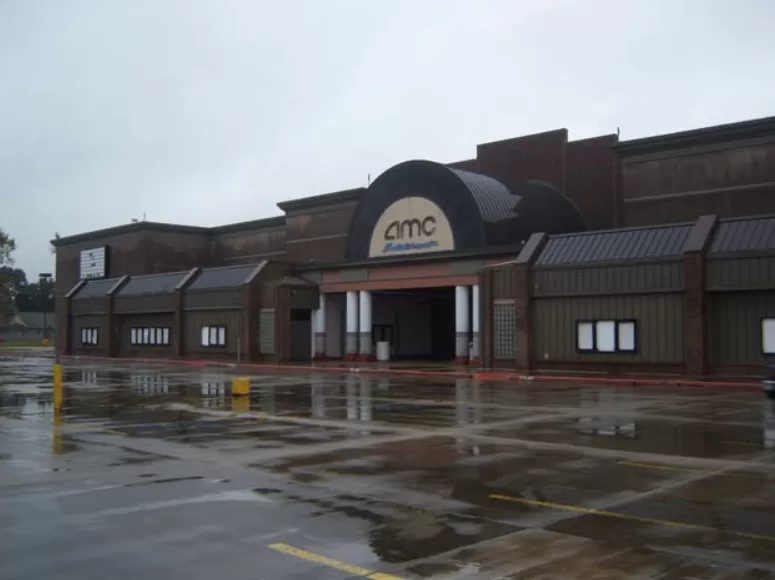 The flagship theatre of the 1980s for AMC was Meyer Park. Opening as a 14-Plex, Meyer Park was advertised as the largest theatre in the country both in physical size and in terms of the number of screens in one theatre complex. Meyer Park also featured "riser stadium seating," a first in the country, where the rear portion of the auditorium featured stadium-style seating, and the front half of the auditorium was the traditional sloped floor model. Boasting many enhancements over other theatres, it set itself apart immediately. Featuring 70MM capability on the two largest screens with 6-Track Dolby Stereo sound, all screens featured stereo sound. The only two 70MM presentations were The Untouchables for nine weeks starting June 3, 1987, and Dick Tracy for 19 Weeks beginning June 15, 1990. Meyer Park would be the last theatre AMC would build in Houston with the capability to run 70MM. Meyer Park also featured AMC's "HITS System," or High Impact Theatre System, whereby the speakers were placed above and below the screen rather than behind it.  The screen itself was sucked into a curved screen shape by a vacuum and was marketed as a "Tørus screen". This provided more luminance but also caused geometric distortion of the image and sound phasing issues. Coinciding with the debut of Dolby Digital sound in theatres, Meyer Park installed a Dolby Digital on their largest screen for the debut of Batman Returns – the first movie released into cinemas with Dolby Digital. In 1996, Meyer Park added two additional screens to become a 16-Plex and upgraded all of their sound systems to feature Sony Dynamic Digital Sound in all auditoriums.  Working as a projectionist here was exhausting as you had 11 projection booths that had you constantly running back and forth. As the years progressed, the theatre's reputation had tarnished as it had become a hotbed of gang activity, and AMC closed the theatre in May 2007.  In December of 2010, the theatre was demolished, with a Kohls being built in the parking lot of the old Meyer Park, and the area where Meyer Park once stood was a grassy field until 2019 when a Fresenius Kidney Care facility was built in its place.
Willowbrook 10
Rounding out the 1980s for AMC, Willowbrook 8, and later Willowbrook 10 in 1995, opened on December 18th, 1987. Billed as bringing "Luxury Movie Going to your Neighborhood," this theatre competed with the General Cinema 6-plex inside Willowbrook Mall. Along the way, in the mid-1990s, some of the auditoriums were upgraded to Sony Dynamic Digital Sound, and two DTS Digital Sound units were installed. On November 18, 1999, Willowbrook 10 played its last round of movies during the 5:00 hour and then closed for good, being replaced the very next day on November 19th by the AMC Willowbrook 24 Megaplex, which continues to operate to this day. This theatre shouldn't be confused with the old General Cinema 6-Plex inside Willowbrook Mall that AMC eventually took over, but that is a story for a bit later in the article. The theatre sat vacant until 2012, when it was demolished and replaced by an Academy Sports and Outdoors.