In light of the recent publicity of my website thanks to a Chron.com Article I decided to visit the literal twin of Northwest Mall, Almeda Mall.
The following may come as a surprise to my readers, prior to yesterday I had never set foot in Almeda Mall. I had of course driven by it many times, knew where it was, and knew its shared lineage with Northwest. Both malls opened in October of 1968, they also shared developers and shared many tenants. There were 70 stores in each mall, with a total of 6 unique stores per mall by 1976. (This leaves out obvious exceptions such as independent barber shops, pet shops, and cinemas located at both malls.) The malls were also built around pre-existing Foley's stores.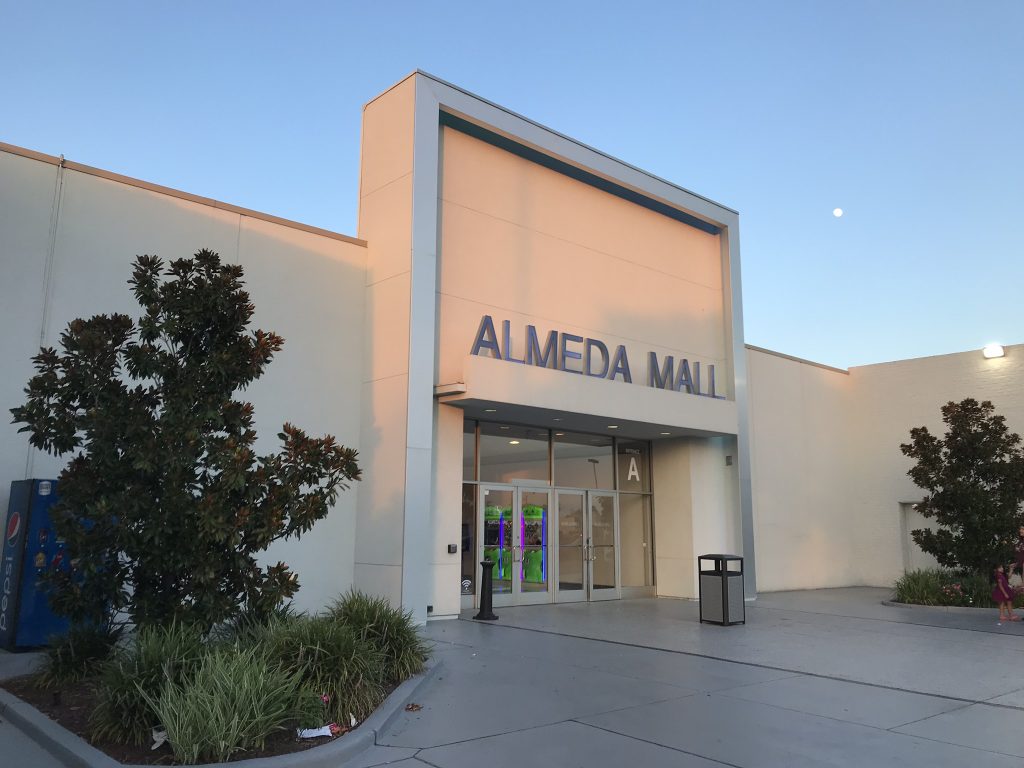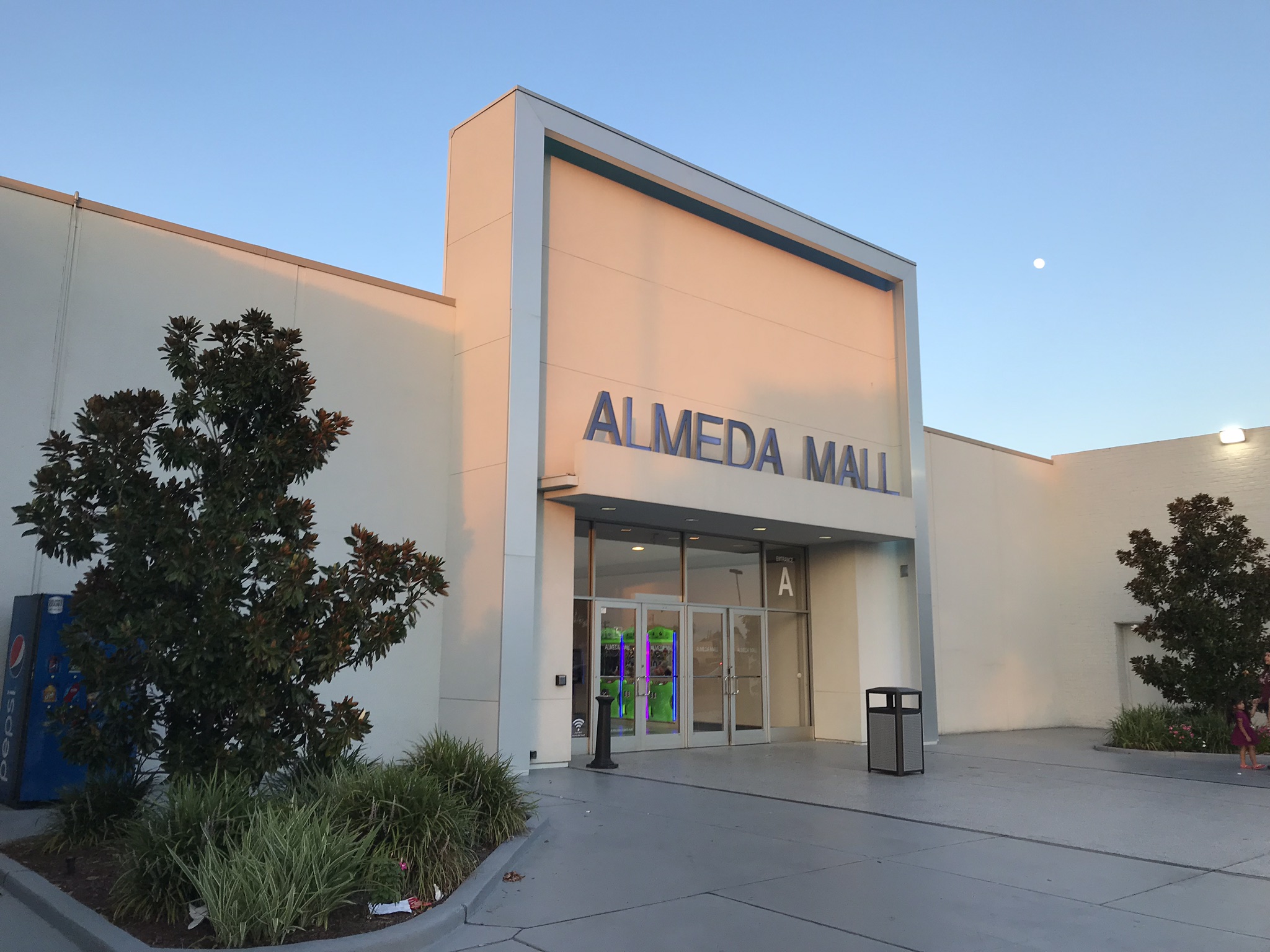 Approaching the mall from the Gulf Freeway, one of the first things I noticed about the mall was its striking similarity to Northwest. However, getting closer to the entrance I noticed that it had been updated.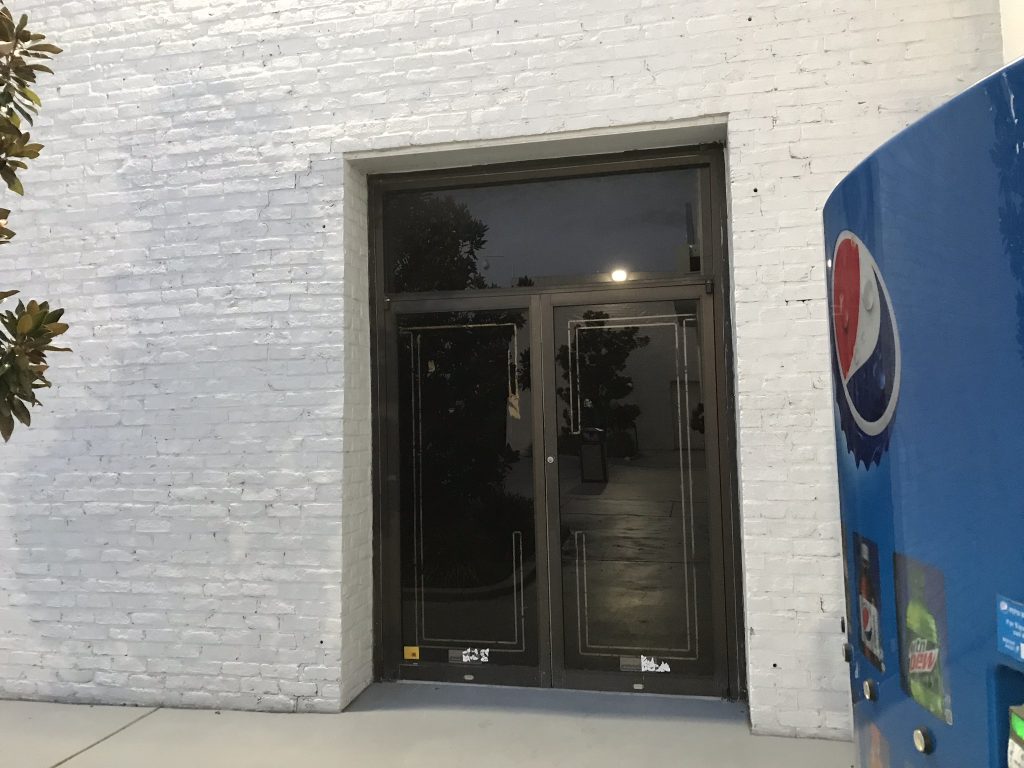 The similarities to Northwest Mall were extremely noticeable. Such as this former exterior entrance to both mall's Tex-Mex Restaurant El Chico. The locations seemed to have both closed by the mid-90s.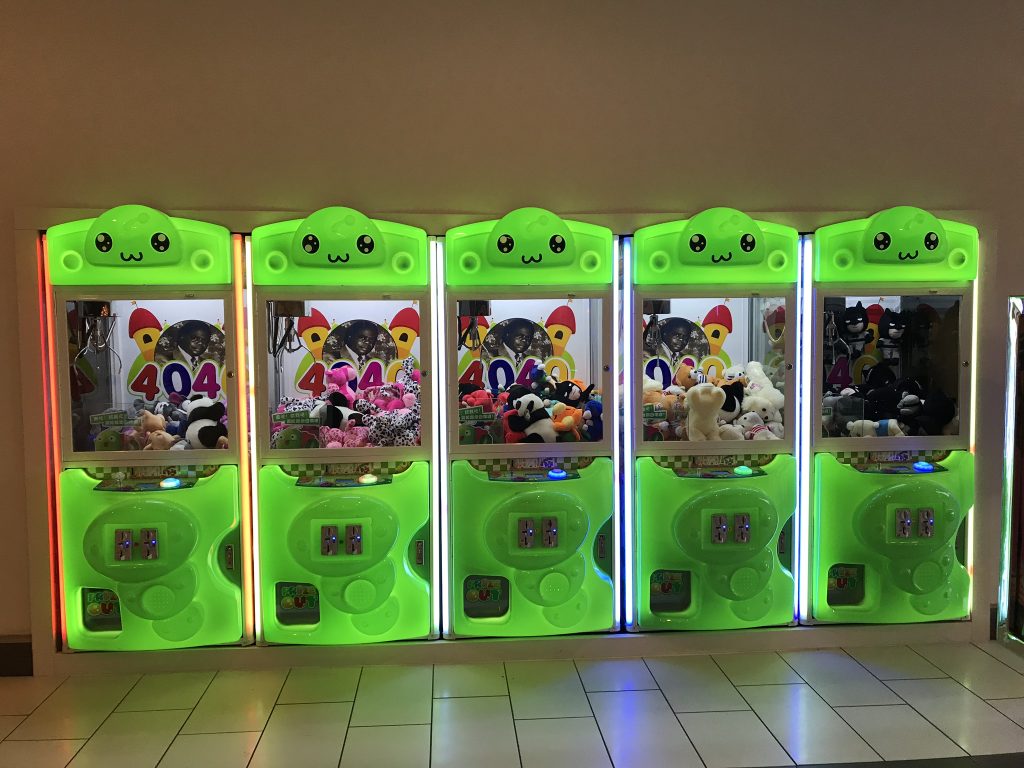 Entering the mall the first thing you're greeted by is a set of claw machines. These are built into a false wall that covers the exterior of the former Piccadilly Cafeteria location which closed at Almeda in 2014.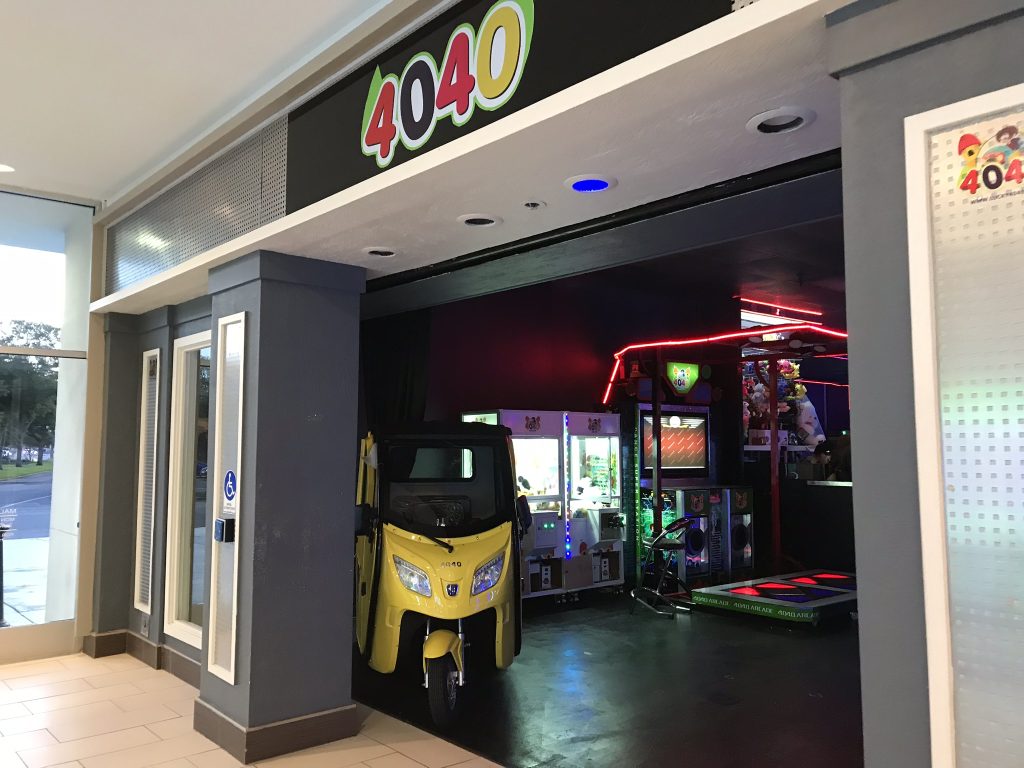 Across from the former Piccadilly Cafeteria inside of the prior mentioned El Chico space, is 4040 Arcade. This is not an original arcade to the mall, however, it is interesting that it's still up and running.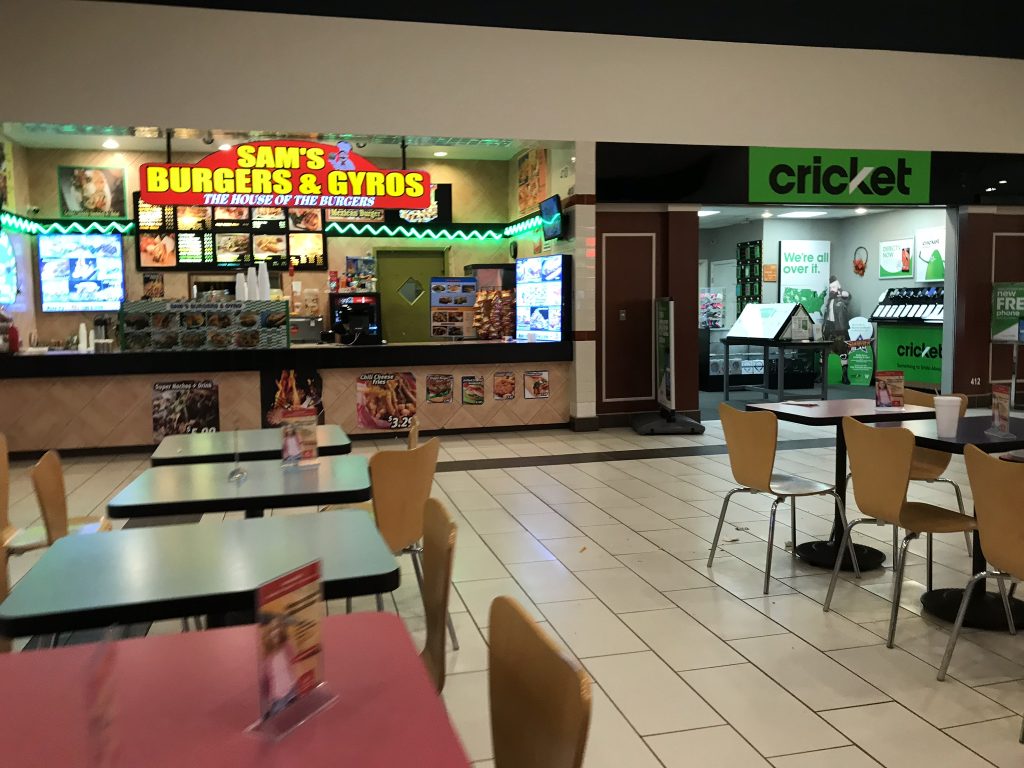 Step 1 in spotting a dead mall, check for retail in the food court. Except, this mall isn't really all that dead. In fact, it was quite lively, and this was on a Tuesday night. I actually had trouble getting pictures without people in them.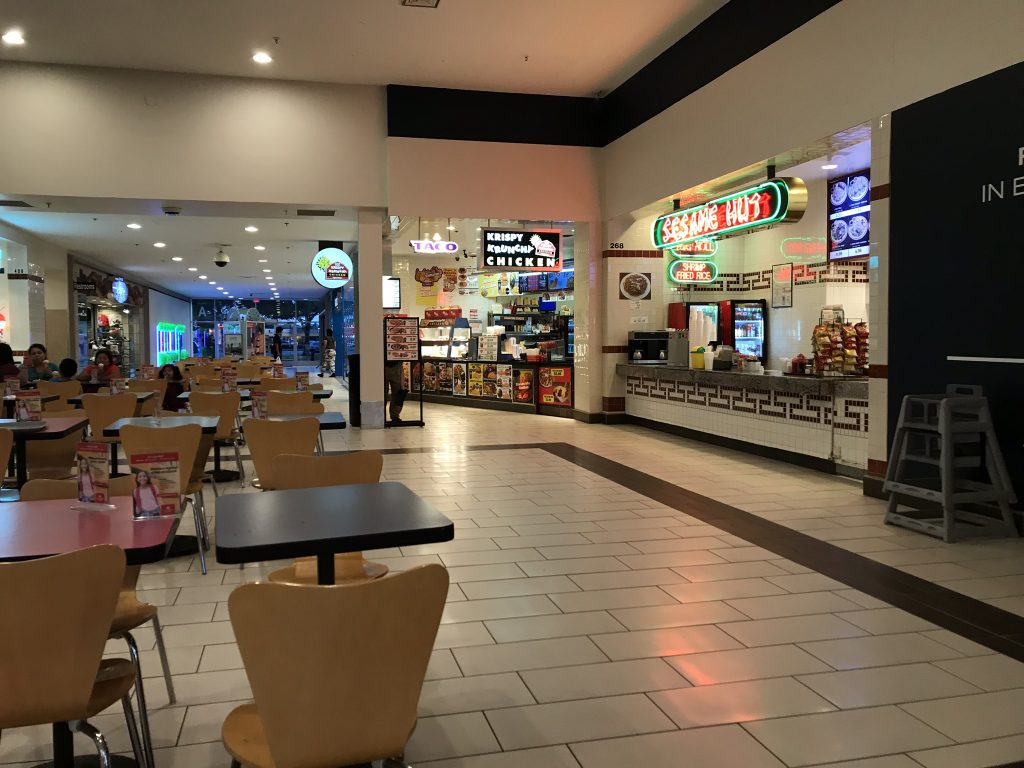 This is the middle of the food court, facing back towards the entrance. Sesame Hut is still going strong, and not just the Almeda location. The Northwest Mall location moved out from the mall, and is still in business. The stall next to Sesame Hut, was apparently at one point a KFC/Taco Bell Express, notice the reused "Taco" sign.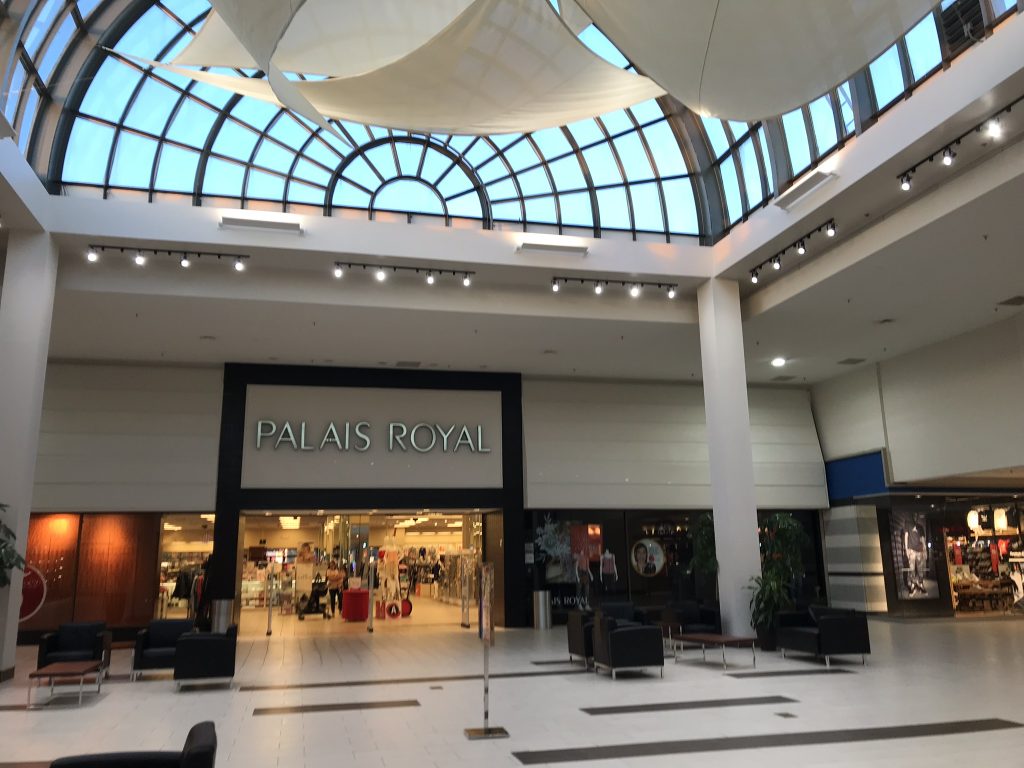 As you continue forward, you're finally greeted by the main hall and mall entrance to Palais Royal. The differences between Northwest Mall and Almeda are very evident here. There is no raised stage, the flooding and walls have been updated. As well the lighting has been updated, and "kites" have been added to the raised window.
Due to the length of this article (nearly 40 pictures!) I have added a read more tag, if you want to keep reading click below. If not, keep scrolling and you'll find the Northwest Mall Article among others!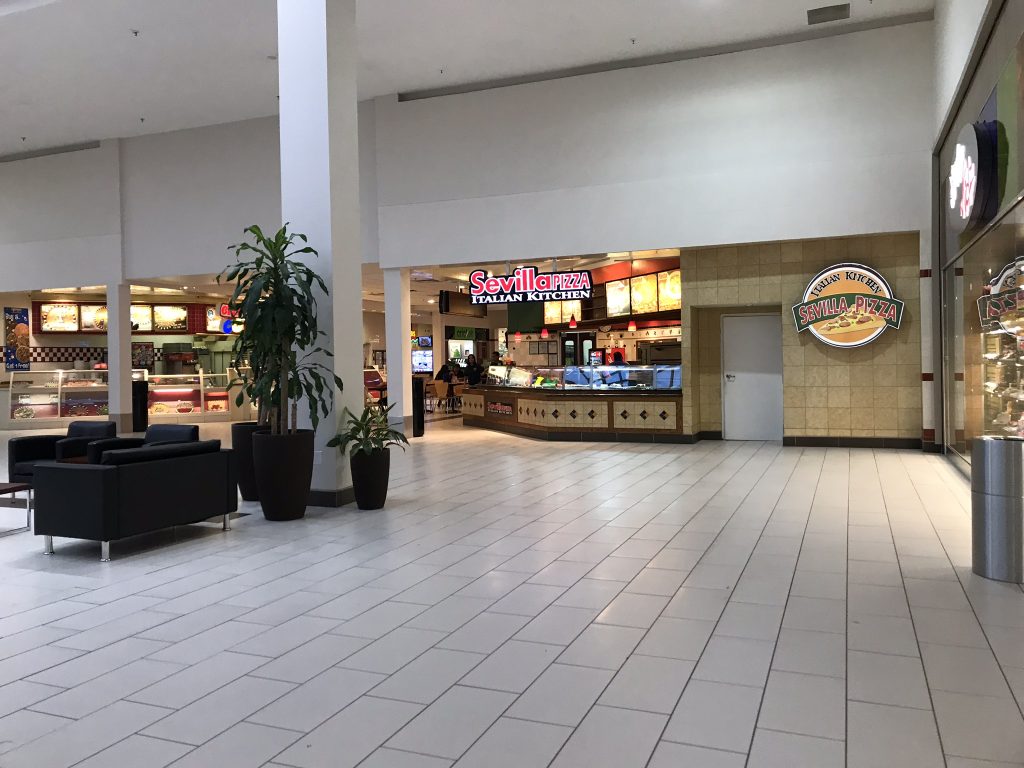 Looking back to the food court, we see an Italian counter service restaurant. The spot that Thirsty's previously occupied at Northwest Mall does not exist in this layout.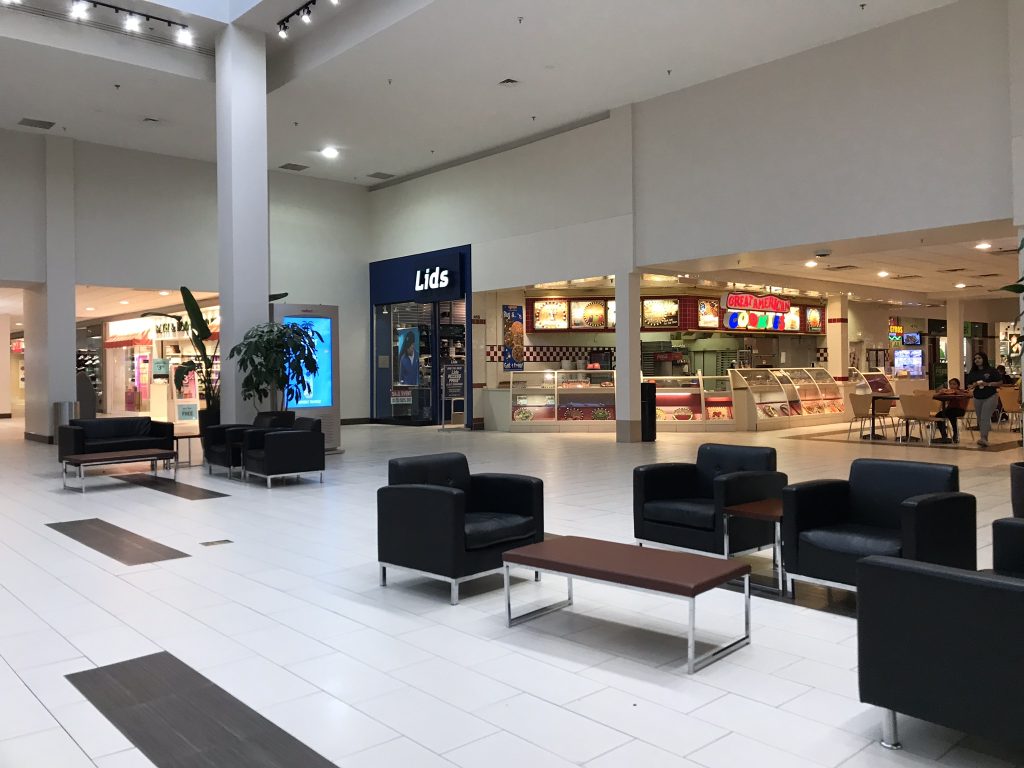 Looking to the left, the Great American Cookies was opposite of the location in Northwest Mall. The Lids space at Northwest was occupied by Dryer's Ice Cream. They were both originally retail spaces, only NW converted theirs for food court use.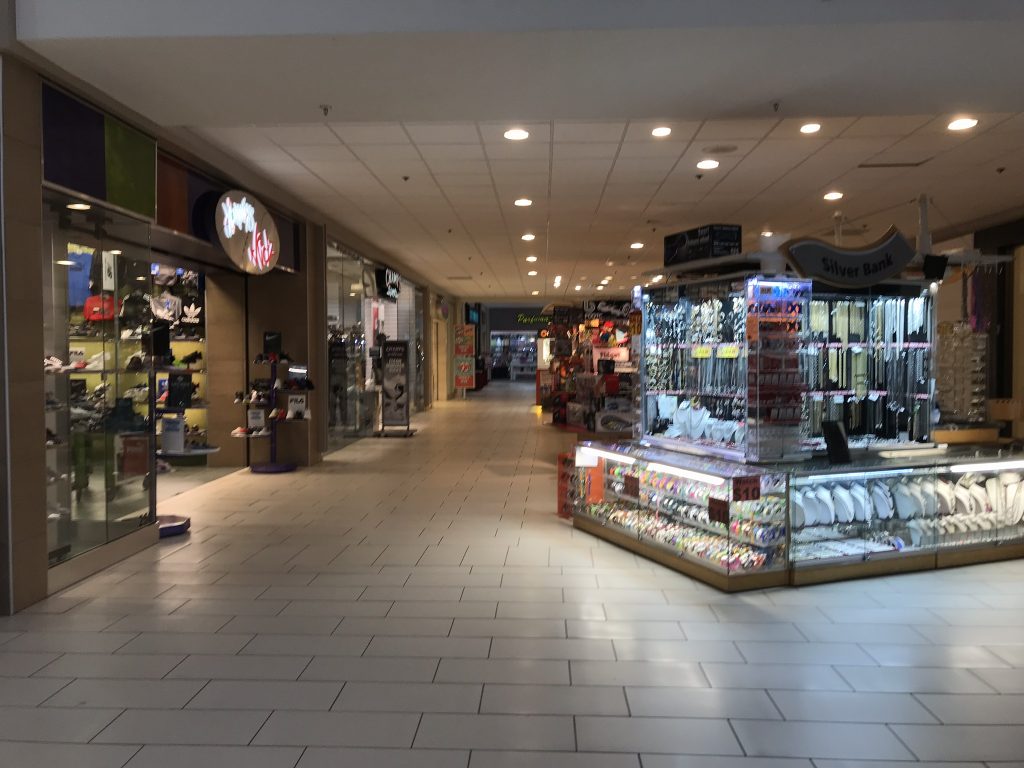 Looking down the hallway towards Macy's the mall feels nice, modern, and clean. The mall even maintains a separate Journey's and Journey's Kids.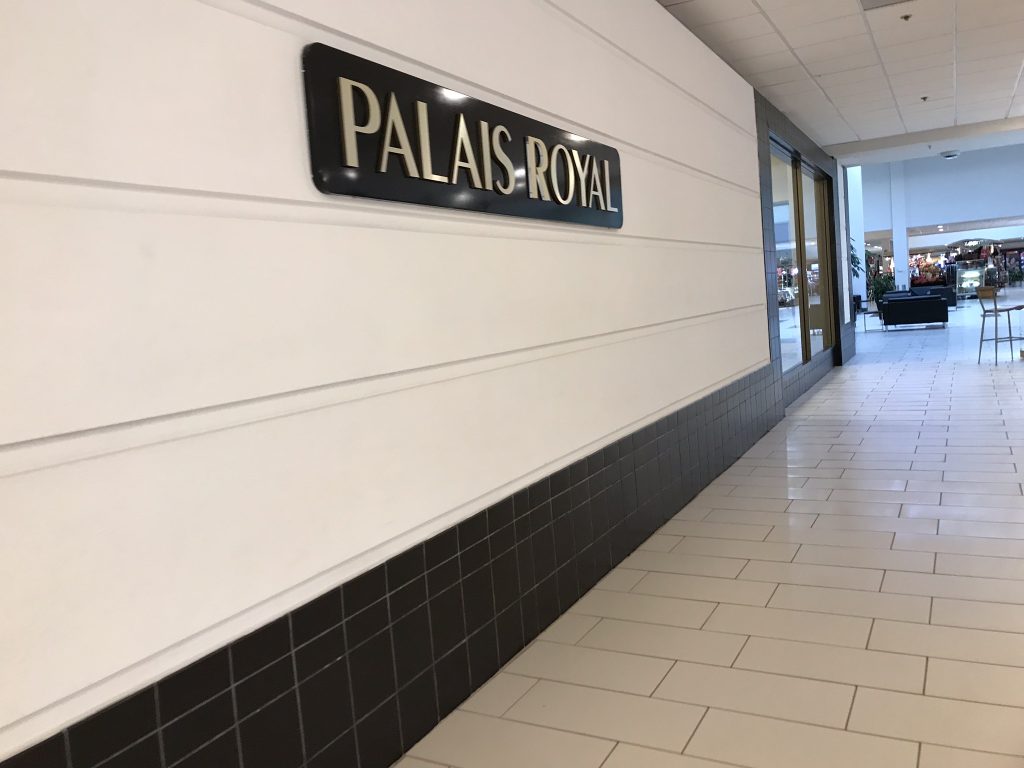 Moving on to the Macy's (Formerly Foley's) wing, we see that the vacant space used for a cart display in Northwest Mall is part of Palais Royal. The oldest maps I could find support the idea that this was always part of Palais Royal, and the stores were "carved out" at Northwest.
Cheap, is not really how I would describe this mall. There is an abundance of independently owned shops, along with two discounters Burlington, and DD's discounts. Most independent shops are specialty shops, as opposed to bargain or outlet stores.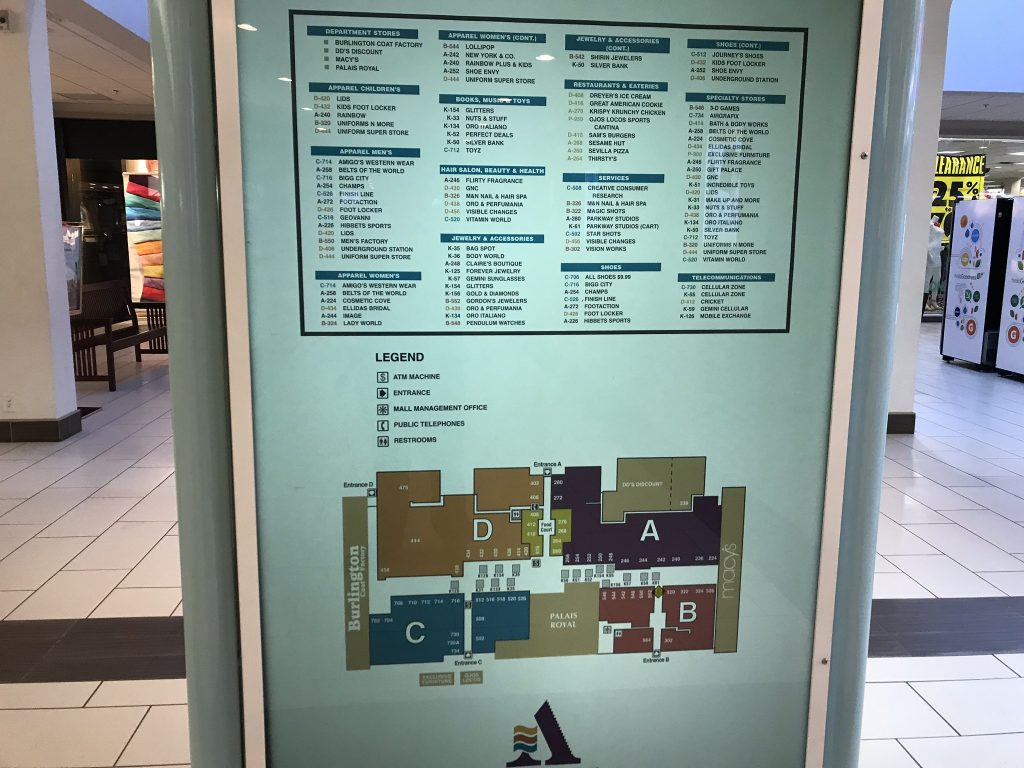 What's a mall without a good map? Lost!  "Jokes" aside, I put this in to try to help orientate my readers. We're between the A and B sections heading towards Macy's.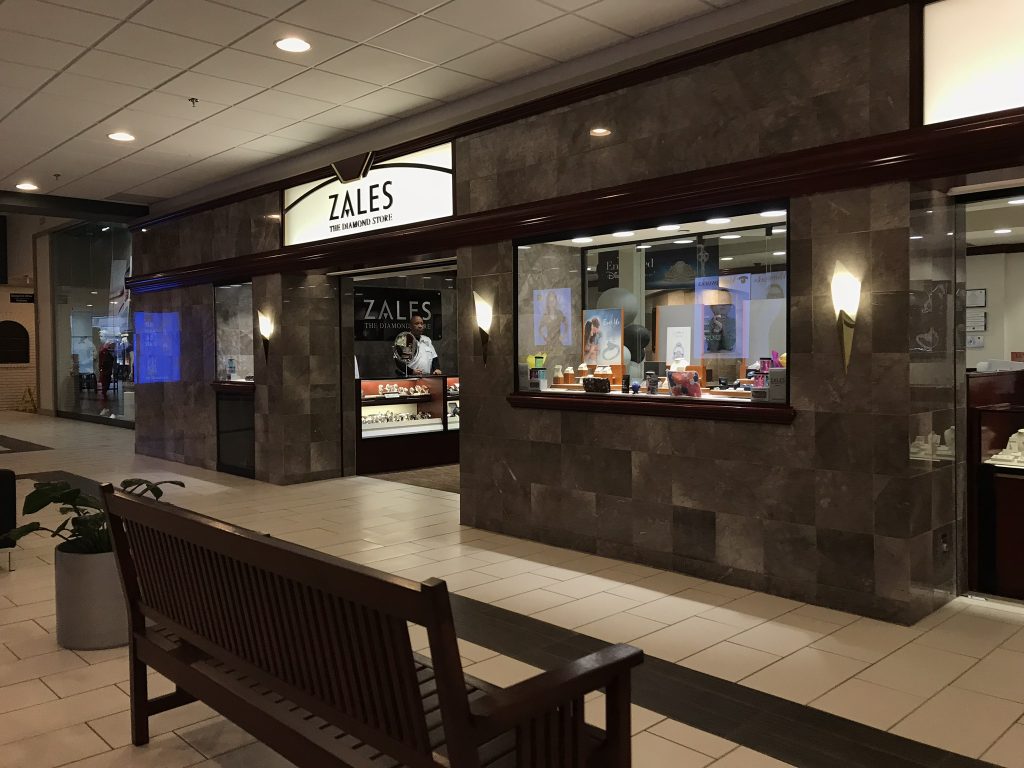 Turning to the right towards Entrance B, we find Zales which has been in the mall since it opened. Although it has moved. Another thing to note about this photo is that while Zale's has their own security, even though the mall is already well patrolled. I saw at least 3 officers inside, and one outside with multiple security vehicles.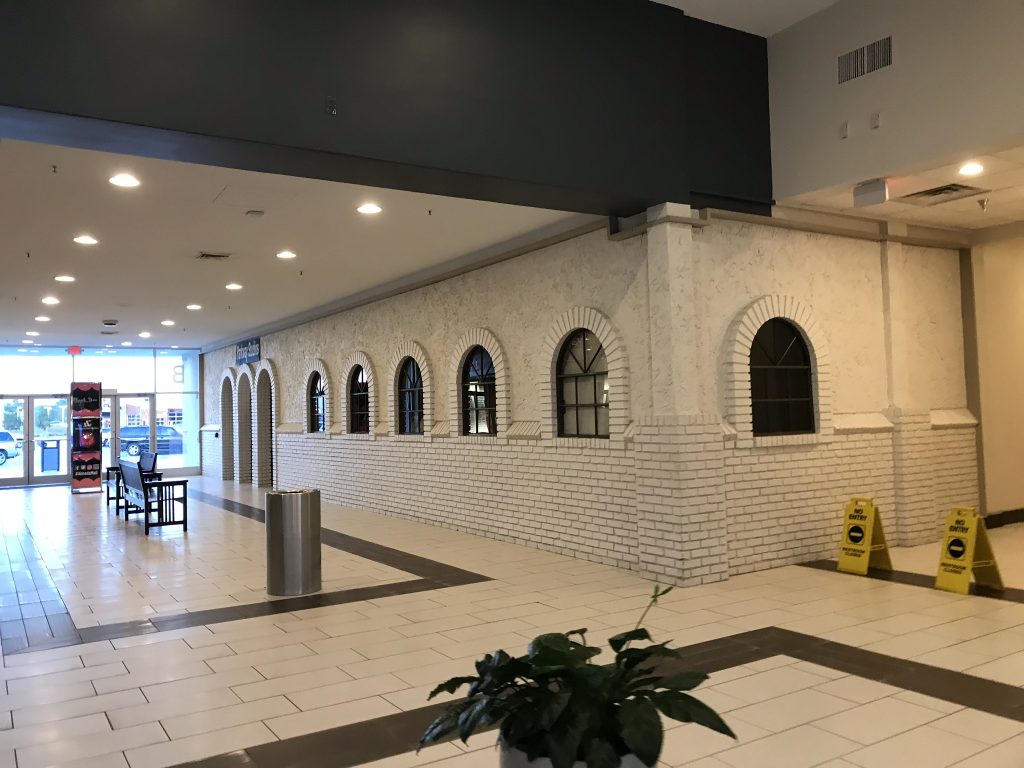 To the side of the B entrance, is another shared element between the two malls. Originally this was a pet store in both malls. Although it seems they were independent of each other. The Almeda version was known as Docktor's Pets.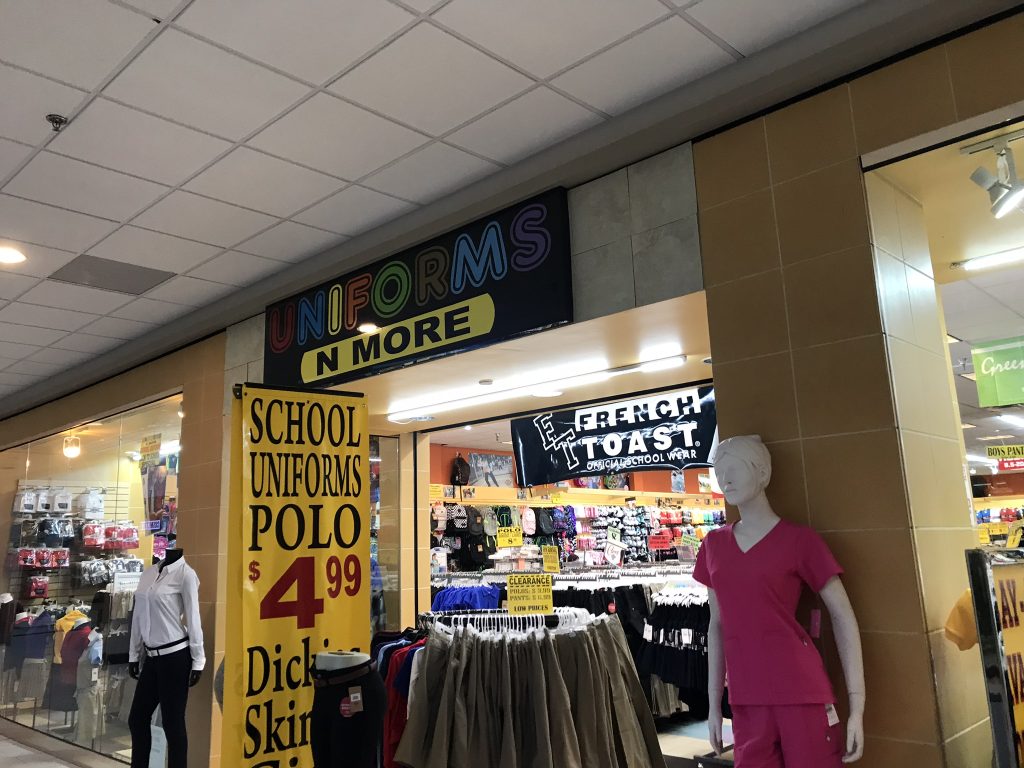 Heading back towards Macy's you can see what I mentioned earlier about specialty shops. Northwest Mall thrived for a while on smaller, generally independent stores like these.
Another bit of shared architecture between the malls is the arched glass ceilings leading up the former Foley's (Macy's). Unfortunately, I was not able to make it into Macy's as they close at 8 PM Monday-Wednesday. I have heard however that it was completely remodeled after Hurricane Ike, and while closing off the second floor is very nice.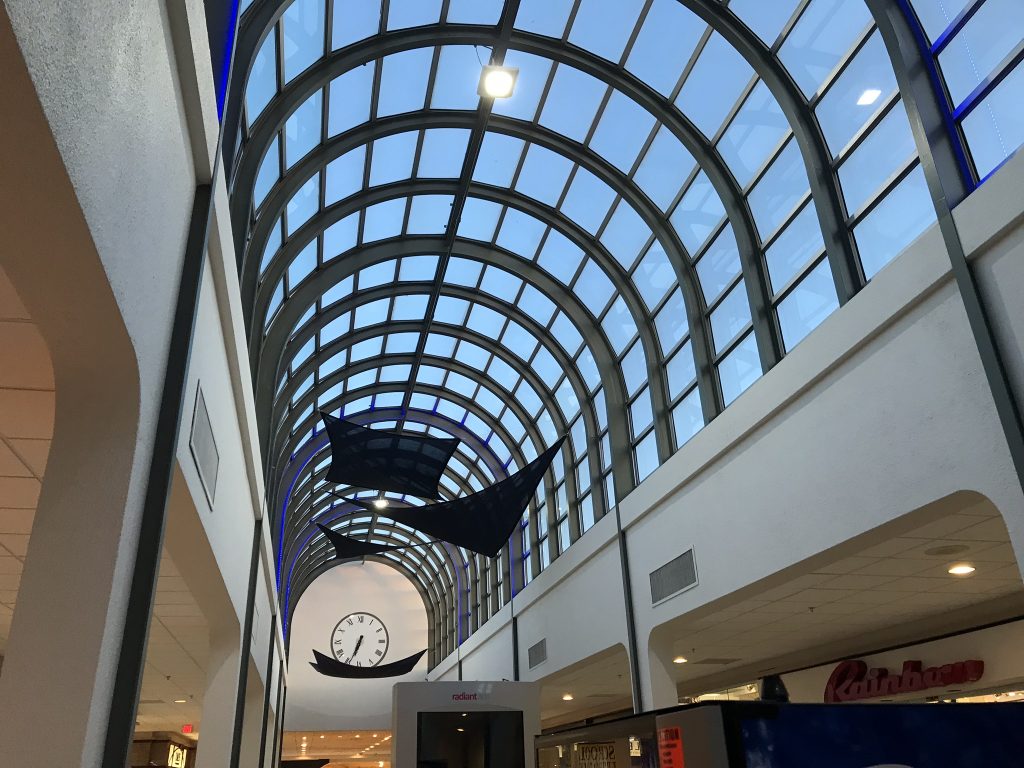 And of course, on the opposite side, the clock still works. I wanted to get a shot showing the "kites" hanging from the ceiling. I originally thought they may have been placed to block light. However, I think they're actually just decorative. The stores to the right don't exist at Northwest Mall as the original Battlestein's Mall Entrance was preserved and reused for the College of Healthcare Professionals.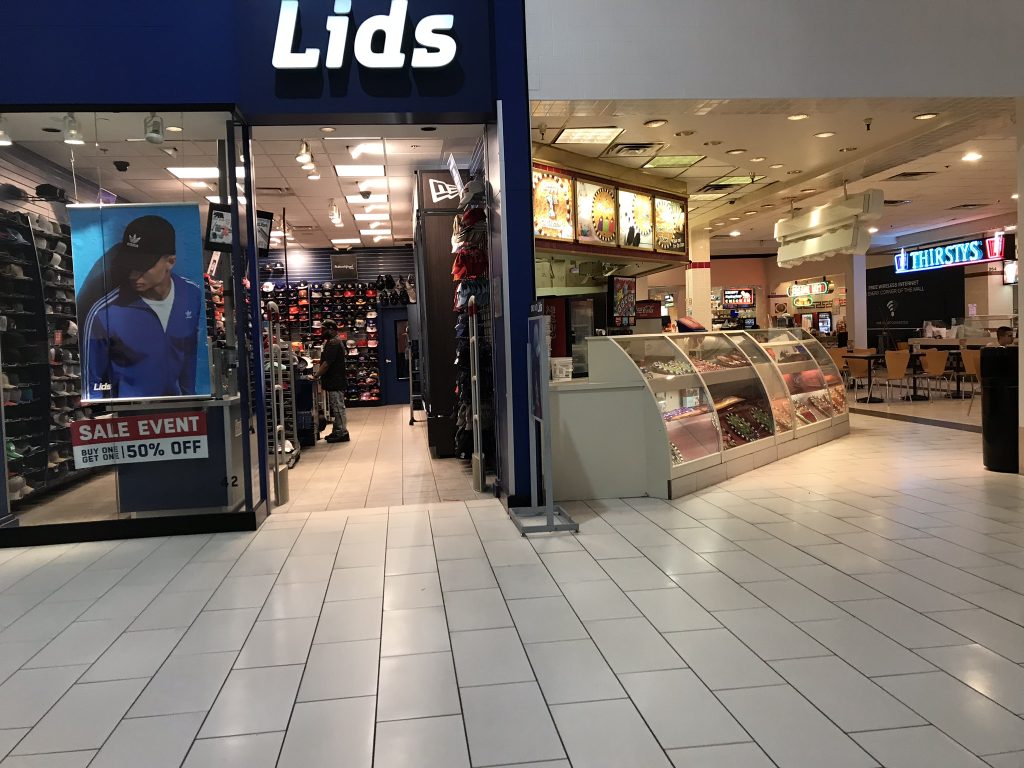 Heading back towards Burlington we get another look at Lids. You can also see the Thirstys hiding out in the food court.
Moving towards Burlington, we pass some major retailers including GNC, Foot Locker, and Bath and Bodyworks, which I was unable to get a good picture of due to how busy it was.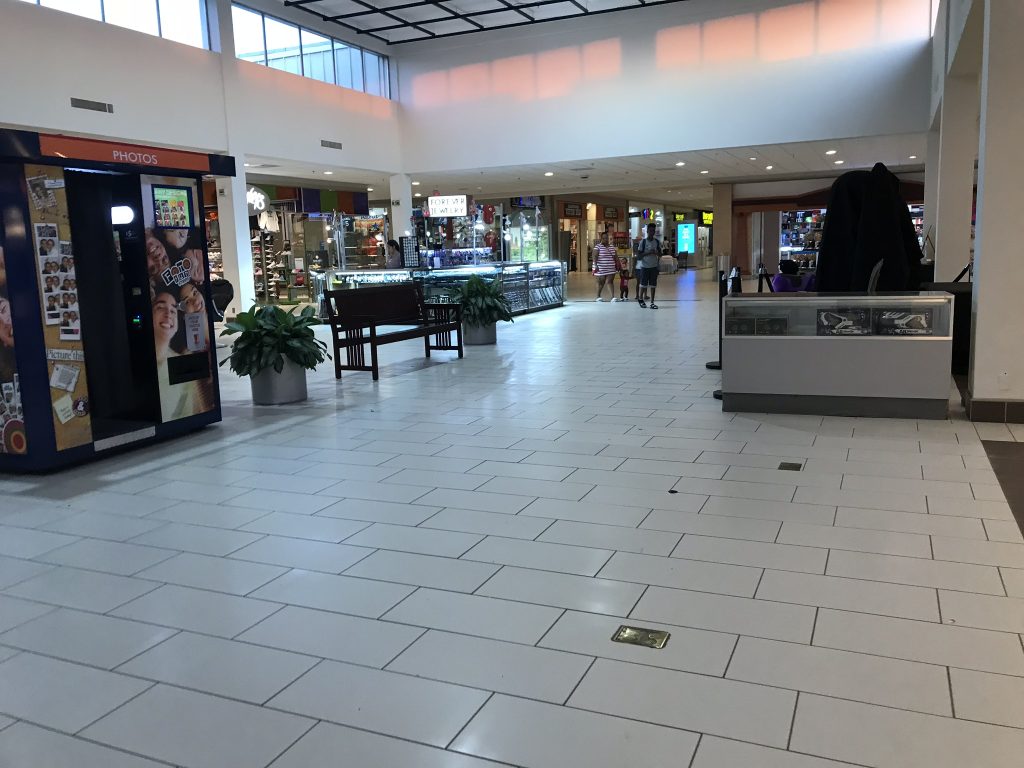 Moving toward the Former JCPenney's (Burlington), we encounter a raised section of roof, which both Northwest and Almeda share. Again I felt more light was being let in as compared to Northwest. However, this could also be an effect of the white tile.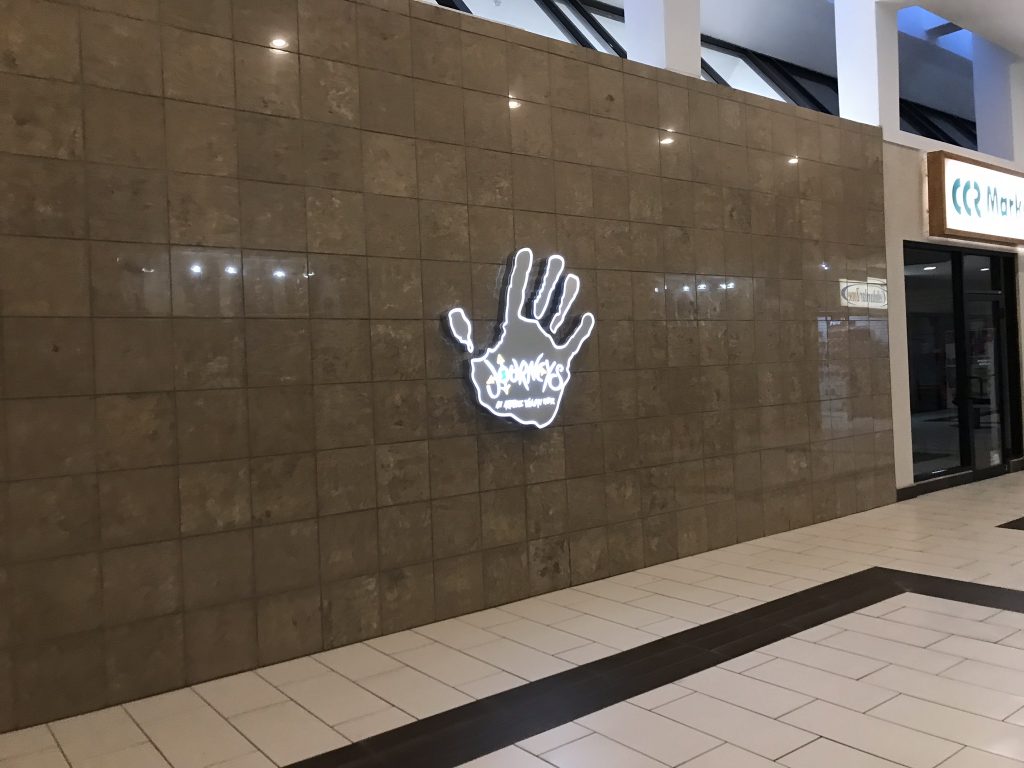 Another shared feature between the malls is the use of skylights near the C Entrance. Another thing to note is that the Journey's sign, much like many other fixtures in the mall appeared to have been converted to LED, while it's not incredible technology it shows improvement.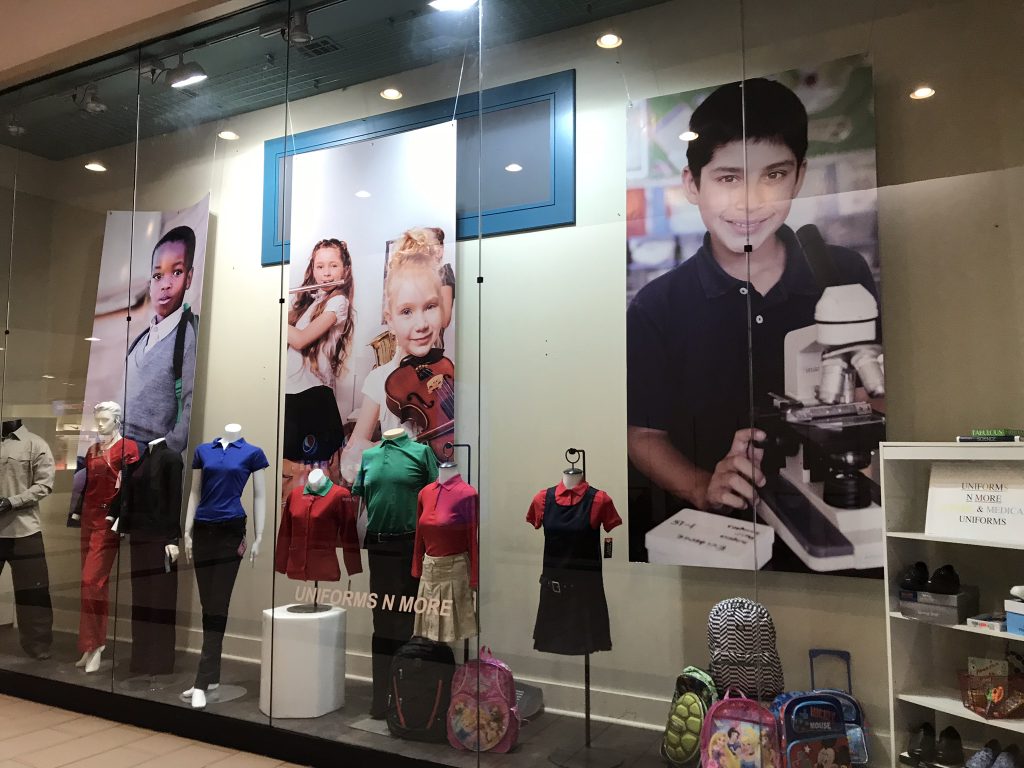 Almeda and Northwest both shared the idea of using display spaces for smaller stores as opposed to the anchors, which is a nice touch. This display is directly across from the last photo.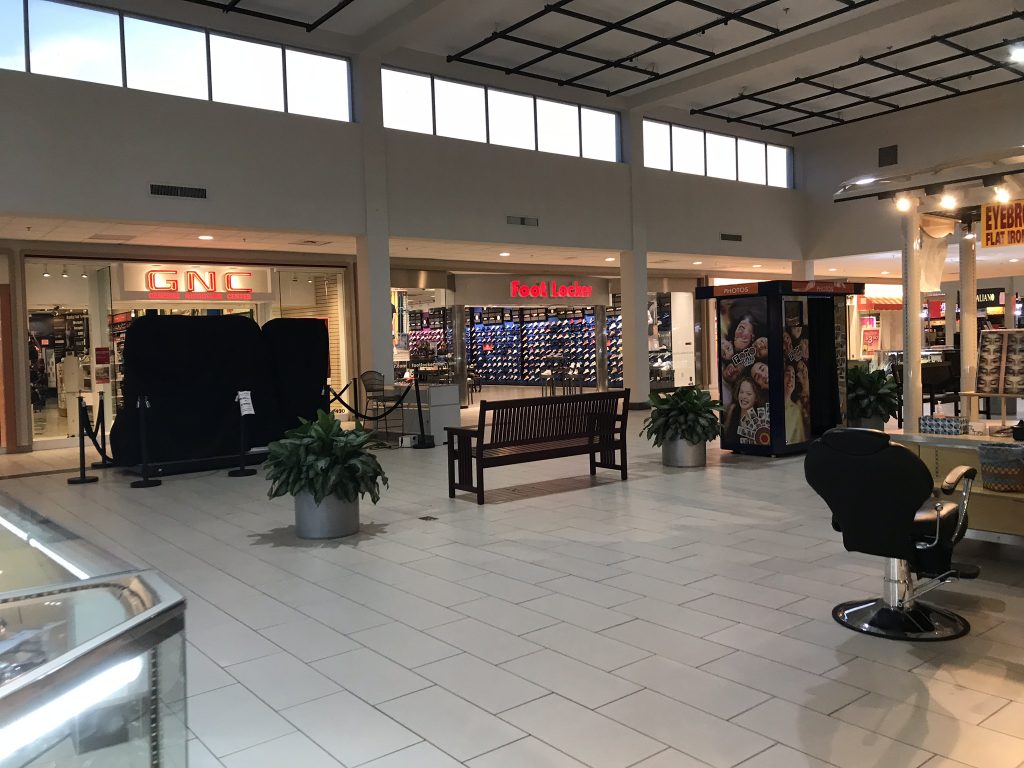 One more look out into the area with the raised roof. The black-covered items in front of GNC are Virtual Reality Simulator pods, which are increasingly present in malls.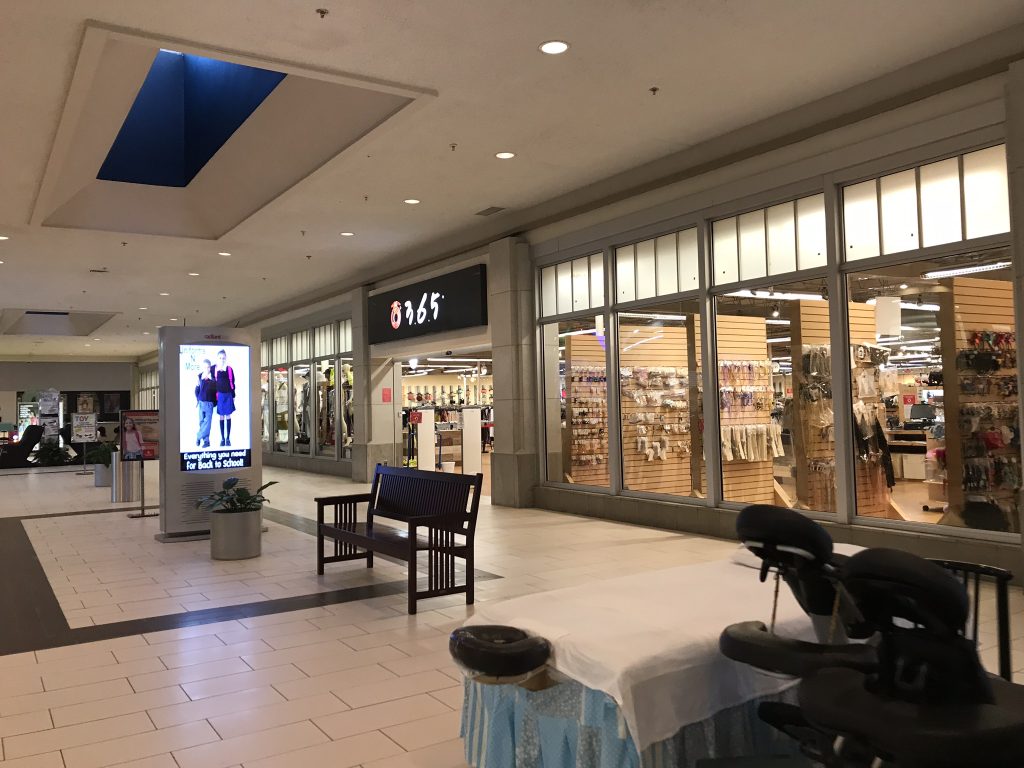 Moving again towards the former JCPenney (Burlington) space, we encounter what was clearly the Old Navy. This space in Northwest Mall was unoccupied at the time it closed but had recently been used as a gallery space.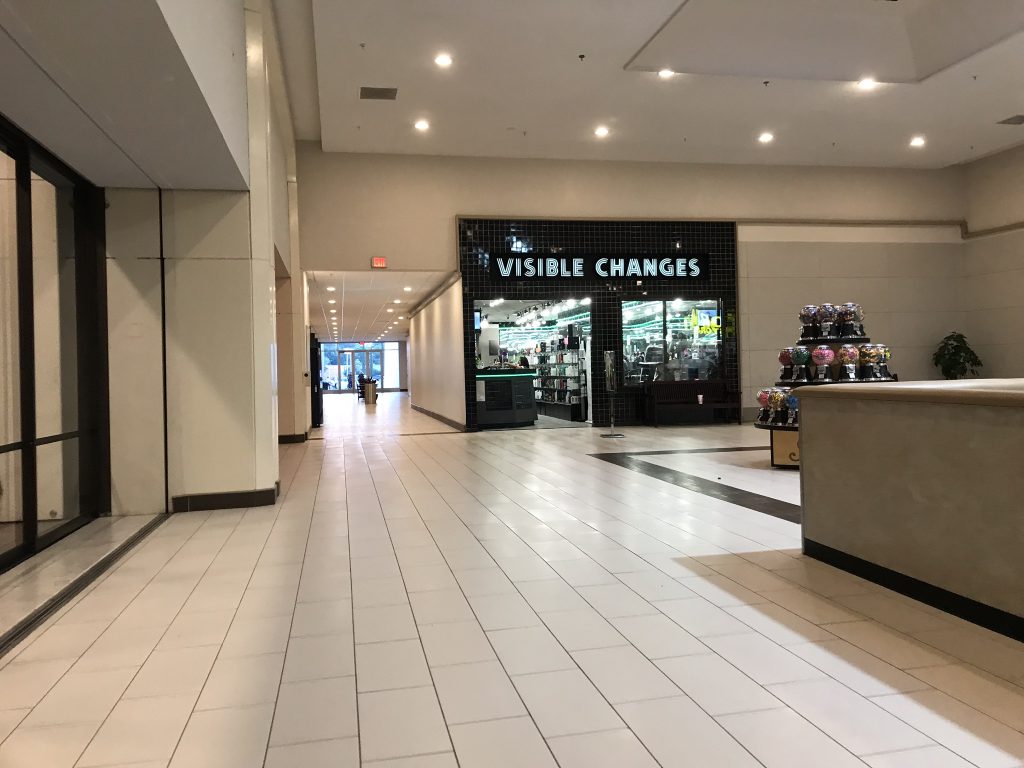 We end up at Visible Changes, the last store before Burlington, inside the mall. There is also a good-sized playground to my right, which replaced the fountain. I wasn't able to get a picture as it was in use.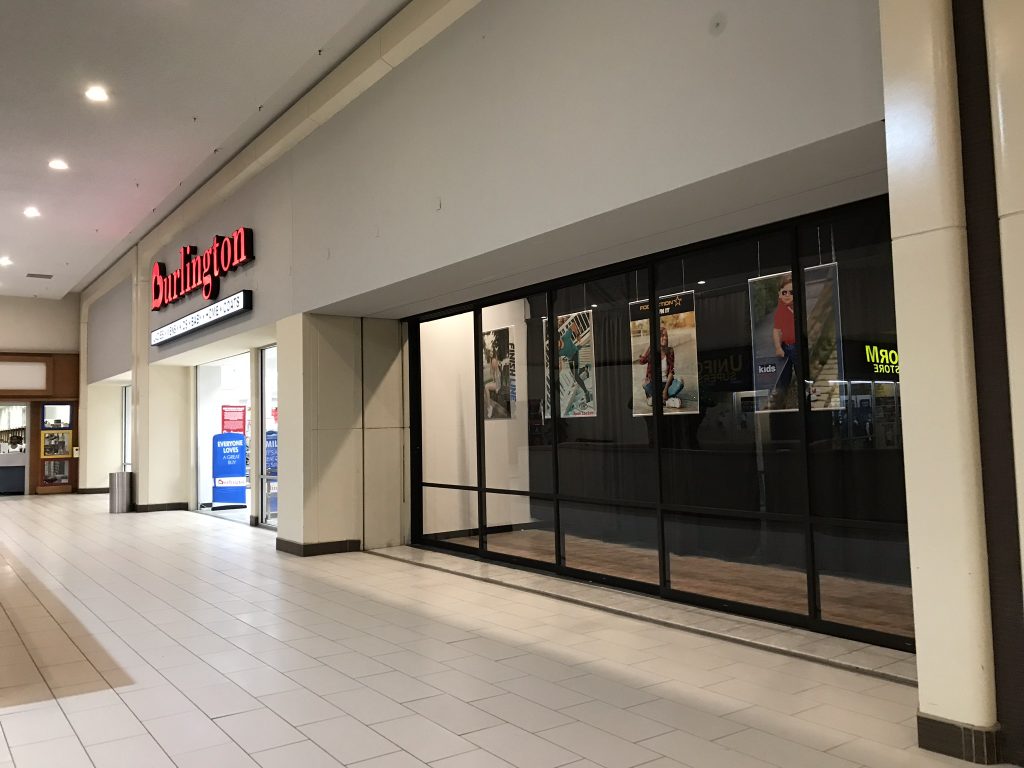 Finally, we reach the former Penney's now known as Burlington. Similar to the Antique Mall at Northwest Mall, only one entrance was utilized. The original "door" or sliding glass from Penney's is still used on the right entrance, but not the left. The Penney's closed in 2006, moving to an off-site property.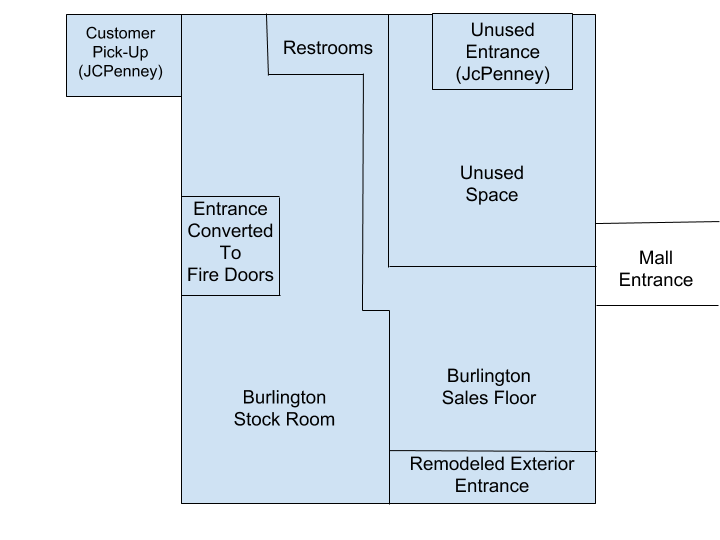 Before we enter Burlington, I wanted to show how the space has changed since Penney's Left. Burlington only operates about 1/4 of the original floor space. They completely gutted the sales floor area, removing dressing rooms, bathrooms, and offices. They presumably also did this to the stock room area too. They only left one functioning bathroom, near the former customer pickup area.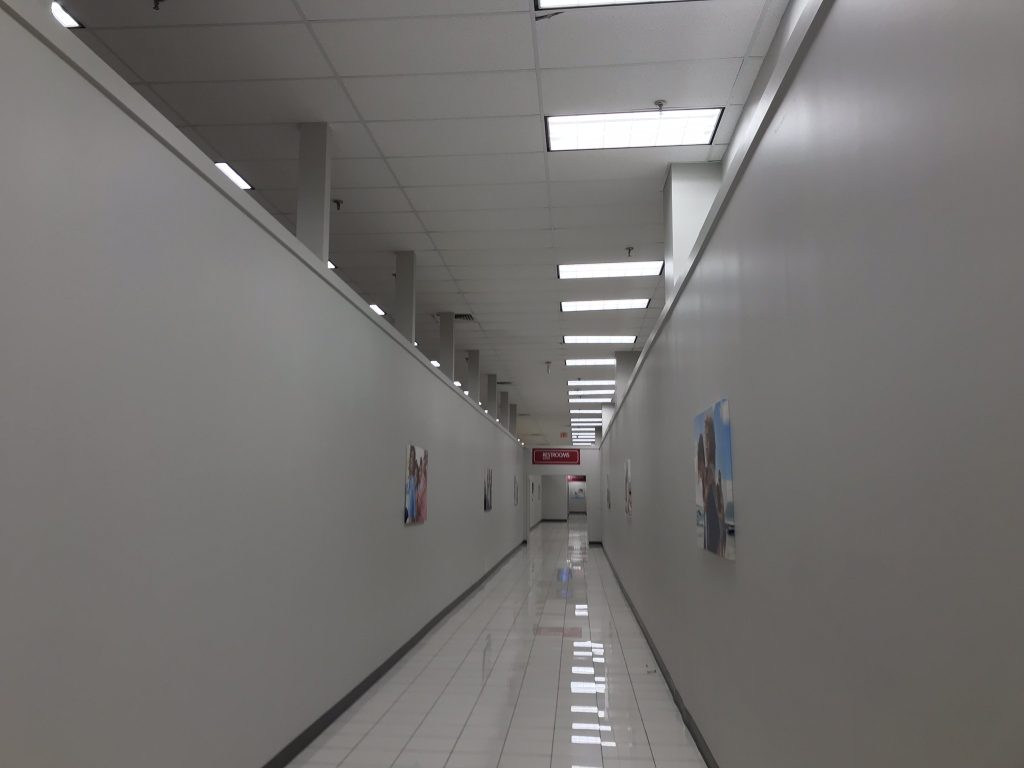 This means that you have to make a long trek down a hallway to where the Restrooms were when JCPenney still occupied the building.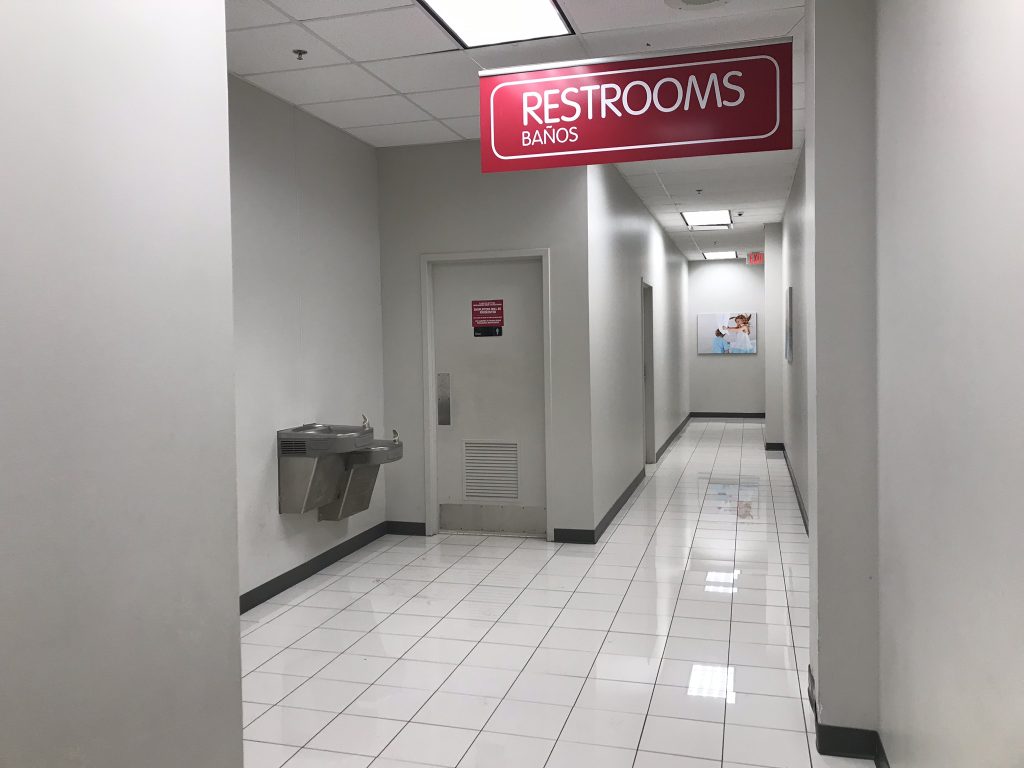 As soon as you hit the restrooms you can tell you're in an older part of the building. Starting with the doors, and probably the walls and ceilings most things appear to be original.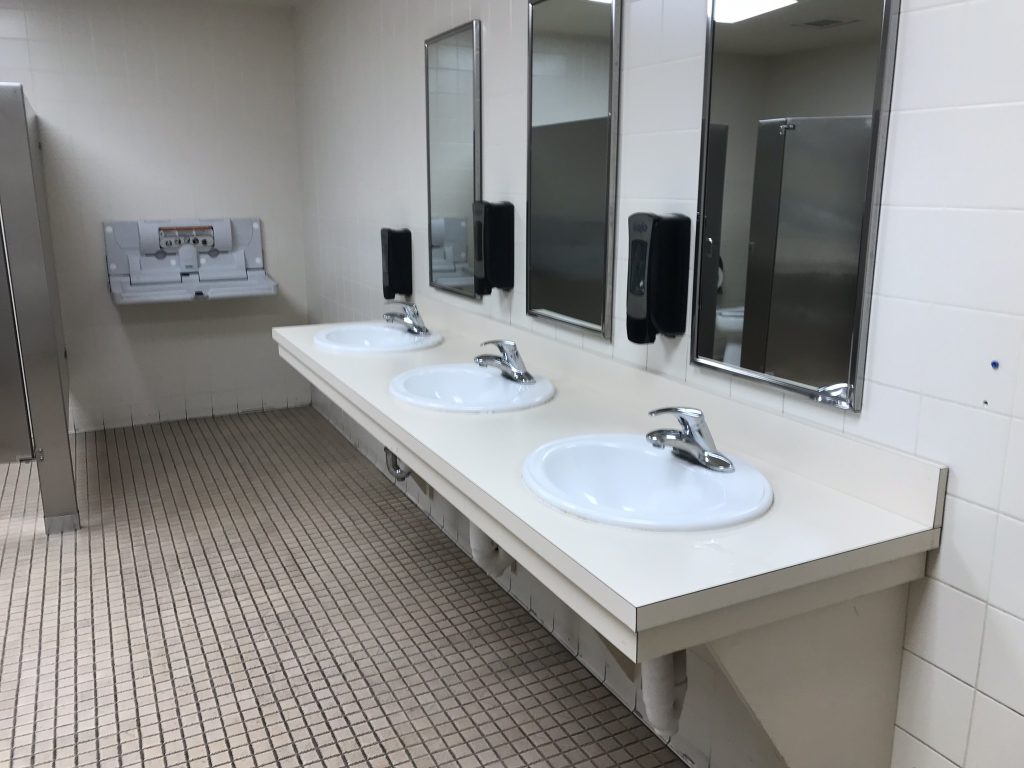 I'm not usually one to take bathroom pictures, but this is just about a downright copy of the original JCPenney bathrooms, the only new things I could find were soap and paper dispensers, which generally change with suppliers.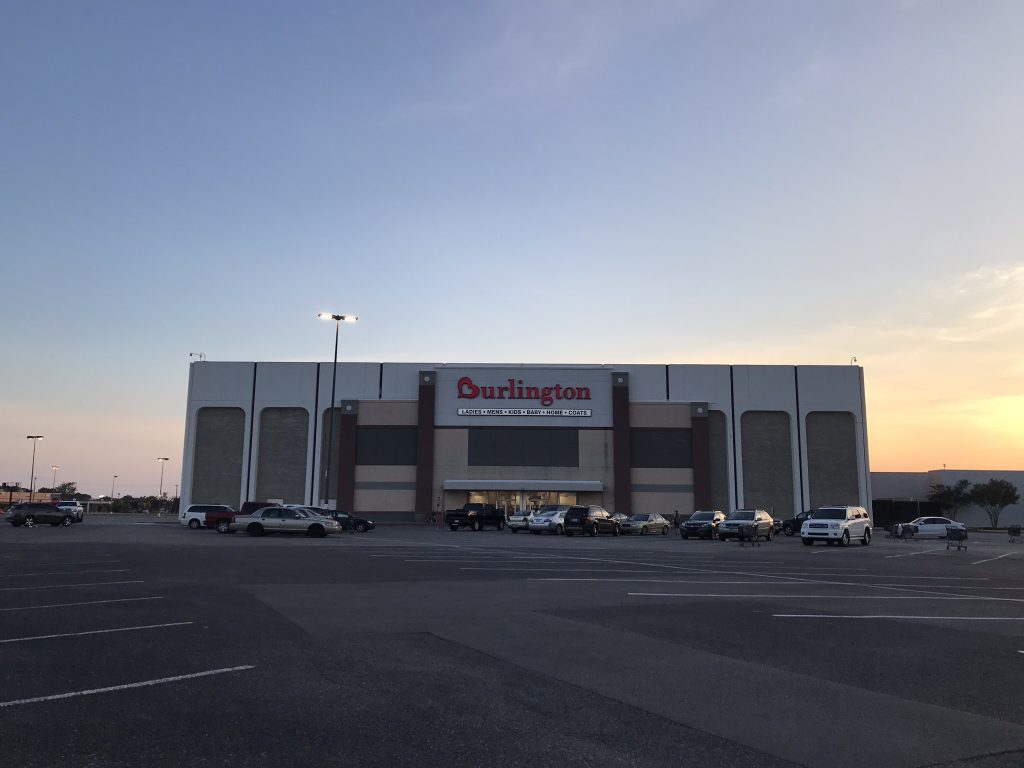 Moving outside of the mall, this is the updated facade that Burlington uses on what is technically the backside of the mall, but it is the side that faces the Gulf Freeway.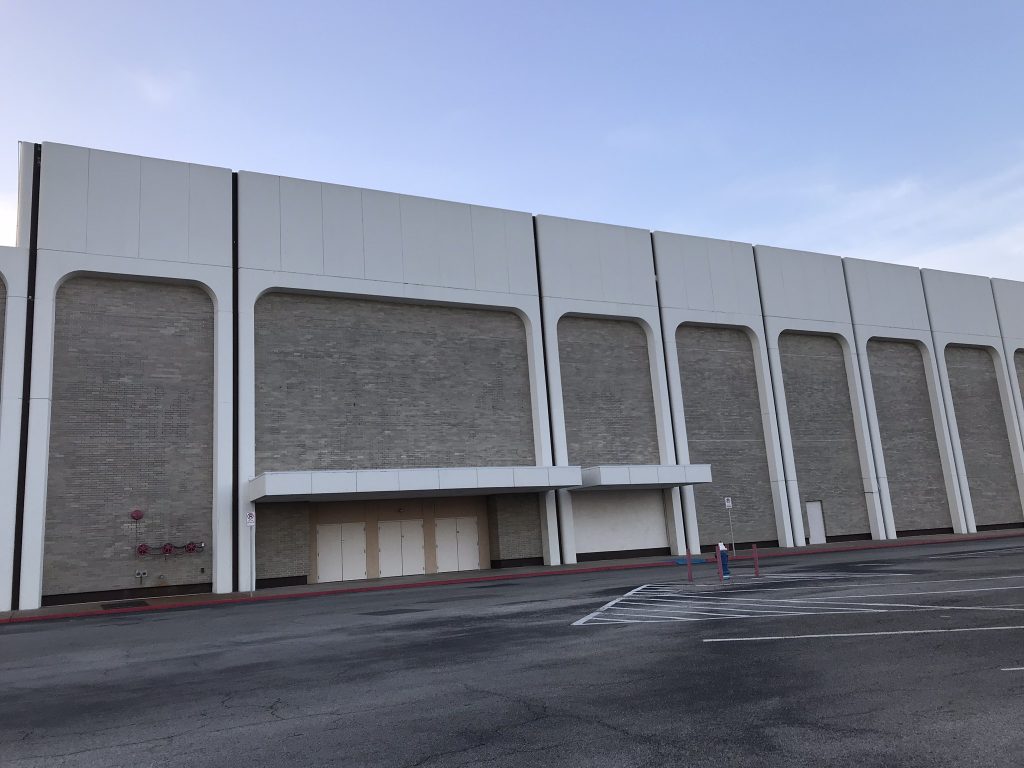 These entrances were converted into one-way fire escapes. They lead to the backroom of the store.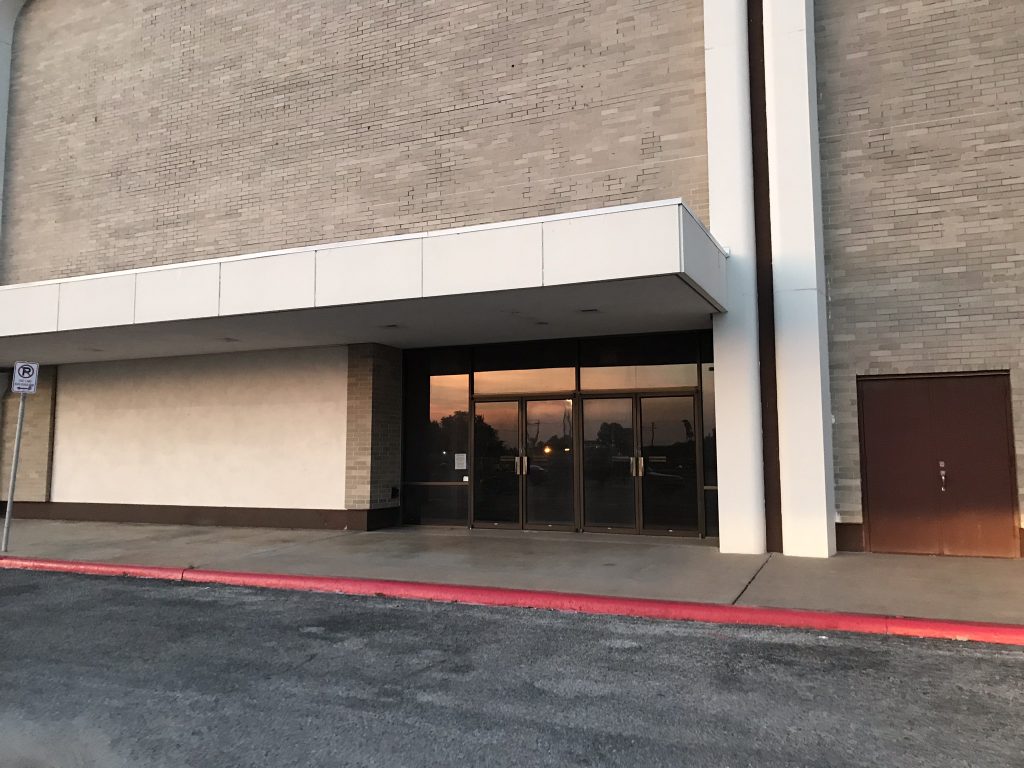 This entrance was untouched. The gate remains down inside, with no telling as to what's on the other side. Most of the building still sports that wonderful Penney's brown.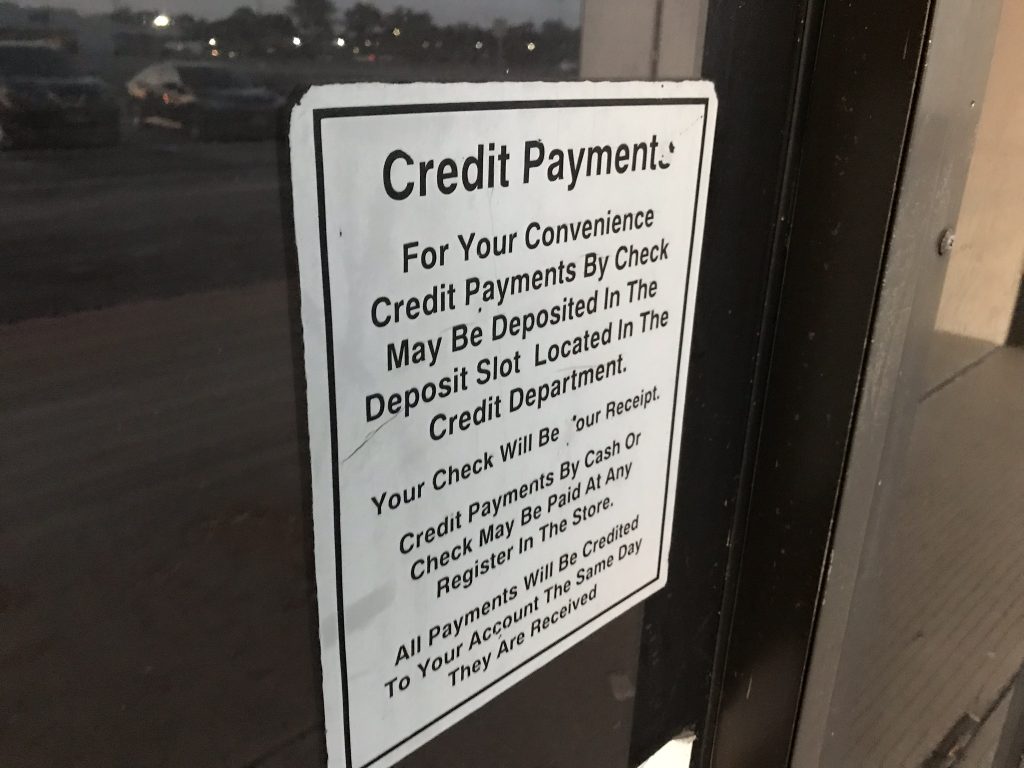 I have a feeling if you tried to pay your JCPenney bill at Burlington it wouldn't work out.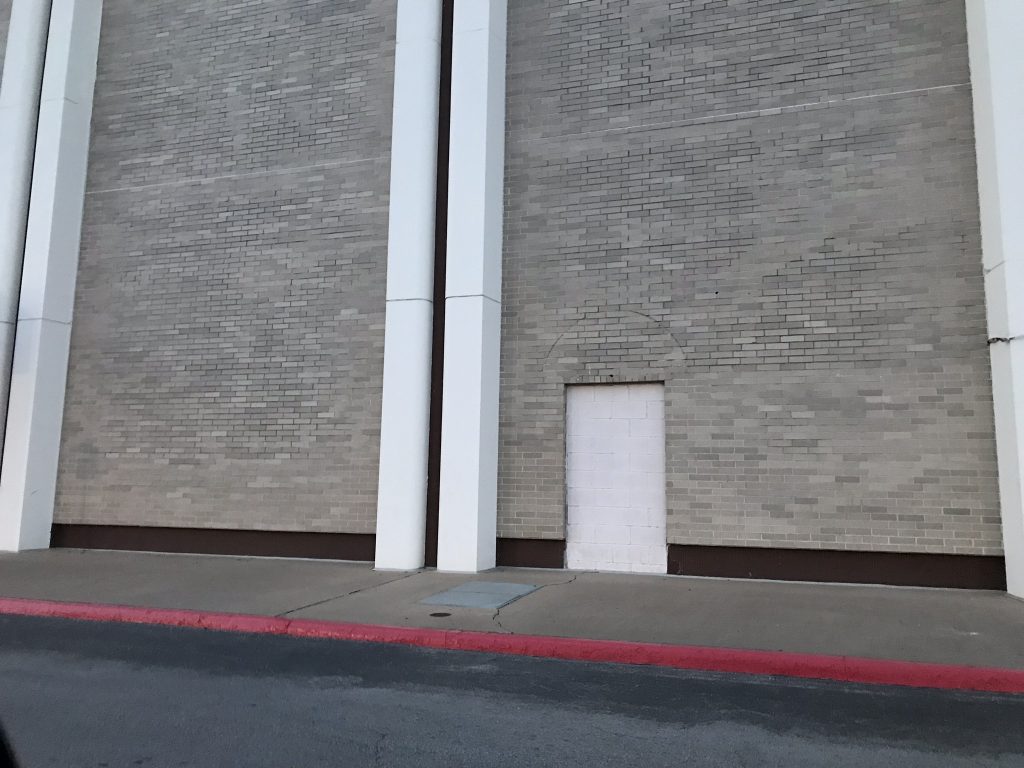 You can just barely make out the ring above this former door, it was probably for the optical department, however, I'm not completely sure.
Next on the outside list is Macy's The Macy's here and at Northwest both were built and opened 2 years before the malls were started. While both buildings are two stories only the first floor is utilized.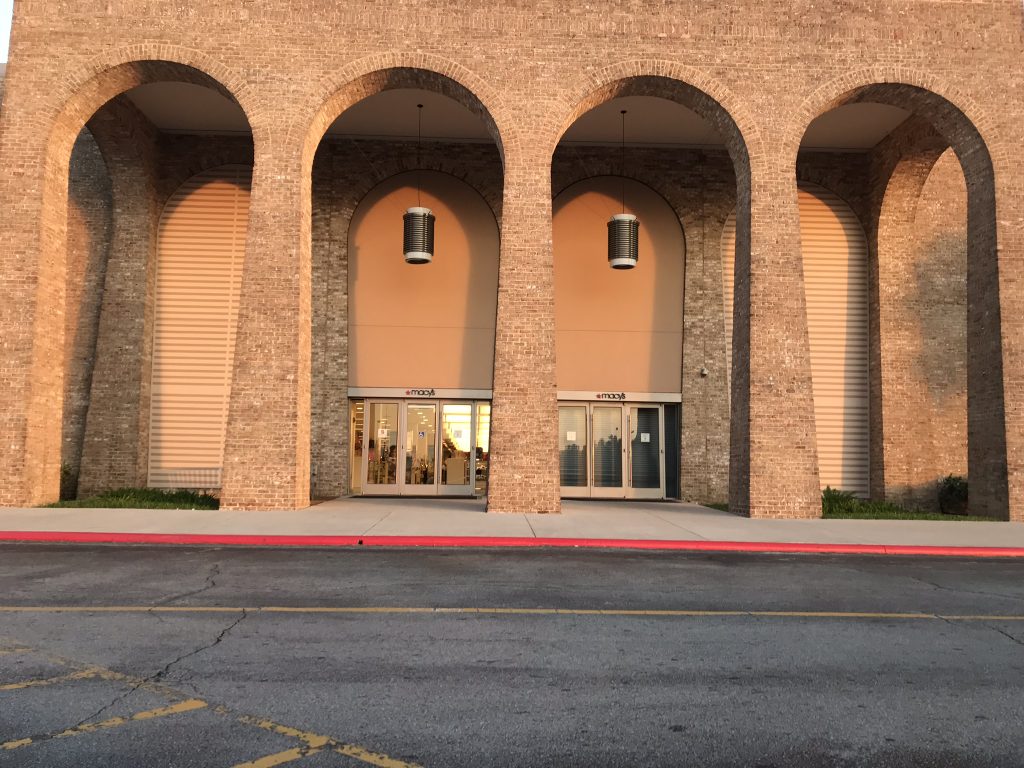 The store has been updated, of course, gone are the "F" handles left from Foley's replaced with modern and more secure doors.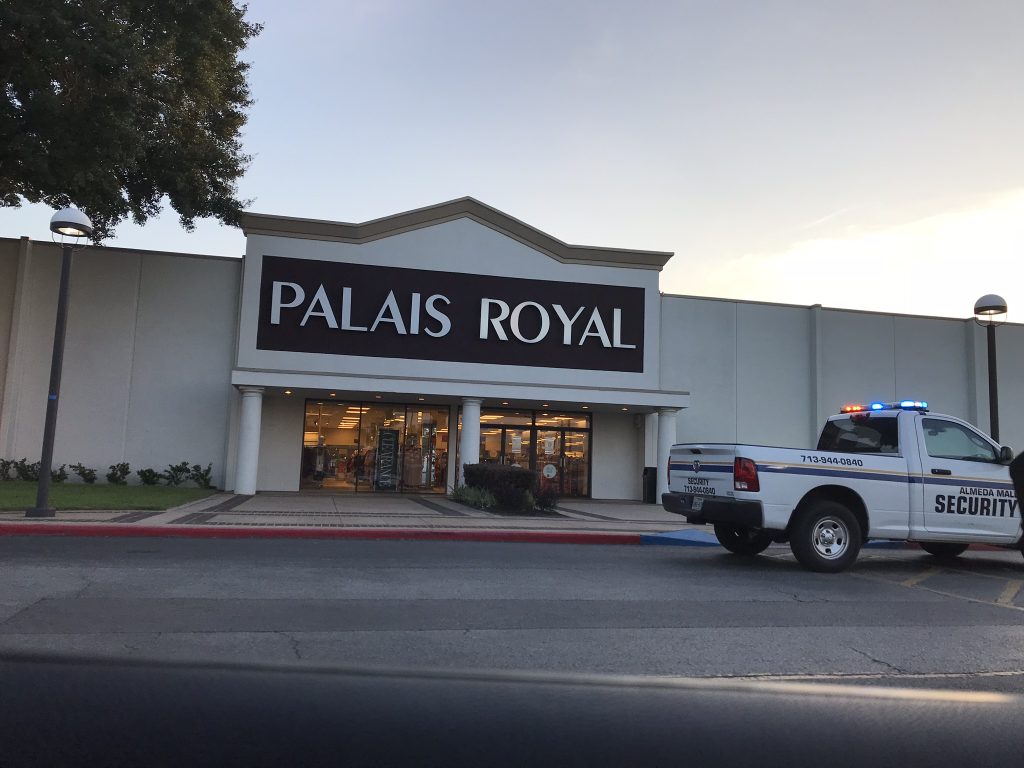 Moving on to Palais Royal, you can see how similar these two tenants are between the malls. At this point, Palais Royal is the only store to still operate at both malls.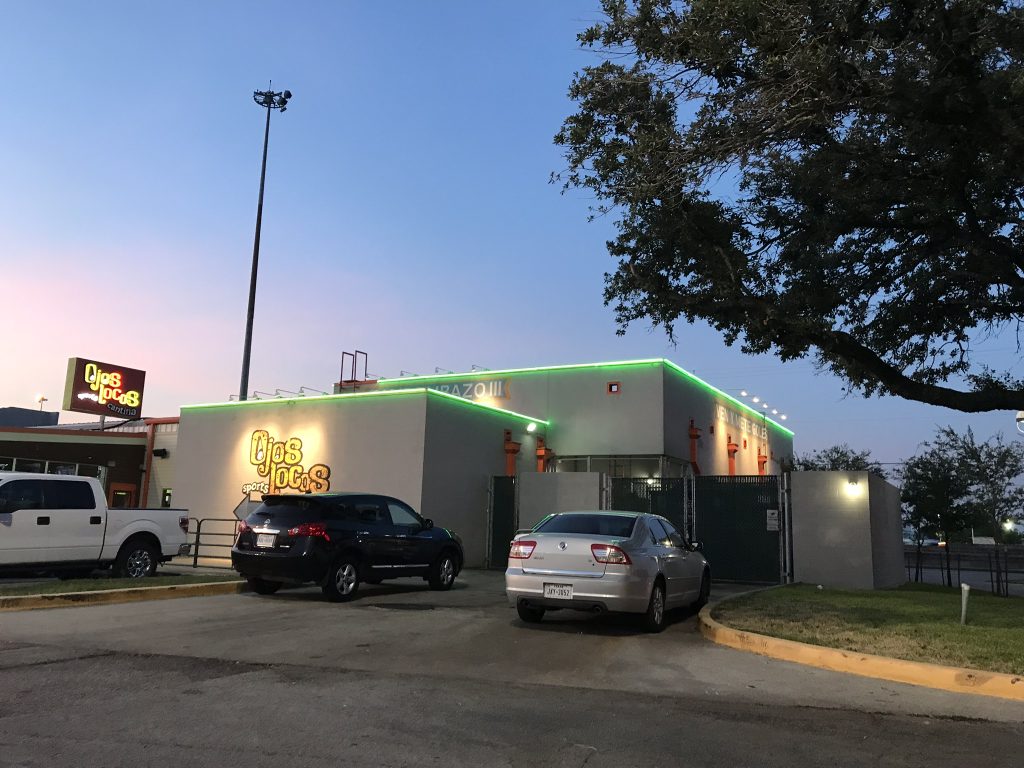 I wanted to include these last two pictures to show how well the mall is doing, especially with their pad sites. Ojo Locos, or "Crazy Eyes" is a Mexican Themed Sports Bar.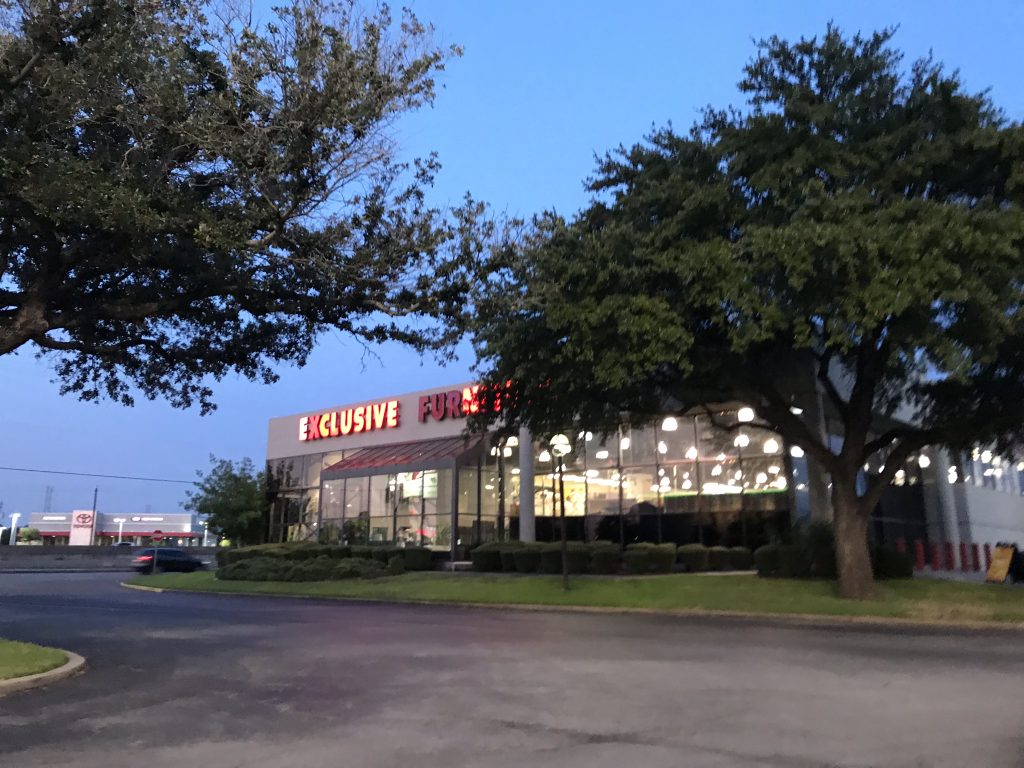 Exclusive Furniture, where low prices "liiiiiive", occupies a former "Just For Feet" location, although that's a story for another day.
All in all, Almeda Mall seems like it's going to be around for a while. It's definitely got a more stable footing than Northwest had. I'm sure that in a very broad sense the fact that these malls opened at the same time, had the same initial tenants, and both were in similarly prosperous neighborhoods all speak to the nature versus nurture debate. What are your favorite memories of this mall?