Howdy folks and welcome to a companion piece for the Month of Malls. While not a full mall post, our center topic today are the dead restaurants near West Oaks Mall. These eateries are mostly adjacent to West Oaks Village Shopping Center, as opposed to the mall itself. However, let's start off talking about full service eateries in West Oaks Mall. While the mall had its fair share of staple food court tenants, up until about 2010 full service dining has always been light at West Oaks. While a few restaurants like Biaproettis and most recent out parcel tenant Applebee's have tried to make their stands during the two different hey days of this mall, both failed. In between West Oak's early "luxury boom" of the 80s, and the "revival boom" of the 2000s, the aforementioned Power Center was constructed directly across Westheimer, with the intent of complimenting the existing mall stores. While dining would have been a great option, only one restaurant was included in the center, Valeri Ranch Steakhouse, which is now Swamp Kingz Cajun Restaurant. Every other restaurant was located on out parcel lots, not directly connected to the Power Center.
Let's start off the furthest restaurant from the mall, with what is also the first restaurant to permanently fall. 2000 S Highway 6 Originally opened as a Tortuga in 1999. In 2005, it became Monterrey's Little Mexico, along with most other Tortuga locations. The change caused a sharp drop in customers, and the restaurant was closed, and converted into a Tilted Kilt which would last until 2011. This would make it the first restaurant to fall, and in 2014 it would also be the first to be repurposed. It was purchased by Fadi's who converted the former restaurant into a catering kitchen, commissary, and banquet hall. As of 2021 it is still being used for this purpose.
Moving closer towards West Oaks Mall, we find ourselves at Fadi's neighbor and our next restaurant. This one should be obvious to most Houstonians, but 2020 S. Highway 6, originally opened in 1999 as James Coney Island, which closed in late 2018. It reopened in 2019 as LA Crawfish Shack, and is still using much of the original James Coney Island interior and all the exterior, including some original letters from the signage.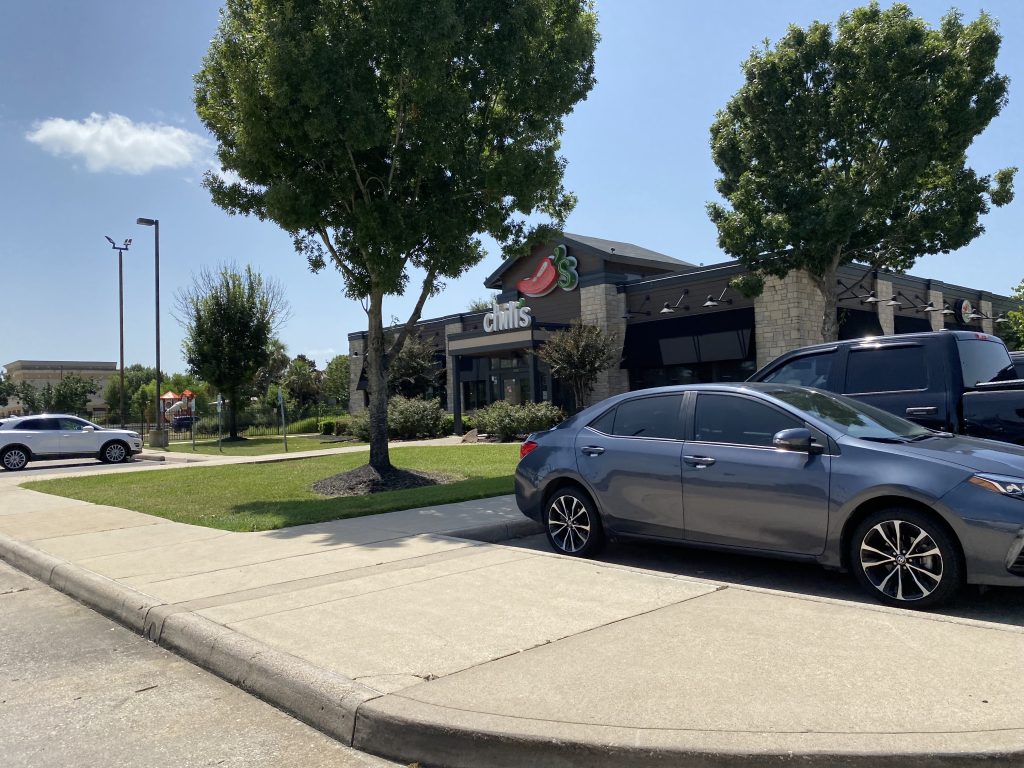 Skipping an oddly placed, and later built car wash, we find ourselves at 2100 Highway 6. A later addition itself, it originally opened in 2005 as a Chili's. The opening of this Chili's provided an unbroken corridor between Tortuga and Joe's Crab Shack, also allowing them access to a traffic light on Highway 6. The Chili's was a well-kept mid 2000s mostly tan prototype, originally with the giant pepper outside until a relatively recent remodel, the Chili's is the only original restaurant still open in the area and seems to be doing well.
2120 Highway 6, originally opened in 1997 as a Joe's Crab Shack. It closed in 2017 along with most other locations, but was not converted to a Brick House. It was repurposed shortly after as Joe's Truck Center, although the name seems unintentional, as this is a B-Lot/Storage for their main truck sales lot on FM 529 which predates this location. I believe it's still being used, but with the car market being lacking at the moment, it likely doesn't see much use.
Popping across the road for a moment, 2137 Highway 6, is actually the newest restaurant we're looking at today. It originally opened in 2009 as a new build Timmy Chan's, to replace their location at 6909 Highway 6 S. Presumably this location turned out to be less profitable than their previous spot, which they moved back to by 2013. I was amazed when this location opened and distinctly remember visiting it with a few friends who weren't interested in retail. We all were however very familiar with Timmy Chan's food, and the fact that the food, prices, or quality of service hadn't changed between the two locations was intriguing to us all. The building looked very nice, almost like a model home center. The facade is as it appears in the photos, except the brick was left as natural red. The signage was actually carved stone, not unlike an address block. The former Timmy Chan's sat vacant until 2016 when Crisp Doner Café opened, while I don't know much about this restaurant it never seemed terribly busy, but did have good online reviews. It however would close in 2019. With the building sitting vacant, vandalized, and looted since then.
2200 S Highway 6, originally opened as Logan's Roadhouse in 2000. This location was the second in Houston of a planned expansion, which never occurred. As Logan's the restaurant would close in 2015 sitting vacant until late 2017, succumbing to vandalism and graffiti during this time. After a few months of renovation, the spot would reopen as a Hooters. Being one of only a few mainline "American" restaurants in the area, it always seemed decently popular. However, it closed in 2020 during the pandemic, and this time the property owner preemptively boarded the building up.
Finally, we have the oldest restaurant in the group, 2210 S Highway 6, which opened in 1998 as Zio's Italian Kitchen. Zio's would stick around until about 2004 when it was purchased by Pappa's Italian Kitchen while I can't find much on this single location I can confirm it was part of the main Pappa's chain, and closed around 2006. The restaurant would then flip-flop through a few different things. Including a few different Mexican restaurants, and most recently a couple of clubs. It seems that the last time this building was constantly open was around 2016.
All in all, it seems that dining along Highway 6 has failed, possibly beyond repair. While I try to generally keep a sunny outlook about the area, main stream restaurants are out. However, there is something to be said for the independents which have struck gold in the area. Such as Amala Zone an African restaurant which has taken over the former West Oaks Applebee's. Or even LA Crawfish Shack, who has repurposed their former drive thru into a pickup window. Successful businesses are ones which are able to provide what their customer needs, in a way they want. The remaining stores at West Oaks Mall are able to do that, and as long as others are willing to attempt and adapt, these buildings surely won't be vacant long!