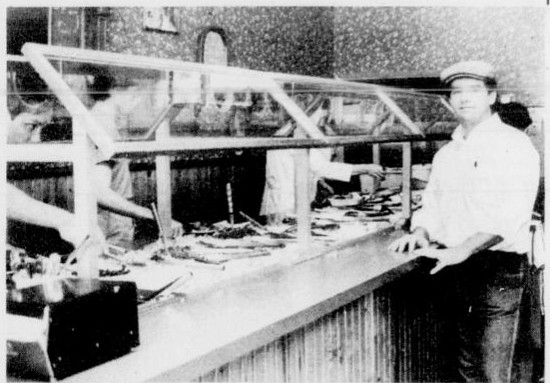 Well after an impromptu hiatus I am glad to say I'm back. The post I'm bringing you this time is not picture based, but rather text based. Sometimes when researching things, you go off on a tangent. Most of the time this leads to two half written articles. However, this list was too interesting not to post. I found the following listing of vegetarian restaurants, heavily heavily buried, while looking for On the Border Grill and Cantina's original locations. I have decided to repost it, to help preserve it. The list looks to have been originated on Usenet, which was a newsgroup which predates the modern internet. The full list can be viewed here. I have made some edits and additions to the content, which are represented in bold font.
Houston
Vegetarian Restaurants:
Wonderful Vegetarian Restaurant, 7549 Westheimer (at Hillcroft),977-3137
– Vegan. Chinese Buddhist. Kosher. Very highly recommended. The only vegetarian restaurant in town. Many of the dishes may be too meat-like for some.
– Under new management in Summer of 1994. Menu is supposed to be revamped with an emphasis on healthier food.
-Closed some time after 1996

Anand Bhavan, 6662 SW Frwy, 977-0150
– Indian vegan. North and South Indian foods. Open 10am-9pm.
-Renamed "Shiv Sagar" in the 2000s

Quan Yin Vegetarian Restaurant, 10804-E Bellaire Blvd, 498-7890
– Lacto-vegetarian. Vegan-friendly. Run by a religious organization, The International Supreme Master Ching Hai Meditation Association.
-Still open as of 2018, not sure about the religious connection however.

Vegetarian Friendly Restaurants:
Hobbit Hole Cafe
– Rumored to be once all-vegetarian. Many dishes are lacto-vegetarian that can be easily made vegan. Also several vegan dishes. The black bean nachos are incredible. Special bonus is the Tolkien-related decor and recipe names.
-Still open, confirmed that the first 10 years of operation were with a completely vegetarian menu.

A Moveable Feast, 3827 Dunlavy (2202 W. Alabama?), 528-3585
– Macrobiotic restaurant. Casual, upscale. Innovative cuisine. Brunch on weekends.
-Was known as more of a Health Food Store, according to this article.
-Located at 2002 W. Alabama from 1989 until company's bankruptcy in 2001. Was located at 3287 Dunlavy (now demolished former Weingarten's) prior to that.
-Another location at 9341 Katy Fwy is still open as of 2018.
Whole Foods Market, 2 locations:
2900 S. Shepherd, 520-1937
11145 Westheimer Road, 784-7776
– Natural food store with small restaurant attached. Vegan friendly. Great salads and entrees. Highly recommended.
-2900 S. Shepherd was the first Houston Whole Foods, and the first outside of Austin. It was located here from 1984-2001, when it moved to its present location of 2955 Kirby.
-11145 Westheimer was the second Houston location to open, it operated from 1991 until 2016 at 11145.
-In 2016 the store moved across Wilcrest taking over the former Randall's at 11401 Westheimer.
Baba Yega
– Kinda like the Hobbit Hole but less veg. Serves a veggie burger.
-Still operating at the same location has continuously been in business since 1975.
Hungry's International, 2356 Rice Blvd, 523-8652
-Opened in 1975 as Hungry's International Sandwhich Shop, has since renamed themselves to simply "Hungry's".
-The first location was in the Montrose Area, with the Rice Blvd. location opening sometime before 1995.
-Another location is open at 14714 Memorial Drive
Souper Salad, 5460 Weslayan, 660-8950
-This chain slowly left the Houston City Limits, with only 2 left in the Metro area as of 2018.
-This location closed in the early 2000s.
-It filled in a what was originally a walkway in the Weslayan Plaza/Montclair Shopping Center
Star Pizza, 2111 Norfolk, 523-0800
– Have veggie pizzas.
-Still open (and popular) at the same location!
Macrobiotic Center, 2815 Garrott, 523-0171
– Not a restaurant, but caters vegetarian food.
-No longer in business, no details available online
-Was possibly run out of an apartment?
Seekers Natural Foods and Vitamins, 4004 Bellaire, 665-2595
– Natural foods store with 90-item salad bar. Includes organic produce. Vegan options on menu. *VRG
-Seekers went bankrupt in 1999.
-Location was purchased by and still operates as a Whole Foods.
On the Border, 2 locations:
9705 Westheimer, 977-9955
4608 Westheimer, 961-4494
– Mexican. Grilled vegetable fajitas. *VRG';
-Both locations closed in the early 90's. The company would try Houston again in the early 2000s.
– The 4608 location operated as Sullivan's Steakhouse for a few years, and was demolished in 2018.
-The 9705 location was succeeded by Churrascos
Bombay Palace, 3901 Westheimer, 960-8472
– Indian. Daily buffet has vegetarian options. [Is it vegan-friendly?]
Open daily for lunch and dinner. *VRG
-Moved in 2000 when lot was cleared for Central Market.
-Relocated right across the railroad to 4100 Westheimer.
-Eventually closing in 2005, being replaced by Kiran's.
Empress of China, 5419 A FM 1960, 583-8021
– Chinese. Vegan-friendly. Exquisite. It doubles as a routine Chinese restaurant for lunch and at night transforms to one of Houston's most elegant, word of mouth, high cuisine restaurants with extensive wine selection. Scott and Mae Chen provide wonderful atmosphere. Mr. Wong's kitchen staff are versatile and it's far, far cleaner than my compulsive pathologist wife and I can keep our kitchen at home. Call in advance and arrange business meetings or banquets. Can match the appearance of continental east meets west flavored and decorated dishes so you can take non veggie guests for a gentle introduction to veggie food in a wonderful setting. Truly culinary ART! Does exquisite vegetarian banquets on request. I've studied Chinese food for 20 years and I can't begin to touch the art of preparation I've seen this kitchen routinely turn out for the past two years. Open Mon-Fri from lunch to 10pm, Sat dinner. Closed Sun.
– I have an inkling this place may not have been as good as the original author claimed. It was out of business prior to any modern internet listings.
Red Pepper Restaurant, 5626 Westheimer, 622-7800
– Chinese. Many unusual vegetarian (vegan?) options. Open daily. *VRG
-Still open, still serving many vegetarian options.
Asian Restaurant, 3701 Weslayan, 850-0450
– Chinese/Vietnamese. Separate vegetarian menu. Vegan options. *VRG
-Can't find any info on this one.
Guilin Chinese Cafe, 4005 H Bellaire, 661-1963
– Chinese. Some vegan options. Counter service. *VRG
-Can't find much info online, other than the fact that it closed.
Thai Pepper, 2049 W. Alabama, 520-8225
– Thai. "Best Thai food in Houston." Accommodating staff. *VRG
-Still there and highly regarded!
Paddy Thai, on Westheimer
– 'Vegetarian' in Thai means 'substitute tofu for flesh'. Be sure to insist on no fish sauce or other animal products.
– Closed sometime between 2005 and 2009.
Health Food Express, Bayou Park Club, 4400 Memorial Drive, 861-2800
– Natural foods. Food delivery business supplies a week's worth of food. Lunches at cafe itself Mon-Fri. *VRG
– So far as I can tell they changed names to Epicurean Lite and discontinued cafe service.
Natural Foods Stores:
Whole Foods Market
– An excellent chain of grocery stores. Not entirely vegetarian, but lots of good stuff veggies look for. Excellent selection of organic produce.
Seekers Natural Foods and Vitamins, 4004 Bellaire, 665-2595
– Natural foods store with 90-item salad bar. Includes organic produce. Vegan options on menu. *VRG