Blog post and captions written by: Anonymous in Houston
Photos taken by: Mike
Researched by: Mike & Anonymous in Houston
One thing I like to do when I have some free time is to poke around on Google Maps to see if I can spot any interesting retailers in areas that I don't visit very often.   I was recently browsing the Alvin aerial map to see if I could spot anything interesting.  For those unfamiliar with Houston, Alvin is a small community in the far southern part of the Houston metro area.  I spotted a big box retail looking building that had a store in it called the Alvin Antique Center & Marketplace.  I figured that surely this antique mall must be in a building formerly operated by a major retailer so I zoomed in on the building to see if I could tell what it might have been in a former life.
I then decided to take a look at some interior photos of the antique mall on Google Maps and, wow, I was in for a big surprise!  The walls of the antique mall had all kinds of neon signage from what had to have been a supermarket!
Now these are the kind of antiques I like and I'm just talking about the décor of the antique mall!  I figured that the previous tenant of the building was a supermarket, but I could not tell which supermarket it might have been.  I figured that Houston Historic Retail's editor, Mike, might have some idea about the history of the building.
The following is a summary of the dialog Mike and I had:
Anonymous in Houston:  Do you know who the prior tenant was in this building in Alvin that I'm seeing in Google Maps?
Mike:  [After a period of research] It looks like it was Bottom Dollar Store from 1972 to about 1986 and a Super Warehouse Foods from 1994 to about 2002.
Anonymous in Houston:  Ok, thanks.  I reckon the neon supermarket décor is from Super Warehouse Foods.  Oh, by the way, what the heck is a Bottom Dollar Store?!
That's when the journey started!
I am somewhat familiar with Super Warehouse Foods being a grocer in places in the Houston metro area like Baytown, Pasadena, and Alvin, but I never actually shopped there.  In fact, if you read my recent HHR blog post Vintage Ads: AIMing For The Best, you may remember seeing a link to a 1983 ad for the Baytown Super Warehouse Foods in The Baytown Sun newspaper.

Bottom Dollar Stores, however, is a chain I had never heard of before.  In fact, none of my Houston retail enthusiast colleagues knew anything about them either.  Mike and I immediately started researching them and what we found was very interesting.  Although there are still some question marks about them, we were able to find enough information about Bottom Dollar Stores to be able to have a pretty good idea of their history and what kind of store they were.
This might be a big surprise to most Houstonians, but Houston was the home of the headquarters to an operator of chain discount stores, the Bottom Dollar Stores, which operated from around 1962, as you can see from the above Grand Opening ad of their Galveston store that was in The Galveston News (via newspapers.com), to 1987.  Bottom Dollar's initial Galveston store was a mere 6,000 sq. ft. in size, but they later operated stores that were around 50,000 sq. ft. in size.  That would have made them pretty similar in size to Wal-Mart Discount City stores in the early 1980s.  It seems Bottom Dollar's soft lines departments were operated under lease by K. Wolens Department Store.  This allowed them to sell some fashion brands, like Calvin Klein and Levi's, that would not normally be available to discount stores.

The probable reason why most Houstonians, even ones who were around during Bottom Dollar's existence, have never heard of this chain is because the Alvin Bottom Dollar store was the closest location to Houston that operated under the Bottom Dollar name at least.  The other Bottom Dollar locations that I know for sure existed were in the small Texas Gulf Coast communities of Galveston, Clute, Wharton, Cuero, Bay City, and Port Lavaca.  Angleton had a short-lived Bottom Dollar Store which went on to become a Wal-Mart Discount City just mere weeks after it closed in 1983.  It seems probable that Rosenberg had a Bottom Dollar location as well, although the evidence for that location is a little less solid than it is for the other locations.
Bottom Dollar Stores were founded by Joseph Lebow, but the Bottom Dollar Stores were not Lebow's first attempt at being in the retail business.  It seems that Lebow operated a wholesale business named Lebow Wholesale Distributors who helped provide brand name inventory for discount stores doing business in Houston and perhaps elsewhere as well.  From what I can gather, Lebow's warehouse was at 2200 Schlumberger Street in Houston and then later at 9655 W. Tidwell Road in Houston.  Since Lebow was used to supplying other discount stores, it seems he decided to try his hand at operating a discount store chain himself given the advantage of him having his own warehouse system based in Houston.  It seems Lebow followed Wal-Mart's strategy of growing from small towns even if Lebow's business differed from Wal-Mart in the sense that Lebow's business was based in a major city.
I earlier said that Bottom Dollar never operated stores under their own name in Houston, but it seems that Lebow did try running a concept called Club Warehouse where shoppers could buy merchandise direct from their warehouse on W. Tidwell at presumably big discounts due to low overhead costs.  In some ways, the Club Warehouse idea seems somewhat similar, though not completely so, to Wal-Mart's Sam's Club division which started operating in 1983 as well.  Here's an ad for Club Warehouse from a 1983 issue of the Houston Chronicle (via NewsBank):
The front page of The Cuero Record for April 2nd, 1971, which is available on the Texas History Portal, has an article describing the Bottom Dollar store that was to come in Cuero.
The Cuero Record for June 10th, 1971 has a photo of the Burns Hospital that was torn down to make room for the Cuero store.
Pages 17 through 24 of the Port Lavaca Wave from January 16, 1984 has an ad for Bottom Dollar showing what kind of products they sold.  The last page, page 24, has a listing of Bottom Dollar store locations in 1984.
It seems that the Bottom Dollar stores, and probably the Club Warehouse store as well, all closed between 1986 and 1987.  The Port Lavaca Bottom Dollar was probably the last store to close in late summer 1987.  The September 2, 1987 Port Lavaca Wave has a "Quitting Business" liquidation sale ad discussing clearing out their Houston warehouse on page 16.  Perhaps connected to this is another ad in the very same issue of the Port Lavaca Wave on page 20 discussing the upcoming opening of a Wal-Mart store in the area.  Did Bottom Dollar throw in the towel when they knew Wal-Mart was moving into the area?  Or did Wal-Mart sense an opportunity to enter that community when Bottom Dollar was moving out?  Or maybe the two events were unrelated?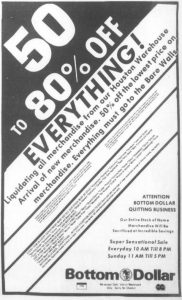 Mike has an excellent page here at the Houston Historic Retail blog with more information about Bottom Dollar and a list of locations.
---
Alvin Antique Center & Marketplace
Now that we've gotten to the bottom of Bottom Dollar Stores, we will take a close look at the Alvin Antique Center & Marketplace as it currently exists.  Surely the readers of Houston Historic Retail know that we are going to cover a retailer with neon-like lighting especially when the neon signage is completely out of place given the goods being sold at the store in current times!  Who knows, maybe some of the products being sold at the antique mall were originally sold at the Bottom Dollar or Super Warehouse Foods stores that operated out of this building.  Whatever the case is, the antique store here itself is part of the great antiquing experience!
Mike was able to visit the Alvin Antique Center & Marketplace recently and here are some photos from his visit:
I hope you've enjoyed this brief look at the history of Bottom Dollar Stores and the look inside the Alvin Antique Center & Marketplace with the neon-like Super Warehouse Foods décor.  Do you have any memories of shopping at any of these stores?  Do you have any knowledge about Bottom Dollar Stores?  If so, we'd love to hear from you in the comments section below!