Welcome back to our second Permit Roundup, this week our post is a bit shorter than last week. It seems similarly to Demolitions Reports, the Residential/Commercial balance changes from week to week, again with an emphasis on the residential permits. Also, if you didn't read it in yesterday's demolition post, my server is running very slowly at the moment, but I am in the process of updating, so please bear with me in the meantime.
Regents Square, is an in progress mixed-used development with the unique goal of "Creat[ing] Houston's premier mixed-use development and its first truly pedestrian-oriented city district." according to their website. While the project is still under construction, permits filed this week provide some insight into what may be seen versus original designs. Checking out the HAIF thread for the development, it seems like most if not all buildings are in their final construction stages. This week, permits were filed for 6 new unleased retail spaces in Regent Square. These spaces range from about 5,000 Square Feet up to 16,000. Most development material has shown retail in first floor spaces, and the new stores have been assigned addresses along Dunlavy and W Dallas, suggesting the stores will front both streets. In other ground level mixed use retail news, Norton Ditto at 2425 W. Alabama has filed permits to remodel their former next door neighbor Beckrew Wine House, which was a short-lived (5 year) replacement for The Tasting Room. While plans have not been announced concerning the former intimates shop next door, a full remodel permit has been filed, so the space could potentially be expanded. Another retail space seeking new digs is E&G Amish Furniture, who filed a permit for a new build out at 13027 Gulf Freeway, Houston, TX 77034. At present the firm operates two locations in strip centers, one in Sugar Land, the other outside of Baybrook Mall. It seems possible that this may serve as a replacement store for their present Baybrook location.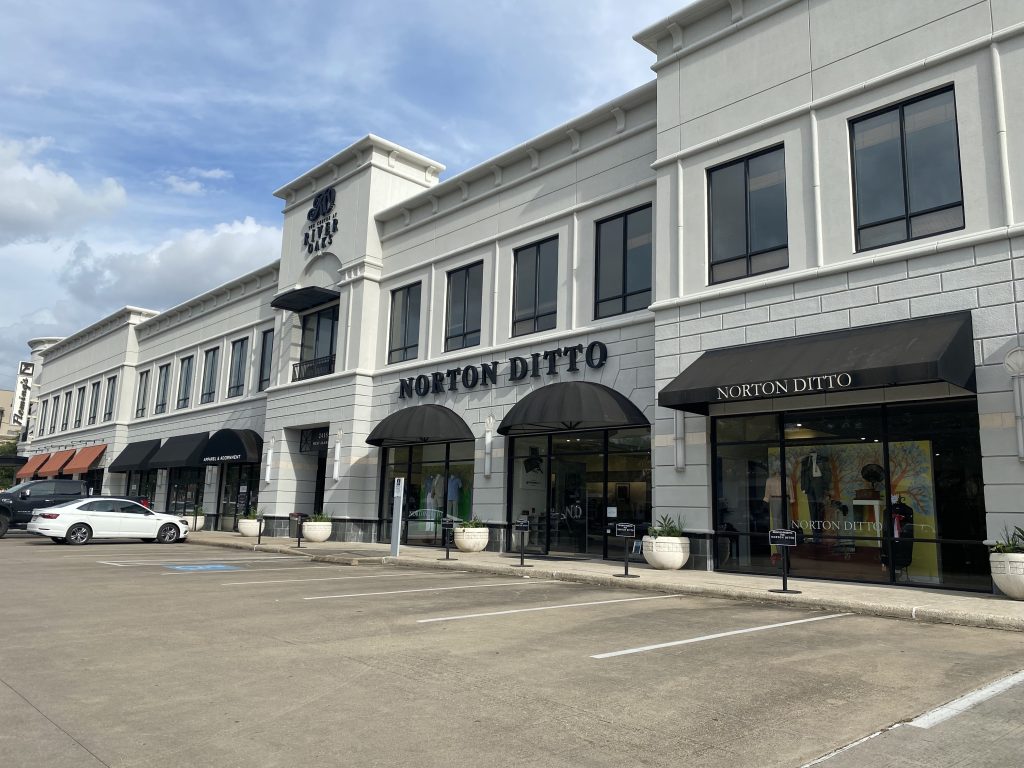 In chain goings-ons we see multiple remodels in the works this week. Starting with the biggest, the San Felipe and Voss Kroger has filed a permit for a full store remodel. It's not unsurprising, as we've recently seen a dedicated push over the last few years from Kroger to update their stores. While the better trafficked Houston stores were kept up to date, many did fall behind. At over 67,000 Sq Feet, this huge location, used to compete against one of the original Randall's Flagship locations. Another grocery remodel comes in the form of an expansion to the curbside department of an existing store. Permits were filed for an interior remodel of HEB's Buffalo Speedway Curbside department. This will only be a remodel and not an expansion as H-E-B is quite limited with this site. Moving onto some medium-sized retail remodels, permits have been filed for two new Walgreens/Village Medical locations. The stores are 11994 Richmond Ave along with 12611 S Gessner as seen in earlier blog posts, Walgreen has switched to subdividing the interior of stores for remodeling, meaning these will be done pretty quickly. Coming in with another dual store remodel, we have 7-Eleven, who is making the moves on two former Raceway locations servings as generic "Marts". The stores are 3335 Antoine and 6737 W Tidwell. The new stores I have seen so far are a bit cramped, but otherwise fine and look relatively bland, which is what 7-Eleven seems to be aiming for. Finally, for remodels, we have the McDonald's at 5401 Telephone Rd receiving its 10-year update. Fear not, this isn't the removal of mansard roof, or any other such "atrocity" this is actually the stores first 10-year remodel.
Since we're already on the topic of food, lets close out with new some restaurants. First off, it seems that Candelari's Pizzeria might be getting into the ghost kitchen business. A permit was filed by Candelari's to convert a former Western Ware shop at 4117 Willowbend Blvd into a commissary kitchen. While a commissary kitchen can be used for things like catering operations of an existing restaurant, the distance from their W. Holcombe Blvd. Location raises some questions. Speaking of expansion, popular "wine café" (brunch with booze) joint, Postino has filed permits for a nearly 1500 Square foot expansion to their existing Uptown park location. This compliments a newly opened branch of the restaurant in Town & Country Village. In the same neck of the woods, Common Bond Cafe has filed permits to build a new "On the Go" location in the Marq-e Center. The On the Go locations are similar in scope to a Starbucks with their offers of coffee based drinks, basic sandwiches, and excellent pastries. However, the quality is much higher and overall execution above anything you'd find at Starbucks. Finally, this week it seems we have Sichuan on the brain with two new but unrelated restaurants coming to town. Sichuan Pepper seems to be an independent restaurant which has filed a permit for a build out in the new commercial development at 3201 N Shepherd. On the other hand, Mala Sichuan is a small but established chain with four locations throughout the Houston area. In case you're unaware, Sichuan cuisine is not new to Houston but has been spelled Schezwan in the past. Mala Sichuan has filed permits for a new restaurant located a 600 N Shepherd. This new restaurant will be part of the M-K-T "Mall" although, I'm using that term loosely.