Greetings loyal reader, with Halloween approaching I feel it's time to provide an update. As my sporadic posting schedule continues I don't want you to think I have abandoned my site. Prior to this the most recent update was the publishing of my Del Taco and Steak N Shake pages. I'll provide some more information as to what's coming up at the end of this post.
One of the oldest trends in retail photography are photos of abandoned places. Originally retail photography seemed to be somewhat of a subgenre of abandoned photography. I remember my first connection with retail photography being a blog post about an abandoned McDonald's in Indiana. As retail grew into its own fandom, the phraseology began to change to differentiate us. An example would be the term "dead mall". The characteristics of a dead mall vary from person to person. However, broad strokes would include something along the lines of having most or all anchors closed, few to no major brand stores left in the mall, low tenancy, but not completely vacant either. It's a mall which is basically on its last legs.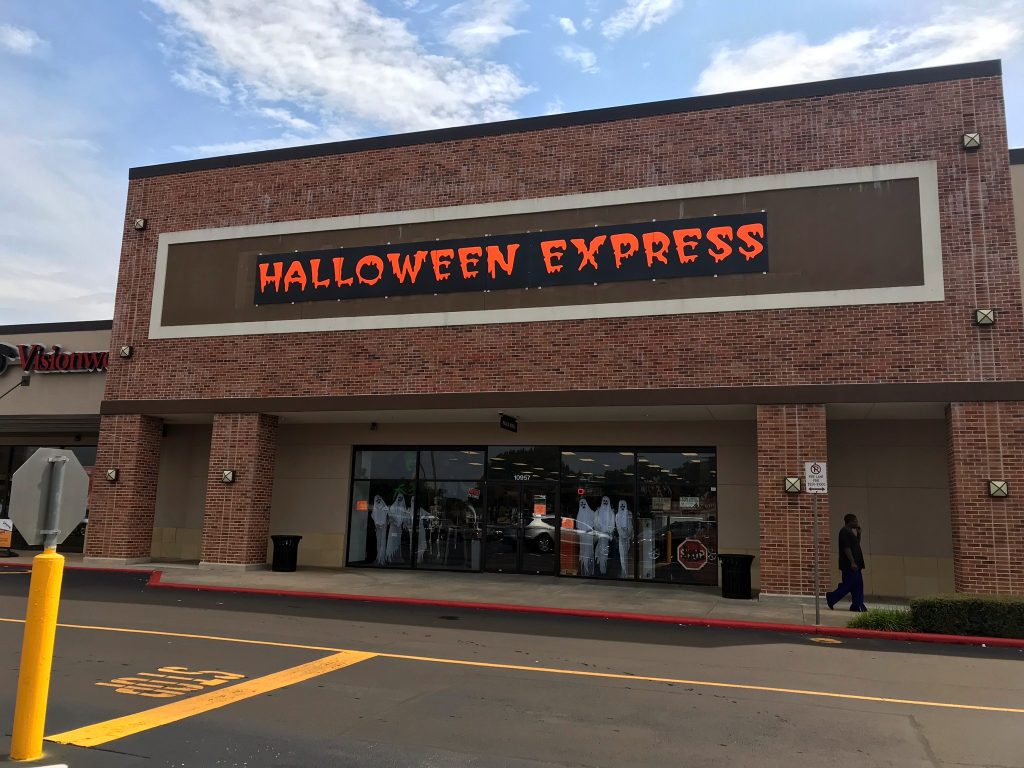 Today we start by looking at a Halloween Pop-Up, in a former Palais Royal. Opened in 1998, it was a late addition to the shopping center and as far as I can tell was the replacement for long defunct Craig's Clothing. Usually pop-up shops, Halloween or otherwise, do a poor job covering up what store used to host them. For the most part they come in put up their racks, merchandise, and do the best they can to cover at least copyrighted decor or anything which confuse the customer. This also happens to be the way in which vacated chain shops in dead malls are usually converted. However, there is a key difference between the two examples.
As seen in this photo fixtures, shelving, and all merchandise are all generally pulled. Although, much is left behind showing this store's history. Examples from this photo include the well kept tile floor, and the difficult to see built-in shelving towards the front of the store. What sets conversions apart from pop-ups is conversions are far more permanent. This shoddy work is usually a requirement of the lease which prohibits any changes to the structure.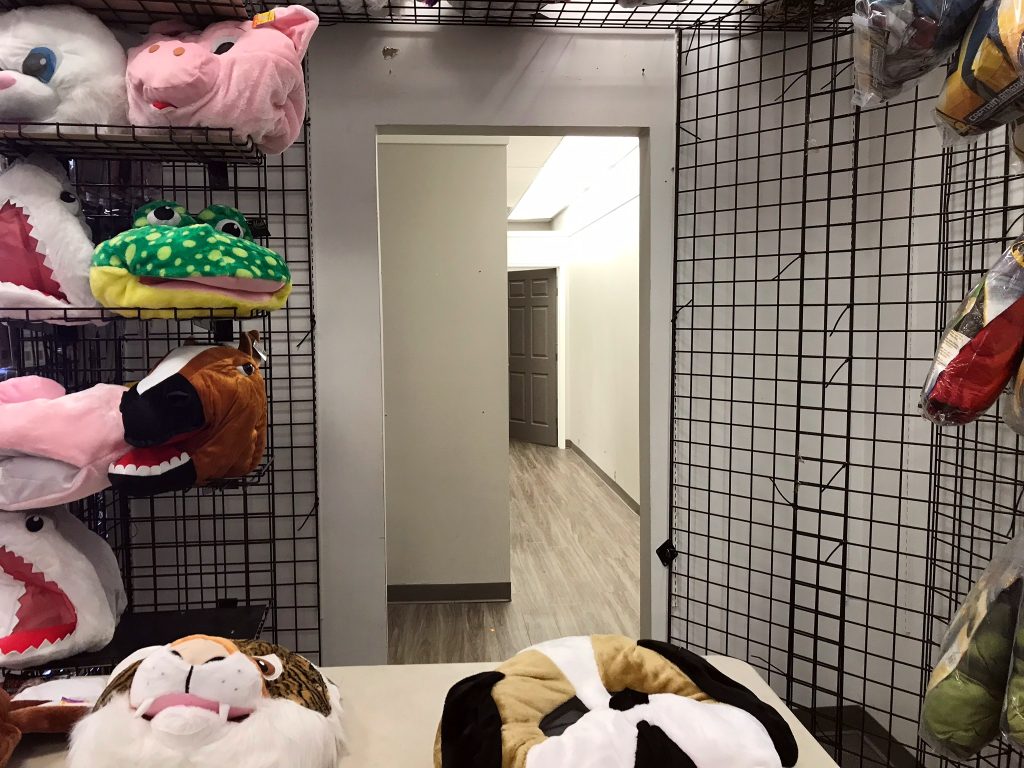 If appropriate for the situation, conversions will generally utilize built-in features such as Fitting Rooms. However conversions will usually install their own temporary fitting rooms, to better suite their needs. The Halloween Express folks were still in the process of building out the store when I visited in late September. The Fitting Rooms were still accessible, but the removal of the sign, and layout of merchandise as seen above indicated that they would probably not continue to utilize this space.
"Crowd Control" is generally limited to strategically placing shelving material along whatever sections the temporary tenants wishes to close off. Unfortunately I was unable to capture an image of the vacated sales space, as it was being used as a backroom. This seems to be somewhat common for conversions. My guess would be that back rooms are often much hotter, and less desirable places to work in. As conversions generally don't utilize all of the floor space their hosts once needed, this makes sense. However, not all conversions have this advantage.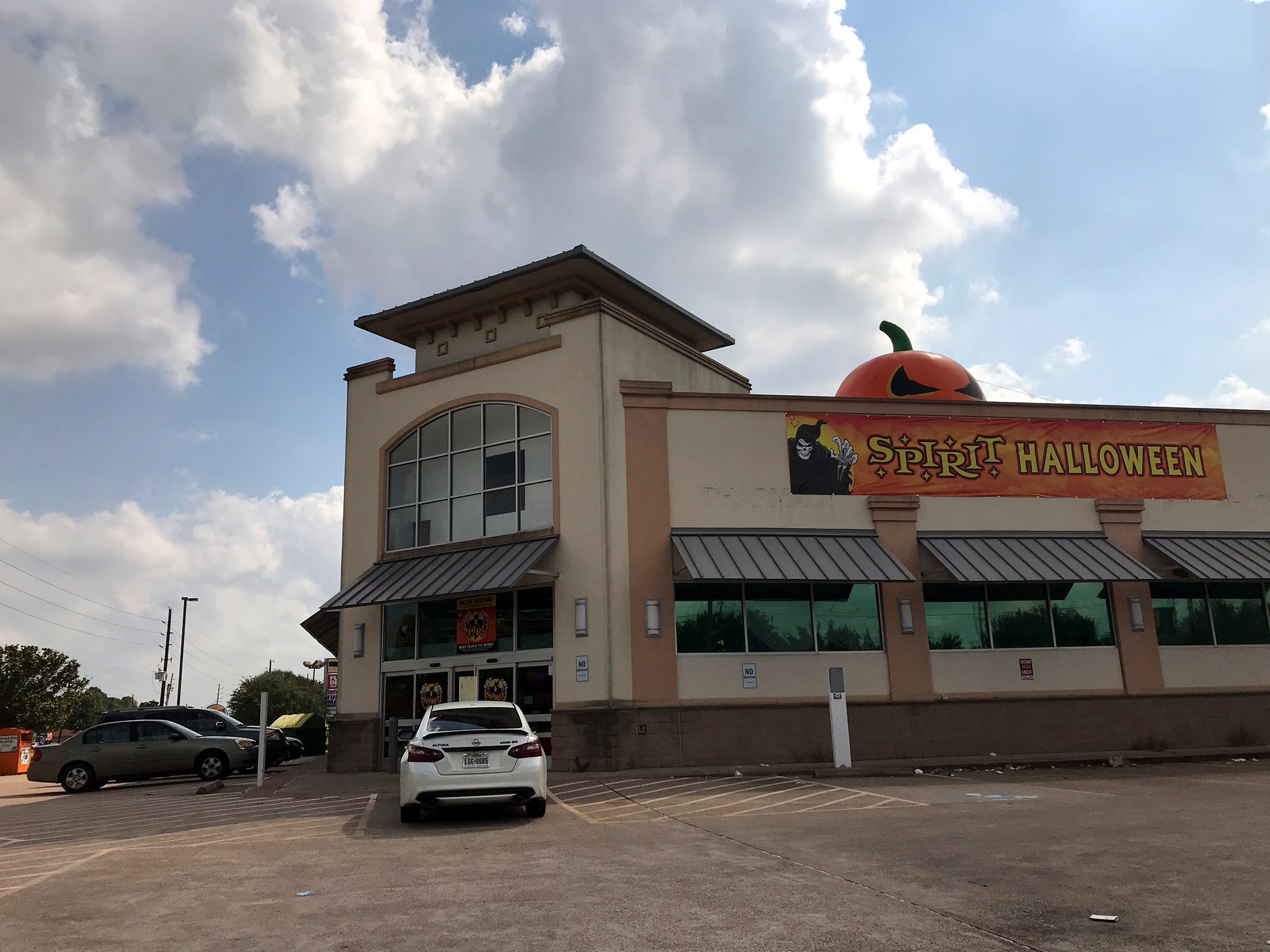 One pop-up which has no trouble using up floor space, is this Spirit Halloween in the former Walgreens on Highway 6 and Westheimer. The smaller size of this location compared to big-box pop-ups means that floor space and back room layouts are still somewhat preserved. After Walgreens closed in early 2017, this building has sat vacant for nearly 3 years. Mostly being used as a garbage dump, and occasionally a stop for outdoor "vendors" (Not unlike the rug vendors who squatted at the vacant Exxon across Westheimer for years). Before we take a look inside, I wanted to demonstrate how horrific the exterior conditions had become.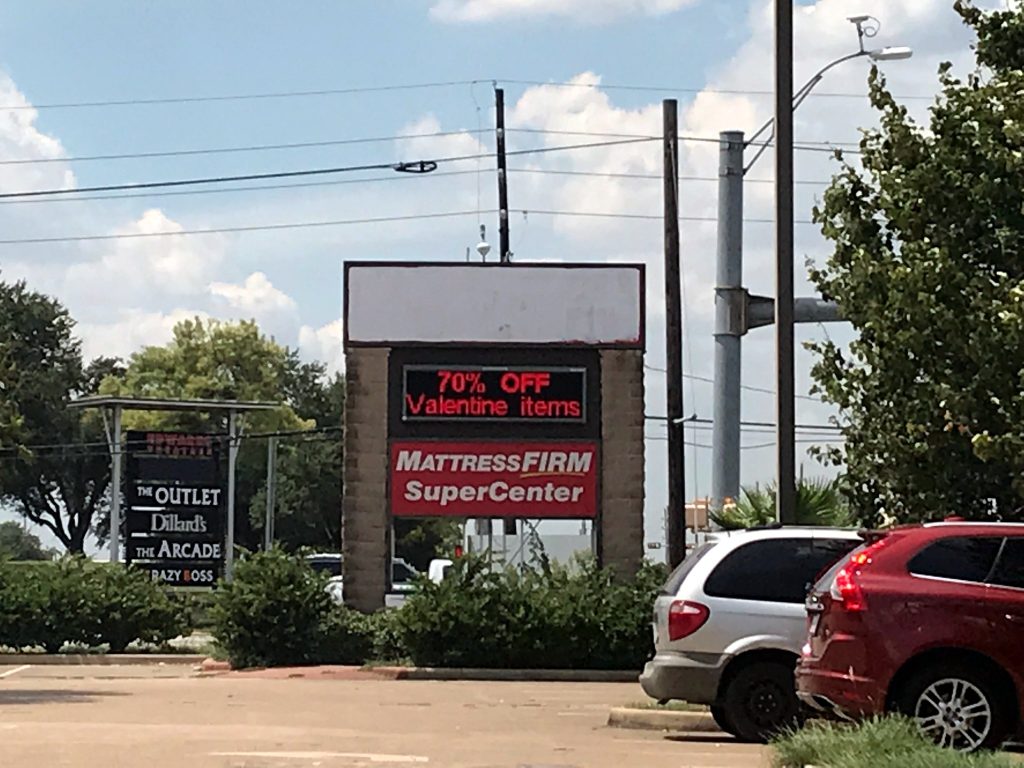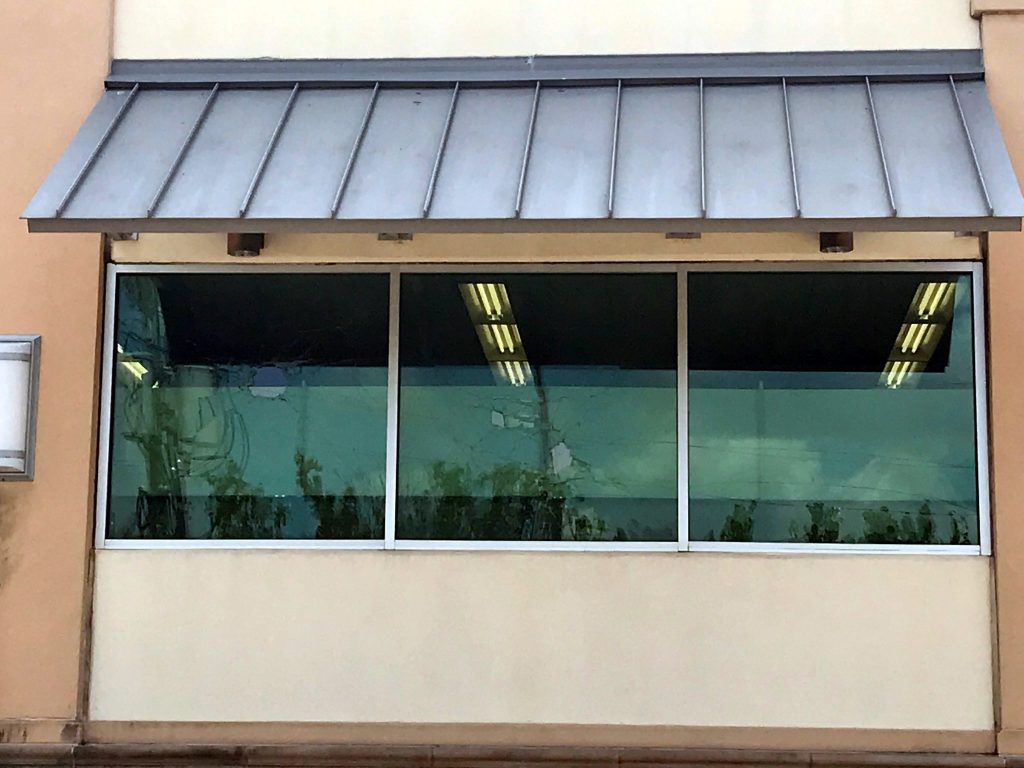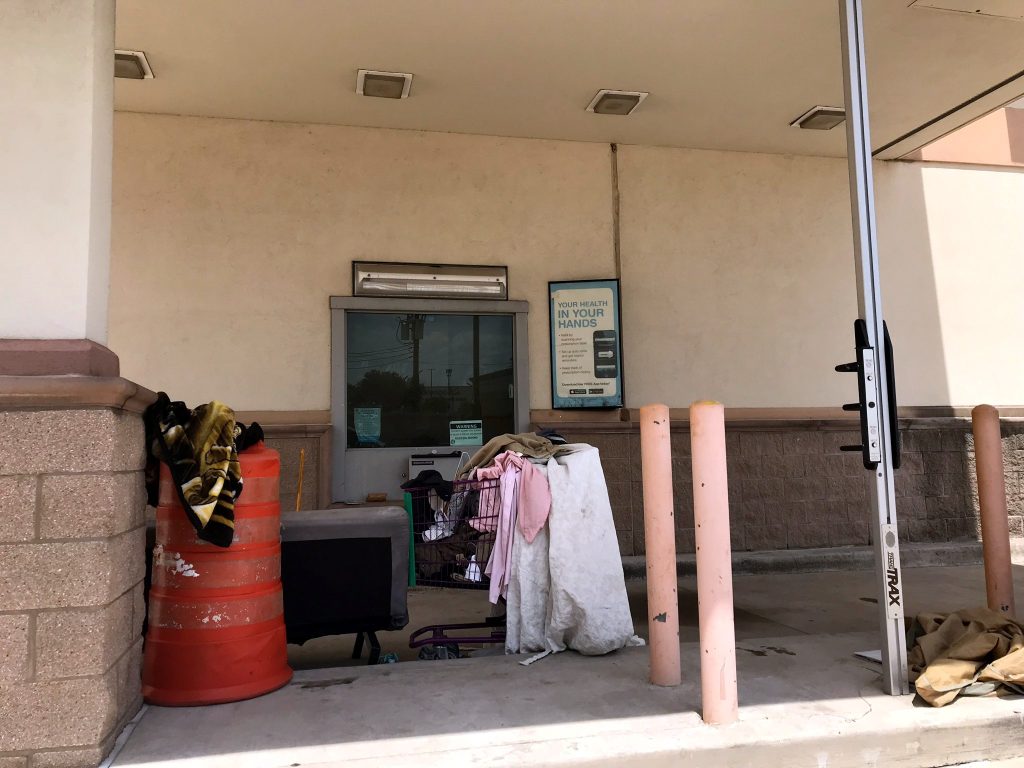 Less apparent but still noticeable in the signage photo, is the lack of attention to the plants growing around the edge of the building. The trees and bushes were so thick they felt like a curtain which was protecting the store from the highway. As well, the grass was high enough that you would want to look at the ground before walking. I personally would not have felt the building was in ready to open condition. However, pop-up shops seem to open quite early, due to their limited time frame.
Getting into the Walgreens we see some obvious pop-up compromises. Walgreens used those huge mirrors up above to assist their employees and cameras in loss prevention. However, Spirit is far less concerned and covered up about half of the mirror space with their banner. Some other remnants would be the huge security camera domes. Although the iconic blue "Security Camera" placards had been removed. Most of the rest of the store had been covered up.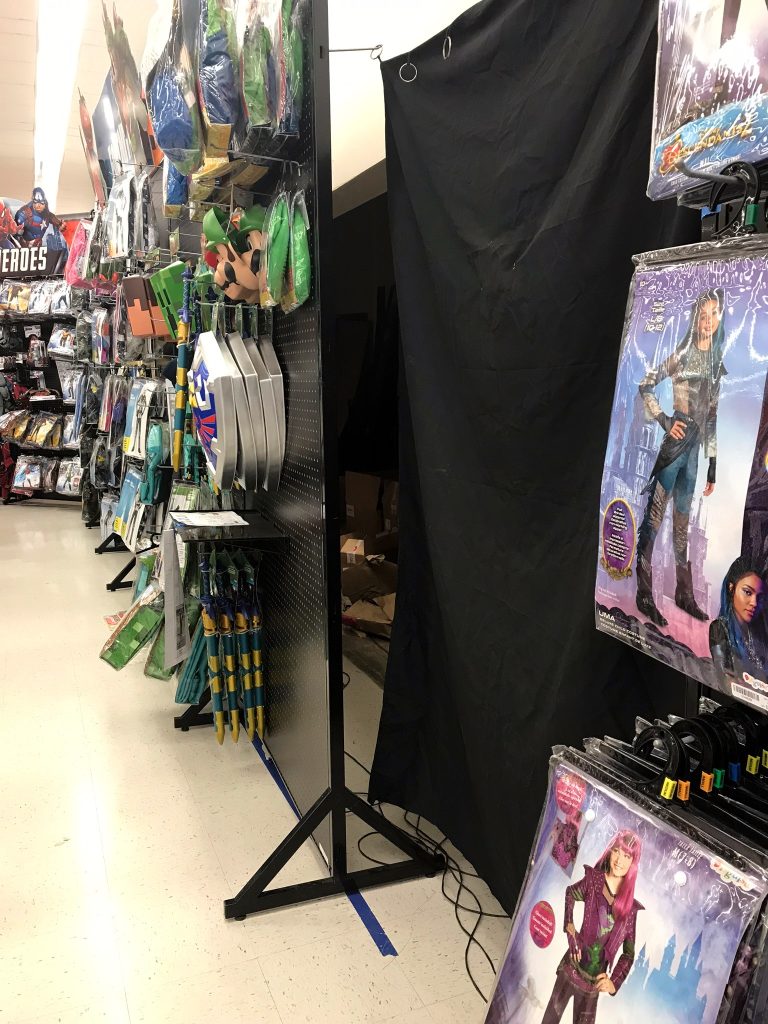 Overall this wasn't a bad setup, although the exterior conditions were lacking, a nicely detailed interior helped to make up for it. One thing you may notice is the number of boxes everywhere. Boxes are kept at stores like these as when they shut down everything is shipped back, and warehoused until next Halloween. It's not like a liquidation where everything is sold off.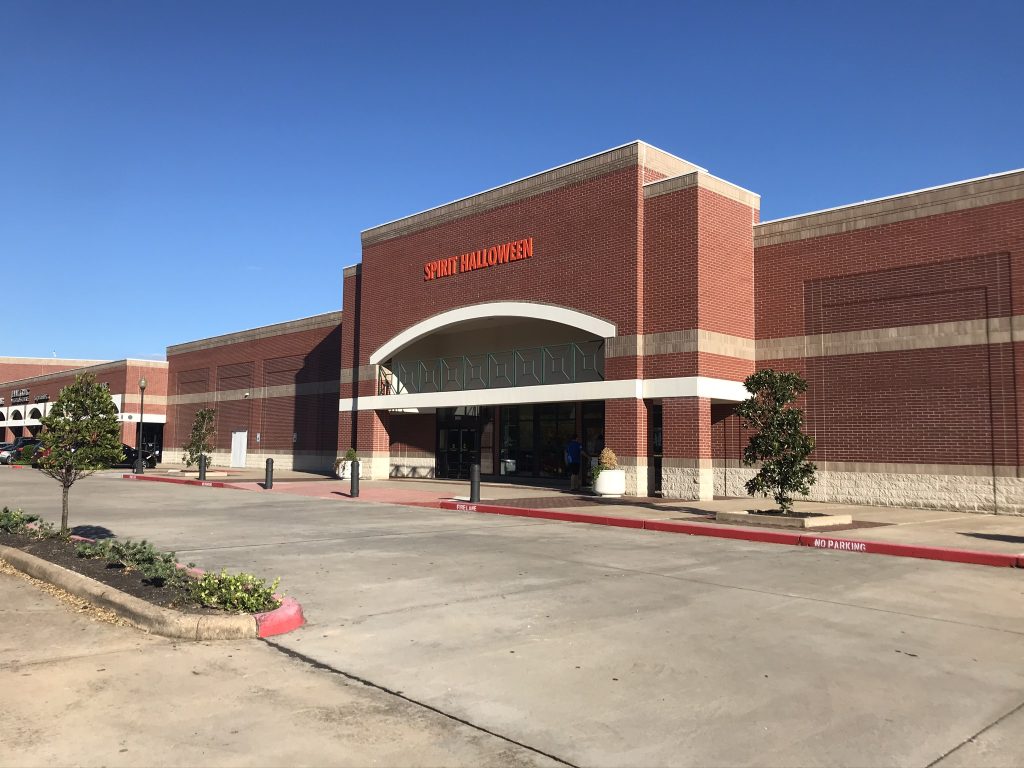 Speaking of Liquidations, our next stop is Babies 'R Us a chain of stores which recently went through liquidations. As such Spirit is also the first store to open up in the former space. However the wait is not quite as extreme as the Walgreens. Notice the exterior theming is much different that the last location. No inflatable displays, banner signs, or anything really other than a very plain sign. I would guess this is either signage permit requirements in Sugar Land, or a requirement by the shopping center.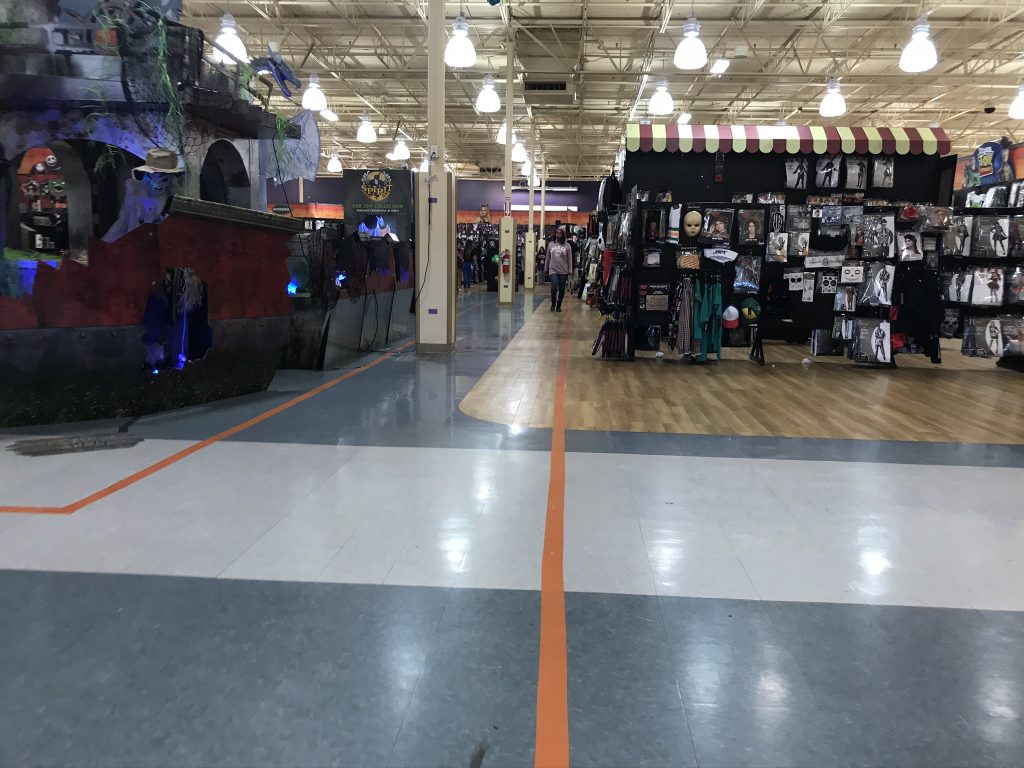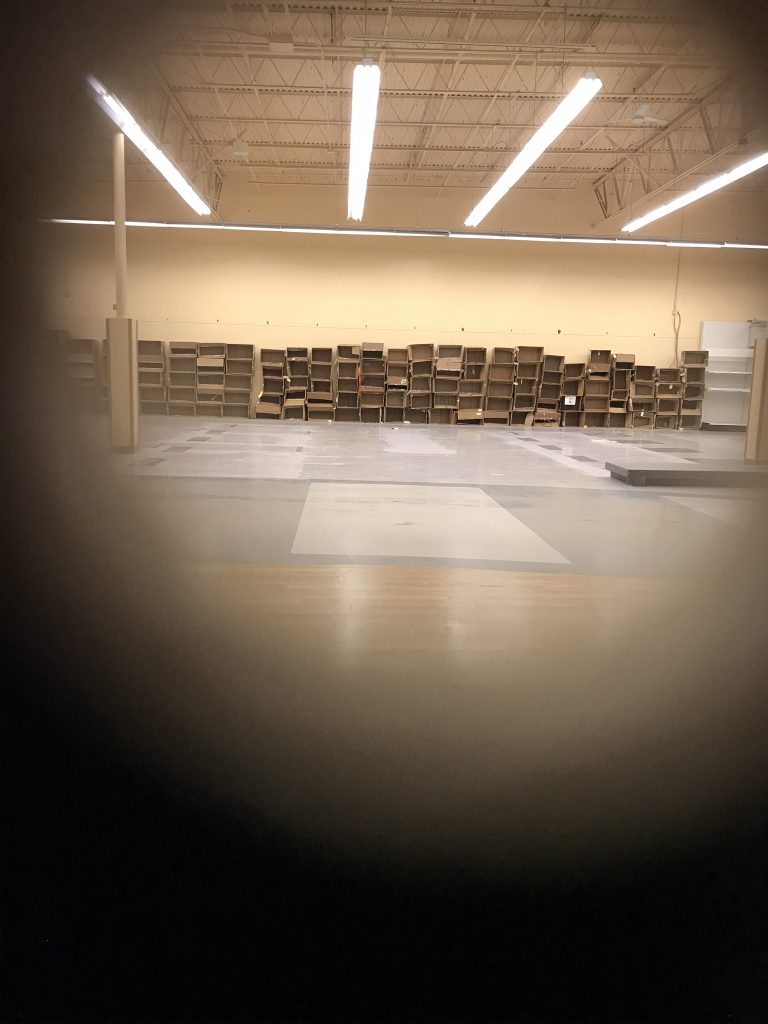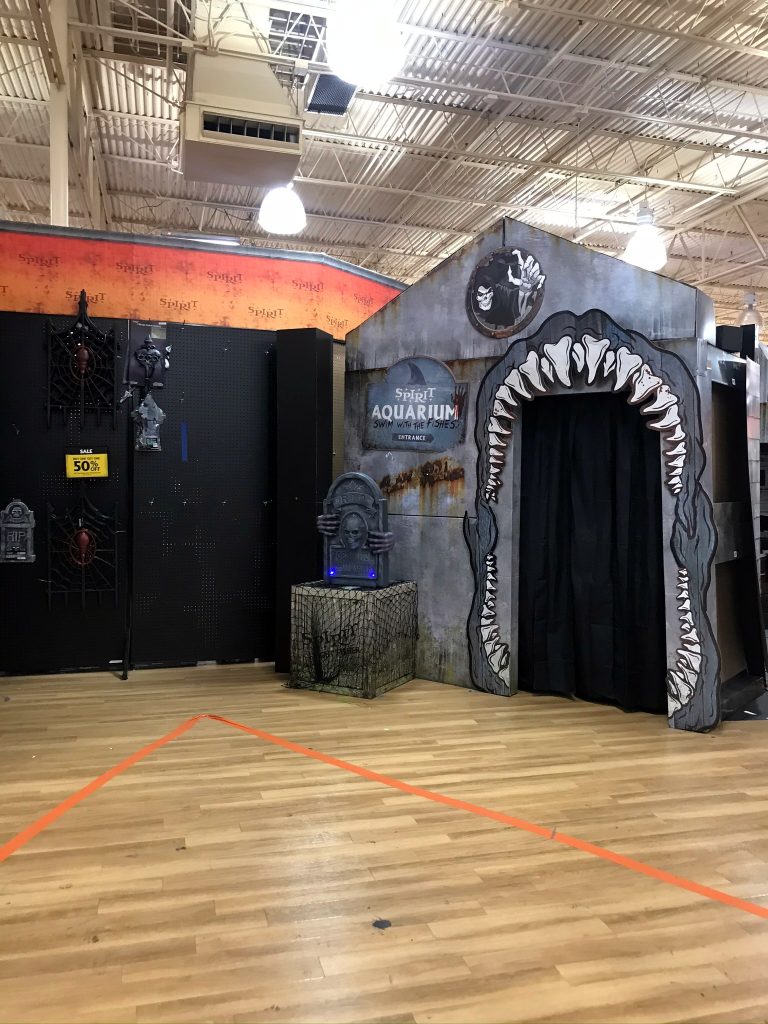 Well I hope you've enjoyed taking a look at some Costumed Conversions for Halloween. Be sure to stick around, I have multiple updates planned between now and Christmas (lets see if I stick to that!). Anyhow, if the slow update pace bugs you, I do update my Facebook somewhat more regularly.
See you next time, loyal reader -Mike