Happy New Year loyal reader, and welcome to another edition of retail news. This month we're taking a look at a few different developments throughout the city.
Disco Kroger Closes
Let's start with a bit of a letdown. Unfortunately, the Kroger at 3030 Montrose Boulevard, more affectionately known as Disco Kroger, is set to close tomorrow January 7th. I visited December 30th and the pharmacy along with most full-service departments had already been shut down. Shelves were still being stocked with what seemed to be overstock from nearby stores, but supplies were dwindling. Based on supply levels when I visited it seems possible that the store may not make it all the way to the 7th. When Disco Kroger opened in Montrose, they were far from the first supermarket in the Montrose area. That title goes to the first Houston Minimax. However, it is one of the longer lasting stores in the area. With the next oldest store being the demolished Fiesta that was closed in 2012, followed by the nearby Midtown Fiesta which shutdown last year. Kroger's official statement for closing the store indicated that it was losing money and had been for some time.
The closure of this Kroger leaves Montrose with one less grocery option. Now only H-E-B directly serves the Montrose area. It seems likely that most Kroger shoppers will shift to H-E-B. With the lack of affordable grocery stores in the area you may wonder why Kroger is unable to make a profit. Kroger expanded this store in the 1980s after demolishing the final house on the block. It seems that the original property owner never sold the land to Kroger but rather leased it to them. This expansion helped Kroger stay current but was essentially the final update this store received save for some cosmetic remodels which exposed some great Disco Kroger remnants. With the developments such as the tower next door, it's likely the price of the lease plus limited floor space really does have this Kroger stuck at a chokepoint.
---
OnCue Opens
The Kaleidoscope Center was demolished over a year ago after the property was purchased by Phillips 66. The petrochemical company conveniently has their headquarters a few blocks North of Westheimer and supposedly wanted a flagship store to flaunt their brand. This however presented an issue as Phillips 66 is mainly a refiner, and doesn't have an established connivence store brand. They called in Stillwater, Oklahoma based OnCue Express who seems to have a partnership with Phillips 66. The store was constructed by The Riverside Group which based this store off the OnCue prototype they developed in 2004.
As Phillips 66 does not maintain their own line of convenience stores this location was developed in partnership with OnCue, and marks their entry in to the Texas market. The store is nice, very modern, and the staff are all very polite.
---
Bill Miller's Eyes has their eyes on West Houston
Any Houstonian worth their salt has driven passed a Bill Miller Bar-B-Q with a bit of arrogance. Different areas of Texas have always been preferential about our drive-thru BBQ joints. Houston has been a battlefield of sorts with Pappas reigning king over smaller chains like Goode Co, killing competitors like Luther's and holding their own against newcomers like Rudy's. According to an interview in the Houston Business Journal with Bill Miller's CEO Jim Egbert they have the company may soon join the battle as they have their eyes on expanding in West Houston and Katy.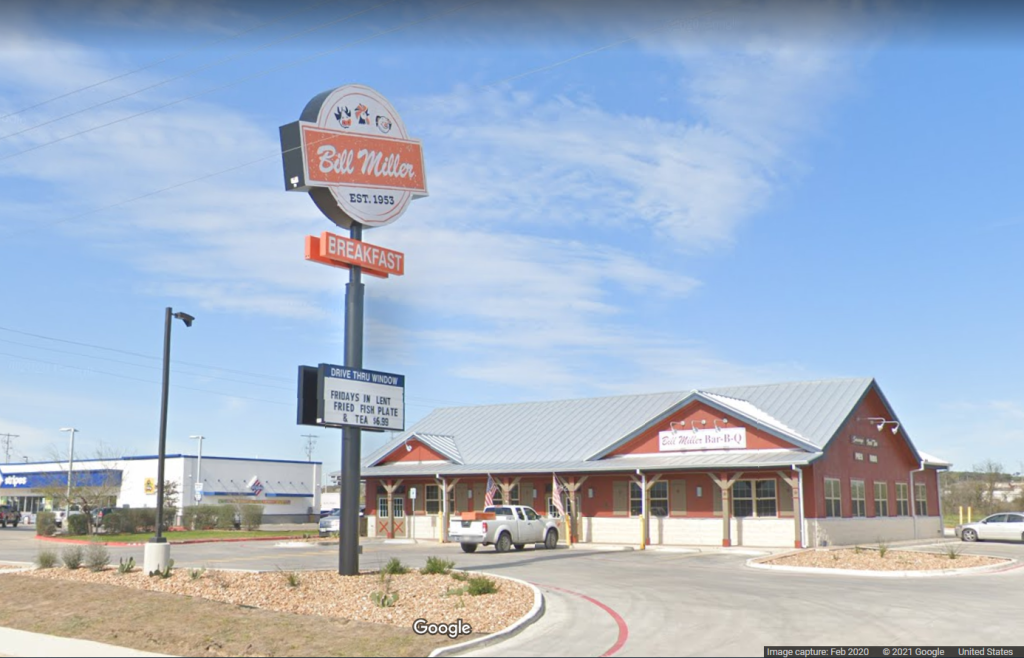 This is not the first time Bill Miller Bar-B-Q has discussed plans on expanding in Houston, in a 2018 interview with then newly promoted CEO Egbert it was said that the company wanted to be able to transition to new markets like Houston, Waco, and College Station. This time around the plan is to supply the Houston locations via trucks from San Antonio while previously the CEO had envisioned building a second commissary and bakery to serve Houston based stores. With new stores opening further North on the I-35 corridor Bill Miller has shown they could handle the range, the question to be answered is can they handle Houston's market.