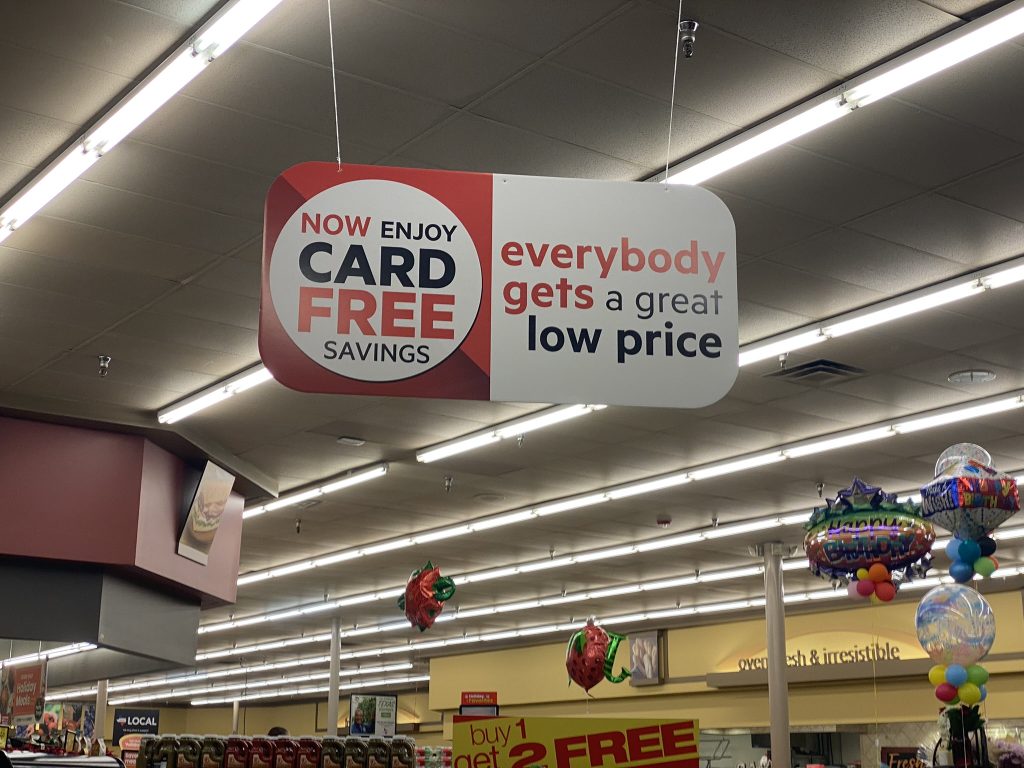 Editor's Note: Today's post is a guest submission from HHR's good friend Anonymous in Houston
Here's some recent retail news that I found to be quite remarkable! For the first time in almost exactly 25 years, Randalls shoppers no longer need to have a Randalls Remarkable Card, or the Safeway Club Card equivalent, to get most sale prices. I was recently reading some new posts at the Retail Watchers forum recently when I came across a post from someone indicating that their Randalls store in Austin was advertising that the card was no longer necessary to get sale prices. After checking the latest sales circular published by Randalls, I confirmed that Houston Randalls stores have also eliminated the need for the Remarkable Card.
It is hard to say why Albertsons, the parent company of Randalls, decided to eliminate the card requirement at Randalls stores. After checking Tom Thumb's ad, the sister brand to Randalls which is a major grocer in the Dallas-Ft. Worth Metroplex, Tom Thumb stores still require a card to get their sales promotions which are otherwise exactly the same as the promotions at Randalls. In addition to Randalls and Tom Thumb stores, the Albertsons Dallas Division also operates the Albertsons stores in the North Texas region and in Louisiana. Interestingly enough, the Albertsons-branded stores also do not require a card for sales prices, but this is not anything new in this region at least.
The integration and operations of Albertsons and Safeway-owned supermarkets, like Randalls and Tom Thumb, after Albertsons and Safeway merged in 2015 has been inconsistent at best. For example, in the Seattle area, the Northwest Retail Blogger reports that the Albertsons and Safeway stores there have co-branded sales circulars and both banners now require the card! In DFW, Albertsons and Tom Thumb have separate ads for now with the same sales items and prices, but the card is required to get those prices at Tom Thumb!
We can only speculate why Albertsons decided to drop the card requirement at their Randalls stores. One guess is that maybe Albertsons is using Randalls as a test market to evaluate dropping the card throughout the chain. Another guess is that with H-E-B's continued expansion into the DFW Metroplex, Albertsons is trying to make Tom Thumb as competitive as possible so that they don't lose much marketshare when H-E-B becomes a major player in the DFW market. Of course, if that's the case, it does beg the question why the card requirement was dropped at Randalls stores in Houston and Austin, where H-E-B is already a major player, and not at Tom Thumb stores in the DFW area. The possible answer to this is again that maybe Albertsons wanted to test this move in a market where they have less to lose first and that would certainly be Houston and Austin.
Also, Albertsons has recently given Randalls and Tom Thumb some new, local slogans which are surely designed to help Randalls and especially Tom Thumb stand up to H-E-B. It is possible that Albertsons has a big marketing campaign planned for the DFW area where these new initiatives will be introduced to the DFW public in a grand manner, but perhaps those moves are still being planned and so Albertsons is keeping things hidden for now. We'll have to see, it could well be the case that none of this speculation is even remotely true!
Even though Randalls shoppers will not need a card to get the regular sales prices which Randalls offers, Randalls shoppers can still use their Remarkable Cards to get Randalls for U electronic coupons. In many ways, this is a best of both worlds approach for shoppers. Those who don't use Randalls for U can get regular sales without needing anything extra, but those wanting the best deals can simply load e-coupons onto their account and present their card or phone number at the register to get those best deals. Given that Randalls' prices are often on the higher side as compared to their competition in Houston, using the e-coupons are a good way to try to even up prices relative to the competition so that one can get the Randalls' experience without having to pay more to get it.
Long-time Randalls shoppers know that the Remarkable Card wasn't Randalls' first attempt at issuing cards. Prior to the Remarkable Card, Randalls customers could register for a Randalls Courtesy Card which allowed them to cash personal checks at the store and rent moves from the impressive Randalls video department. Details about the Courtesy Card and the video department can be seen in this 1992 Lufkin Randalls grand opening video on YouTube that I've linked to in prior posts. The Courtesy Card didn't offer discounts, however, and the Remarkable Card replaced all the functions of the Courtesy Card.
Randalls launched their Remarkable Card on October 30, 1996. Randall's wasn't the first local grocer to issue discount cards as Gerland's Food Fair launched their similar Customer Advantage card in 1995. Kroger would eventually launch their Plus card program shortly afterward which they still use to this day. Rice Epicurean still has their Experience Card which offers discounts. The Randalls Remarkable Card survived Safeway's purchase of Randalls in 1999. In fact, Randalls Remarkable Cards have been spotted in the wild as far away as Florida as the Albertsons Florida Blogger discovered at a Kmart liquidation sale in Florida!
My concluding thoughts are that I think dropping the card requirement while still keeping the card around for those who want to use it for Randalls for U e-coupons is perhaps the best case scenario for Randalls shoppers. I know that a lot of shoppers don't like using discount cards and so perhaps this will help Randalls gain favor with those shoppers. It'll also take away a barrier for new customers who don't already have a card. As a Randalls shopper myself, I'm hoping that moves like this will help Randalls stick around in Houston. Randalls stores have been closing in this area for the past several years as H-E-B has grown in this area, but it's possible that Randall's can find a niche in the mostly upscale neighborhoods where they remain. Ultimately, however, Randalls may only continue to exist if their sister brands Tom Thumb and Albertsons can continue to have a major presence in the Dallas market. With that in mind, it'll be interesting to see if Tom Thumb also drops their card requirement.