To kick off the new year, let's try something new. We're going to take a look at a Broken Chain. I was inspired to do this by my friend Zap Actiondowser who runs the blog Broken Chains, which I highly recommend all my readers go check out. A while back he featured a blog post on the Frostop Root Beer chain of restaurants. Admittedly I had never heard of the chain prior to Zap's post. After reading his description of their root beer I was immediately hooked on the idea of getting my hands on some. I was able to try and love the bottled version sold at Rocket Fizz, I knew I had to get some from a fountain.
As luck would have it, my fiancee and I were invited to Mobile, Alabama to visit some friends over Christmas. The drive to Mobile required us to drive through Louisiana, and thus a stop at Frostop was in order! Checking Google Maps I found that there was Frostop was right off of I-10, in Baton Rouge. This would bode well as we had a deadline to meet for hotel check in. Approaching the building, I noticed that this particular location was still sporting their original mug sign. You could tell that the place had seen better days. While scouting out the location, pictures from earlier this year indicate the signage was in better shape earlier this year.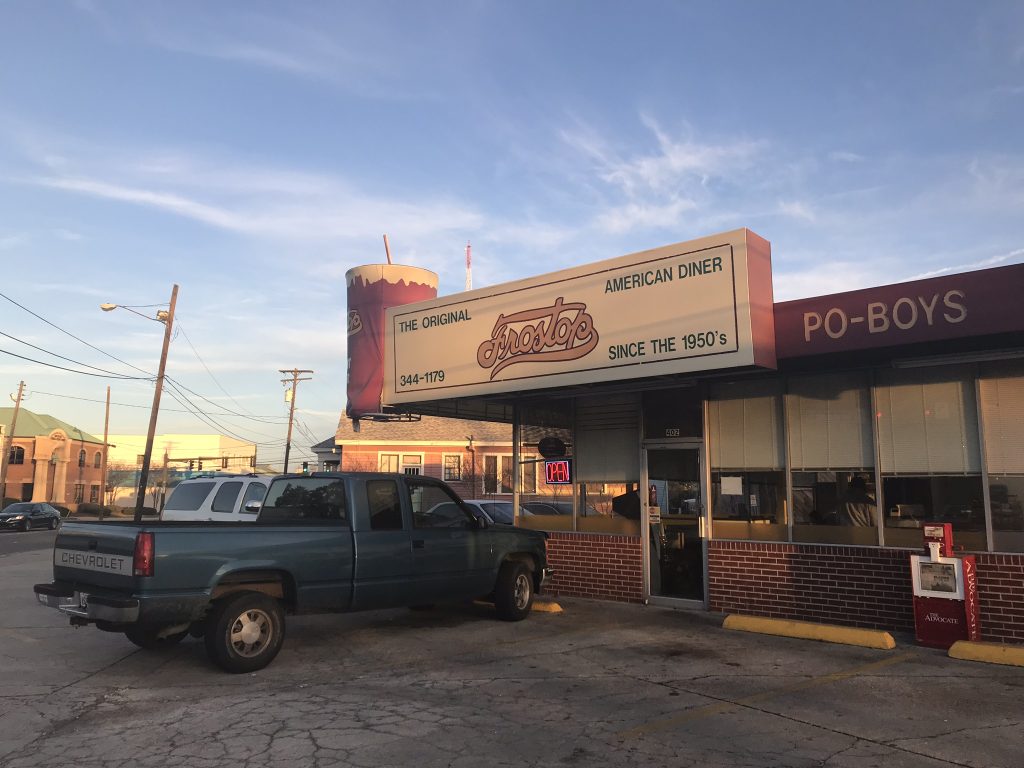 Making my way towards the building, I noticed something peculiar. Rather than an exact date the signage sports a "Since The 1950's". Frostop Root Beer has a history on its own website tracing the company back to 1926. While I understand that this location may have originated in the 50s, I still found it odd. Looking around the building, exterior features had been updated in a patch work fashion. Only giving attention to the spots that truly needed it. This would make it easy to believe to the casual passer by that Frostop was not a chain, but rather a single restaurant.
We made it to Frostop at around 4:30 PM. The inside was pretty quiet, with only a few diners. The menu features some curious additions to suit local tastes, namely the Po-Boys and Fried Fish dinners. Which I doubt showed up at the original Springfield, OH location. To keep things simple, I ordered a Chili Dog and my fiancee order a Chili Cheese Dog, we split an order of fries, and a large root beer. The order was taken and put into a modern POS system. Which printed a receipt at the grill for the cook to start. Despite the luddite-esque exterior the interior was jammed pack with technology, including multiple tablets for Uber Eats and the like. We were given our root beer told to have a seat, and that our number would be called shortly.
I tasted the root beer, which despite the photo above, was served out of a modern Coca-Cola Fountain. The root beer was served from a mostly unlabeled dispenser, which someone had cut a Barqs tag for leaving only "Root Beer" behind. I was immediately concerned about not being served the authentic Frostop Root Beer. There was something different about it from the bottled root beer. The flavor was still the same. However, it did not come across quite as strong as the bottled. I'm guessing this is down to someone not properly setting the syrup to carbonated water ratio.  After waiting for a few minutes, I got antsy and in the interest of time decided to take some quick pictures of the dining room, rather than waiting until after the meal.
With plenty of time to wait, I found bits and pieces of the old restaurant starting to show through. There were many decorative root beer barrels, one of which was pictured above. However, none were original Frostop barrels. The laminate tiles were worn down in places like the front of the counter, and near the doorways. The seating was tired and torn up. Being just a few blocks North of LSU you would think that this was a popular college destination. However, for the most part we only saw small families or single diners throughout our time here. After about 20 minutes, a family who had ordered after us, received their food. Upon going to the front counter to find out where our two chili dogs were, I was told they had "completely forgotten about that", and they'd get it out ASAP.
Well ten minutes later, our food finally emerged. Spending 30 minutes at Frostop was definitely something we did not plan for. Meaning I had to wolf this chili dog down. The Hot Dog, and the bun were delicious. The Hot Dog tasted like it may have been a full beef dog, and the bun was toasted on the griddle. The Chili however was another story. It tasted basically identical to any other fast food chili you could imagine. The closest analogue would be the hot dog chili served at fellow root beer based competitor A&W.  We ended up taking the fries to go, they were just standard kind of chunky fries. They could have absolutely used some salt.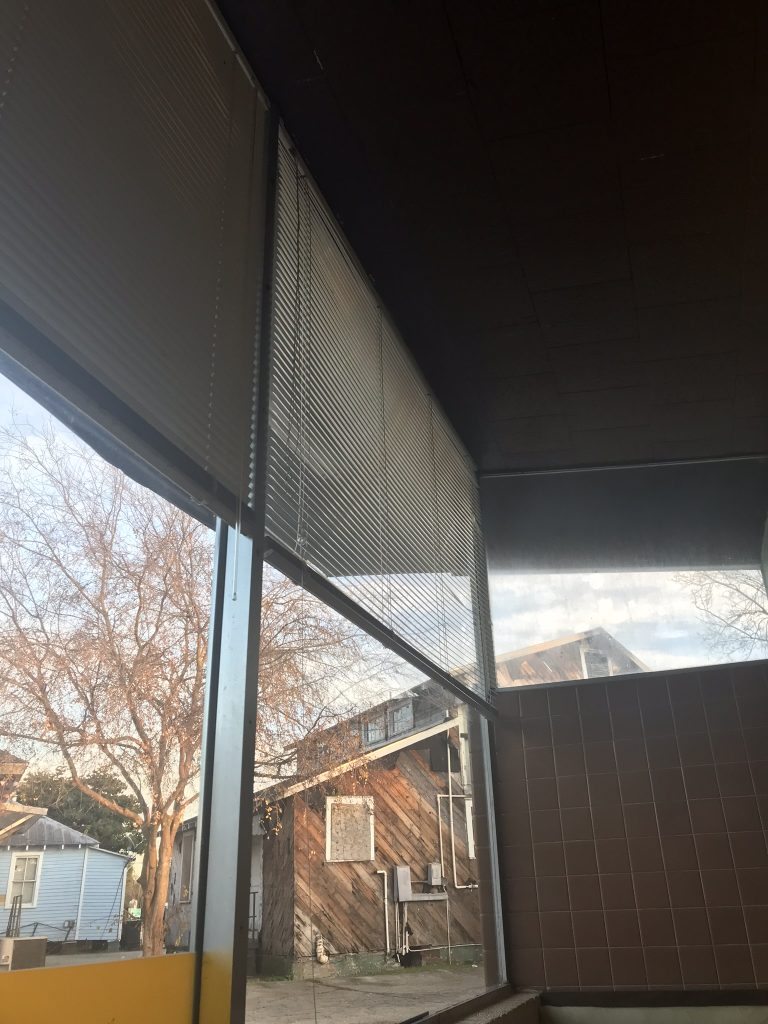 Sitting in our booth in the back corner of the restaurant gave me some time to admire the view. The parking lot of Frostop literally backs up to these two houses. I also noticed that this location may have been possibly converted from a drive-in into a diner. My reasoning behind this is the distinctive slanted roof that Frostop used on their other drive-ins, and although I didn't get a picture of it the bathrooms were very obviously originally outdoors as evident by the windows, and heavy doors.
All in all, I enjoyed my experience chronicling a broken chain, and while I wouldn't necessarily make a trip out to Baton Rouge, just for Frostop. I could see myself stopping to get some root beer. Once again, I would like to give a shout out to Zap Actiondowser and his blog Broken Chains. I really recommend checking it out, along with his Facebook page.