This Week in Demolition, we take a moment to ponder what it means when losing Taco Bell and Kroger sever your emotional ties to an area. Earlier this week there was a big buzz in local social media over a photo of the Taco Bell on South Shepherd being demolished, followed shortly after by a photo of an excavator sitting in front of the former "Disco Kroger". The comments on the social media site I viewed were wrapped in how the loss of these two institutions signaled change in the area, and how this change affected their emotional ties. As it is so easy to do online some became cynical and accused others of reminiscing over something that should be forgotten, an old grocery store, and a crappy taco place (that did happen to have excellent order taking accuracy, I completely agree with that). While there is some truth to these statements, especially given the likely fact that Taco Bell is likely only remodeling this restaurant as they have done with many others in the area over the past year, I believe it is okay to reminisce over little stores like these. Heck, a good portion of my readership wouldn't be here without the want to reminisce over places we've enjoyed shopping at. Be they chains or local stores, retail establishments become fixtures of our neighborhoods. They serve as meeting points, landmarks, refuge, all in addition to their intended purpose. We remember them not so much for their corporate identity, but for the memories we had and made there so go ahead and reminisce about the weird Burger King on Westheimer, or the movie theater turned restaurant, they're all a part of our collective memory!
In addition to Kroger and Taco Bell, we also see a former Taco Cabana on the demolition list this week, the location closed during one of T.C.'s many recent slumps. On a corner lot at 13480 Northwest Fwy it looks like this will likely be home to a new Raising Canes, as listed under occupant for their permit. So those in search of chicken tenders, and crinkle cut fries will now be able to easily access them. As of 2021 the closest Raising Canes to the area is in Shepherd Forest off of 610. In residential real estate news, which is something I don't normally tend to have the scoop on, it seems that a shelved high rise project in Montrose may be back on the table. In early 2019 it was reported in the Houston Business Journal that plans had been filed to construct a 12-story residential tower, with street level retail, similar to the two apartment towers directly east of the site. Although proposed, no work or further announcements was ever made on the project. This week, demolition permits were filed for 4403 and 4415 Woodhead Street, 1950s Apartment Complexes and the final remaining structures on the properties. As well, an April 2021 filing by WoodHead LLC with the Harris County Clerk's office to amend easements makes it seem very likely that development has begun on the property again. As for whether or not we'll see the tower planned in 2019, only time will tell.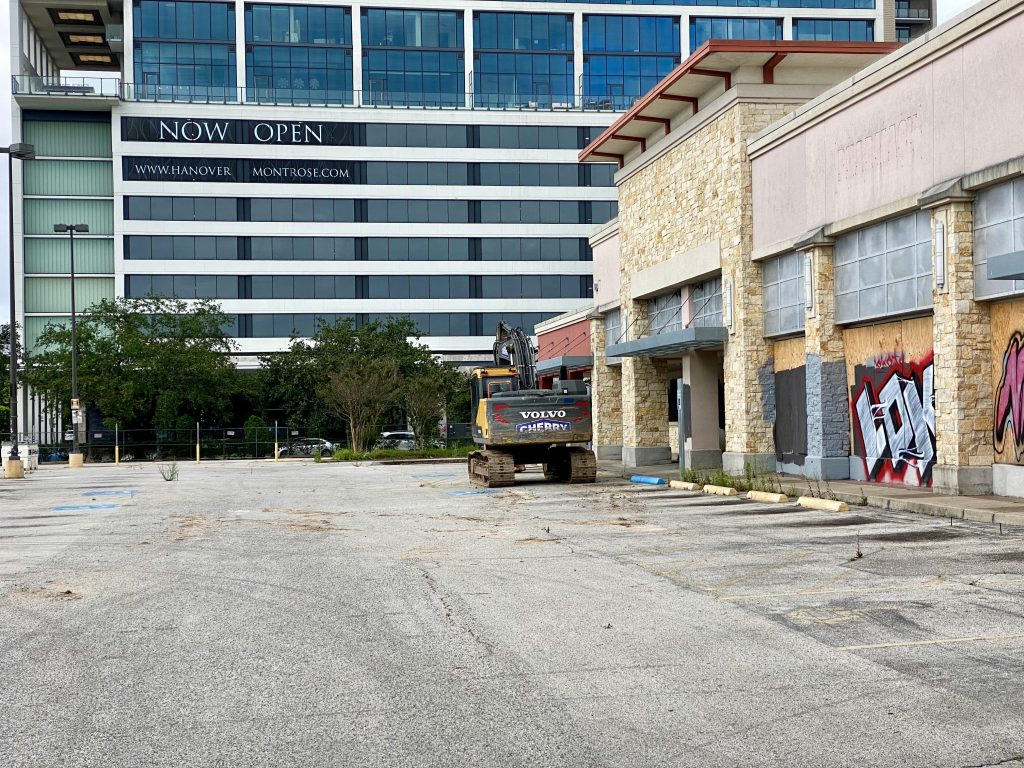 This is a list of the buildings which received a City of Houston demolition permit the week before this post.
Residential Demolitions
1205 Mansfield St, Houston, TX 77091– Highland Heights, Large newbuild on acreage, Photos
2129 Del Monte Dr, Houston, TX 77019– River Oaks, 1934 two-story brick home, Photos
3510 Mt Vernon St, Houston, TX 77006– Montrose, 1920s Two-Story Home, Photos
3838 Olympia Dr, Houston, TX 77019– River Oaks, Preston Bolton Home, Expanded, Photos
2511 Inwood Dr, Houston, TX 77019– River Oaks, 1938 Willam McElroy Home, Garage Only, Photos
802 & 804 Aurora St, Houston, TX 77009– Sunset Heights, Combined lots, Photos
933 W 15th 1/2 St, Houston, TX 77008– Shady Acres Annex, Photos
8911 Endicott Ln, Houston, TX 77096– Meyerland, Flooded first time in 2015, Uninhabitable, Elevation permit required, Photos
3507 Oakdale St, Houston, TX 77004– Oakmere, 1940s Single Story, Photos
2249 Albans Rd, Houston, TX 77005– Southampton Place, Photos
2922 Attridge Rd, Houston, TX 77018– Shepherd Forest, Photos
2143 Nell St, Houston, TX 77034– Freeway Manor, Photos
6522 Sivley St, Houston, TX 77055– Westview Terrace, Photos
827 Bunker Hill Rd, Houston, TX 77024– Bunkerhill Plaza, Photos
4419 Santee St, Houston, TX 77018– Candlelight Estates, Photos
4918 Elysian St, Houston, TX 77009– Ryon, Photos
3318 Kilgore St, Houston, TX 77021– Riverside, Photos
4403 Woodhead St, Houston, TX 77098– Woodhead Apartments
4315 Woodhead St, Houston, TX 77098– Woodhead Apartments
1505 Waverly St, Houston, TX 77008– Heights, Bungalow
759 Lovers Ln, Houston, TX 77091– Highland Heights Annex, Garage Only
1827 Libbey Dr, Houston, TX 77018– Oak Forest East
1115 Murrayhill Dr, Houston, TX 77043– Wildewood Forest
7302 Boggess Rd, Houston, TX 77016– Scenic Woods
326 Crestwood Dr, Houston, TX 77007– Crestwood
4601 Hummingbird St, Houston, TX 77035– Willowbrook
4615 Feagan St, Houston, TX 77007– Rice Military
3141 Oakdale St, Houston, TX 77004– Soutwood Oaks
4013 Hirsch Rd, Houston, TX 77026– Crane Street Gardens
3811 Cochran St, Houston, TX 77009– Ryon
3602 Underwood St, Houston, TX 77025– Braes Heights
7938 Count St, Houston, TX 77028– Parkhurst Estates
3401 Reid St, Houston, TX 77026– Humble Road Gardens
6206 Southbrook Dr, Houston, TX 77087– Overbrook
1411 Capron St, Houston, TX 77020– Farmer Teal
4505 Earline St, Houston, TX 77016– Buckingham Place
811 Nadine St, Houston, TX 77009– Greater Heights
1201 E 32nd St, Houston, TX 77022– Airline Heights
2933 Kirk St, Houston, TX 77026– Liberty
5639 W Bellfort Ave, Houston, TX 77035– Parkwest
1815 Ebony Ln, Houston, TX 77018– Oak Forest
Non-Residential Demolitions
4100 Clinton Dr Building #10, Houston, TX 77020– Former KBR Property
1817 S Shepherd Dr, Houston, TX 770190– Taco Bell Remodeling
2200 Ridgecrest Dr, Houston, TX 77055– Landrum Middle School, Being rebuilt as per 2017 Bond
2809 Emancipation Ave, Houston, TX 77004– Looks like this was a studio?
13480 Northwest Fwy, Houston, TX 77040– Former Taco Cabana, Permit filed by Raising Cane's
3300 Montrose Blvd, Houston, TX 77006– Former Montrose Kroger