P.F. Changs on the move from Highland Village, and other new restaurants
In 1996 P.F. Chang's was a four restaurant chain, with 3 restaurants in Southern California, and one in Scottsdale, AZ. The same year executives, including some former Brinker folks, set their eyes on Houston for their first restaurant in Texas, and while I can't confirm it, I believe this may have been the 5th location ever. The restaurant was built into new space at 4094 Westheimer Rd, Houston, TX 77027 expanding into what had once been a road connection into the neighborhood behind. However, it seems that 25 years is too long for P.F. Chang's, who quietly announced earlier this year that they were moving to the new Galleria Park. Stopping by the former bank branch location, the base of the office tower hardly resembles its old purpose, with the addition of a "grand lawn". A plumbing permit, filed this week, shows that the P.F. Chang's construction is getting closer to finishing up at 5251 Westheimer Rd, Houston, TX 77056, with many large cooking appliances sitting ready to be plumbed in.  Another new build restaurant coming to town is Dog Haus, which has filed permits for 1096 Enclave Pkwy, Houston, TX 77077. This would make for the second location in town after the Hot Dog chain opened in a former Fazzoli's on Highway 6 last year. Finally, Flight Club a British Based Darts Bar, or "pub" if you will, has filed permits for their Houston location at 3515 W Dallas St Houston, TX 77019. Which puts it right at the base of a mixed use complex. The concept seems to be beyond darts a bit, and somewhat similar to Top Golf adding "electronic games" to the physical experience, and would be the chain's third location stateside.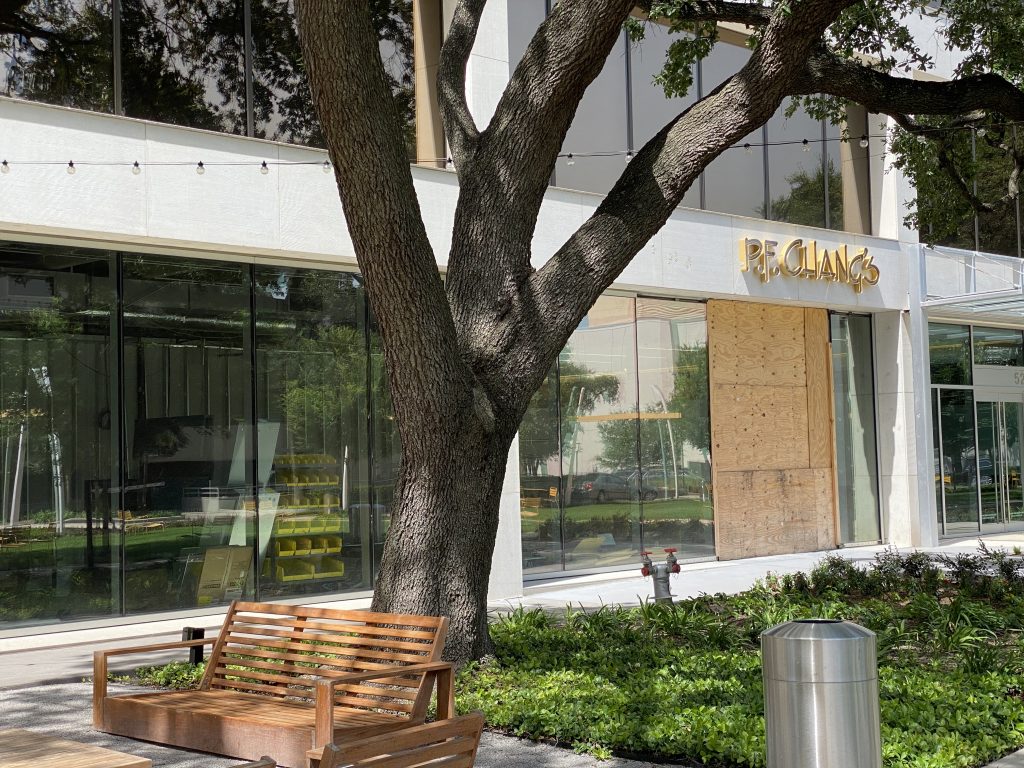 Chain Affairs
In chain affairs, we have a few items of interest. In an unsurprising move, Chick Fil A has filed permits to begin construction on a new restaurant at 11011 Northwest Fwy, Houston, TX 77092. The company also filed the demolition permit for the previous restaurant earlier this year, which we covered in a TWID post back in June. Driving by the construction site last weekend, the framework for a foundation had been built, but not much else. We also see a few interesting remodels this week. It seems that the remodel bug has finally made its way to the Sawyer Heights location as Target has filed permits to remodel their 2580 Shearn St, Houston, TX 77007 location. While it has been a few years since the Galleria location was completed, it probably gives good insight into how this new Target will look. Hopefully, with the Café still intact. Finally closing out our chain affairs, we have an in store clinic conversion that I've been covering for quite sometime. The Walgreens at 500 Maxey Rd, Houston, TX 77013 will give up about 3,500 Square Feet to the new in-store Village Medical clinic.