Howdy readers! Let me start off today's tale by telling you that I am a huge fan of Raising Cane's. In 2005, I had a summer job in the Alief area, and was introduced to the wonder that was Raising Canes. I wasn't so much drawn in by what I now know was the second location in the state (and the oldest still open), I wasn't drawn by the elements imported from the original Baton Rouge location (cheetah print, LSU colors, and the mural), or even the ridiculous props on the wall like builders helmets, giant sockeye fish, and parody posters of current popular movies. I was drawn in by how good, and consistent the food was. It was a reputation that Cane's has mostly been able to maintain throughout their expansion. However, one of the biggest issues with Cane's has come to be their limited menu, specifically their sauces. If you don't like your chicken with canes sauce or honey mustard, you're out of luck. While, I'm a big fan of Cane's sauce, there is obviously a vocal majority out there who enjoy other sauces, and it seems like Layne's Chicken Fingers is here to fill the void left by Cane's. If you haven't heard of Layne's they're almost identical to Cane's with a few distinct additions to the menu. Namely, Potato Salad, Wraps, Milkshakes, and Cheese (Grilled or added to the sandwich)
I have to admit I haven't known about Layne's for very long, only a few years, which is quite disappointing to myself as a Texan. However, prior to 2018 the company only operated in College Station. In 2019 more locations were built in the DFW area, and in 2021 announced their intent to move onto into Houston taking over a former PDQ at 23703 Cinco Ranch Blvd, Katy, TX 77494. With a current push on expansion through franchising feels they've got a great future touting themselves as "soon to be famous", however there is still the question of the food. I'll remind y'all, I am far from a professional food critic, and have quite the unrefined pallet in terms, of fine cuisine, but my fast food skills can't be beat! So today we'll make a comparison between the already well known Raising Cane's, and the self-proclaimed "soon to be famous" Layne's.
Starting off with the chicken strips, they were somewhat similar to Raising Cane's in terms of size, and proportions. You could make out the "tender" shape in the sense of a large end and small end. The breading was quite different, the pieces were a bit more rigid, not as flaky as Cane's. It was also seasoned a bit more than Cane's, but not enough to overpower the sauces. Moving onto the sauces, I tried all four on offer at the Houston location which were BBQ, Honey Mustard, Layne's Sauce, and Jalapeño Ranch. I tried out the honey mustard first, it tasted okay but was very, very thin, almost the consistency of salad dressing. Next I tried the BBQ, this was advertised on the menu screen as "Sweet Baby Ray's" but also noted it was handmade? It was definitely Sweet Baby Rays poured out of a food service bottle into these cups, I guess that counts as being handmade. Next I tried the Jalapeño Ranch, and found it to be pretty good. It tasted similar to the "Ranch Salsa" Taco Cabana used to offer, but with much less heat behind it, however the taste on this one was very good, just somewhat dull.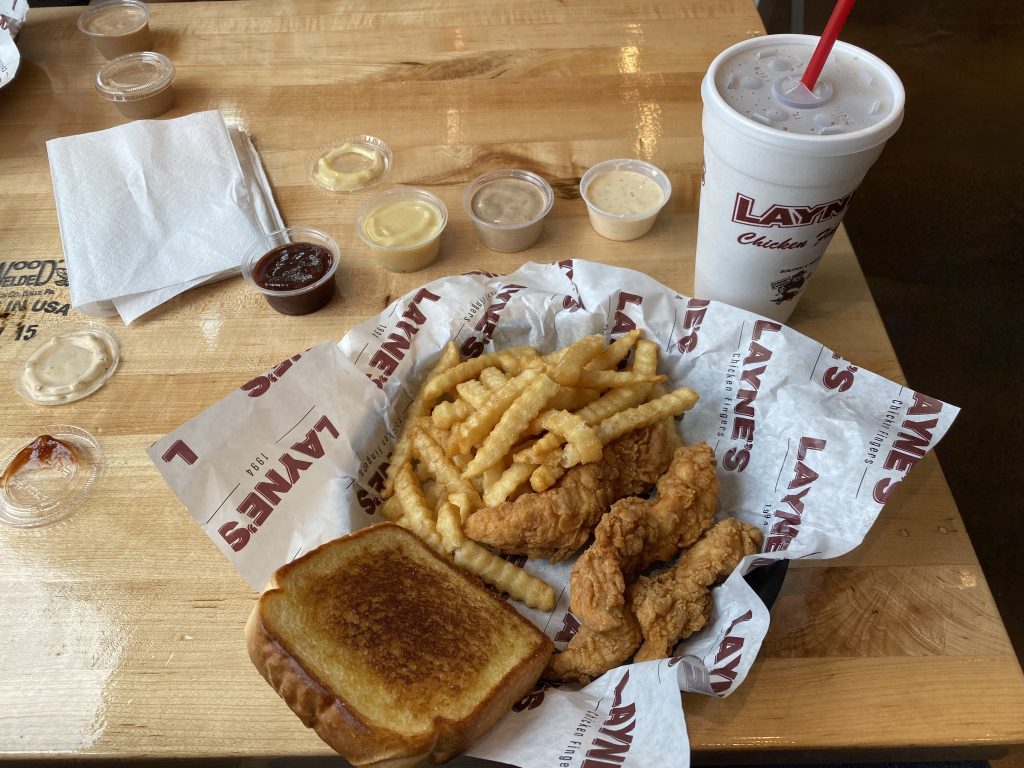 Finally, the Layne's sauce was very much what I expected, a cousin of Cane's sauce. Its common knowledge to most folks by this point that Worcestershire sauce is one of the main ingredients in Cane's Sauce, and it seems like someone has keyed Layne's in on this as well, as it was just about the only thing I could taste from their signature sauce. Out of all three of the sauces, I ended up mostly using the Layne's and some of the Jalapeño Ranch. It's worth mentioning that the fires were good, they were "double fried" very crisp on the outside and soft on the inside. The toast, however, had no flavor other than artificial butter, spring for some garlic salt folks! So, getting to the end of this rambling and somewhat nagging post, you may be asking yourself, well should I even bother trying Layne's? I would say yes, it is worth a try, but don't go in expecting an exact knock off of Cane's. Maybe try something new, dairy allergies limit what I can eat, but maybe they've got the best shakes around, who knows. Don't let the internet cynicism of someone with fond memories of a competing chain keep you away.