Howdy folks, and welcome back to Houston Historic Retail. A sprout is defined in the Merriam-Webster online dictionary as "to grow, spring up, or come forth." Unfortunately for some Houstonians, three of our Sprouts locations are withering away. The cuts in Houston are part of a larger restructuring by Sprout's Farmers Market, which recently announced plans to close 11 stores in the coming months. Some folks have heard this news and taken it to mean that the company might be in dire straights, with a few critics going so far as to point fingers directly at Sprout's Investment Firm ownership, Apollo Global. However, based on my limited insight, it appears that Sprout's intentions may be more company-focused. The recent acquisition of two licensed locations (which exist as a part of the company's complicated history of buyouts) shows that there is still value in the brand. So let's start by looking at the Houston area stores the company is dumping.
Westheimer at Kirkwood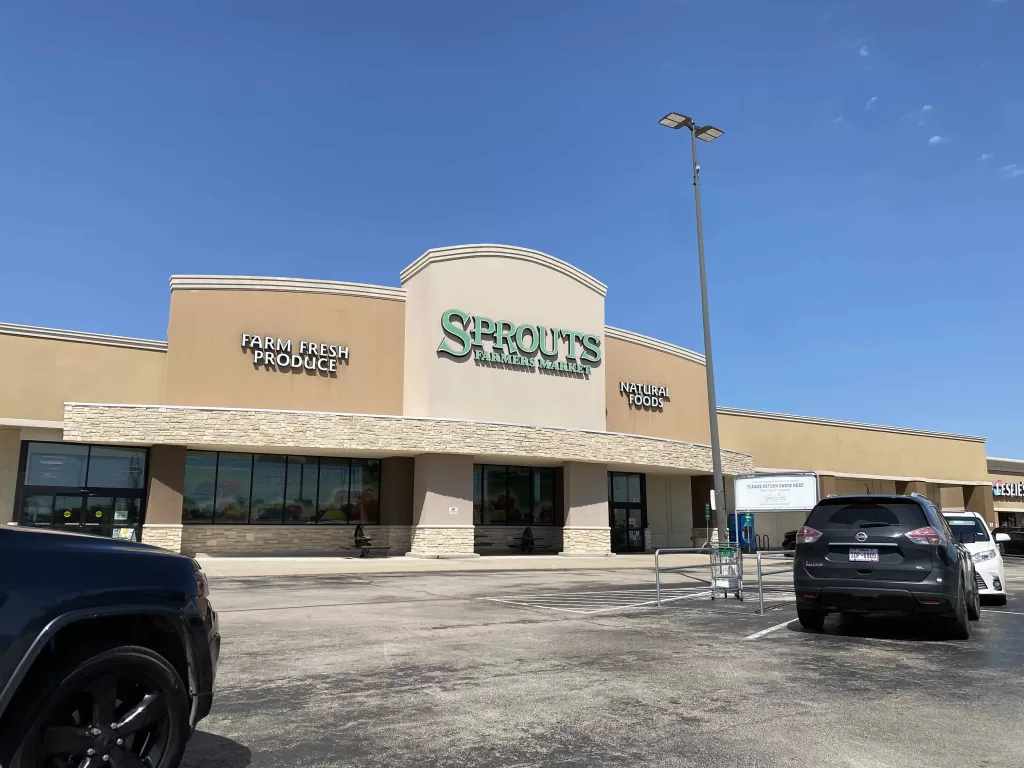 The Sprouts at Westheimer and Kirkwood is in an area most would consider to be a grocery hotspot. Despite Sprouts only taking up residence here in 2013, the building Sprouts is currently using holds the distinction of being one of the first grocers in the area. Originally built as a Continental Finer Foods, the store would also use Minimax, Jumbo, and a few other independent banners before finally being acquired by HEB in the 90s for a Pantry Foods store. Competition would crop up and down Westheimer, over the years, with HEB eventually moving diagonally across the intersection to a larger facility. Outside of traditional grocers, Sprouts also faces competition in this area from Whole Foods and Trader Joe's.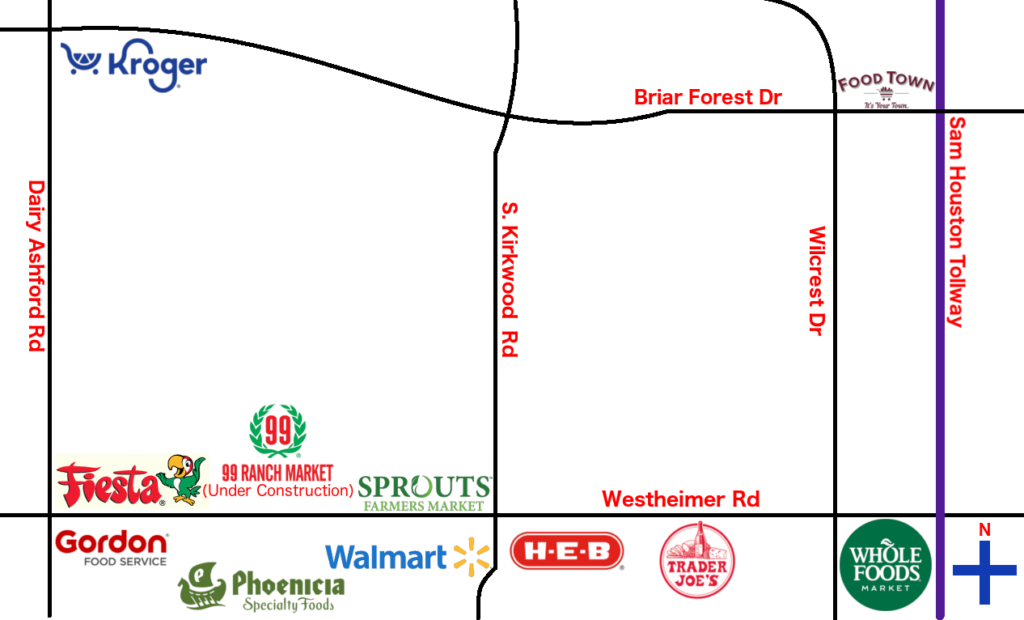 In addition to a host of other organic and natural grocers, Sprout's business is also being undercut by traditional supermarkets such as Kroger and Food Town, along with international grocers like Fiesta and Phonecia. Some Houstonians refer to this area as being "over-grocered," While I don't believe that's precisely the case here, it is easy to call this one of Houston's most diverse areas in grocery retailing. Two other important considerations to keep in mind are the state of transport in this area, along with the diversity of neighborhoods. Most grocery shoppers will either arrive by car or bus at these stores. However, walking along Westheimer is not nearly as commonplace. As for the neighborhood, this area is largely made up of apartments, with pockets of neighborhoods off of the main roads. The socioeconomic status of these neighborhoods tends to be largely middle class, with some exceptions like Royal Oaks.
OST & Kirby
The Sprouts at OST and Kirby is the newest location in Houston, opening during the COVID pandemic. Compared to our previous store, the housing around this location is much more volatile. There are a disproportionate number of apartments compared to single-family homes here. Many of these apartments are host to individuals working at the nearby Texas Medical Center, and it seems that Sprouts had planned on this. However, for whatever reason, the business has not reflected Sprout's expectations. Nearby options are quite limited compared to the above store. With only Kroger, Super Target, and Fiesta operating within a 1.5-mile radius of the Sprouts. As a new location, this store is built to Sprouts latest design specifications which means it only takes up about 25k Sqft. of space, leaving a portion of the former Toys 'R Us it operates in, available for leasing. In other stores, it seems that Sprouts has partnered with liquor stores to fill the space and bring in customers.
University Blvd & Southwest Freeway (Sugar Land)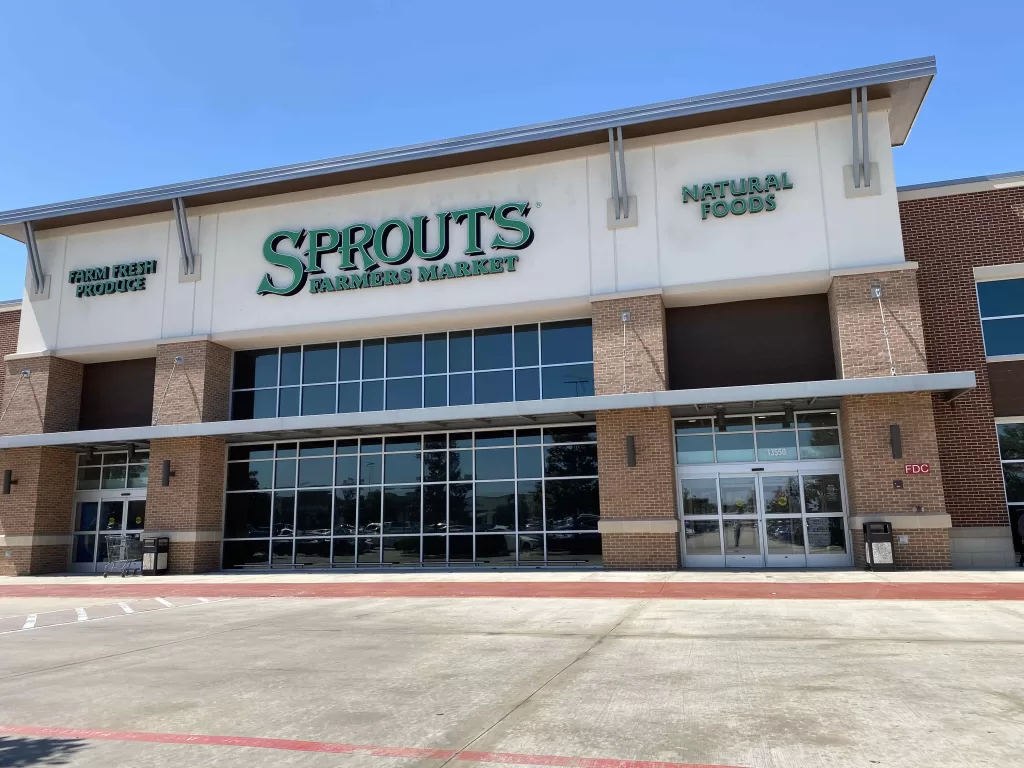 Finally, let's talk about the Sugar Land Sprouts. This was the location that most surprised me to end up on the list. Starting off with the competition, there's not really much to speak of. Within a 1.5-mile radius, there's a Kroger, a Costco, and nothing else. Given that in Sugar Land, master-planned communities are not uncommon, and this Sprouts can be considered the grocer for the Telfair neighborhood. However, again it seems that Sprouts is a bit off-target here. While I don't have exact details on operations, formerly living in this area, I can say that pretty much everyone drives a good distance to purchase groceries, so heading to HEB isn't that much of a stretch. Some complaints noted online include prices, and inaccurate information. While I can't say I've ever seen this store packed, it did seem to do brisk business on the weekends.
Overall, it looks like Sprouts is trying to reposition itself in our market. While Houston is already known as a tough grocery market, it seems that the increasing scope of supermarkets might be hurting smaller players like Sprouts across the nation. According to the company, they do plan to build new stores, and as mentioned in the first paragraph worked to bring two licensed stores under their wing. I don't have the ability to predict what will become of Sprouts going forward, but right now, they look to be in a relatively stable space in the Houston market. That being said, Houston has never been terribly hospitable to natural grocery stores, but Sprouts seems to have come close to making it work. Coming in only behind Texas-founded Whole Foods in terms of store counts.