One thing I have learned from doing demolition reports, is that some weeks it can be hard to find a demo worth writing anything about. This Week in Demolition, we're spoiled for choice. Some houses of note this week include second place 12122 Mossycup a 1950s Tudor in Memorial Forest, 2426 Goldsmith a thoroughly ugly but minimally renovated 1940s house South of Rice, and 813 1/2 Columbia a 1920s Garage apartment in the Heights. The Heights property is likely the first structure to exist on that property and is a sad loss from a historical point.
Of course, the biggest tragedy ends up being our cover story 927 W 41st a charming updated 40s bungalow in Garden Oaks. The house features period correct archways along with a well designed kitchen not to mention the huge backyard and detached garage. It's a shame to see this go as the house is in a great location, has been modernized, but still manages to maintain its original look. Like many other lots in the Garden Oaks area it's highly likely that we'll see multiple townhomes and an access street popup in this area. While there is an argument to be made for efficient use of existing space versus over expansion, the area does loss some of its charm with the demolition of a house like this.
By the way, I now have a Twitter! I'm still working on a way to send out email updates.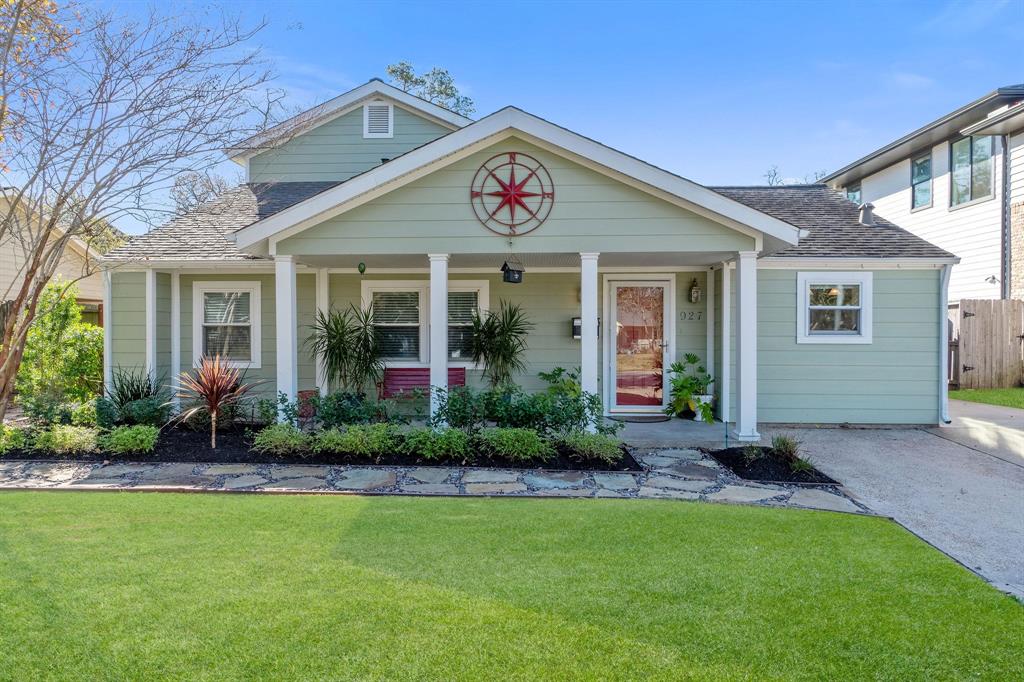 This is a list of the buildings which received a City of Houston demolition permit the week before this post.
Residential Demolitions
9213 Talton St, Houston, TX 77078– Lake Forest
1 Noble Run, Humble, TX 77346– Kings River Estate, Private Community
1301 W 24th St, Houston, TX 77008– Shady Acres
944 Lathrop St, Houston, TX 77020– Denver Harbor
4606 Coke St, Houston, TX 77020– Fifth Ward
2040 Sheridan St, Houston, TX 77030– Southgate, Photos
4310 Meyerwood Dr, Houston, TX 77096– Willow Meadows
4703 Feagan St, Houston, TX 77007– Brunner, 1930s Two Story
5222 Viking Dr, Houston, TX 77092– Oak Forest, Photos
5850 Kiam St, Houston, TX 77007– Cottage Grove, Photos
1526 Thornton Rd, Houston, TX 77018– Oak Forest, Echo Homes
9756 Westview Dr, Houston, TX 77055– Long Point Woods, 1950s Ranch Style, Photos
405 Elm Lake Dr, Huffman, TX 77336– Lakeside Manor
6318 Mohawk St, Houston, TX 77016– Northwood Manor
9820 Veyblum St, Houston, TX 77029– Fidelity Addition, 1940s Shotgun
1611 Richelieu Ln, Houston, TX 77018– Oak Forest
12122 Mossycup Dr, Houston, TX 77024– Memorial Forest, 1956 Tudor, Photos
8010 Richland Dr, Houston, TX 77028– Clairmont Place
8618 Banting St, Houston, TX 77078– Chatwood Place, Photos
7433 Saunders Rd, Houston, TX 77016– Scenic Woods
2117 Branard St, Houston, TX 77098– Westlawn Terrace, 1935 Colonial Style
2426 Goldsmith St, Houston, TX 77030– Brantwood, 1940s partly unrenovated, Photos
3331 Oakdale St, Houston, TX 77004– Southwood Addition
6154 Glenhurst Dr, Houston, TX 77033– Edgewood
5854 Kiam St, Houston, TX 77007– Cottage Grove, Photos
3802 Lazywood Ln, Houston, TX 77023– Pine Valley
5930 Grace Ln, Houston, TX 77021– Griggs Terrace Addition, Garage Building Only
927 W 41st St, Houston, TX 77018– Garden Oaks, 1940s Bungalow, Photos
609 Oakley St, Houston, TX 77006– Montrose
813 1/2 Columbia St, Houston, TX 77007– Heights, 1920s Garage Apartment, Photos
512 Peden St, Houston, TX 77006– Avon Place, 1930s Bungalow
4509 Sayers St, Houston, TX 77026– Valencia Park
110 Edgewood St, Houston, TX 77011– Oak Lawn, Photos
Commercial Structures
3520 Center St, Houston, TX 77007– Washington Ave, Former Admiral Linen site, HAIF Thread